Understanding the market landscape of electric vehicles, intenders' perception, barriers to adoption & marketing opportunities.
"The only constant in life is change!" When it comes to the automotive industry, one of the most significant changes that we have seen in recent years is the introduction of EVs. We are in the midst of an automotive revolution since Tesla revolutionized the industry with its first mass-produced highway-legal electric vehicle (EV) powered by a lithium-ion battery. As a result, automakers of all sizes have been rushing to launch their electric vehicles in order to provide consumers with an alternative to dealing with environmental concerns, rising fuel prices, and shifting consumer preferences.
Considering the alarming stage of environmental hazards and soaring fuel prices, EV sales are steadily infiltrating the transportation industry. Are these concerns, however, enough to bring in a complete EV adoption worldwide?
Even though the EV adoption rate is on a rise, they still constitute a small proportion of all vehicles on the road. But that could change very soon. Many industry observers believe that marketers have already passed the tipping point where EV sales will quickly outnumber those of gasoline and diesel vehicles. With technological capabilities improving and societal demand for sustainable solutions, the EV's time has come. However, it begs the question of whether challenges faced due to various infrastructural issues, high cost and limited options can impact the pace of global EV adoption.

Borderless Access examined the current EV landscape, barriers to adoption, brands to watch, and opportunities to market to potential EV buyers in the US, UK, Germany, France, India, Malaysia, Vietnam, Indonesia, UAE, Saudi Arabia, South Africa, Nigeria, and Brazil markets.
Let's unlock a few insights.
EVs are a ''greener'' alternative
Those who intend to purchase an EV are unquestionably doing good to the environment. Most respondents believe that an EV will reduce their carbon footprint because there will be no emissions!
EVs are thus regarded as one of the most environmentally friendly modes of transportation currently available on the market, and their global adoption rate has already accelerated in recent years.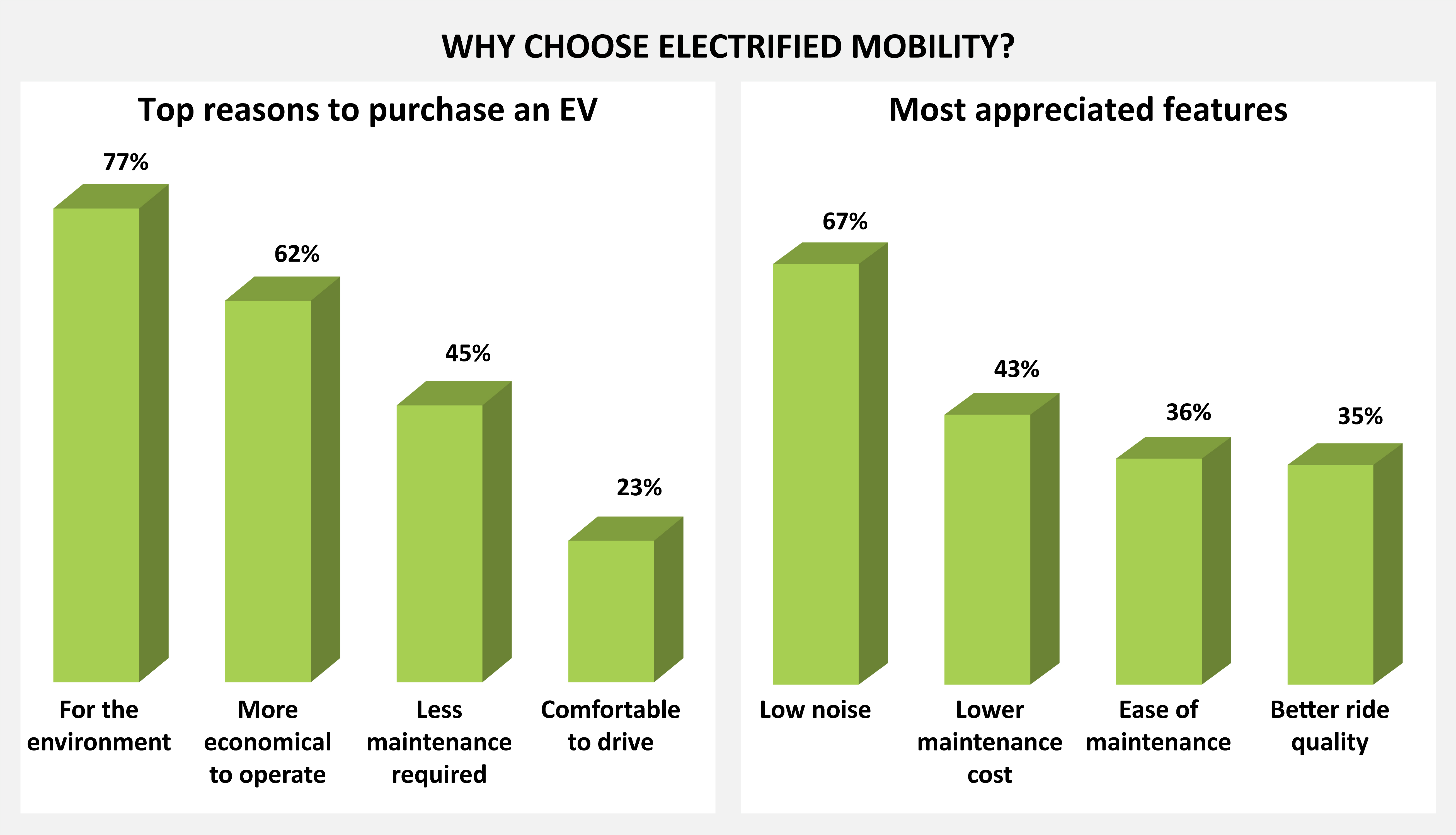 EVs have a simple structure and operation, so they don't require much maintenance. As a result, maintenance is not prohibitively expensive. Furthermore, ease of use and low maintenance costs are among the most valued features.
Another advantage that an EV has over a conventional fuel car is its ability to operate silently
With all these benefits, a complete EV adoption should not take long. Only if the roadblocks are cleared, which brings us to the next segment.
How to Gauge Demand - Areas that need attention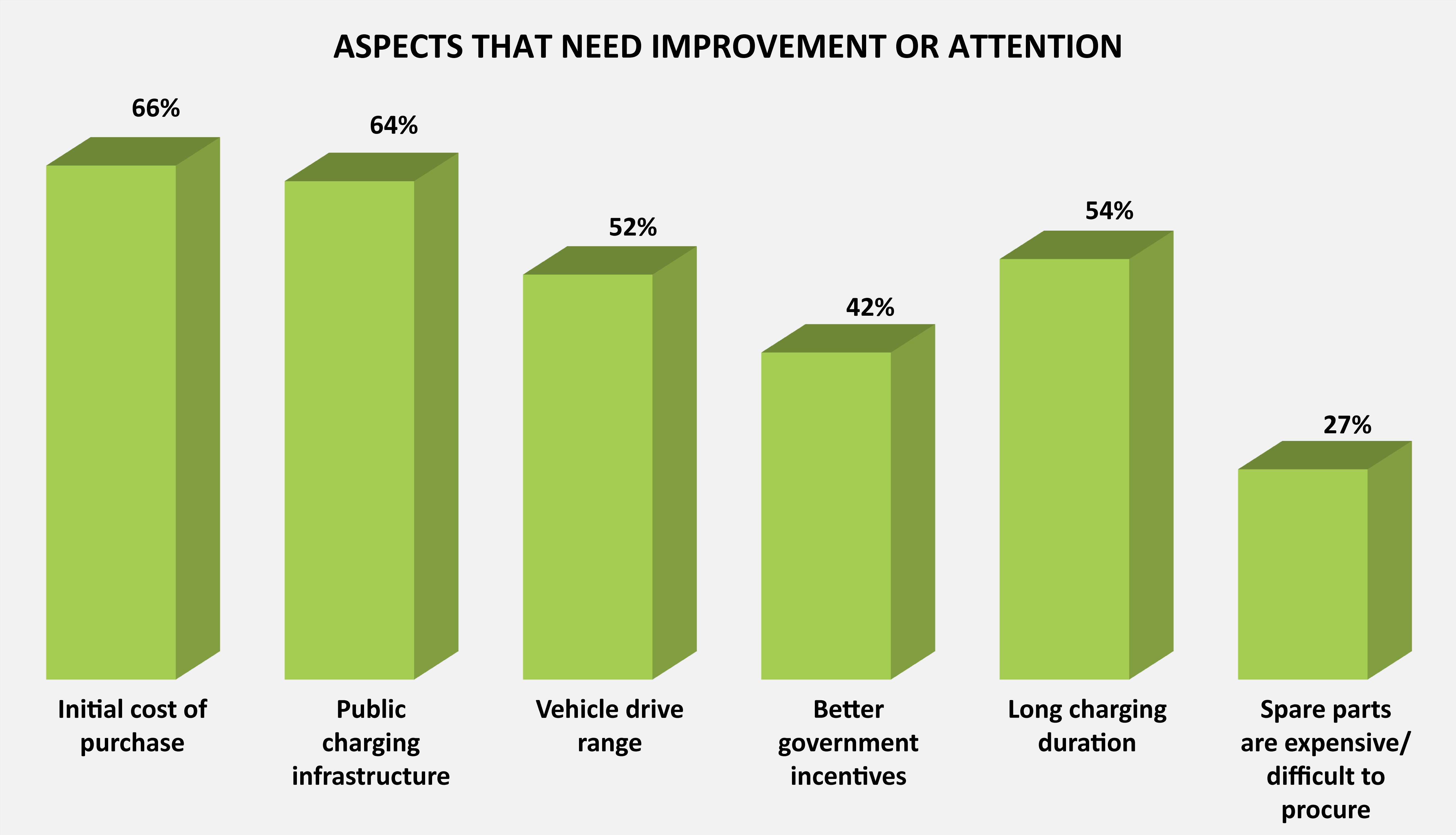 EV adoption is directly proportional to charging infrastructure.
Here are some simple metrics that can help determine EV demand. The majority of respondents cited initial purchase cost and a lack of charging infrastructure as major barriers to adoption.
EVs indeed require a higher initial investment than conventional fuel vehicles. The ramp in EV adoption, to an extent, will be led by reaching price parity with internal combustion vehicles (ICEVs). For the time being, low-cost maintenance features can make up for it. Furthermore, with technological advancements and increased demand in the coming years, it is more likely that the purchase price of EVs will be the same, if not lower, than that of ICEVs. However, this is not the case when it comes to charging infrastructure.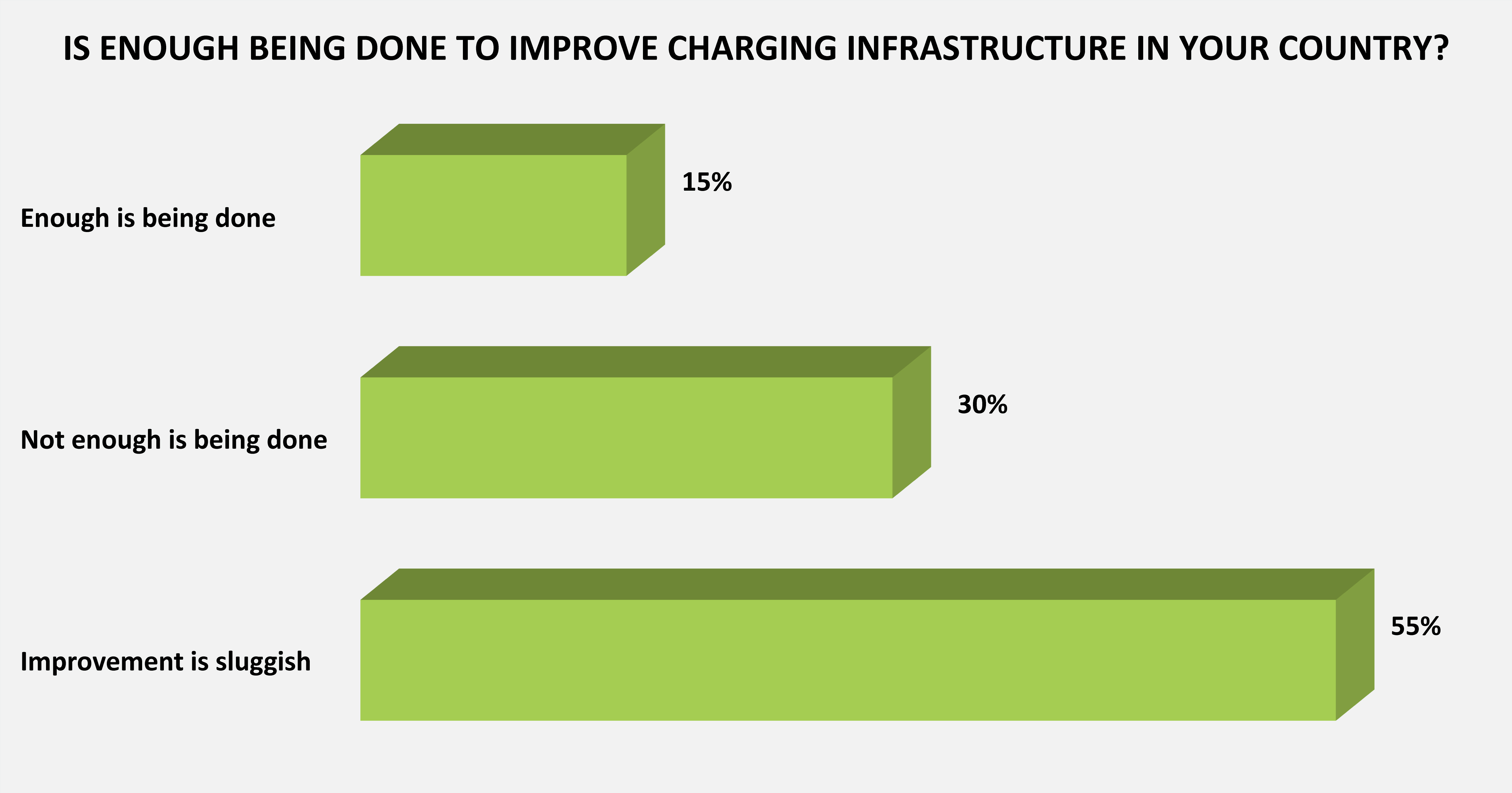 A slower rate of improvement in charging infrastructure will undoubtedly be a barrier to EV adoption. Not only has the number of charging stations been questioned but so has the charging duration, which is directly related to the vehicle's driving range. People want EVs that don't take long to charge and require a single battery charge for long trips.
However, there may be other factors impeding widespread EV adoption. Consider the geographical areas, such as mountainous terrains, where installing a charging station is difficult. So, can we say that full EV adoption is dependent not only on charging infrastructure but also on geographical and political circumstances?
Maybe yes.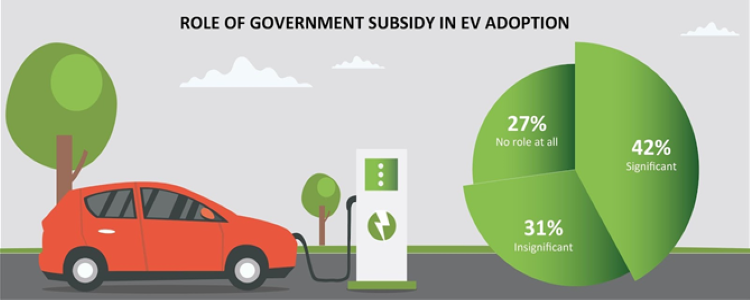 Government subsidies do correlate to mass EV adoption not only at the household level but also at the commercial level.
The ability of governments to stabilize and then reduce their share of total EV spending will be a key indicator of the EV market's long-term viability in the coming years.
Preferred EV types and brands
Sedans are the most preferred choice followed by SUVs by EV intenders with 31% of intenders wanting to purchase a premium vehicle.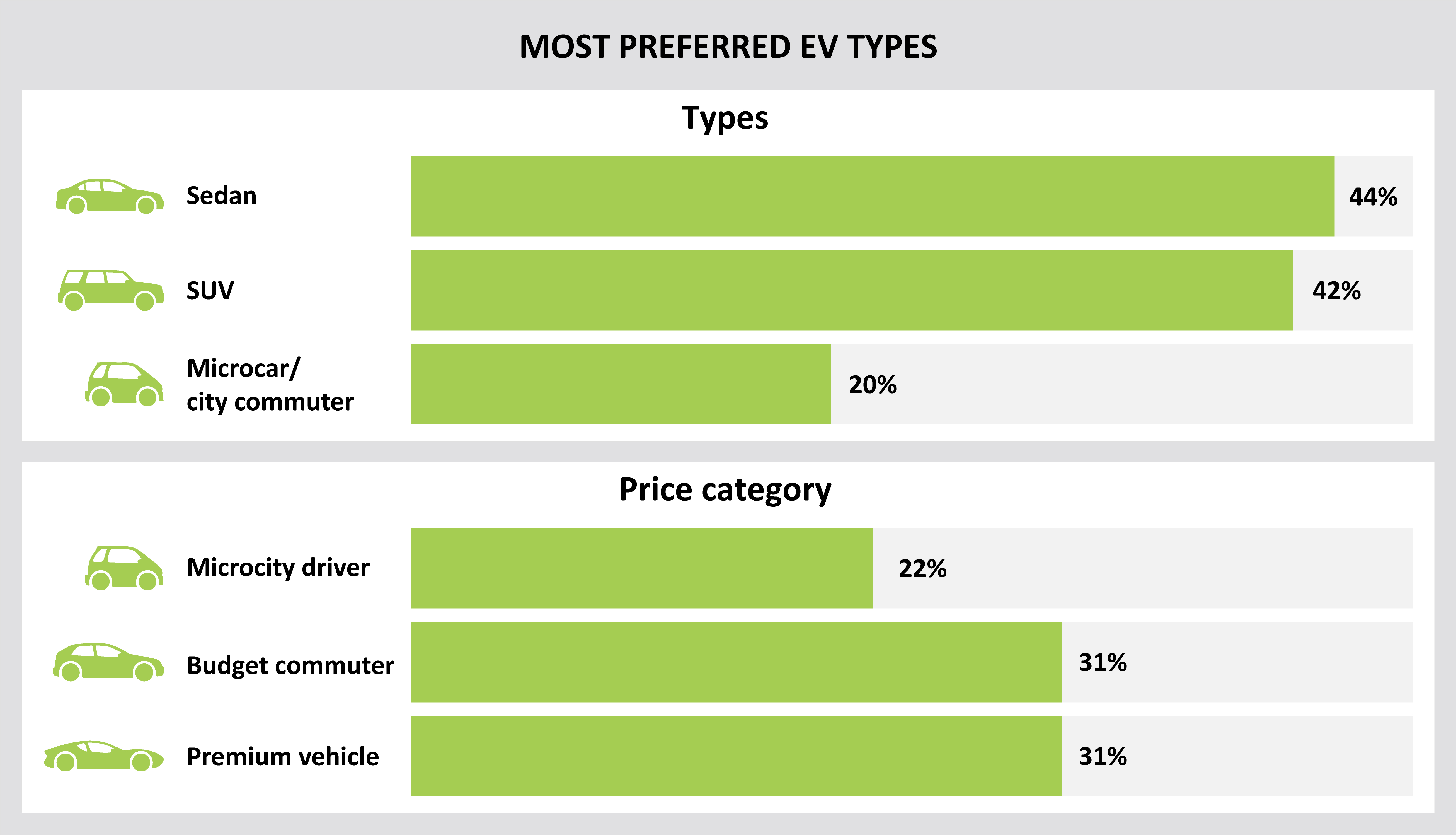 Speaking of most preferred brands, Honda comes out on top as it offers premium EVs in budget, apart from cars in the luxury range.
Moreover, as announced during an 'Electric Vision' event in Amsterdam, Honda is all set to accelerate its plans for launching more EVs, starting with Europe where all the mainstream models will feature electrified powertrains by 2022.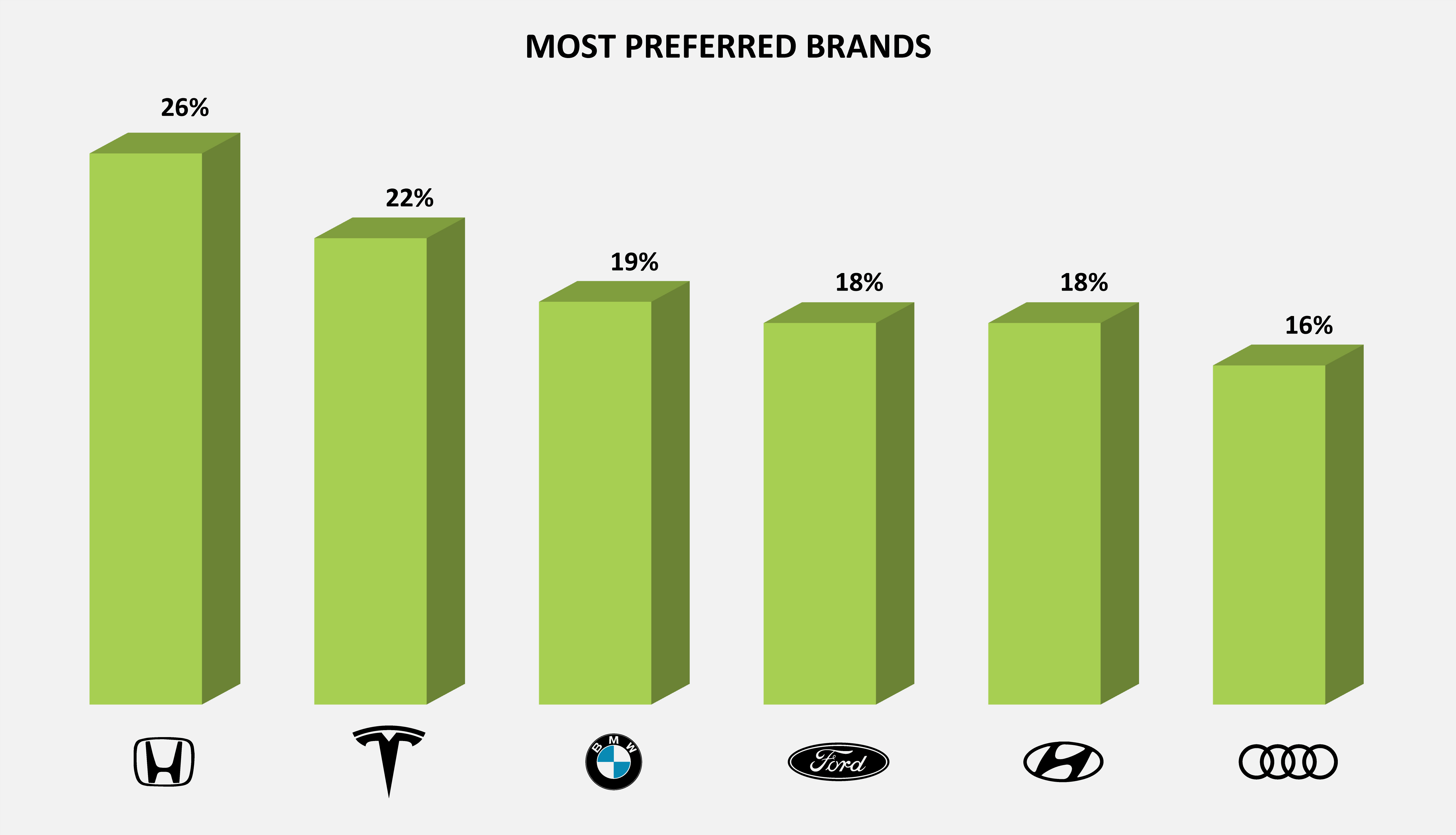 Tesla with its differential price strategy takes the second spot with high demand for its 'Model 3' now, its mid-price EV sedan, after it revolutionized the industry with high-performance luxury 'Model S' EV. Another plus for Tesla is its one-stop shopping for everything from financing to fast charging. Other brands need to think on similar lines to meet consumers' expectations.
It should come as no surprise that intenders prioritize technology over price. Because consumers are already concerned about driving range and charging time, they do not want to compromise on any other technical aspect that may impact their driving experience, even if it comes at a higher cost.
Hence, the brand that offers EVs improved technology at an optimum price, will have consumers' preference.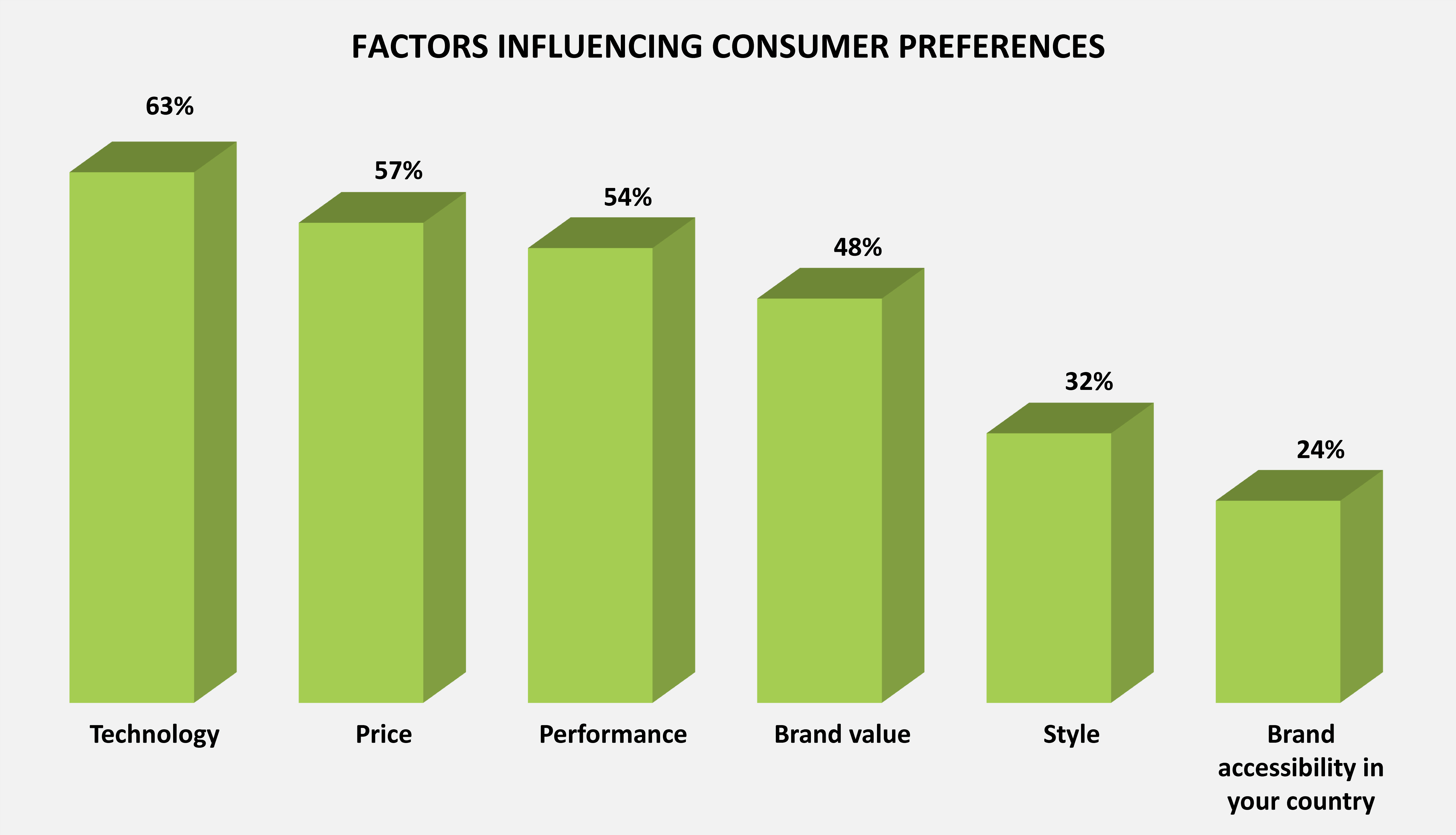 Factors influencing EV adoption- Opportunities for marketers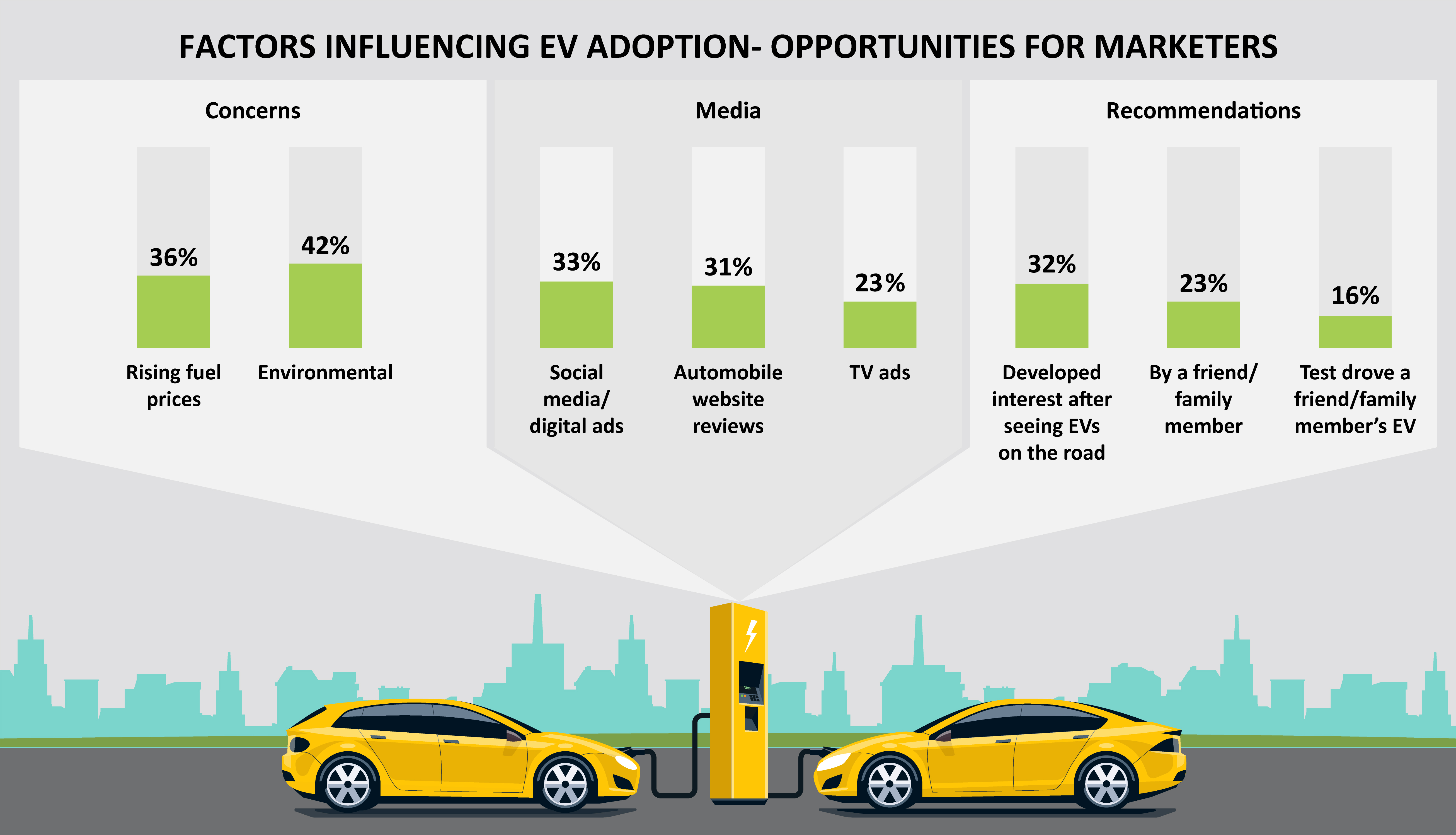 Marketers are well aware of the various marketing methods. They have effectively capitalized on consumers' concerns about rising fuel prices and environmental pollution by promoting EVs as a cleaner and more cost-effective alternative. Without a doubt, social media has played an important role in these cause-related business promotions.

Purchasing a car is a significant investment, and a potential buyer must be certain before proceeding. In this case, intenders rely heavily on the experiences of existing owners or users. This provides brand marketers with an excellent indirect marketing and sales team in the form of existing owners who are eager to encourage non-EV owners to switch to electric vehicles.
Future of electric transportation

Yes! The roads would be dominated by EVs in the future. Though we may not have to wait long to see a complete transition to electrified transportation.

2021 has been a significant year for EV adoption. Several countries have banned ICEVs while some have introduced government schemes to encourage EV adoption. For instance, India amended its FAME scheme to increase EV adoption and manufacturing incentives. To be launched in 2022, Singapore announced a new EV rebate as part of its EV Early Adoption Initiative and also increased investment in charging infrastructure.
Considering consumers' present demands and concerns, brands need to update their technology, especially those that are in various stages of production. The future of EV adoption solely depends on how brands are addressing consumers' current EV needs.
Conclusion
There has been a shift in the balance for EVs, with more benefits than drawbacks. Even the shortcomings that some may find with EVs are steadily diminishing – driving ranges are gradually improving, the electric car charging system is expanding, battery charges are lasting longer, the cars themselves are becoming more affordable, and government incentives are gradually pushing EVs to be the go-to option.
Traditional automakers, start-ups, and even unlikely brands are all competing for a piece of what appears to be a lucrative market. With a sizable market share, EVs will no longer be limited to personal use in the future. Electrified public vehicles will also be on the market, necessitating an increase in the number of charging stations. The point to remember here is that as the EV market expands, more talent and resources will be in high demand.
Ultimately, it's all about the big picture. With ICEVs on the road, the environmental risks are alarming, and fuel prices are skyrocketing. Even if the purchase price of an EV is higher than that of an ICEV today, the prices of both types of vehicles will likely be equal in the coming years. At that point, consumers will have no choice but to switch to an electric vehicle as a cleaner and more cost-effective alternative.
---
Want to gain real-human insights for your automotive brand? Speak to our experts >
---