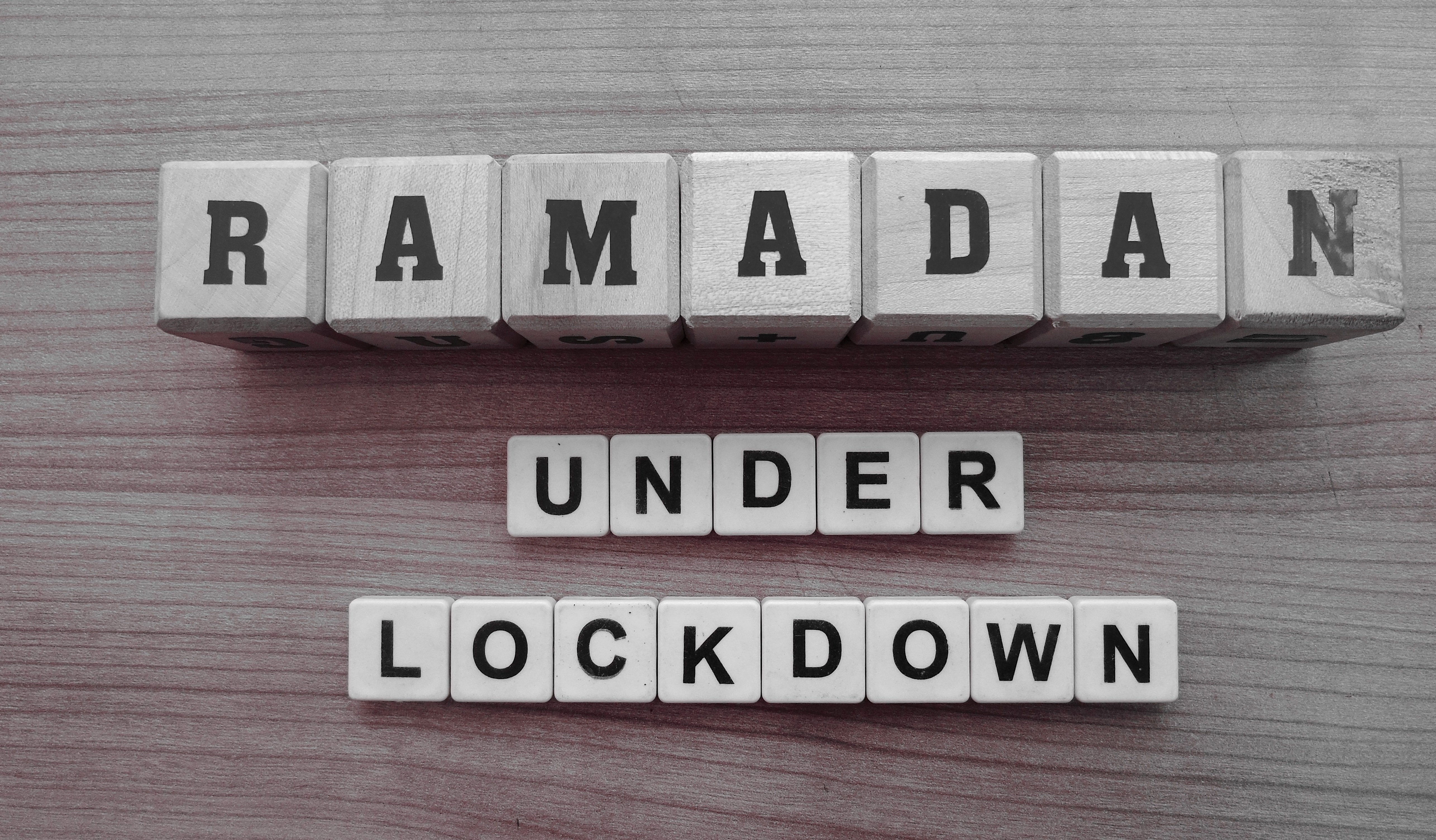 The world under lockdown due to the COVID-19 pandemic has been unusual for all living beings across the globe, be it the changes in habits of working professionals or the consumer expectations from brands or the unintended but positive changes that it brought in our lives. So, how can festive celebrations not be unusual? Muslims worldwide are experiencing a very unusual Ramadan this year. The impact of COVID-19 and the lockdown have naturally resulted in vast changes to the holy month globally.
Borderless Access conducted an online survey across Saudi Arabia, the UAE, and Egypt to understand how lockdown is affecting consumers' Ramadan-related behaviour this year.
Overall, nearly two-thirds of people feel that lockdown is having a big impact on Ramadan, with this being felt most strongly in Saudi Arabia, followed by the UAE and then Egypt.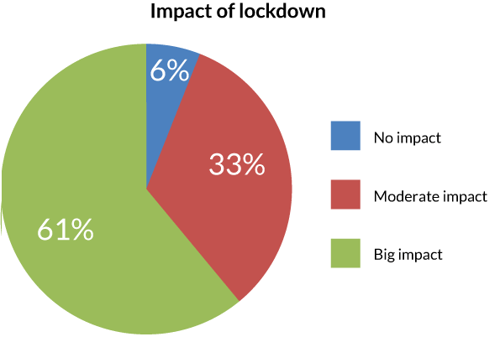 Lockdown hampering the social rather than religions elements of Ramadan
When it comes to worship, fasting and observing the important religious Ramadan practices, most people do not feel that lockdown is preventing them from these practices. On the contrary, Muslims in the UAE and Saudi Arabia feel that the lockdown is giving them a better chance to focus more on their worship and prayers than in other years.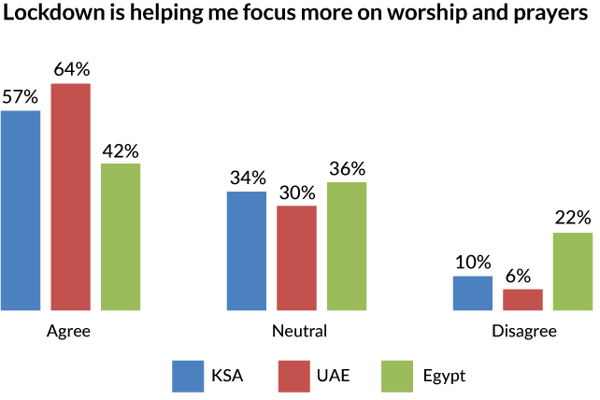 However, lockdown certainly is perceived to affect the communal and social elements of Ramadan: There is a strong sentiment that lockdown is upheaving regular Ramadan activities such as attending mosque, seeing family and friends, and traveling. This is having a significant effect on occasion-lead categories such as gifting, apparel and accessories. Most of these categories rely heavily on the Ramadan period and hence are already reporting annual declines as a result of lockdown.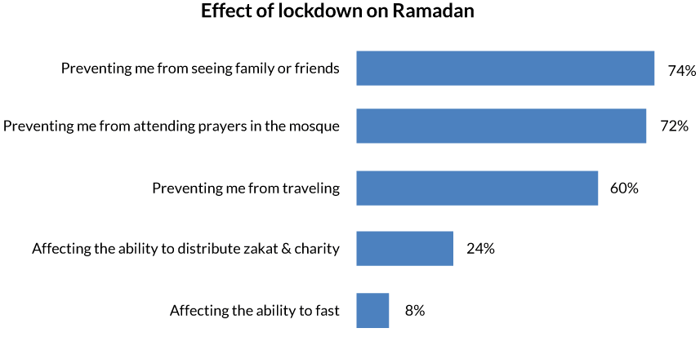 A relatively low proportion of people feel that lockdown is affecting their ability to distribute Zakat and contribute to charity: Only 31% in Saudi Arabia experience this as a limitation, and less than this in the UAE and Egypt – meaning that despite limitations, Muslims are still finding creative ways to share with the less fortunate.
Digital methodologies enable Ramadan practices to continue
Digital methods of donating to charity have seen a sharp uptick during this period. This could signify new ways of giving for Zakat and other charitable initiatives, which will likely continue even after lockdown. Taking this one step further, it is likely that we will see the financial and payment sectors in general embracing digitisation going forward, driven by the catalyst of changed behaviour during the lockdown.
Many people are engaging with the various online resources that are available this Ramadan. In the UAE and Egypt, 45% of people are following online chefs for Ramadan recipes, while in Saudi Arabia, watching live Haram prayers (on TV or online) is a particularly popular online Ramadan activity. The heavy reliance on media, especially digital media, during the lockdown poses opportunities for media brands and channels to maximise ways of engaging with their captive audience, across many different arenas.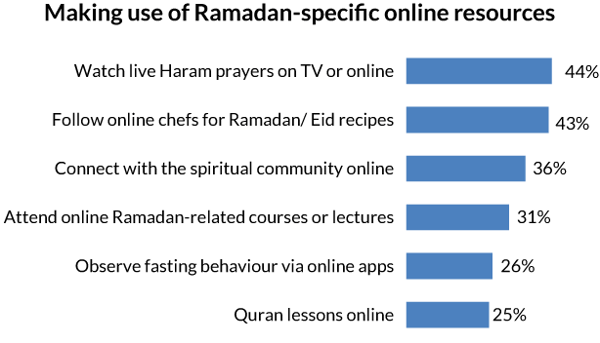 Grocery shopping in a locked-down Ramadan
Most people are finding it easy enough to find the foods they are wanting during Ramadan, this being particularly pronounced in Egypt due to its partial lockdown throughout, where only 15% of shoppers have had any difficulty accessing their Ramadan groceries in the last couple of months. There is generally a high level of satisfaction amongst consumers that they can access the foods they need, after the initial panic buying that we witnessed just before lockdown started.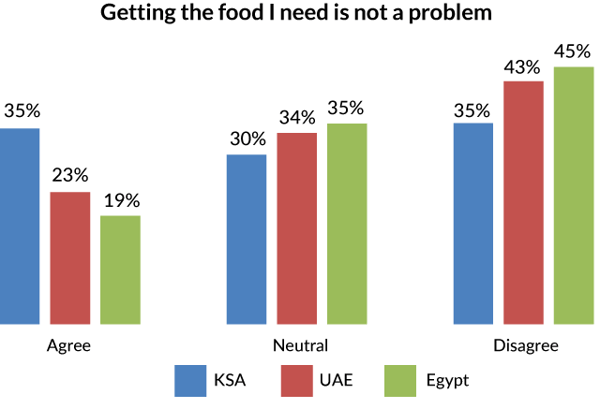 In Saudi Arabia, 43% of shoppers prefer shopping online to entering physical stores during lockdown. This has increased steadily throughout lockdown: In our report on early consumer responses to COVID-19 we saw 33% of Saudis ordering groceries online. Online grocery shopping is not showing as much prevalence in the UAE or Egypt as it is in Saudi Arabia.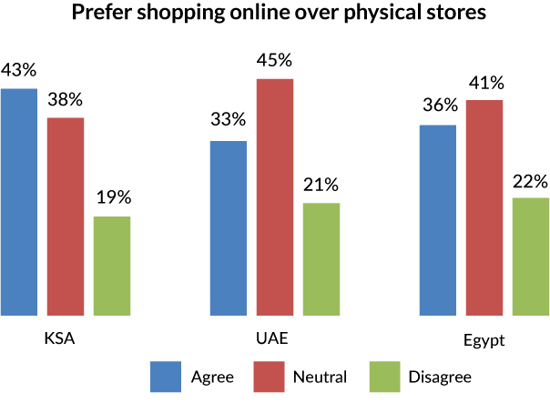 An overwhelming majority of shoppers are shopping less frequently this Ramadan than they have in the past. As a result, shoppers in Saudi Arabia and the UAE are buying more groceries at a time than they have in previous years. Bundling relevant grocery items together for consumers could help them significantly, speeding up the shopping process and showing consumers support in-store.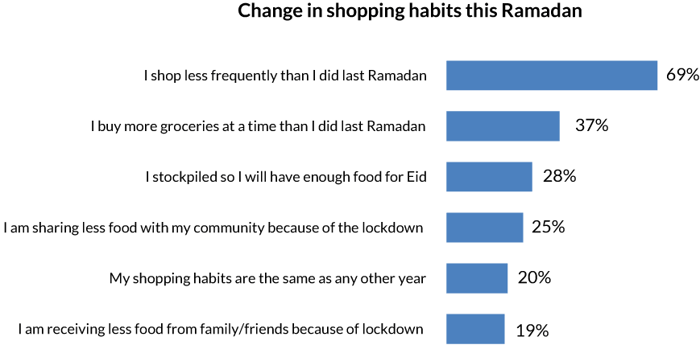 Ramadan is observed, despite challenges
As we have seen globally, and across every element of life, humanity finds ways of adapting, using resourcefulness to manage even the most unexpected limitations. Ramadan proceedings are following suit: Muslims globally are finding ways to still observe this important time, despite the challenging circumstances and getting the most out of it.
One of the biggest uptake that this lockdown has seen is consumers and brands embracing the digital way much more than earlier especially in the MEA markets.
---
For more actionable B2B & B2C insights across various industries and other market research needs contact us.