Recent car purchases low in South Africa and Kenya
Not surprisingly, the incidence of car purchases has not been high in the last two years. In South Africa, 43% of consumers surveyed have bought a new car while in Kenya this number is much lower, at 26%. However, Nigeria goes against this grain, with nearly two-thirds of inhabitants having bought a new car in the last two years, despite Covid and the effects that its global lockdown has had on consumer spend.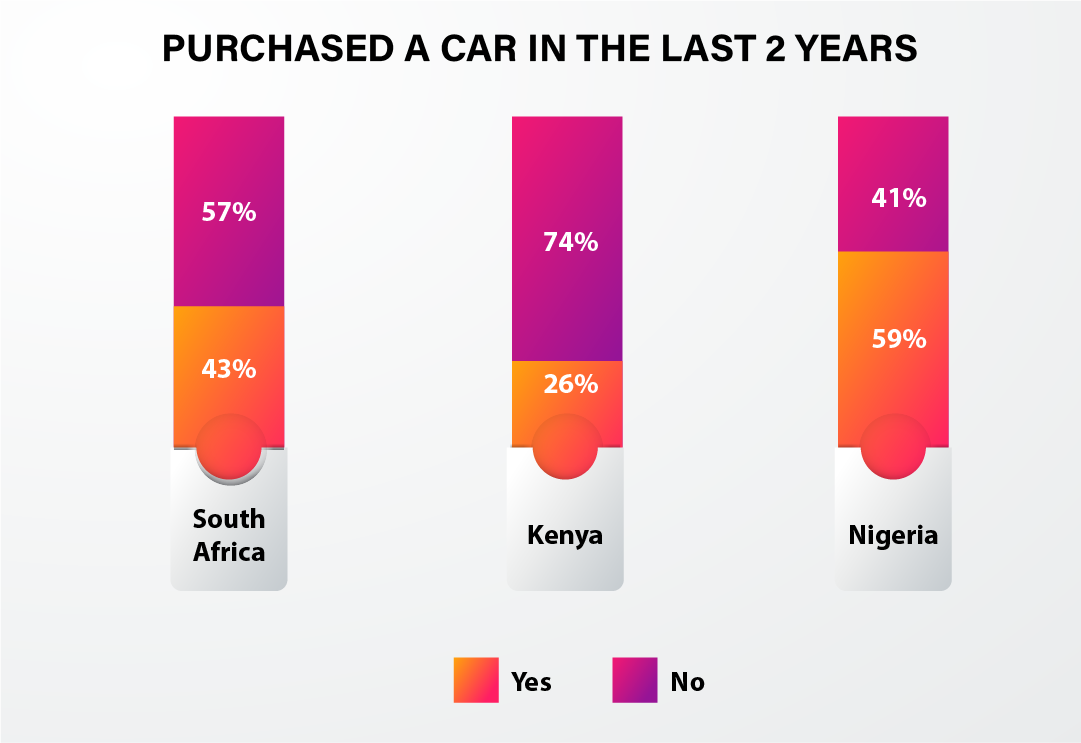 Low to medium end cars are the order of the day
Across all three Sub-Saharan countries, 100% of those who have purchased new cars, claim that they were low to medium range cars, with absolutely everyone staying away from high-end or luxury vehicles, presumably somewhat affected by the fact that people have been driving less than ever before as well as the change in purchase power, in the past two unusual years.
South Africans who have purchased a car recently have gone for entry-level hatchbacks and entry-level sedans more than any other type. Mid-range hatchbacks and mid-range sedans come next, with SUV's not having seen high recent sales, as family holidays are curtailed, and budgets tighter, due to the pandemic.
Nigerians have followed similar lines, mainly purchasing mid-range hatchbacks and entry-level sedans more than SUV's. Kenyans on the other hand, perhaps due to the geographic layout of the country, have had a more even spread across mid-to-entry level hatchbacks, sedans and SUV's, with 21% of car purchasers claiming to have purchased an entry-level SUV.

Consumers are well aware of automobile safety ratings
The vast majority of car buyers are aware of automobile safety ratings across all three countries. More than a third of those who have purchased a car in the past 2 years, deem safety features to be important, across all three Sub-Saharan countries.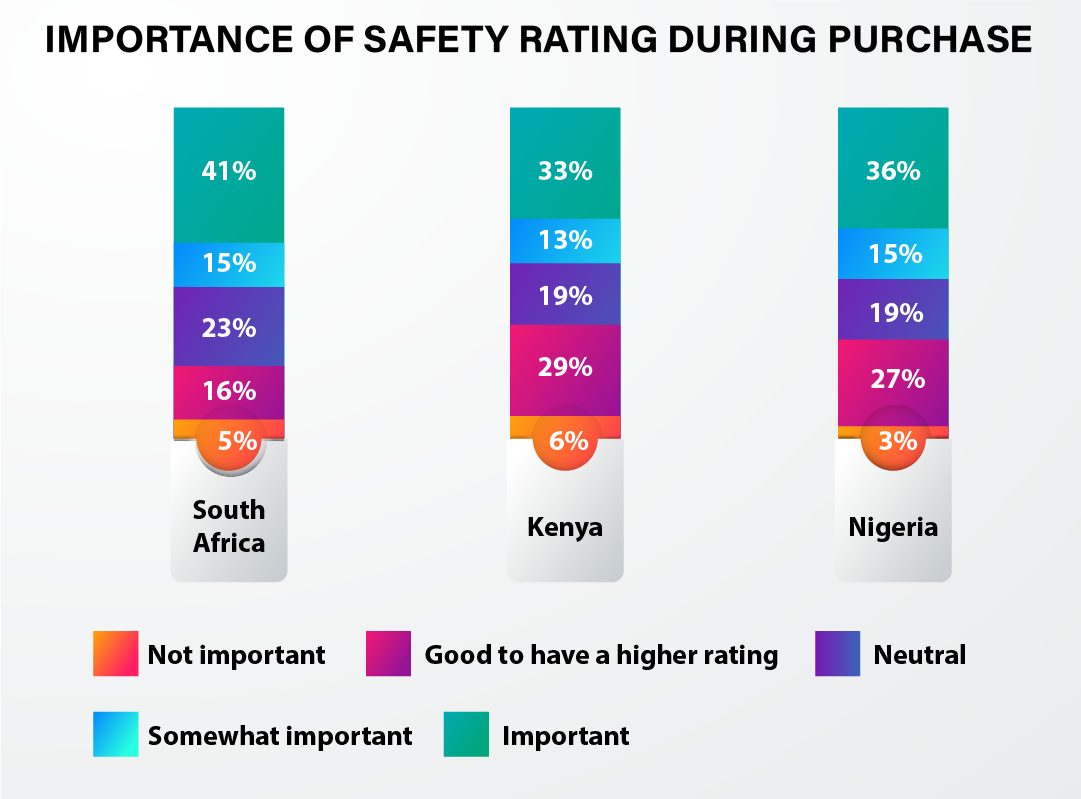 The majority of car purchases feel that airbags for all passengers, and ABS (Antilock Braking System), EBD (Electronic Brakeforce distribution) and ESP (Electronic Stability Program) are safety features that should ideally come standard with all cars, understanding the premise that these would attract a corresponding price hike.
Other than fuel efficiency, safety elements are the main features considered
Across sub-Saharan countries, those who have purchased a new car recently, rate fuel efficiency followed by the standard safety features (airbags and braking systems) as the most important features that they considered in their purchase decisions. (Ratings reflect top two boxes, so those who deem the feature to be either 'very important' or something they 'would prefer to have').
With regards to airbags, most purchasers considered whether there were airbags for the driver and passenger seat, as their primary consideration. ABS was more considered than EBS and ASP, in terms of braking systems.

Imminent purchasers plan to spend mainly in the lower price brackets
Of those who haven't purchased a car in the past two years, but plan to in the next two, the preference for types of cars reflects those that we have already seen: South Africans and Nigerians plan to purchase mainly hatchbacks and sedans while Kenyans are more open to SUV's.
South Africans and Kenyans plan to spend within the lowest brackets (up to R350,000 and 1,500,000 KES respectively) but Nigerians plan to spend either in their lowest bracket (up to 5,000,000 NGN) or in the very top bracket (over 10,000,000 NGN), highlighting the dichotomous society of this country.
Consumers would spend more on vehicles with higher safety ratings
Half of South Africans indicate that they would be prepared to spend a premium of 10% or more on the car in order to get one with a higher safety rating, with this number being even higher in both Kenya and Nigeria.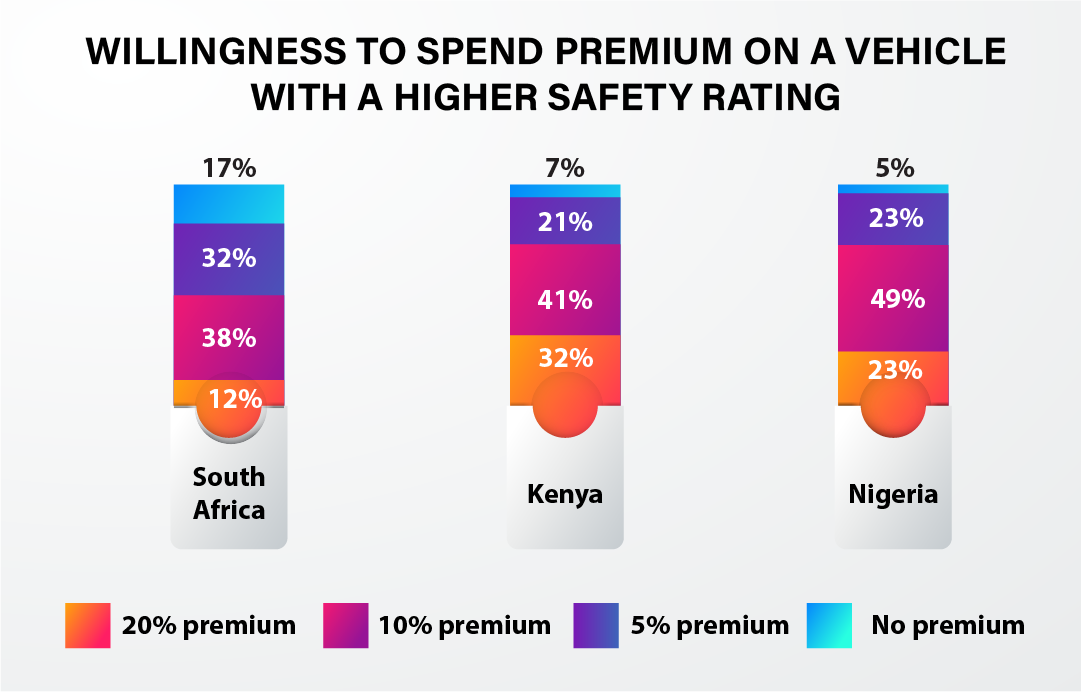 Across all three sub-Saharan African countries, the same three features are important to potential purchasers of vehicles, namely fuel efficiency together with the two safety features, airbags and braking systems.
As safety becomes a bigger feature in the consumer's mind when it comes to vehicle purchase decisions, automotive brands will have to ensure that new vehicles encompass these elements as a matter of course.
Borderless Access has hyper-niche proprietary digital panels across the globe, covering a wide range of sectors from automobile to finance to healthcare… to name but a few. Contact us to understand how we can help you track meaningful insights for your business.