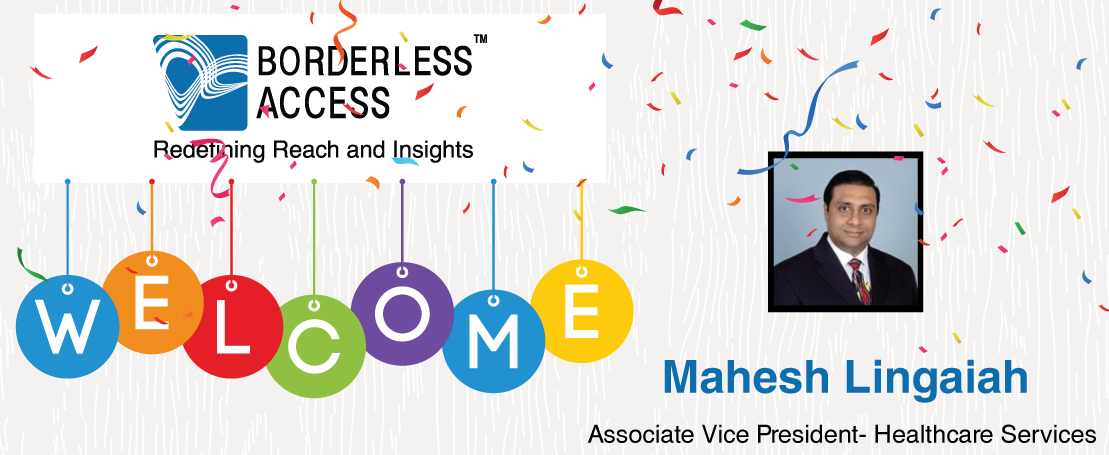 Bangalore, India, May 18, 2020: Borderless Access, the digital market research company, has announced the appointment of Mahesh Lingaiah, as Associate Vice President- Healthcare Services with its aim to expand its healthcare research and analytics portfolio further. A healthcare research expert and a strategist, Mahesh comes with over 18 years of experience, in the verticals of business research and analytics, pharmaceutical manufacturing, KPO, and BPO, with experience in the global healthcare industry spanning the US, EU, Japan, Africa, and South Asia.
As a specialist in the healthcare vertical, Mahesh has executed and managed various projects in oncology, metabolic disorders, CNS, CV, vaccines, GI, urology, ophthalmology, musculoskeletal, Respiratory, men and women health, OTC, nutraceuticals and dietary supplements.
Before joining Borderless Access, Mahesh has experience working in companies such as, Ranbaxy, Novartis, Mu Sigma, and WNS amongst others. At Borderless Access, Mahesh will be leading the Healthcare vertical to develop new product and new-age research solutions focused on pharmaceutical clientele.
"With his wealth of experience in the healthcare research vertical, Mahesh Lingaiah is an outstanding addition to our Borderless Access family and will help steer our growth roadmap in the Healthcare space" said Dushyant Gupta, EVP, Borderless Access. "As a skilled solutions architect, his expertise will be key to designing digital business transformational solutions that will drive our healthcare research solutions into the next decade and further."
"I am thrilled to join the dynamic and forward-thinking Borderless Access team and hope to build on the solid foundation developed over the last decade. Borderless Access is perfectly positioned to help its clients digitally transform their business for better customer experience and compete in the modern digital marketplace," said Mahesh Lingaiah.
Mahesh Lingaiah holds a master's degree in business administration with a life science graduation.
About Borderless Access
Borderless Access is an award-winning digital market research solutions and product company. Driven by technology and consumer-analytics, we provide access to experiences and life moments of consumers to clients across the globe. We currently have over 5.9 million proprietary digital panelists across 34 counties and conduct over 6.9 million digital online surveys annually. Our proprietary products and solutions include TAPP™, HealthSight™, and SmartSight™.