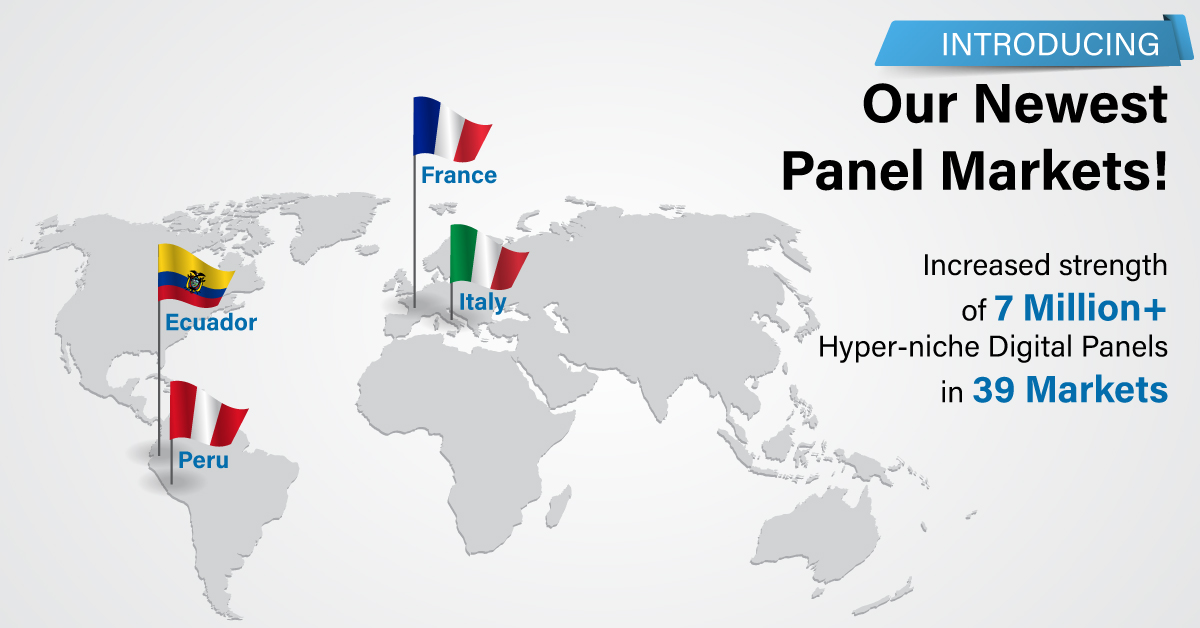 Bengaluru, India, 23 February 2021: Borderless Access today announced the launch of its proprietary market research panel community in four new markets, Ecuador and Peru in Latin America and France and Italy in Europe. Peru and Ecuador in particular come with a unique combination of consumer attributes such as being multilingual, as well as being rational with high brand awareness and in general being hard to reach.
With the addition of new markets, Borderless Access' digital market research capabilities now extend to seven countries in Latin America and Europe respectively, taking its first-party panel (B2B, B2C, Healthcare) access to 39 markets.
The company spokesperson further indicated that they are prepared to officially roll-out their first-party digital panels in 3 new European and African markets to all its clients in the next couple of months.
Speaking on the launch, Dushyant Gupta, Executive Vice President, Borderless Access, said: "It is our constant endeavour to grow our digital market research and insights capabilities to brands and businesses in newer markets. Both Latin American and European markets offer unique challenges and opportunities, which are extensive and market-relevant insights capabilities are well-suited to handle". He further added, "We are witnessing a rapid increase in demand for digital panels and our new-age digital research solutions with more and more brands and businesses transitioning to digital market research from the traditional approach. Spike in this shift can be further noticed especially since the covid-19 pandemic which has literally buried traditional market research methodologies."
Along with the 4 new market launches, Borderless Access has rapidly ramped up its hyper-niche digital panel community in the last few months from 6 million to now 7 million+. Read more about its new markets and new-age insight solutions here - www.borderlessaccess.com
About Borderless Access:
Borderless Access is an award-winning digital market research product and solutions company. It provides access to experiences and life moments of engaged consumers and niche audiences to a global clientele of MR firms, Ad Agencies, Consultancy firms, and End Enterprises in need of rich, intelligent, and actionable quant-qual insights, through technology and consumer-analytics-driven new-age research solutions - BA Health, BA Insightz, SmartSight, HealthSight, Panel Solutions, and a proprietary 7 million+ hyper-niche digital panel across 39 growing and developed economies of the world.