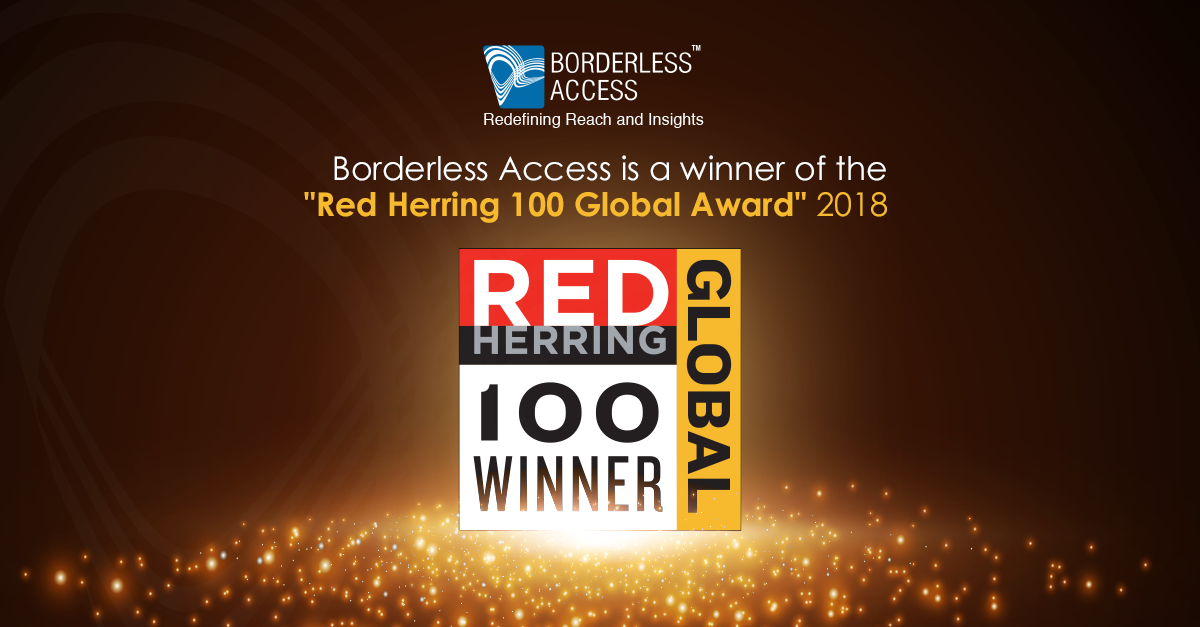 Bangalore, India: Borderless Access™, a global digital market research products and solutions company is thrilled to be a winner of the coveted annual Red Herring 100 Global award. Top 100 Global event is held in recognition of the leading private companies from North America, Europe, and Asia, where the title is awarded based on the result of rigorous quantitative and qualitative evaluations as well as a review of the track records and standing of a company in the industry.
Red Herring's Top 100 Global list has become a mark of distinction for identifying promising companies and entrepreneurs. Red Herring editors were among the first to recognize that companies such as Facebook, Twitter, Google, Yahoo, Skype, Salesforce.com, YouTube, and eBay would change the way we live and work.
The top 100 winning companies are picked from a list of hundreds of entries by an independent panel of judge consisting of journalists and the Red Herring editorial team.
"Choosing the companies with the strongest potential was by no means a small feat," said Alex Vieux, publisher and CEO of Red Herring. "After rigorous contemplation and discussion, we narrowed our list down from hundreds of candidates from across the globe to the Top 100 Winners. We believe Borderless Access embodies the vision, drive, and innovation that define a successful entrepreneurial venture. Borderless Access should be proud of its accomplishment."
"At Borderless Access, we strive to offer our customers the best and the latest in digital market research through technological innovations. Such awards are strong motivators that are also testament of our vision and progress. We are honoured to receive this award and thank Red Herring for recognizing our efforts, competitive differentiation and innovative nature," said Ruchika Gupta, Founder and CEO of Borderless Access.
About Borderless Access:
Borderless Access, a global digital MR products and solutions company, provides access to experiences and life moments of engaged consumers from hard-to-reach segments to its global clientele of MR firms, ad agencies, consultancy firms, and end enterprises, through technology and community analytics. Its innovative offerings include Panel Solutions, SmartSight™, HealthSight™, and TAPP™.