Consumer Healthcare Landscape
Borderless Access research shows that consumer healthcare products such as analgesics, oral healthcare, wound care, skincare, and others are increasing in popularity among customers, which contributes significantly to the growth of the market.
With increasing product awareness and marketing by key players in emerging economies, sales volume in the over-the-counter (OTC) consumer healthcare market will further increase steadily over the coming years.
Buyers are progressively responsible for their choices as they perceive the better results that accompany it. They pay more using cash on hand and have choices that are powered by industry-specific innovation.
The growing demand for branded products, along with accelerated use of online sources, OTC generics and private labels are anticipated to create new opportunities for the global consumer healthcare market.
The main factors driving the consumer healthcare market are:
S

hifting demand towards self-medication and OTC products and growing geriatric population which is more susceptible to contracting diseases.

OTCs are by and large more open and reasonable than physician endorsed medication. Physicians' influence on consumers will significantly impact the purchase behaviour. OTC drugs recommended by doctors were purchased more by consumers than non-recommended ones.
OTC products are encouraged by Governments and buyers as it reduces costs through preventive care and can prove cheaper in the management of chronic conditions.

Use of e-commerce websites and online resources is expected to drive the market growth.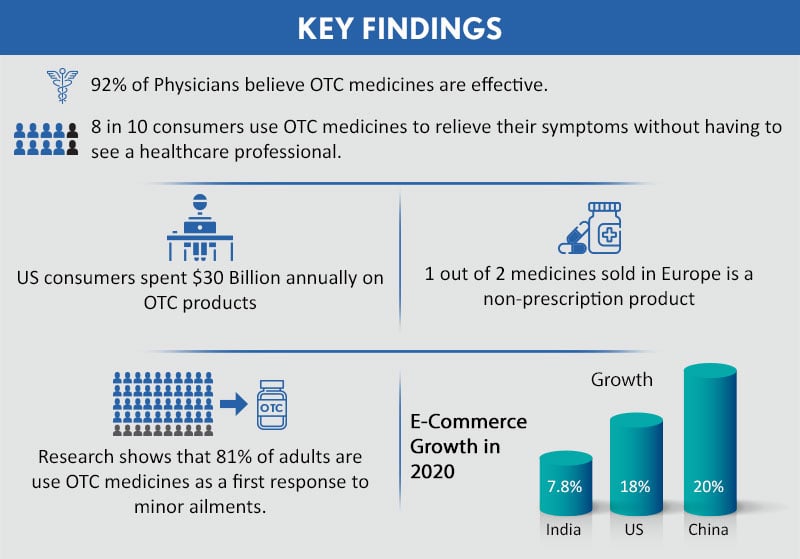 Impact of Covid-19 on Consumer Healthcare
As of August 9th, 2021, the World Health Organization had reported over 202 million confirmed cases of COVID-19, including over 4.3 million deaths globally. As of 8 August 2021, a total of 4,033.3 million vaccine doses have been administered. Notwithstanding the induction of vaccination programs in numerous nations, more irresistible strains of the infection make it likely that the world will keep on fighting a high rate of the sickness throughout the next few months.
Likewise, buyer worry about COVID-19 remains high, far outperforming any remaining medical conditions today. This concern is driving a tidal wave of change in consumer attitudes and behaviors toward eating and shopping for health and wellness.
The top trends that are impacting the consumer healthcare industry are:
The dietary supplement market, particularly sale of vitamins and mineral supplements skyrocketing during COVID-19 pandemic. Vitamins and mineral supplements are used by people to build their immunity to keep themselves healthy.

The cost of OTC pain relief medication has increased as drug makers demand price increases on the back of raw material shortages triggered by the coronavirus outbreak that has increased the sales value.

Sales of skincare products are reduced mainly due to prolonged lockdown and increasing preference on financial planning and critical healthcare.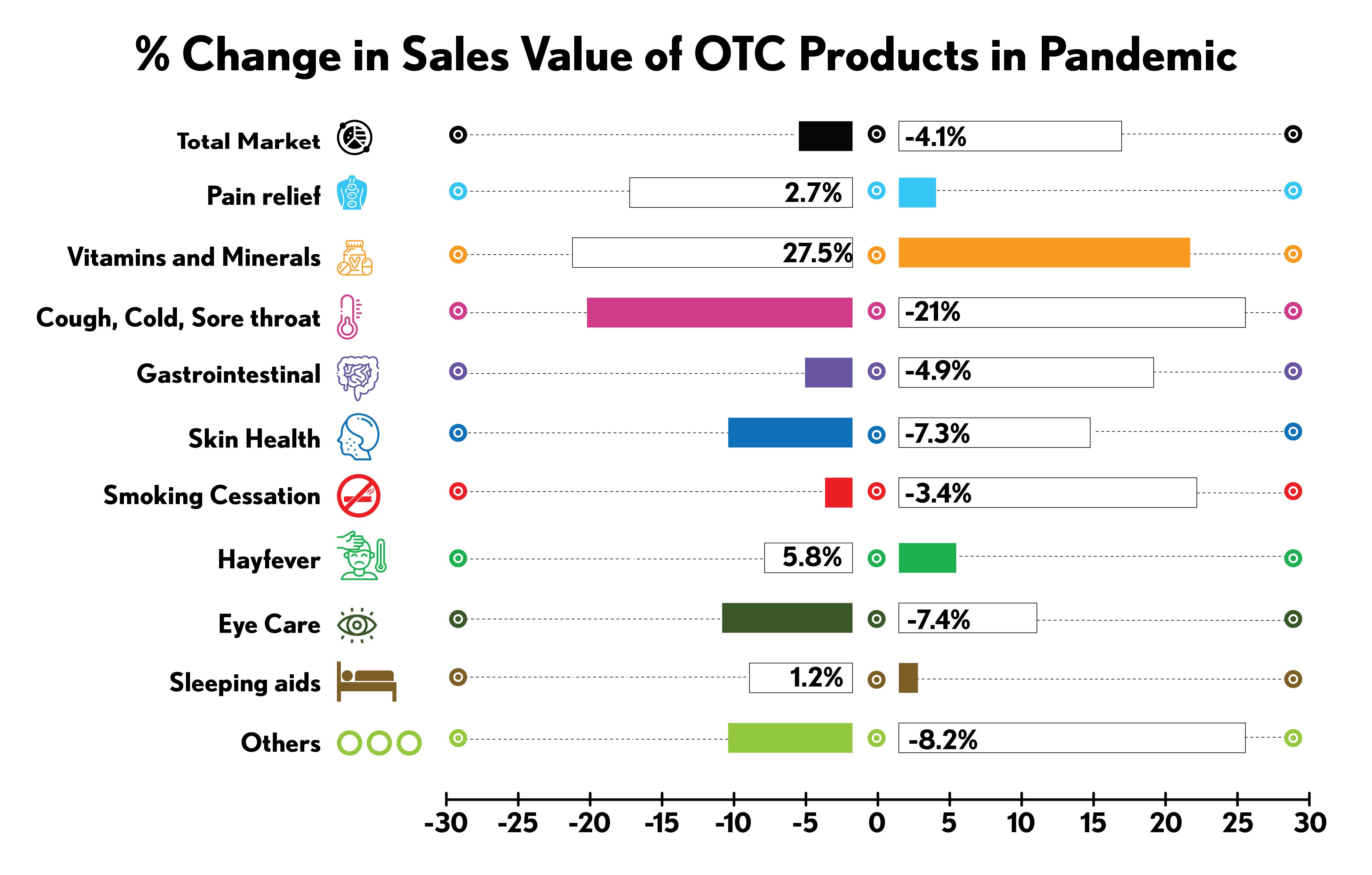 Changing Consumer Behaviour
Key Takeaways
65% of people in Europe are now more likely to consider their health in day to day decision-making.
Shift in consumption & shopping habits

Focus on increased price, quality & availability.
COVID-19 has affected consumer behavior for OTC market in five key ways:
Shift to value and essentials - Consumers are mindful of their spending and limit it to strictly essentials products as an impact of economic downturn, which has hampered income across all segments.
Adoption to online purchase - Most categories saw >10% increase in online customer base, moving to e-tail, e-commerce and D2C.
Shock to loyalty - For certain products and brands COVID caused supply chain disruption, leading to consumers quitting their product, retailer and changing their shopping behavior to try new brands and channels.
Rx to OTC switch - As most major prescriptions have multiple alternatives, consumers started to move from Rx to OTCs during the pandemic. This changing attitude of people towards medication has made a huge impact on OTC drug globally.

Homebody economy

- Unwillingness to go out to the market to shop/avoiding crowded place, ease of shopping from the comfort of home.
Consumer Perception & Purchase Pattern in Covid-19
Shifts in Consumer Healthcare Behaviour - Facts & Figures
55% of global consumers have dramatically changed their use of traditional health care services.

42% are uncomfortable going to a hospital for any treatment.

58% of consumers report feeling "very comfortable" picking up medicines at their local pharmacy.
User Experience and Perception:
As the COVID-19 pandemic advanced across and inside geologies, consumer behavior has also evolved rapidly.
Consumers look for value and price influences behaviour; however, trust also remains an important factor in consumer healthcare.

Consumers are utilizing virtual visits like never before and plan to keep utilizing them. Consumers using virtual visits rose from 15% to 19% from 2019 to early 2020; this jumped to 28% in April 2020. By and large, 81% are probably going to have another virtual visit, even post COVID-19.

Both healthy eating and supplementation benefitted—the vitamins and minerals category growing by 14.3% from the previous year.

Online sales in 2020 accounted for 10% of consumer healthcare sales—higher than ever before.

Digital adoption is rising quickly across the world.

The consumer healthcare sector has witnessed a steady rise over the past few years. Individuals are assuming control over their wellbeing by going to safeguard care and non-solution treatment for minor diseases.

Almost 62% of consumers would be willing to use virtual care in the future.
Purchase Pattern and Affordability:
Following the extended lockdown and social distancing because of COVID–19, customers have been compelled to shop in an unexpected way—reprioritizing what is fundamental and trading the checkout line for web-based shopping like never before. Let's look at some of the important points:
Customers' purchasing propensities will turn out to be more unstable.

Price and worth will become fundamental.

Products purchased most by shoppers during the lockdown: vitamins and supplements, pain killers and sleeping aids.

Consumers are spending less in most non-food categories after experiencing the pandemic situation.

Online and across the board store shopping: Restrictions on store opening and opportunity of development prompted an adjustment of shopping propensities. Customers progressively went on the web and signs are that this will probably continue.

Trust impacted purchasing choices: The early indications of recessionary practices started to show and might be more apparent in the coming year. Purchasers search for worth and value impacts conduct. However, trust additionally stays a significant factor in shopper medical services.

Vitamins and minerals increased: Health and cleanliness unavoidably climbed individuals' priority list in 2020. The meaning of wellbeing and self-care augmented to incorporate prosperity and nourishment. Both good dieting and supplementation profited—the nutrients and minerals category developed 14.3% from the previous year.

The percentage of clients who will say they will spend less has practically doubled.

More than 40% of the buyers encountered a drop-in pay because of employment cutback.
Future of Consumer Healthcare
By observing the various user experience, perceptions, patterns of purchase, behaviour trends of the consumer, we can assume the future of consumer healthcare for short and long-term periods. Let's look at a few things that can drive the future of healthcare.
Consumerization of healthcare

:

Healthcare is going through a rapid phase of consumerization with more digital-native players entering the market, granting easier access and tailored services to consumers and experimenting with new points of integration. As a result, consumers are seizing more control over the way healthcare is accessed and delivered.

Consumerization driven by digital health:

The web and cell phones give healthcare organizations direct admittance to consumers. As customer premium develops, tech giants and new companies are progressively hoping to enter the buyer wellbeing market, notwithstanding weighty guidelines set up. As digitization speeds up, consumer healthcare is confronting a principal shift in patients' inclinations, practices, and requests around medical care administrations, and it is reclassifying how shoppers draw in with medical services, suppliers, and payers.

Incorporated services:

The consumerization of healthcare has been gradually terraforming the recently divided healthcare services scene into a more coordinated framework with democratized admittance. Different occupants and disruptors coordinate various pieces of the healthcare services esteem chain into their current items and services to offer comfort and a buyer first encounter.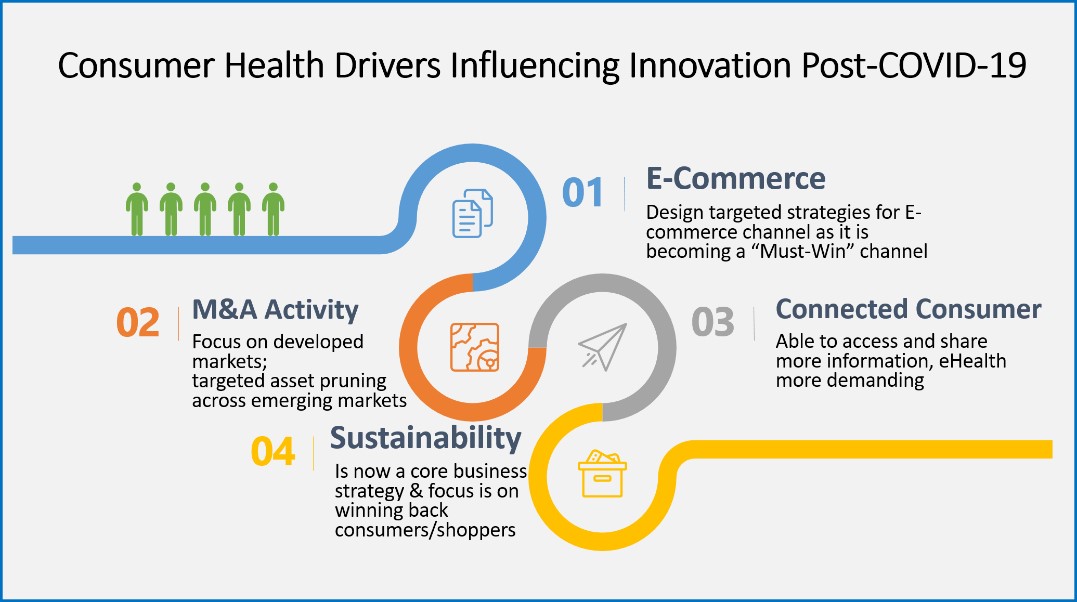 Changing Ecosystem
Consumer health now is a US $390 billion global industry and is growing fast. Yearly development in the area throughout the recent years has outperformed various significant purchaser merchandise markets, including bundled food sources, magnificence and individual care. It is estimated that the market will grow by 50% over the next five years.
Given its appealing development prospects, the purchaser wellbeing space has seen a multiplication of dynamic players hoping to expand scale on the lookout. These players fall into two distinct categories: pharma companies and major consumer packaged goods (CPG) players.
The market has been dominated by pharma companies such as GSK, Johnson and Johnson and Bayer, which continue to focus heavily on the consumer health space. However, there is a developing interest from CPG players and food or fixing makers like Reckitt, Procter and Gamble (P&G), Danone and Nestle. This convergence of interests is expected not only to contribute to further sector growth in the future, but also to increase frequent crossovers between these two business types. This, in turn, is fundamentally changing the consumer health market and creating significant growth in the market.
A developing number of consolidation and obtaining exercises has been an instrumental factor in affecting the development of the OTC market. For instance, in 2014, Bayer acquired Merck's consumer healthcare business, including leading sunscreen and anti-allergy brands, making Bayer one of the biggest OTC drug manufacturer. In 2017, Bayer AG entered into a strategic partnership with AliHealth (Alibaba Health) to promote self-care products in China. It is the 1st consumer health company to sign a memorandum of cooperation with AliHealth on uni-marketing.
A new market of consumer-focused healthcare products is emerging to occupy the space between consumer goods and pharmaceuticals for becoming a battleground that giants in both industries are gearing up to dominate. Many components of purchaser familiarity with health problems, higher individual salaries, more spotlight on wellness, urbanization of arising economies, just to give some examples have consolidated to make another market for healthcare products.
We trust the consumer wellbeing organization of things to come will be a combination of the two enterprises, ready to draw buyers in and demonstrate the clinical adequacy of their items and will be as proficient at managing clinical experts as they would be arranging general store rack space. Even more important, such a company will have the ability to identify unmet consumer needs and develop innovative ways to unlock true value in the marketplace.
Developing business sectors like Brazil and India are showing the best development rate in consumer wellbeing, as compared to similar markets, in different classes. But these markets are still relatively small compared with the U.S. and Western Europe.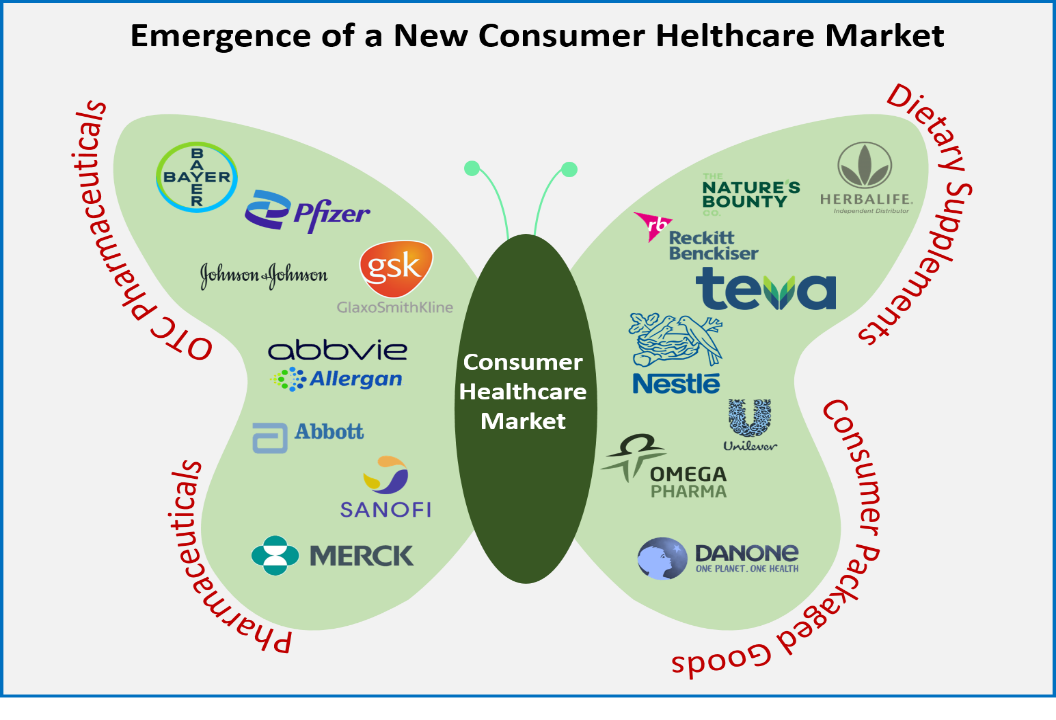 Emergence of New Consumer Healthcare Market
Another market of buyer centred healthcare items is arising to consume the space between purchaser products and drugs—and turning into a milestone that major players in the two ventures are equipping to rule.
Maybe the most baffling measurement we see is the absence of development in Western Europe. This is particularly surprising given that healthcare needs increase with age, and Western Europe will hold more than 35% of the world's "gray wealth" over the next decade, more than twice that of Brazil, Russia, India, and China combined, providing a huge and largely untapped market. Nonetheless, a look at the drug store and store rack shows that consumer health organizations appear to be fulfilled and elevating in vogue wellbeing enhancements to youngsters, instead of providing solutions for genuine medical conditions faced by the elderly.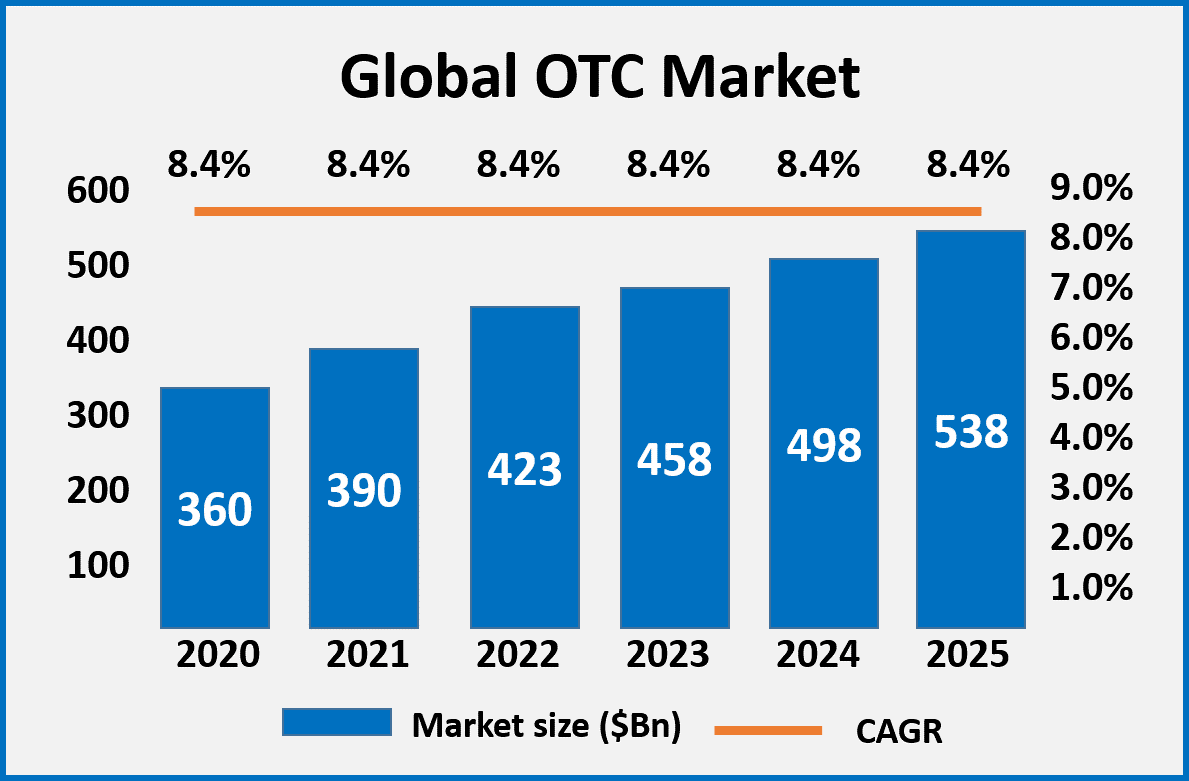 Road Ahead for Consumer Health
Since Covid-19 hit globally, a vast difference in consumer healthcare segment, in terms of user experience and perception, purchasing patterns, behaviour of the consumers has been observed. Consumers started paying more importance to their health, which was not a major concern before covid-19. There was more importance given to healthcare products and habits, and this situation will likely last for a while.
Consumers' search for worth and value impacts conduct and trust stays a significant factor in shopper medical services. In healthcare, consumers are more comfortable and attracted using new technologies, which they find safe to use as it can be accessed virtually. There is also a rise in e-commerce in consumer healthcare.
After Covid-19, many remedy (Rx) items changed to the OTC arrangement of driving pharmaceutical firms. Customer wellbeing items do not need medicine from a specialist and can be bought over the counter. With the Covid-19 pandemic seething, examiners expect the emphasis on OTC brands to proceed on the grounds that visits to specialists are rare.
OTC Medicine: Greater health awareness bodes well for sellers and distributors of OTC medicines, which is now the fastest growing category online, according to BA research. OTC medicines are seeing a 44% growth in online purchases, and they are expected to increase by 10% even after Covid.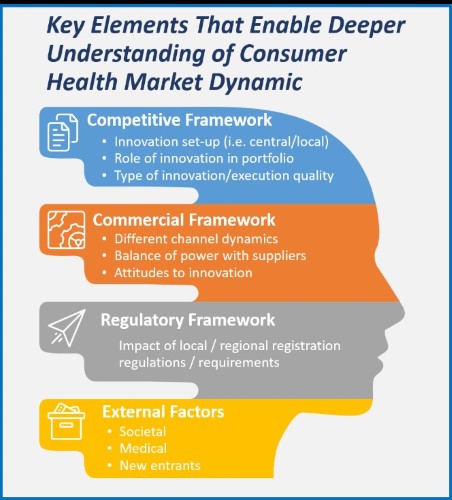 ---
Borderless Access is an award-winning digital market research products and solutions company servicing global clients across multiple industries. Our flagship healthcare vertical provides specialized services in primary market research, data analytics & consulting.
We are happy to connect with industry leaders to explain our services and also understand your business requirements. You can find more about our products and solutions on https://borderlessaccess.com/ba-health
---
References
Borderless Access Research and Analytics framework & methodologies.
COVID-19: The impact on the industry.
https://www.incae.edu/sites/default/files/coronavirus-report-v4-1.pdf
Post-COVID Emergent Trends in Consumer Buying Behaviour for Pharma-OTC Sector.
https://www.researchgate.net/publication/350089798_Post-COVID_Emergent_Trends_in_Consumer_Buying_Behaviour_for_Pharma-OTC_Sector
The consumer healthcare market in 2020. https://www.pagb.co.uk/about-us/about-our-industry/
E-Commerce, Trade and the Covid-19 Pandemic.
https://www.wto.org/english/tratop_e/covid19_e/ecommerce_report_e.pdf
Dietary Supplements in the Time of COVID-19.
https://ods.od.nih.gov/factsheets/COVID19-HealthProfessional/
The Future of Consumer Healthcare. https://medium.com/ipg-media-lab/the-future-of-consumer-healthcare-71ff82d6ee25
Consumer Healthcare and Coronavirus. https://www.lek.com/insights/ei/consumer-healthcare-and-coronavirus-three-trends-will-continue-drive-long-term-industry
Six major consumer healthcare trends to watch for in 2021. https://www.netscribes.com/consumer-healthcare-trends-2021/
Changing dynamics and talent needs in the consumer health industry. https://www.russellreynolds.com/en/Insights/thought-leadership/Documents/rra-consumer-health-whitepaper.pdf
Digitalization, access to health information and structural demand are set to further drive the consumer health market. https://www.bayer.com/en/investors/consumer-health-megatrends

Feeling good: The future of the $1.5 trillion wellness market

https://www.mckinsey.com/industries/consumer-packaged-goods/our-insights/feeling-good-the-future-of-the-1-5-trillion-wellness-market