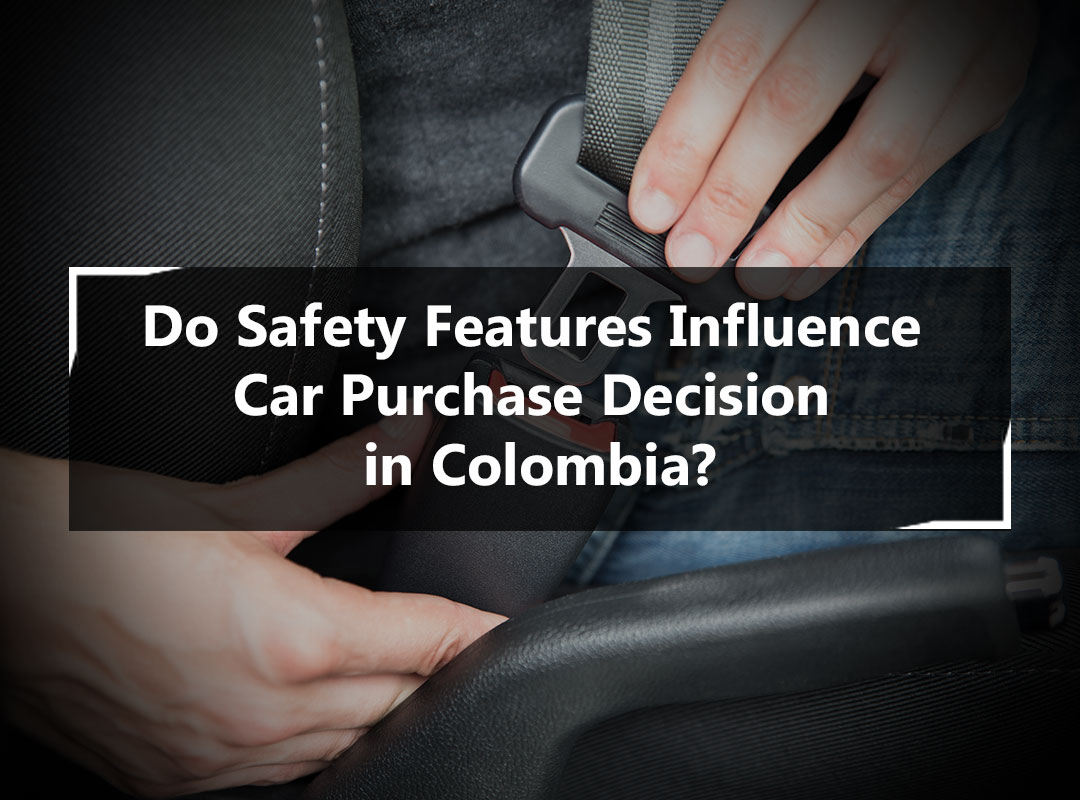 Purchasing a vehicle is a crucial decision that a consumer makes. Commonly such a decision-making process starts with the financial aspects of the purchase in consideration. Then where does the consideration of automobile safety features come in the process? How much importance does a consumer give to safety ratings before purchasing a vehicle? This is especially important in developing markets where automobile safety standards are only now improving and several safety features are generally not offered as a standard option, making consumer knowledge and decision-making all the more critical.
To draw consumer insights on this matter, Borderless Access conducted an online study in India and countries in South America and Africa. In this blog, we explore what consumers in Colombia think about automobile safety standards and if and how safety features influence their purchase decisions.
Are Colombian consumers aware of automobile safety ratings?
Our study findings indicate that a significant percentage of consumers who are planning to buy a car are not aware of automobile safety ratings. However, a greater number of consumers, who have recently bought a car are aware of the same which indicates that consumers were informed about safety ratings at the time of purchase, if they were not already.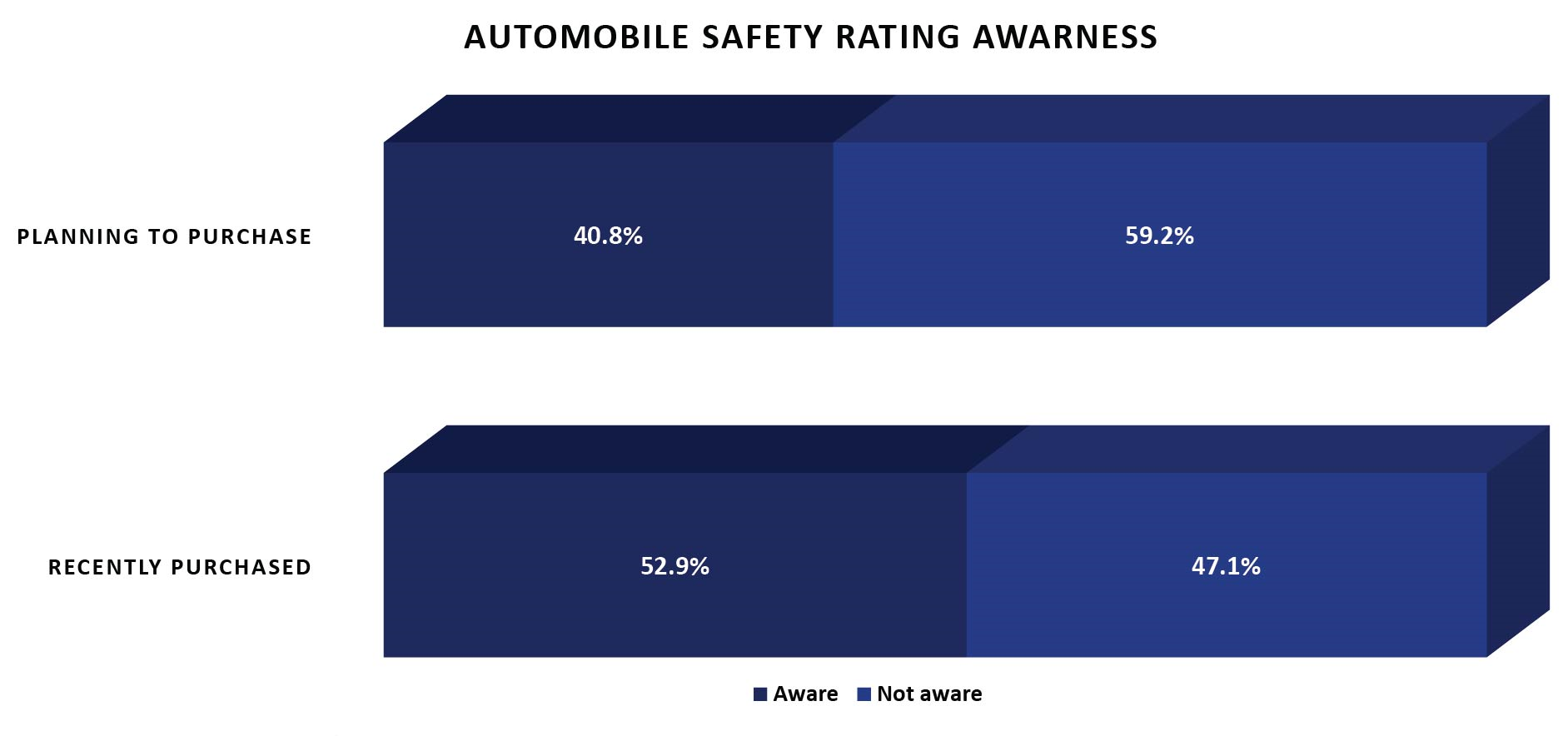 Potential car buyers are more likely to spend extra on a safer car
While awareness about automobile safety ratings is relatively low among consumers in Colombia, especially among those who are yet to own a car, they are certainly willing to spend more on a car that is considered safer.
Our survey found out that around 56% of potential buyers are willing to pay a 10% premium on a safer car.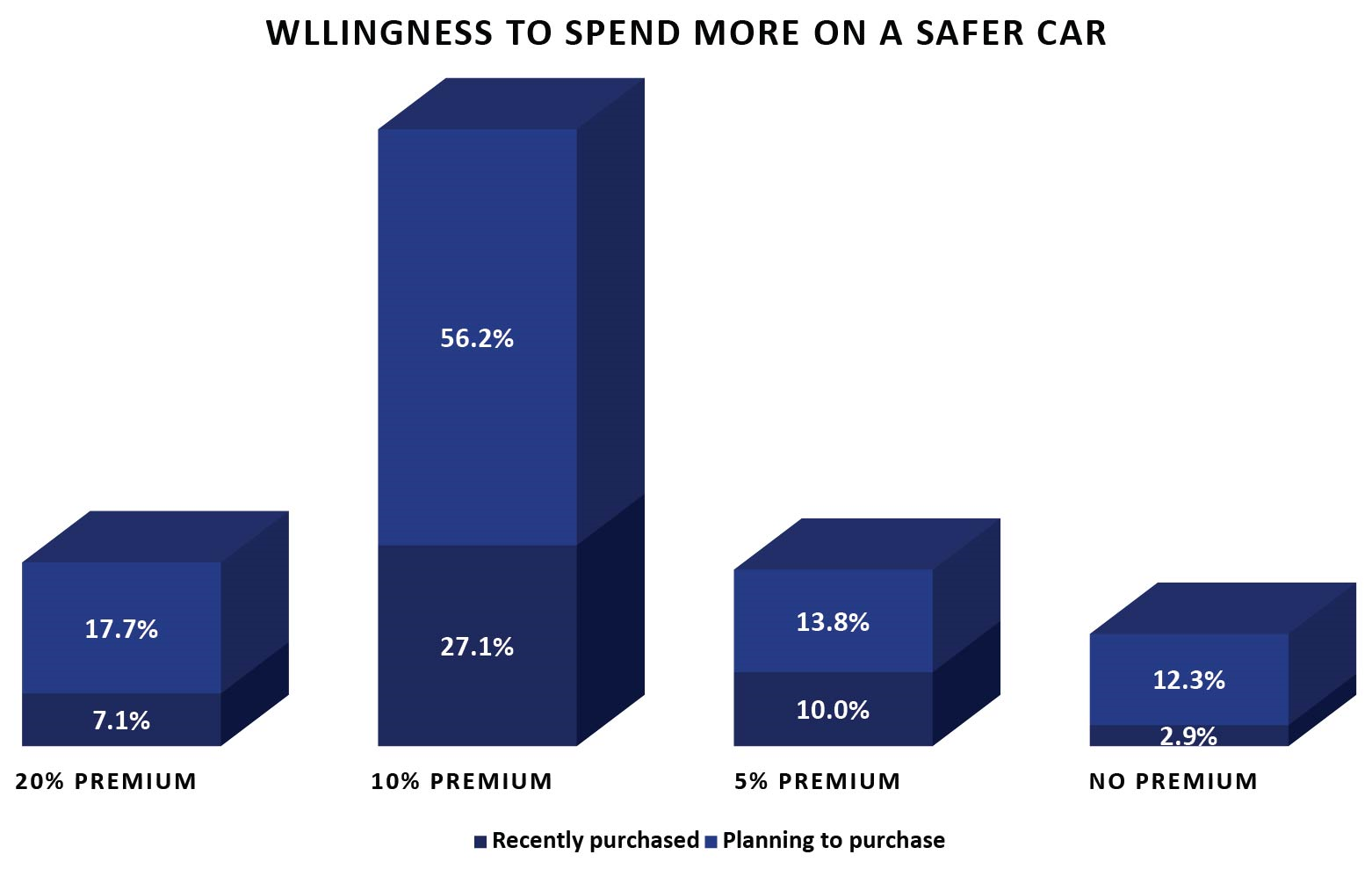 On the other hand, 27% of recent car owners said they spent extra on safer cars. Speaking of how much importance people gave to a vehicle's safety ratings before purchasing a car, about 38% of respondents said they did not give importance to safety ratings while a little more than 35% leaned toward cars with high safety ratings.



Fuel efficiency matters but so do airbags
Our study findings reveal that most recent buyers preferred cars with good fuel efficiency. At the same time, they also gave equal preference to safety features, especially airbags and electronic driver aids (EDAs). Talking specifically about EDAs, anti-lock braking system (ABS) was the most preferred feature among safety feature among consumers.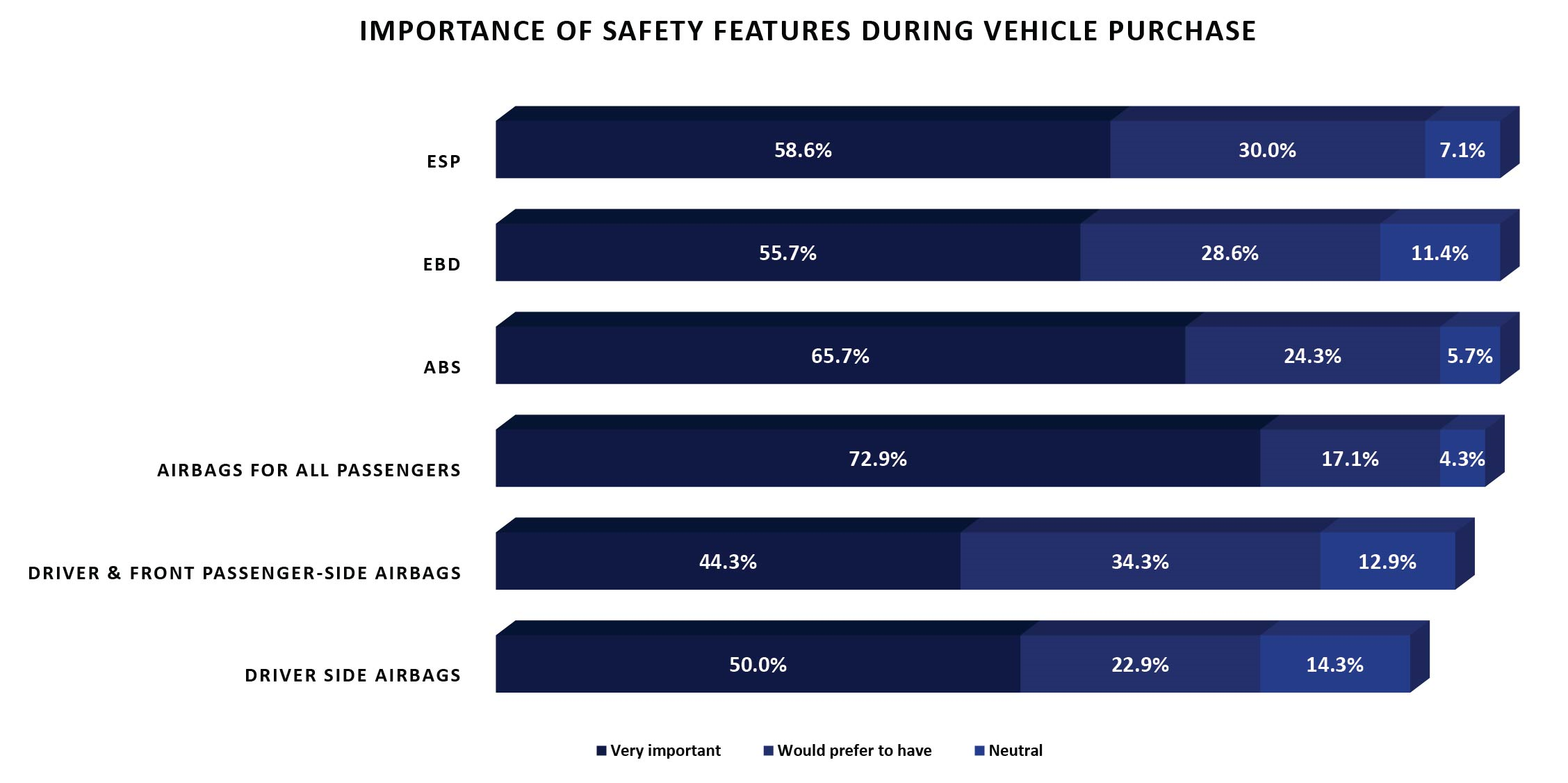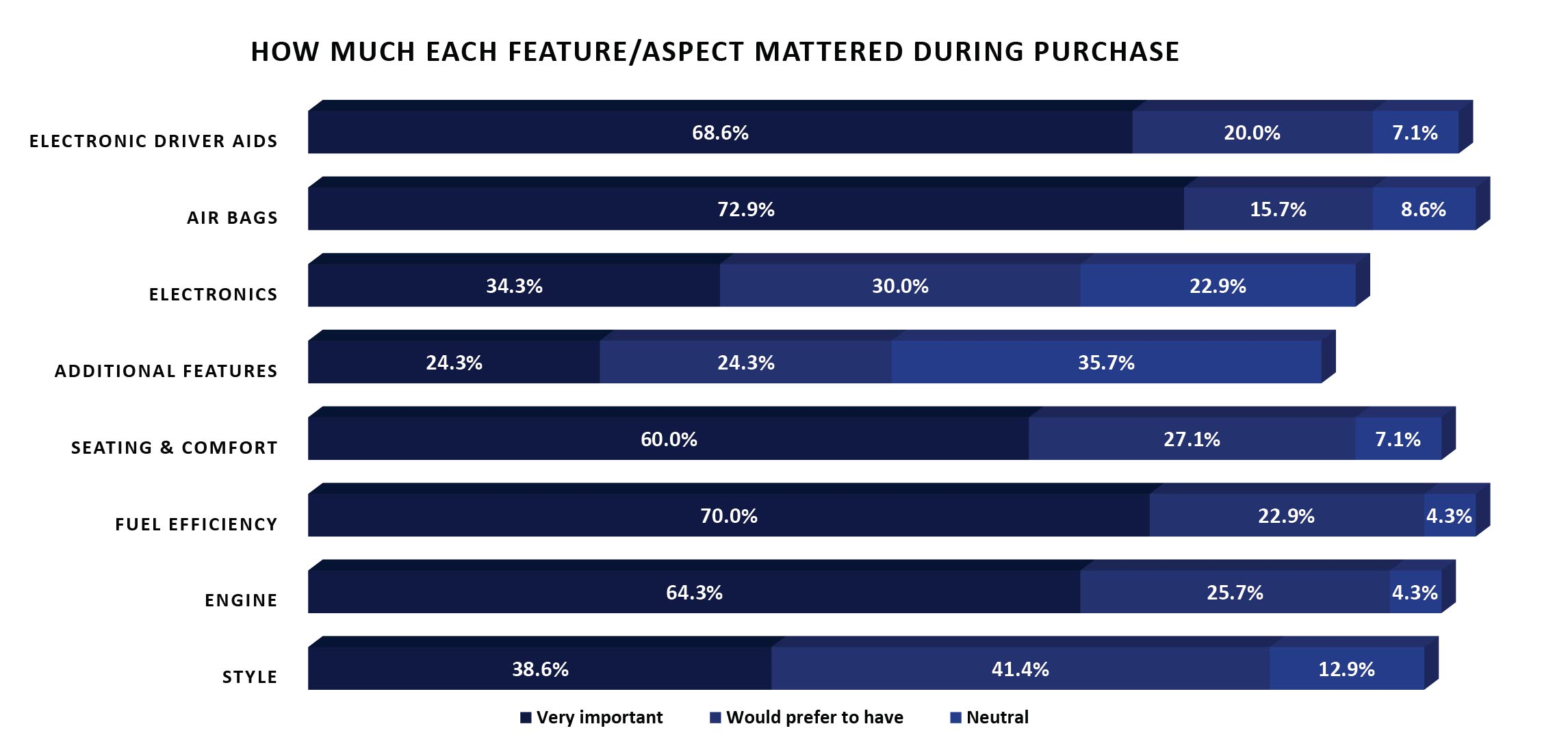 A similar preference can be noticed among upcoming car buyers as well, with most people in the market for a new car looking to make a decision based on a product's fuel efficiency and availability of airbags. Our study also suggests that the majority of upcoming buyers would prefer to have a car with all airbags as well as ABS.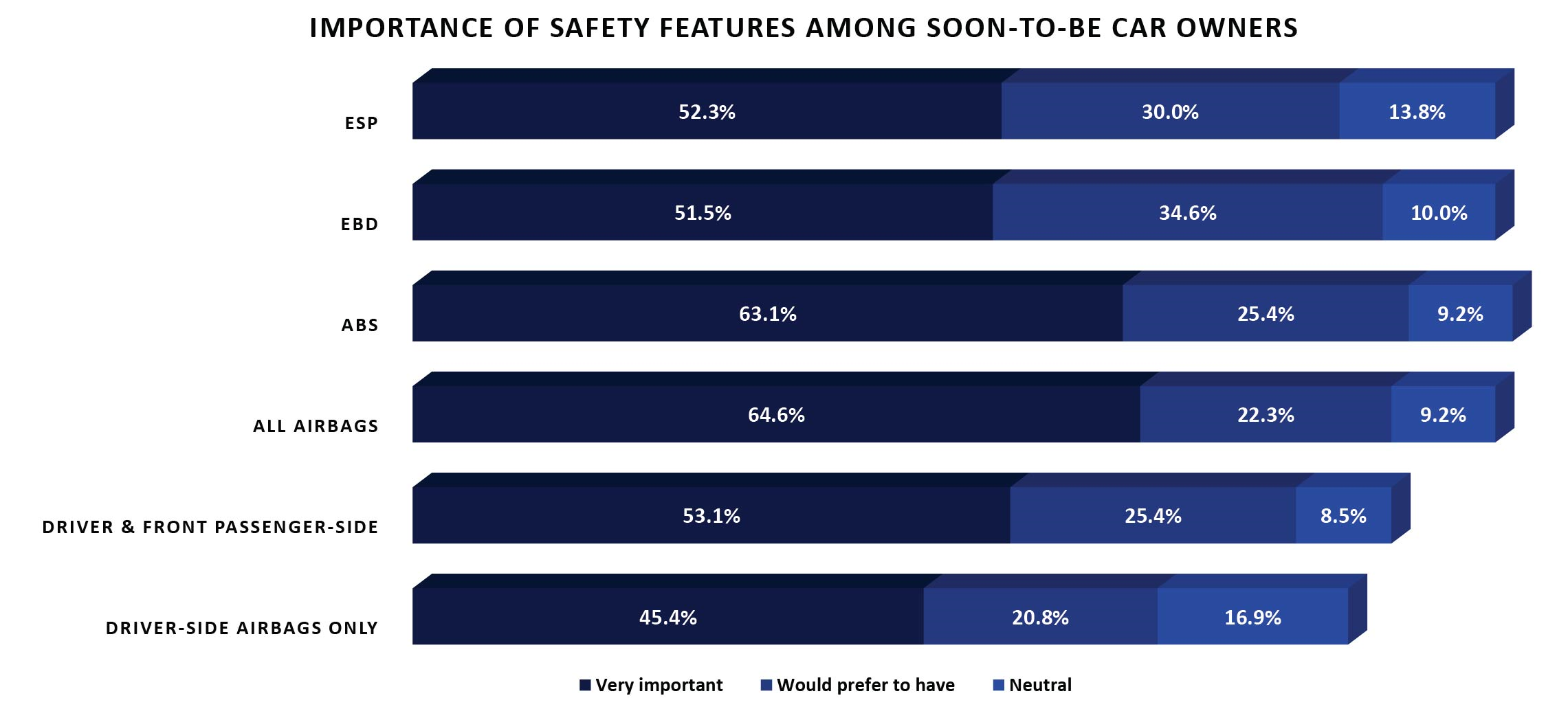 Concerning airbags and ABS
Not surprisingly, considering the buying preferences, most consumers in Columbia have a strong, positive opinion on having airbags and would prefer to have all airbags as standard safety feature on cars.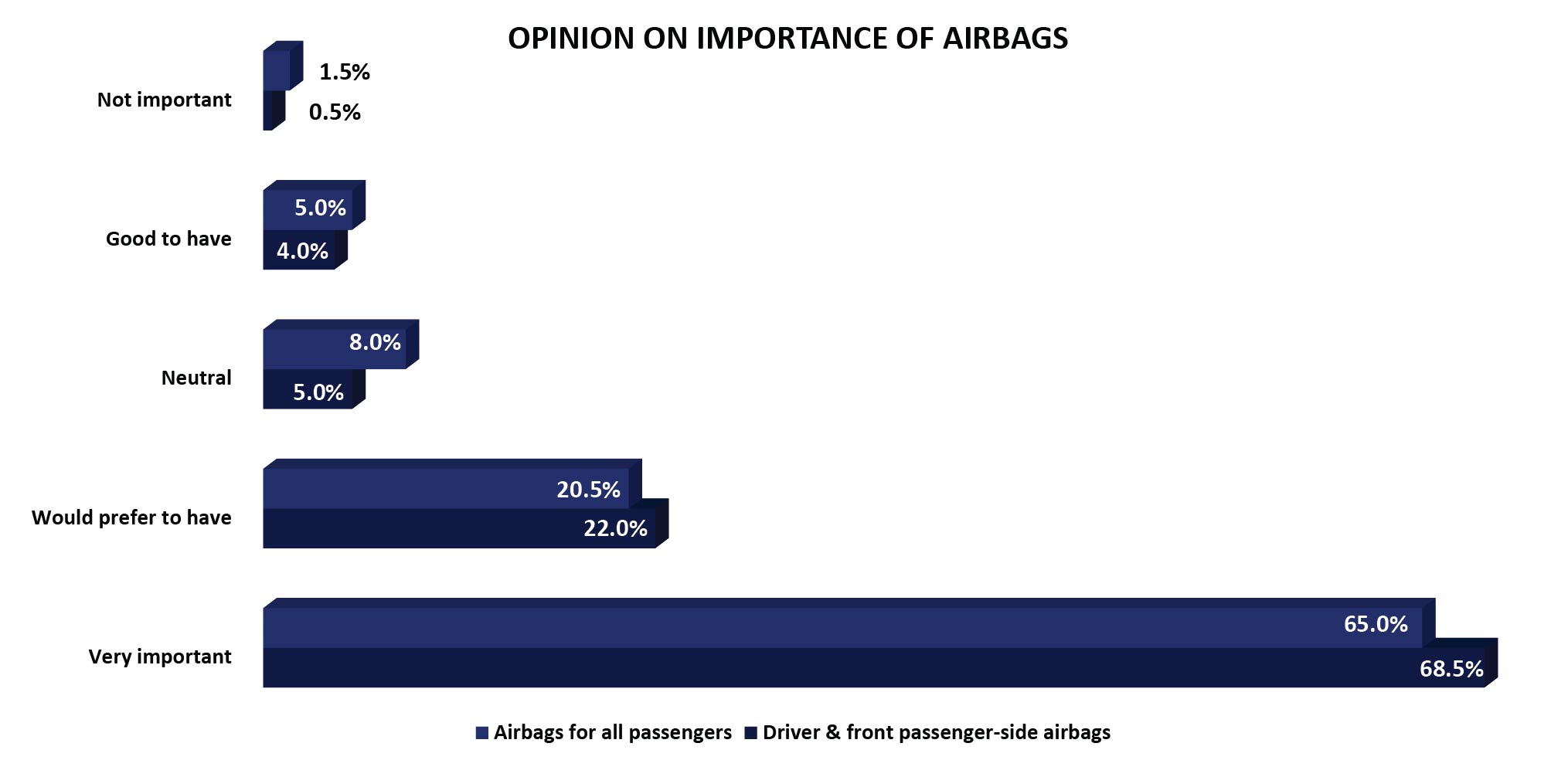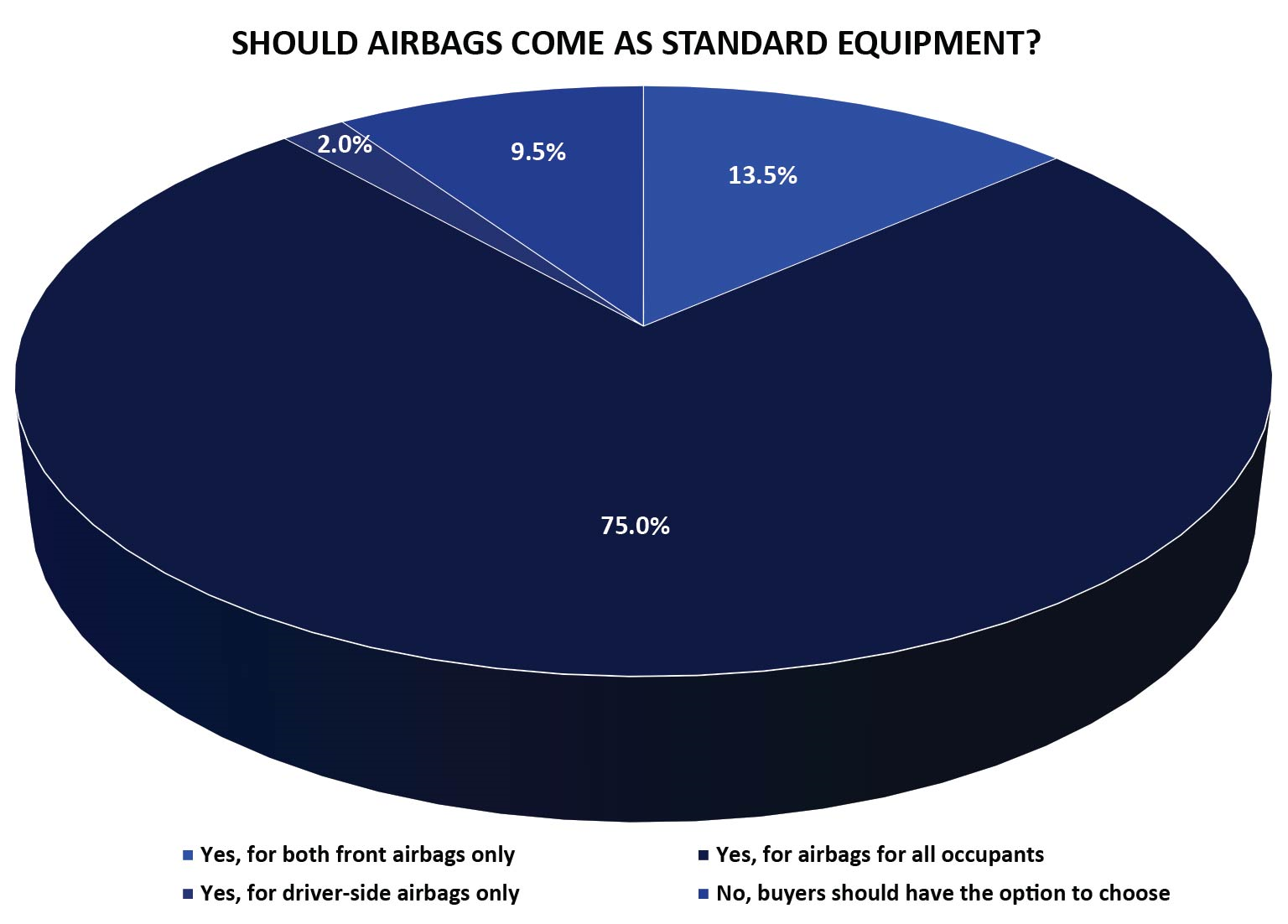 Similar to the majority opinion people have about airbags, our study revealed that consumers have an equally strong and positive opinion on the importance to electronic driver aids (EDAs). In particular, ABS is the most sought-after feature among all other EDAs. Significantly, a large number of consumers want ABS, ESP (Electronic Stability Program or Electronic Stability Control) and EBD (Electronic Brakeforce distribution) as standardized safety equipment in vehicles.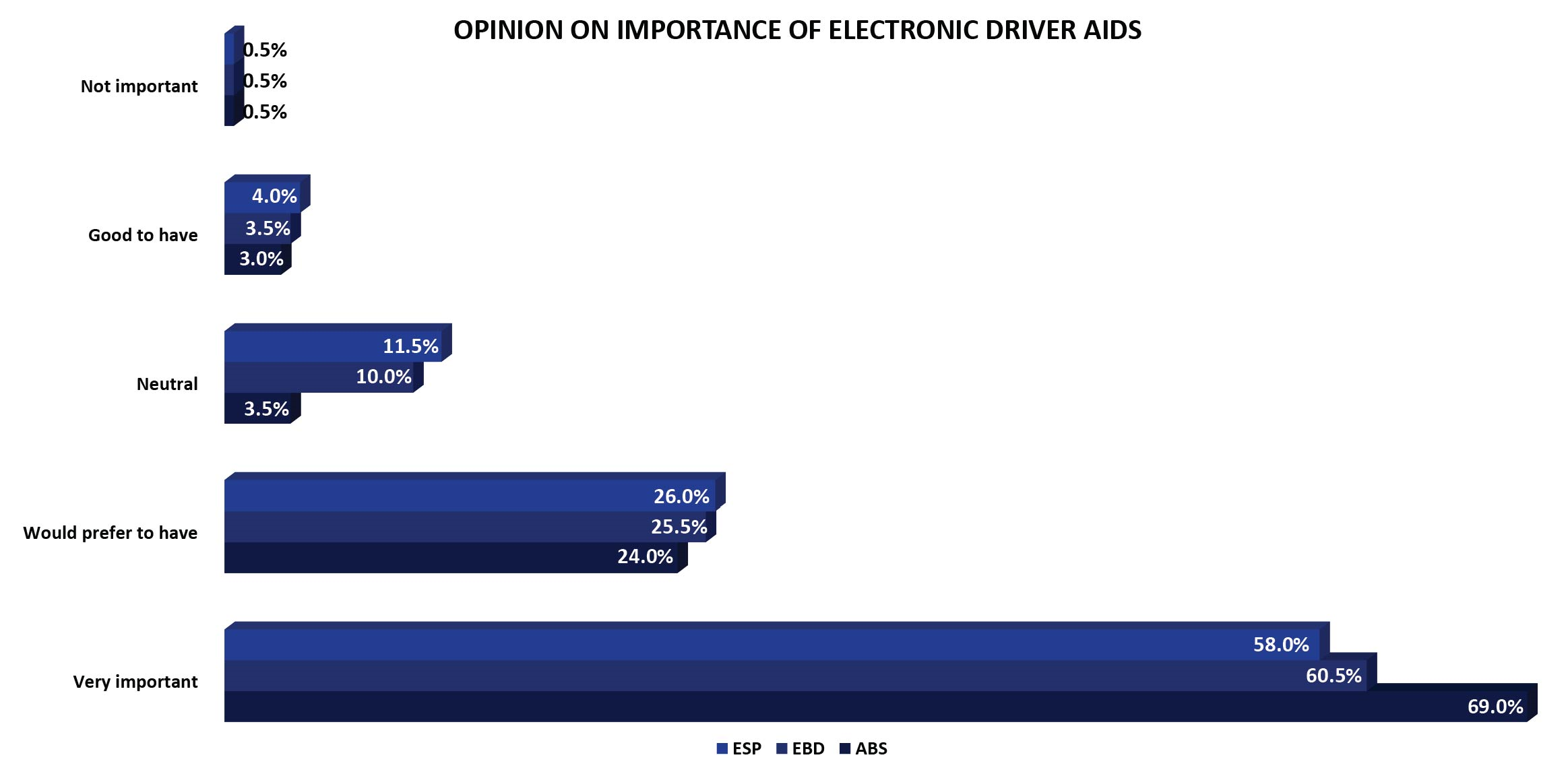 Consumers are willing to spend more on airbags and EDAs
In line with consumer preference for airbags and EBD, our study shows that consumers looking to buy a new vehicle soon are willing to spend a 10% premium on a car with all airbags. Interestingly, a significant majority are also willing to spend a 5% premium on EDAs as well, which can be considerably more expensive than having just airbags.

Conclusion
In a nutshell, the findings of this study indicate that even though most consumers in Colombia are yet to be more aware of automobile safety ratings, they are certainly not ignoring the safety aspects completely. Be it, recent car owner or potential buyer, they all prioritize safety and are willing to pay extra for standard features like airbags and ABS.
These are critical aspects of Columbian auto-consumer preferences that could certainly assist automakers in devising appropriate plans to market to the consumers. And at the same time, brands should also capitalize on the lack of awareness about safety ratings by devising communications that could drive sales based on the safety aspects of a vehicle.
Read our other blogs to know how automobile safety features influence Indian and Brazilian consumer purchase decisions.
---
Contact Borderless Access for more such rich consumer insights that help your brands and businesses grow.