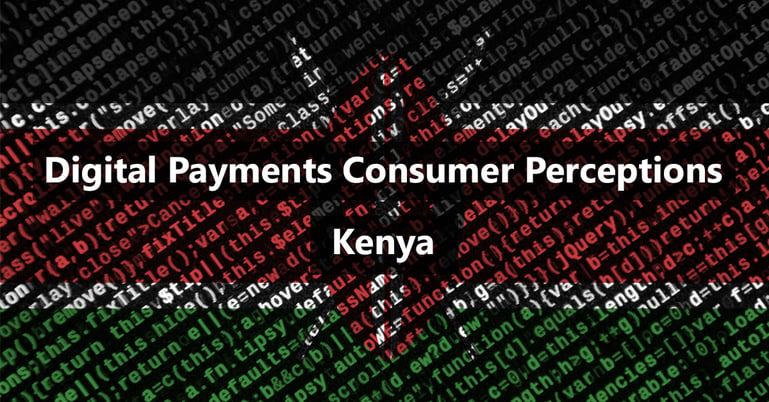 The growth of digital payments in Africa in the last decade has been most prominent in Kenya. The country, which boasts of over 200 million mobile money users, is today even using digital payment as a way to combat COVID-19.
In a market where digital payment is not the future but has already arrived, how can brands and new businesses make the most of the opportunity?
In this regard, Borderless Access conducted a study in Nigeria, South Africa, Ghana, and Kenya, to explore the uptake of a wide range of payment methods by the masses. Where only 65% of the adult population are considered financially inclusive, it presents fintech and other finance establishments with a massive pool of opportunity to grow and expand in the coming years.
It is important to note, that this study was conducted just before the lockdown was implemented in any of the African countries, thus the results indicate a long term trend, rather than being skewed by the unusual spending behaviour of the past few weeks due to COVID-19 pandemic followed by lockdowns.
Commonly used payment modes: Cash and mobile money go shoulder to shoulder
The Kenyan payment market largely operates on cash as well as mobile money. This is interesting to note due to the fact that mobile money usage is almost on par with cash. Bank issued payment apps are the other popular mode of payment used by Kenyans. While debit and credit cards cannot be considered unpopular, but they are used relatively less frequently.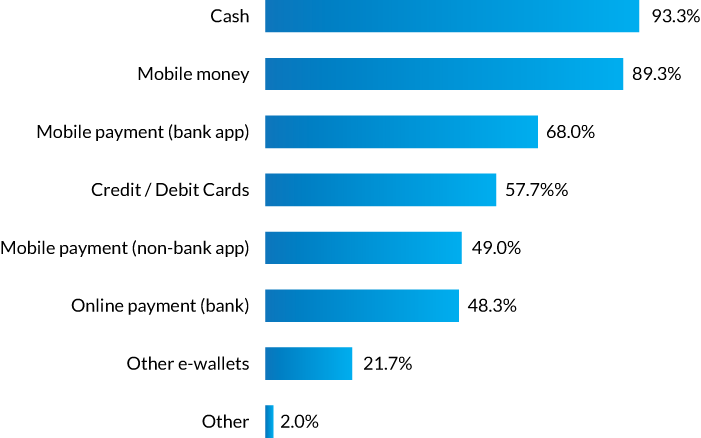 Popular payment modes based on transaction
Cash is the most prevalent mode of payment in Kenya when purchasing day-to-day essentials such as groceries and when paying for services provided by electricians, plumbers, etc. Mobile money is also used to a much lesser, yet significant extent. However, when it comes to non-essential purchases like clothes, jewellery, accessories, etc., mobile money usage is equal to cash.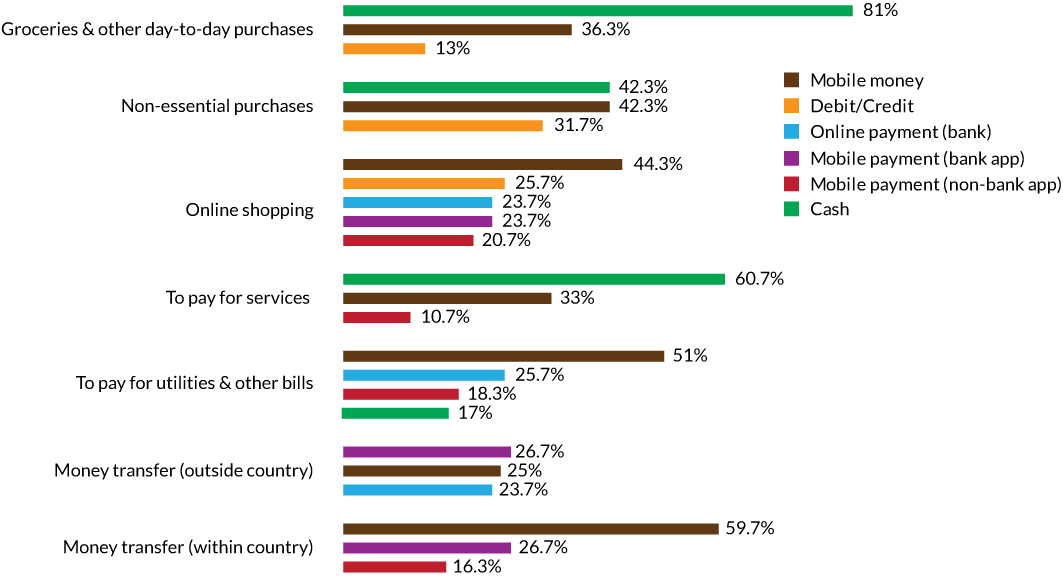 Mobile money takes a clear lead when it comes to online shopping. Other methods of payment like cards, online bank payment, and other payment apps are also used to a notable extent. It's the same scenario when looking at payment for utilities and bill payments where again mobile money takes the clear lead, as cash usage is very low.
Money transfer is an important transaction area were we witness an interesting preference among Kenyans. Bank issued payment apps, mobile money, as well as online bank payment, are almost equally used to transfer money outside Kenya. However, this changes significantly in favour of mobile money when transferring money within Kenya.
The unfettered digital growth
Considering the notable preference for mobile money among Kenyans, it does not come across a surprise that mobile money has witnessed the highest growth in the last year compared to any other mode of payment. In fact, other digital payment methods including payment apps and online bank payment show higher growth compared to cash and card.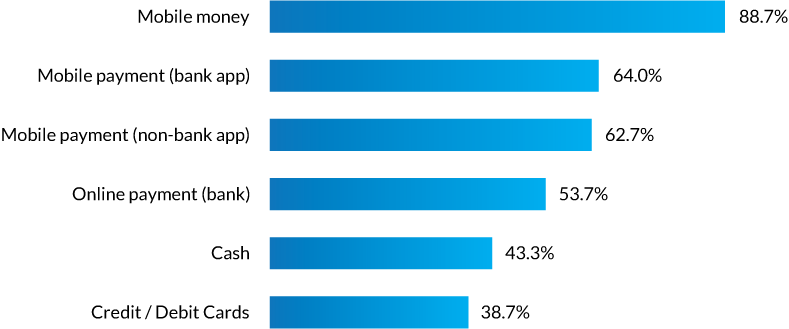 Reasons behind the growth of digital payments
Not surprisingly, the convenience that comes with using digital methods of payment is the leading reason behind this growth. Another reason that goes hand-in-hand is the relative safety digital payment offers compared to carrying money on your person. Access to reliable mobile internet is another reason that cannot be ignored, as well as the offers and discounts offered by service providers, which draw in new consumers.

Breaking down the reasons by each mode of payment, we can see that mobile money takes the lead across all factors – convenience, trust, safety and offers and discounts.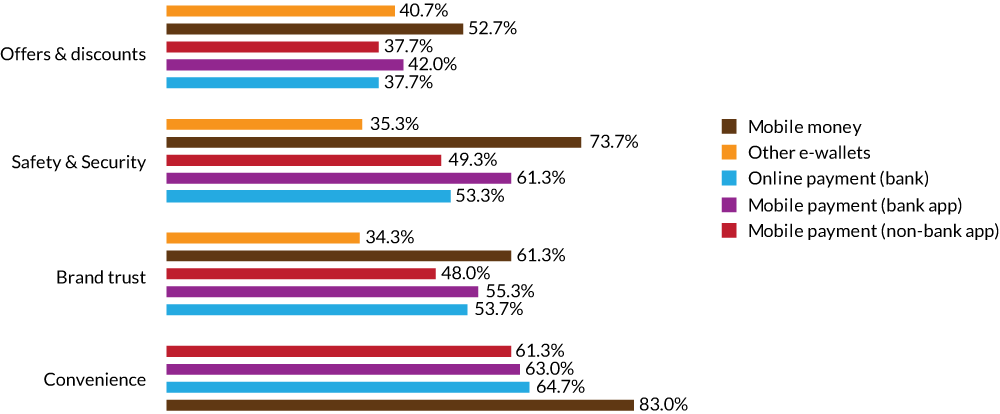 Conclusion
The story of Kenya has been an inspiration for other Africa nations. While cash continues to be used widely, most prominently for day-to-day transactions, a strong digital payment culture has taken root in the country. The widespread use of digital payment modes in Kenya has been driven by a mix of factors, including the increase in mobile and smartphone usage and supportive government policies. With a strong baseline support in place, the payment market has witnessed the growth of many new fintech businesses and payment applications. For new fintech companies to make their presence felt in this mature digital payment market would require gaining consumer trust and thinking out of the box.
---
Contact us
if you are looking for deeper meaningful insights in Africa and other growing and developed markets of the world.