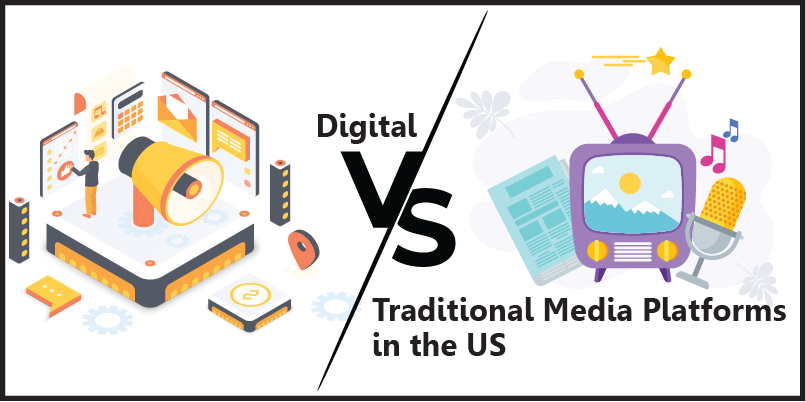 With each passing day, there is a growing choice of platforms for people to consume news, entertainment, sports and engage socially on. At the same time, this leaves marketers and brands with a difficult choice of having to choose between the various platforms or prioritize one over the year. Thanks to the unusual year 2020, consumer habits have further changed, making the task of marketing and advertising even more difficult.
To bring some clarity on this matter, Borderless Access conducted an online study during the last months of 2020 to understand which platforms consumers prefer and trust. The study also sheds light on consumer preference for traditional media platforms versus digital platforms. In this blog, we compare US consumer preferences against the rest of the world.
Exposure to brand messaging and ad conversion
Not surprisingly, most people around the world (74%) were exposed to brand messaging on social media platforms, followed by television (67%). Interestingly, in the US, the majority of people (67%) were exposed to ads on television, followed by social media platforms (66%).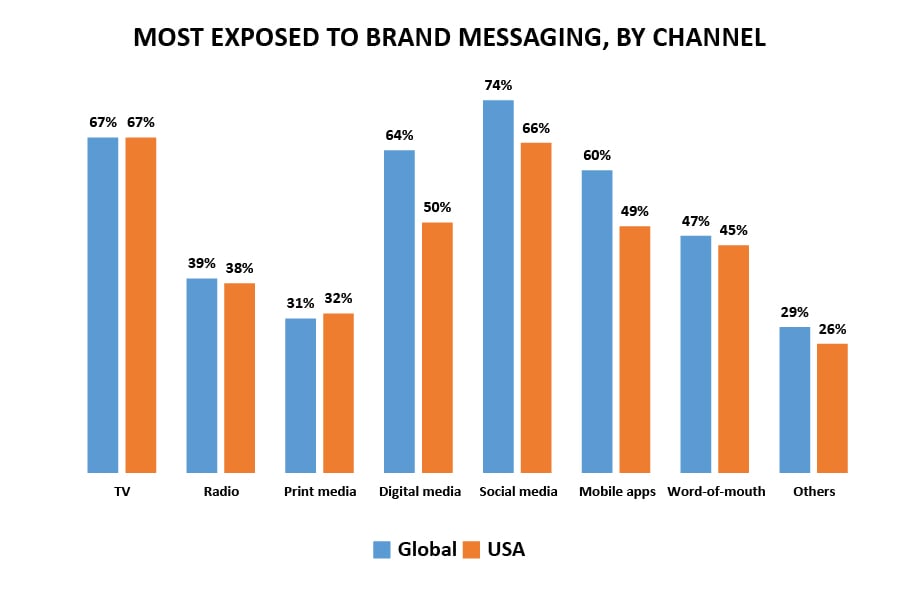 When narrowed down to online channels alone, the study revealed that the majority of Americans (56%) are exposed to brand messaging on social media platforms, followed by emails and online ads, at 45% and 44% respectively. Notable here is the fact that a significant number of Americans are exposed to ads and brand promotions of some kind over emails, which is not the global norm, where emails are preceded by social media platforms, online ads, digital newspapers and online forums.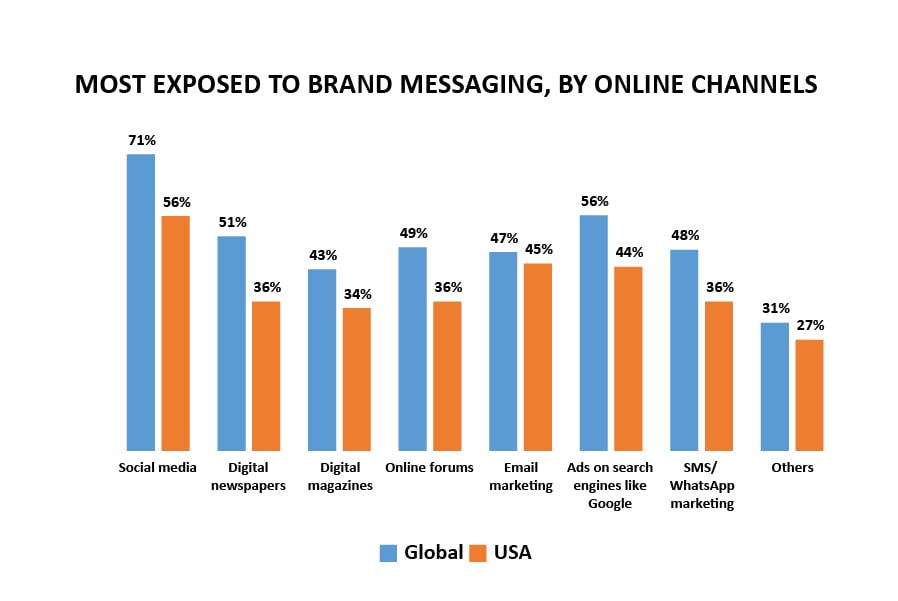 Ad conversions by media platform
The ubiquitous nature of social media means that ultimately, digital platforms most effectively convert brand messages into purchases. 48% of US respondents said they had made a purchase or used a service or a product after being exposed to a brand message on a social media platform. While that may not come as a surprise, what is certainly interesting is that 44% of US respondents also credited their product or service used to brand messaging on television. Once again, this behaviour is consistent with the global average.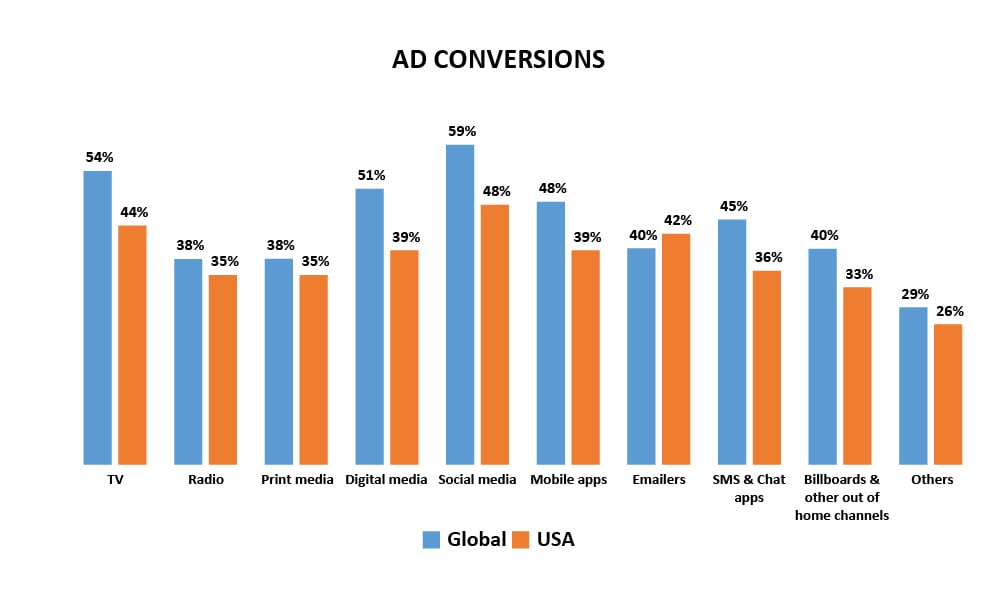 Platforms consumers trust the most
Trust can be an important factor in a consumer's decision-making process for specific products and services and as such, it is a key point for marketers when promoting the same. Our study reveals that in 2020, television and print media were the most trusted in the US for product or service information, while social media was on the lower end of the trust scale.
Even when it comes to news consumption, television was the most trusted platform in the country, followed by radio and print magazine. This is consistent with the global viewer perception, where television leads in terms of trust.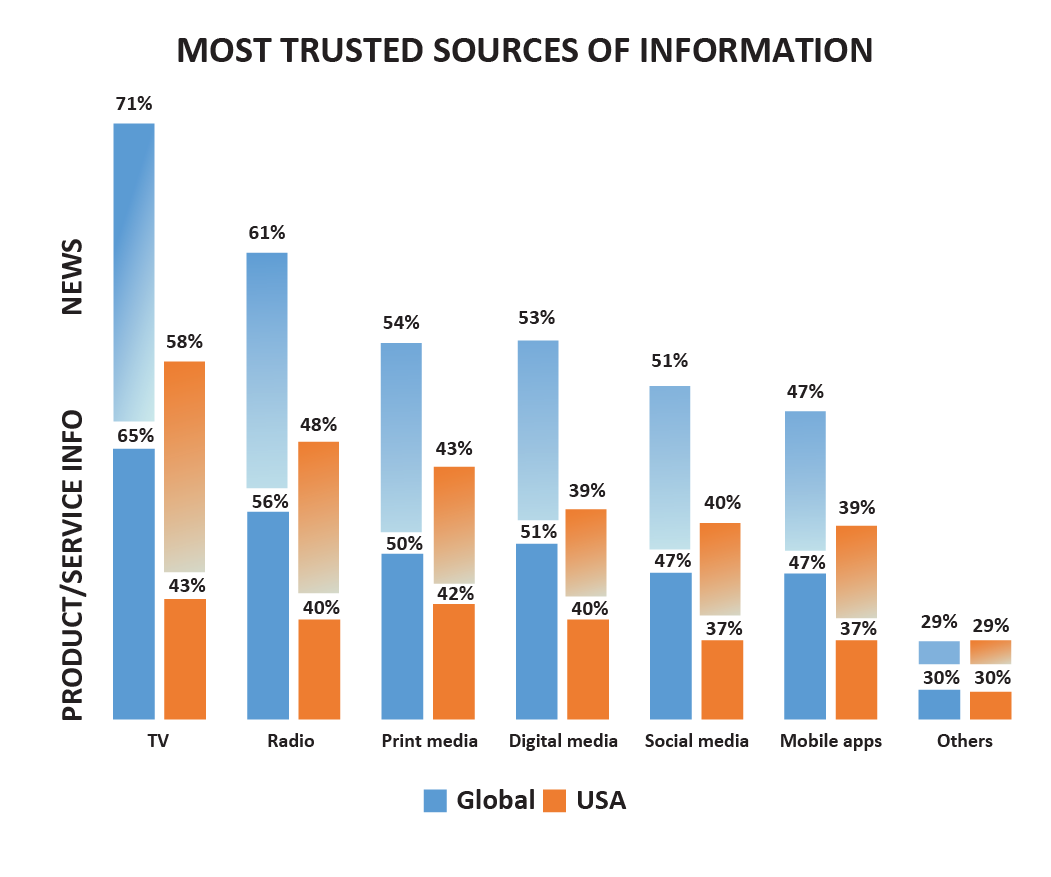 Among online channels, search engine results are the most trusted by American consumers searching for product or service information, as is the case with consumers globally. Meanwhile, digital newspapers are the most trusted sources of news in the US.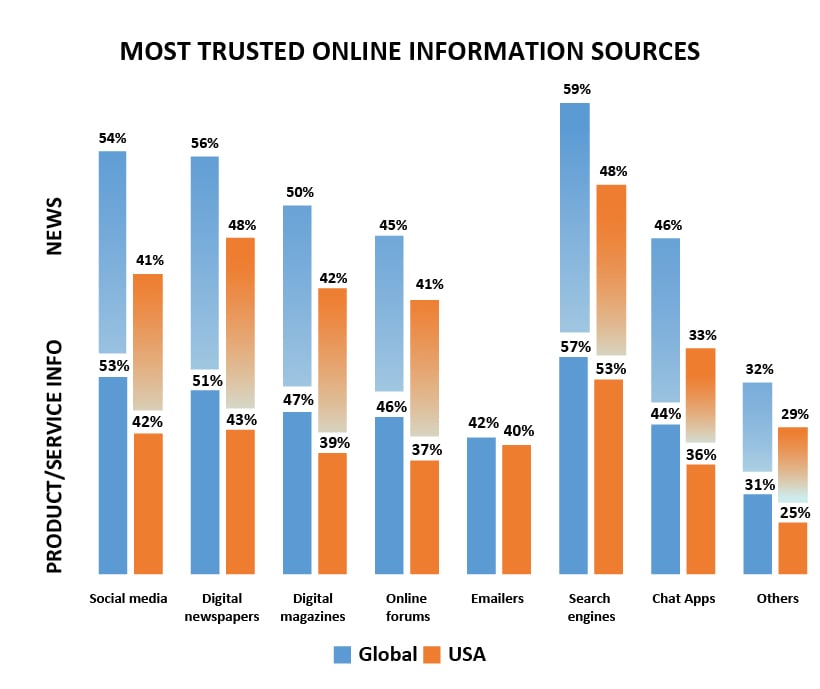 Consumer perception of print and digital media
Our lives are dominated by digital platforms of media but that has not taken consumer trust and affinity towards traditional media completely. In the US, 41% of consumers want to be able to rely on digital as well as print media, while 20% trust traditional media more than digital. Meanwhile, 11% of Americans said they have completely stopped using print media, which is lower than the global average of 9%. And of the 7%, 21% have quit print media since the pandemic.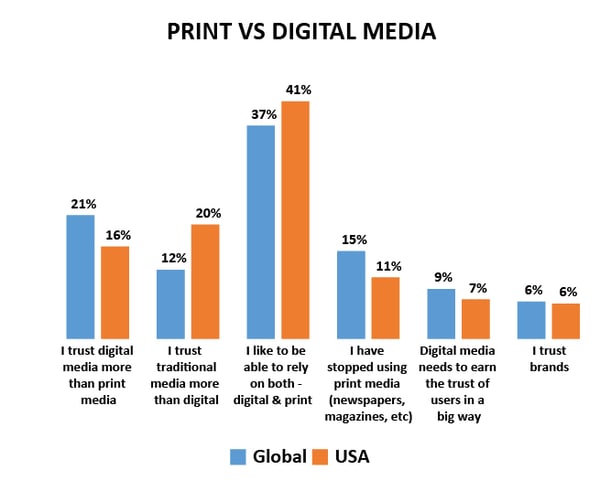 Conclusion
Yes, it is true that consumers in the US, as across the world, have fully embraced digital channels of communication and media. And businesses are right in relying on them for brand communication and product and service announcements. Having said that, it is clear from the study that consumers have still not completely let go of certain traditional forms of media and when it comes to trust, traditional still trumps digital. Television is a great example of a traditional media platform that is almost on-par with digital platforms in terms of providing visibility to brand messages and converting those into results. The same can be said about print media, especially newspapers, which while is not holding its own against digital media as well as television is, still has a strong audience. And interestingly, the pandemic has not dealt a death blow to traditional media as some might have expected.
For insights and analysis from across the consumer as well as B2B space, connect with Borderless Access and subscribe to our blog for similar insights.