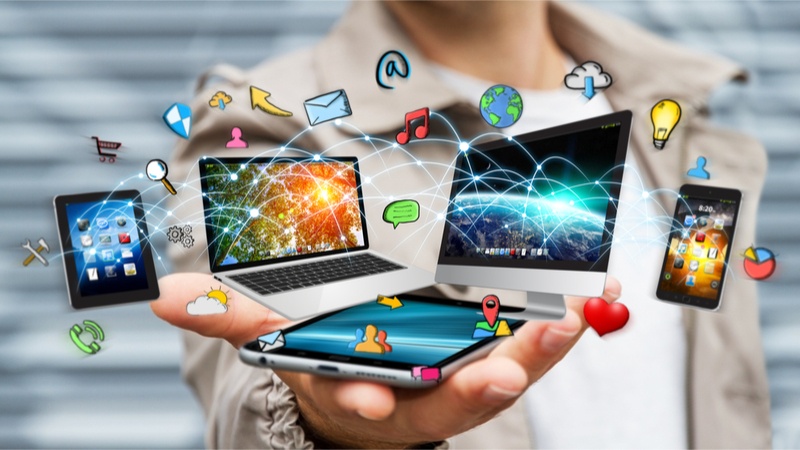 We all remember a time when the word 'computer' was synonymous with desktop PCs. The 90s and early 2000s were clearly the heydays of the PC, until the arrival of the mobile phone and later the smartphone and other smart devices. Today, we've reached a rather stable point wherein devices in two form factors rule the roost ­– laptops and smartphones. In fact, 90% of web traffic comes from these two device types.
Ready access to the web and a well-established online ecosystem means people are spending more time than ever online. Online activity via various platforms such as social media, communication applications and search clients is witnessing a steady growth.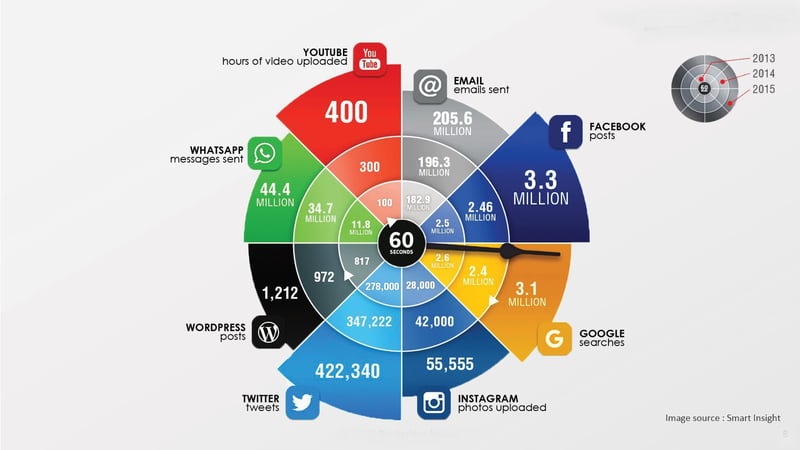 What happens online in 60 seconds?
An average smartphone or PC has 95 applications installed in it. A person uses 39 of these apps daily and has 102 unique web interactions every day, on an average. These web interactions happen through a myriad of apps and web browser based activity, which include social media and messaging platforms, shopping, watching videos, playing games and more. Naturally, all this activity provides ample opportunity to conduct market research and to gather quality insights, which can be invaluable.
It's all about designing better research studies
It's necessary to keep in mind the online habits of consumers, which can differ a lot based on the kind of device being used. Online activity, including social media activity, media consumption, email behavior and online transaction habits can vary significantly between a PC and a smartphone user – even when it's the same user. The goal of our study was to map these behavioral differences (including how PC and smartphone usage can affect study response), which can have a significant impact on field planning, study design and audience reach analysis. The ultimate objective is to use the findings to design better studies in the future.
For our research, we captured behavioral and attitudinal data from a group of respondents spread across India and Mexico, from their smartphone and PC usage. The data gathered included:
One month worth of online activity data
Browser data
App usage
Media usage
A 15-minute quant study also collected the respondents' lifestyle habits, shopping preferences and web usage. Simultaneously, we captured meta-data such as day and time of response, response source and response rate and engagement index.
PC vs smartphone – macro level findings
The study revealed clear-cut differences between PC and smartphone usage on both marco and micro levels. To begin with, the response time differed by device and time of the day and revealed a regional convergence. To be more specific, people (in both countries) tend to take email surveys when they reach work (PCs) and mobile surveys when they leave work.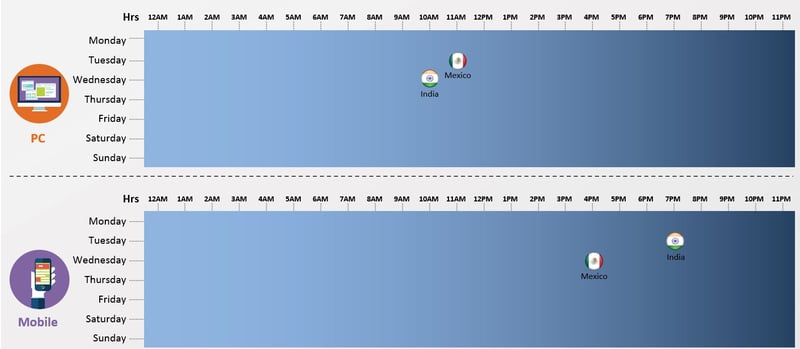 Online activity over the day
As far as online habits are concerned, the below chart clearly shows how online activity is distributed across the day on PCs and smartphones.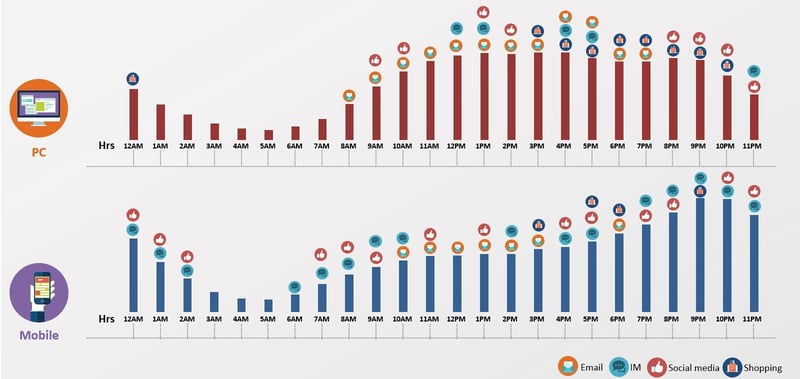 Online activity by hour
PC vs smartphones – the granular differences
We unearthed a few interesting behavioral differences between PC and smartphone usage.
Social media behavior: Turns out, social media usage is spread across the day quite evenly on smartphones. That's not the case on PCs, where people tend to access such sites and apps during certain time slots in a day. Interestingly, the duration of these activities is always longer compared to smartphones.
Search behavior: For smartphone users, the search terms locations, contacts and sports took the top 3 spots. On the other hand, respondents looked up for information about other people, on weather and read news while using a PC.
The purpose of web access: This area gave some fascinating, but not totally surprising, insights into user behavior. Let's start with smartphone users. Sending instant messages and using social media are the favorite things smartphone users like to do on their devices. Shopping and email? Not so much. On the other hand, respondents mostly accessed web emails while on a PC and also did a significant amount of online shopping.
Surprisingly, social media and gaming did not even make the list of top-5 activities performed on a PC. The same was true for online learning, video streaming and financial transactions during smartphone usage.
Things to keep in mind while designing studies
Let us now look away from people's online activity and behavior and see how they performed while taking up our survey. The results of this quant study findings are significant because, ultimately these can help us design better studies to gather effective, quality data in the future.
It's worthy of note that the rate of response was low for both PC and smartphone respondents without time restrictions and channel targeting. Though, response rate was significantly higher with smartphone users. Response rates did improve when the study was targeted at a selected group of respondents and time constraints were put in place, irrespective of the device on which the survey was taken.
One aspect of respondent behavior stood out during the quant study; one that can have a critical impact on the outcome of any research. Regardless of the device, respondents also tended to over claim the overall time spent online, whether it's during app usage or online shopping. On an average, the claimed time was 2 times the actual time spent!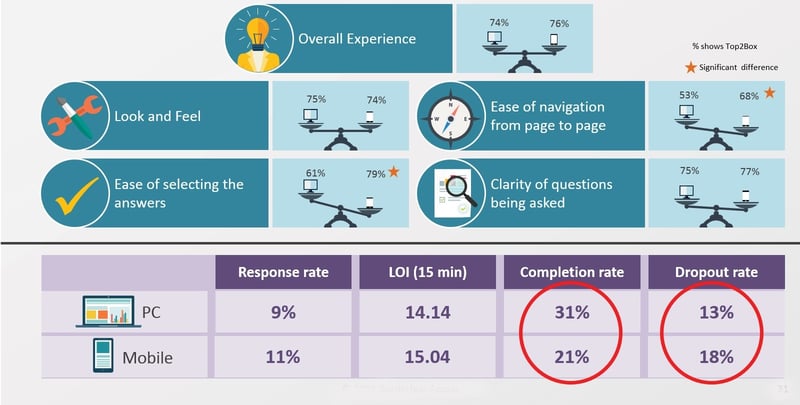 Survey taking experience by device form factor
The quant study also shows how sentiment on online transactions varies significantly based on device form factor, which has a lot to do with people's perception of online security being better on PCs. Age and buying capacity also seems to play a part here.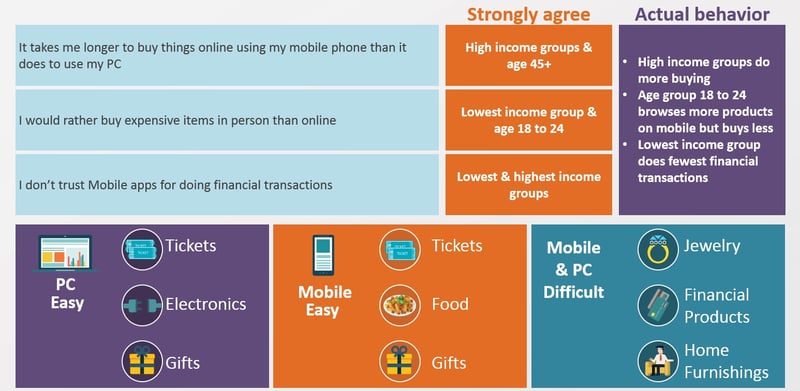 Opinion about online transactions
Improving market research
Understanding how people think and respond while participating in market research can let us improve how we conduct research immensely. Here are the takeaways.
PCs continue to be the preferred device for taking up surveys, to the extent that 94% of all surveys taken were on PCs! That's not to say smartphones are not important. It does, however, mean that studies have to be designed for PCs and smartphones differently.
At the same time, we can't overlook the importance of smartphones in market research as they are critical for passive data gathering. Behavioral and attitudinal data is the need of the hour. And this can be effectively gathered only by combining telemetry and survey data from devices of both form factors, resulting in richer and accurate business insights.
Three aspects of market research need to be kept in mind while designing and conducting surveys.
Survey design: Engagement time is low and respondents overestimate the time they spend online. This can be remedied by designing shorter and visually appealing surveys that field the right questions based on the device form factor. Also, gamification elements should be included wherever possible.
Fielding and sampling: Surveys should target the right group of people, the right devices and at the right time. Surveys should also be launched on multiple channels. That's because people of different demographic are active on different devices at different times.
Analysis and reporting: Respondents over claim certain categories of usage. This can be countered through the use of telemetry and behavioral data, which can let us make appropriate adjustments to compensate for any bias.
Keeping these in mind while conducting market research can boost response rate by nearly 50%, improve survey engagement by 28%, lower cost and turnaround time and improve audience reach.
The results from the research speak out loud and clear. The availability of different types of devices and the ecosystem surrounding them have altered the way in which people participate and respond. As a result, conducting market research is no longer a straight forward affair. However, implementing these learnings can make all the difference.
If your organization is looking for better ways to carry out market research in order to garner quality data that can be meaningfully implemented to positively impact your business, Borderless Access can help you with comprehensive panel services, digital market research tools and more. Visit borderlessaccess.com or download our panel book for more information.