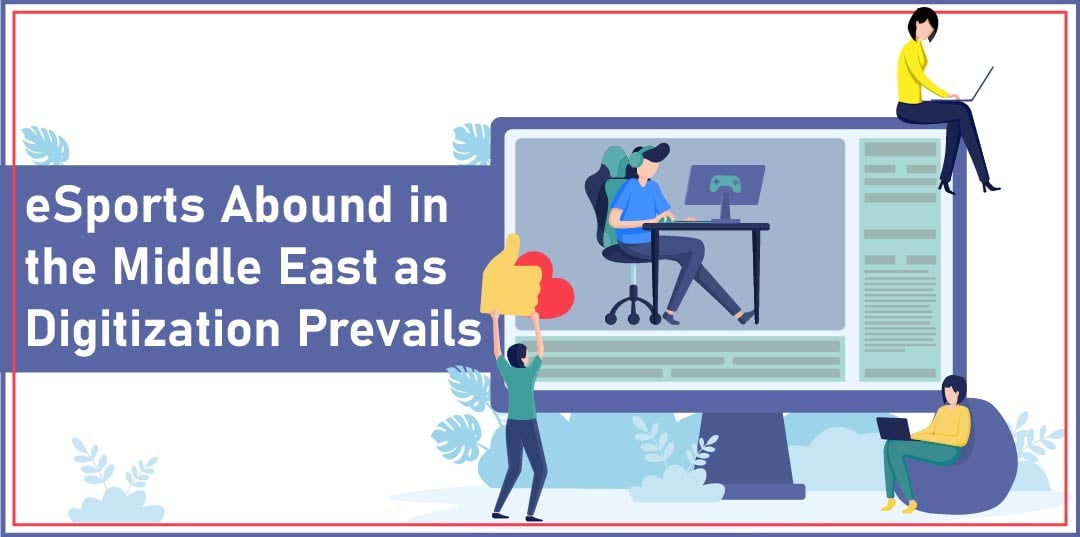 eSports are becoming increasingly popular around the world, both in terms of participation and viewing. Borderless Access conducted research across 15 countries to uncover more about this choice of entertainment. Today, we look specifically at fans who watch others play video games and eSports in the UAE and KSA.
eSports most popular amongst working professionals
Globally, it appears that interest in eSports is split evenly in terms of gender, with KSA following the global trend. However, in the UAE it is more male-dominated, with 58% of its followers being men.
Interestingly, the eSports adoption is much stronger amongst working professionals than it is amongst students, with 70% of eSports enthusiasts globally being working professionals. In Saudi however, there is a higher than average proportion of eSports enthusiasts who have finished studying but not yet found work, evidently turning to eSports as a way to pass the time.
Jobs in the Middle East have been hard hit by the pandemic which may also be affecting the increased number of people having more time to view eSports while they seek work.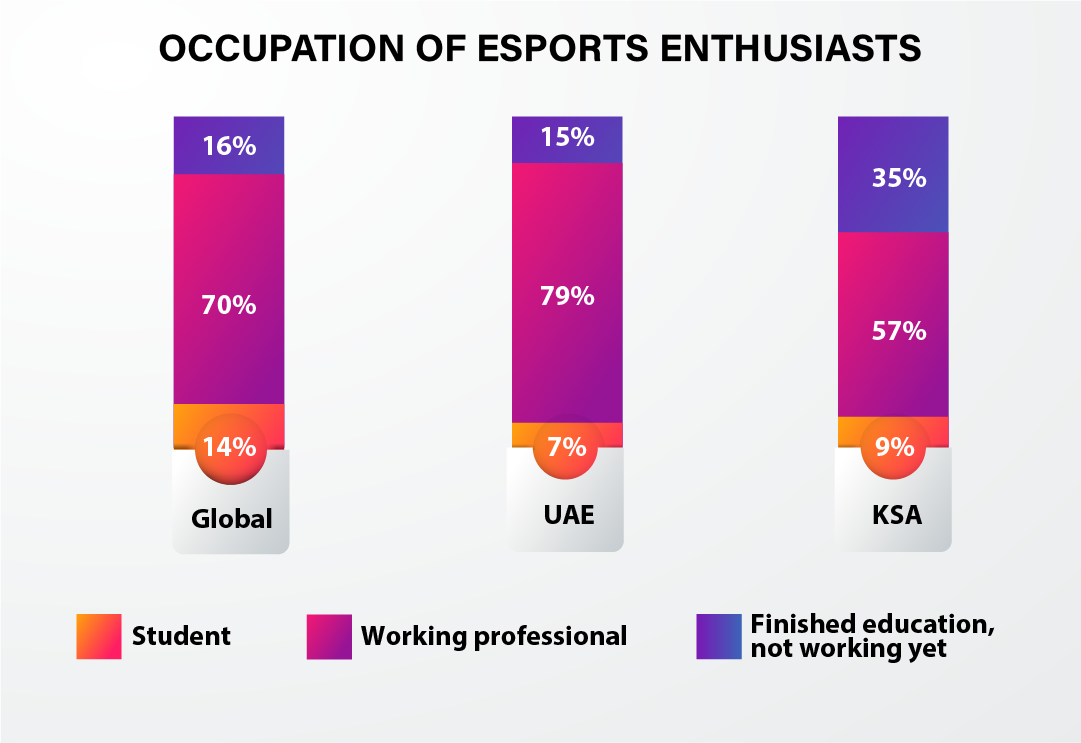 eSports appeal mostly to 25's to 40's age-group in the Middle East
The most common age bracket for eSports enthusiasts, by far, is the 25 to 35 years range. Globally, the next most common age group is 41 and above, but in the Middle East, it is the 36 to 40 years bracket that is attracted to eSports.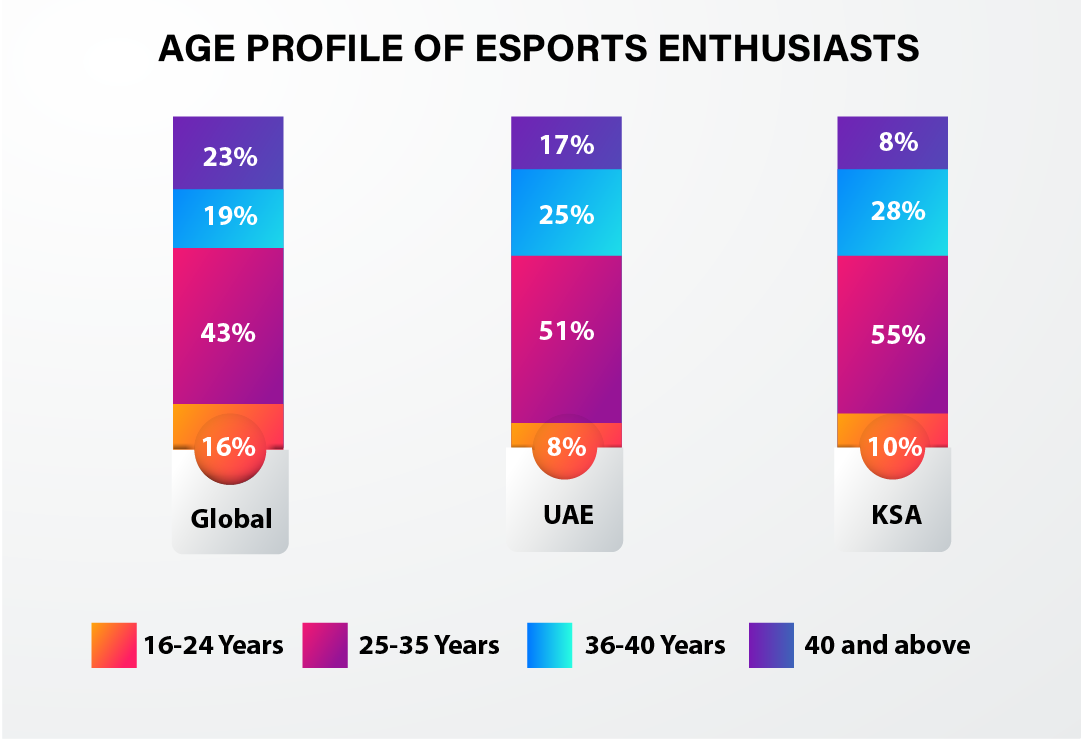 Sports video games and racing games are the most preferred genres
The majority of enthusiasts watch or follow an average of 2 to 3 genres of eSports. Of those who engage with a number of genres, puzzle games, sports video games, and racing games are the top three most popular ones.
Both KSA and the UAE show a preference towards sport video games and racing games. Saudi consumers also show a slightly different interest from their global counterparts, spending more time on combat/fighting games and open-world sandbox than the global enthusiasts.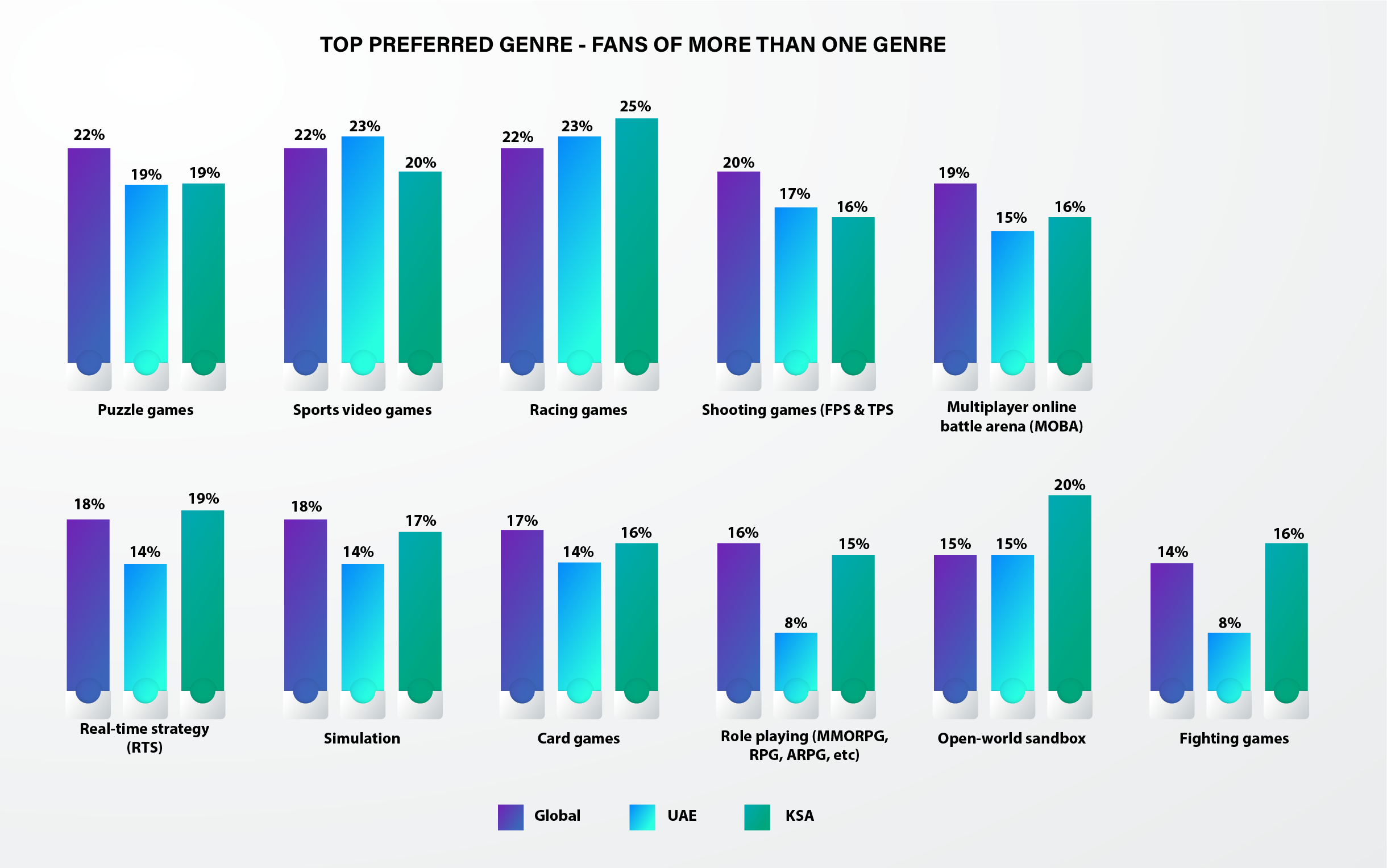 Within each genre, most gamers follow two to three games/titles, with the exceptions of open-world sandbox and simulation where gamers tend to follow a single title within the genre.
Saudi consumers spend more time watching eSports than UAE consumers do
Presumably, due to it having a fairly youthful following, the majority of eSports viewers have generally only been doing so for less than three years. The majority of viewers watch it whenever they get time, usually being on weekends or after work. Saudi consumers watch eSports more on the weekend whereas consumers from the UAE prefer to watch after work.
Globally, most viewers watch eSports for less than 5 hours a week but in the UAE there is a high proportion of viewers who watch for up to 10 hours per week.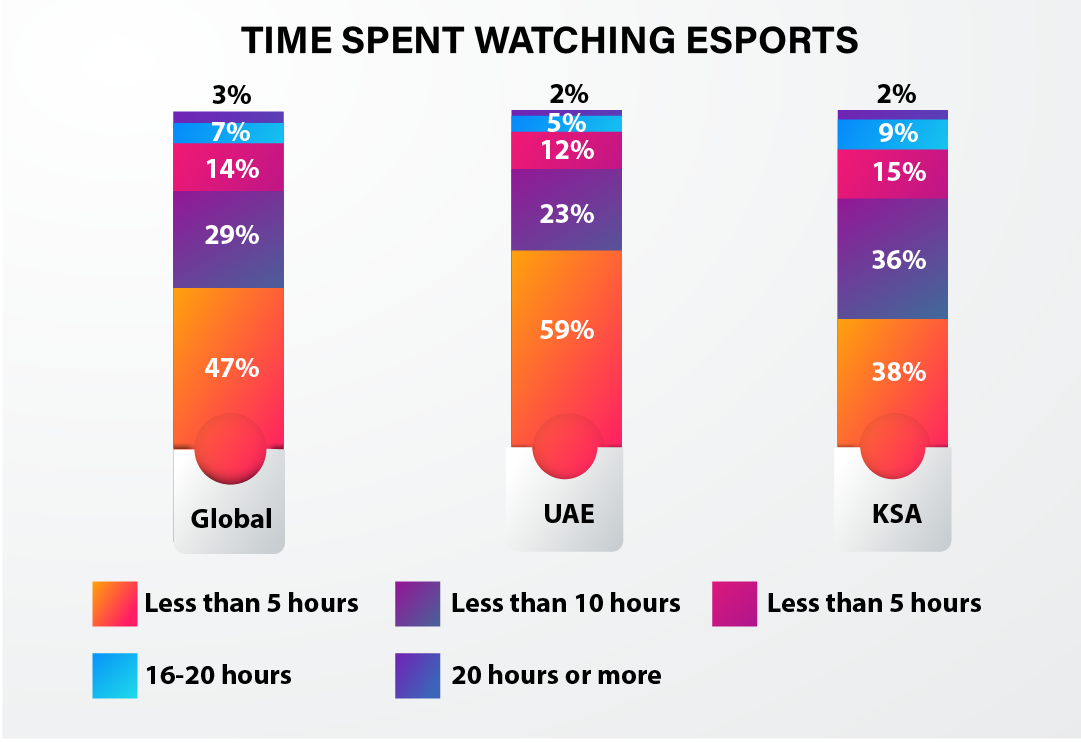 YouTube is the most popular platform for eSports, followed by Facebook gaming
Both live and recorded games have their place, with most viewers claiming to watch live events sometimes, but mostly recorded games.
YouTube is by far the preferred platform for online gaming, followed by Facebook gaming. In both Middle Eastern countries surveyed, there is an even stronger reliance on YouTube than the global average, and in KSA, Facebook gaming is proportionately higher than the global average.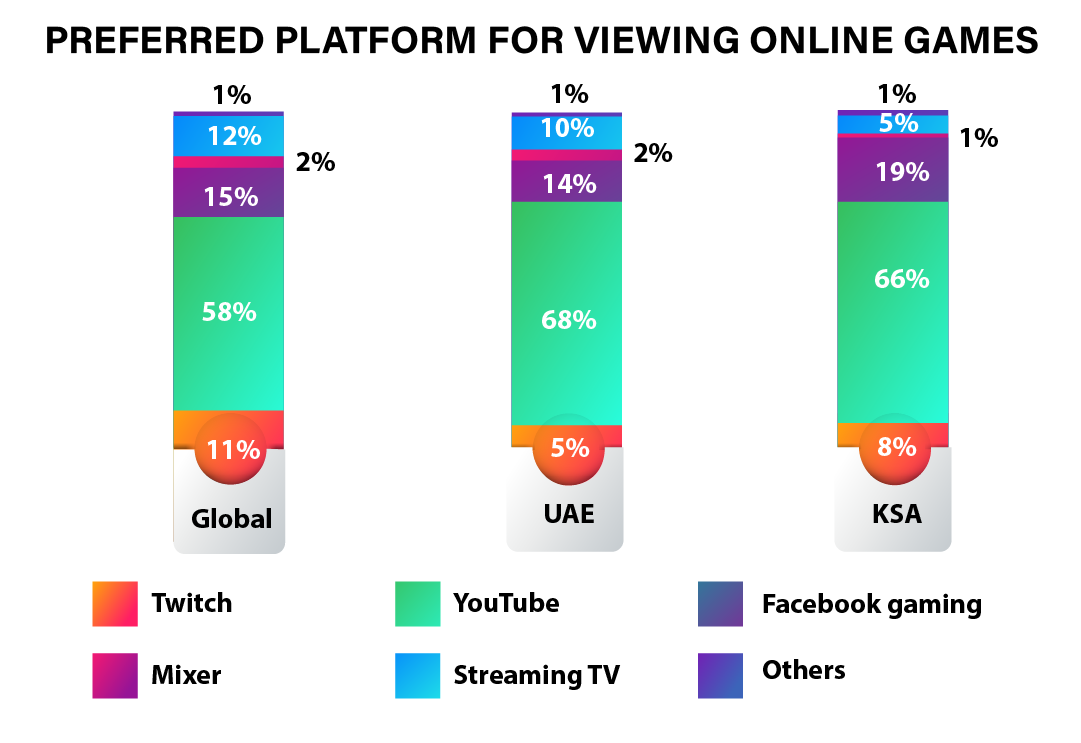 Friends and social media are the main influences when it comes to eSports
Just under two-thirds of viewers like watching eSports as much as they do traditional sports, with a quarter globally preferring eSports over traditional sports.
Friends and social media are the two main influences that encourage people to watch eSports, with both of these influences being stronger in the Middle East region than globally. Siblings and digital media are also relatively important influences in KSA, more so than in the UAE.

Increased digitization has enabled eSports viewing to burgeon
As the world becomes increasingly more digital, eSports has become accessible to many more viewers than ever before. The global pandemic has dramatically increased the move towards digitization in work, shopping as well as entertainment spheres. It is not surprising therefore to witness the strong following that eSports currently enjoys.
Borderless Access is available to help you to conduct online digital research seamlessly and quickly, to help you to keep your business informed, and ahead of the market.
This article was originally published in AME Info.