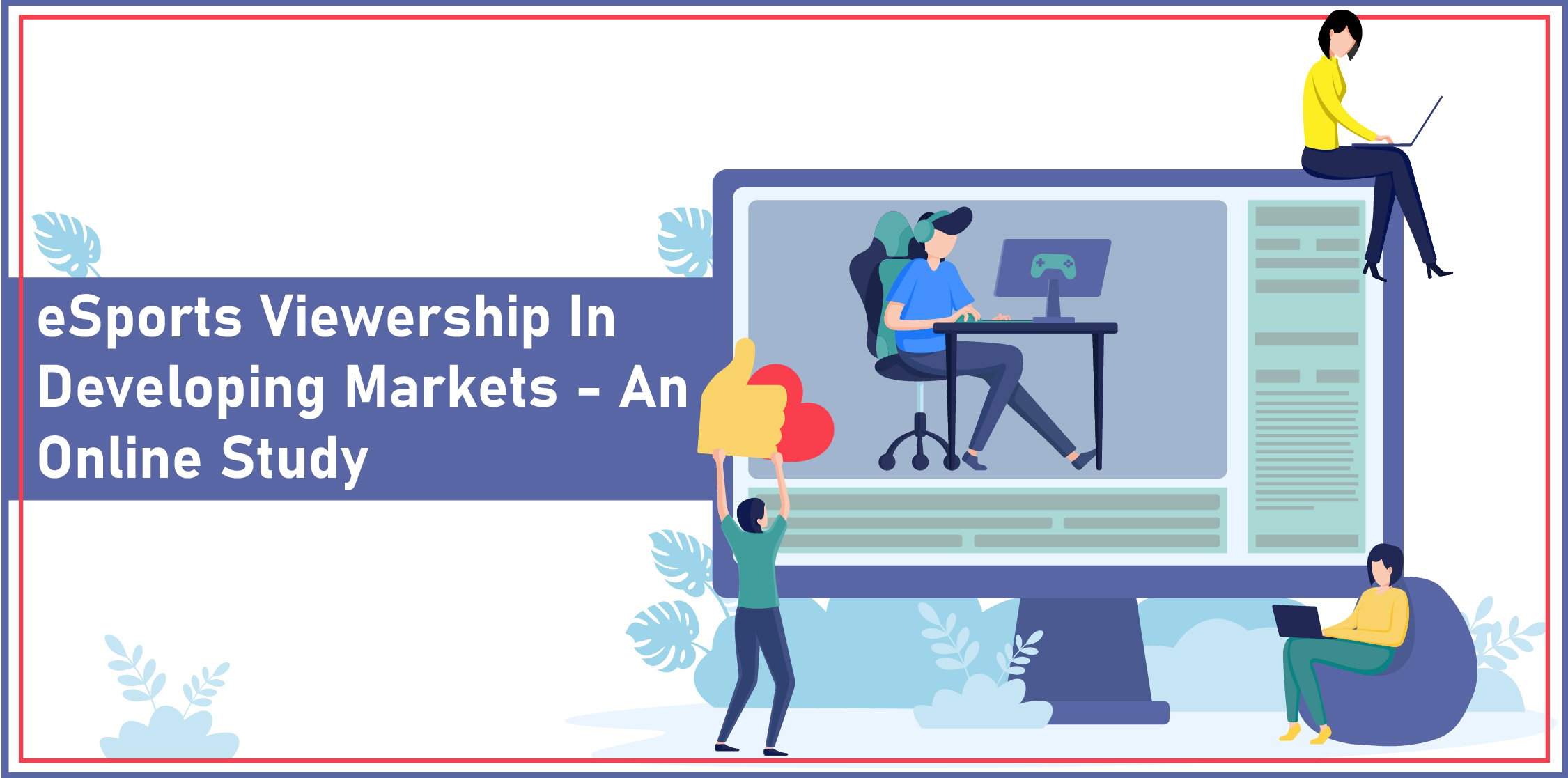 The global esports industry, already on a healthy growth trajectory, has witnessed a massive surge in interest among its audience. According to one report, esports had a global audience of 398 million in 2019, which is expected to reach nearly 600 million by 2024. In the first quarter of 2021 alone, 8.8 billion hours of live streams were viewed by enthusiasts and casual audience combined.
Clearly, esports entertainment has crossed a threshold wherein brands and businesses can either treat it on par with traditional sports entertainment or lose out on the massive opportunity it presents. In this context, Borderless Access recently concluded an online study in both developed and developing esports markets among esports viewers as well as players. In this blog, we highlight key insights specific to esports viewers from South Africa, Nigeria, Kenya, India, Colombia and Argentina, which can be considered as "developing" in terms of eSports exposure in relative terms.
Getting started with eSports entertainment
In line with eSports viewership growth trends, we notice that the audience to esports in developing markets has been on the rise since the last three years. It is evident that the pandemic has also played a significant role in popularizing esports watching as a form of entertainment in these countries.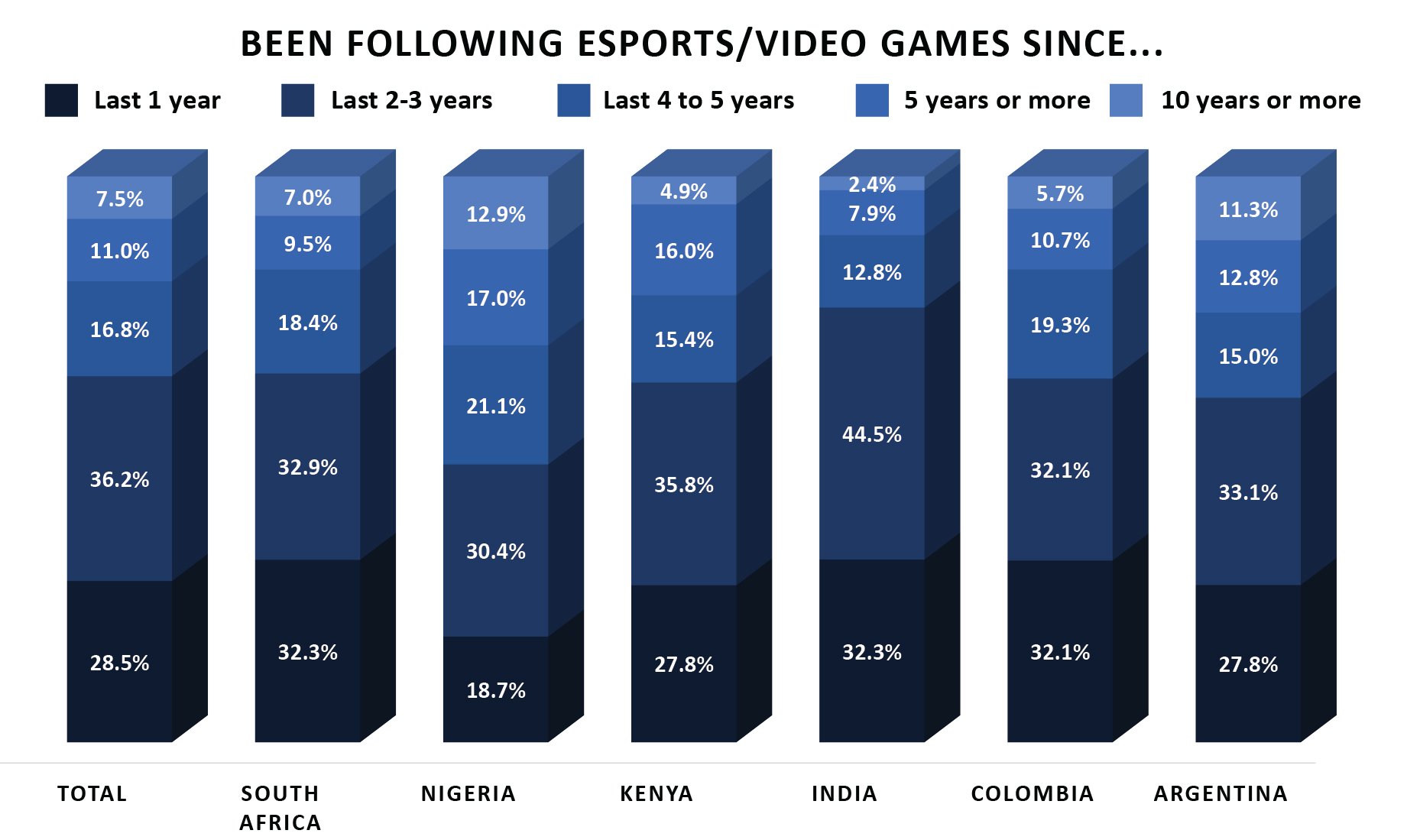 Coming to how people are most commonly introduced to esports streams, we notice that the majority of the audience started viewing esports and video games due to the influence of friends who were already into esports entertainment. Social media is the other major influencer, drawing new audience to this form of entertainment.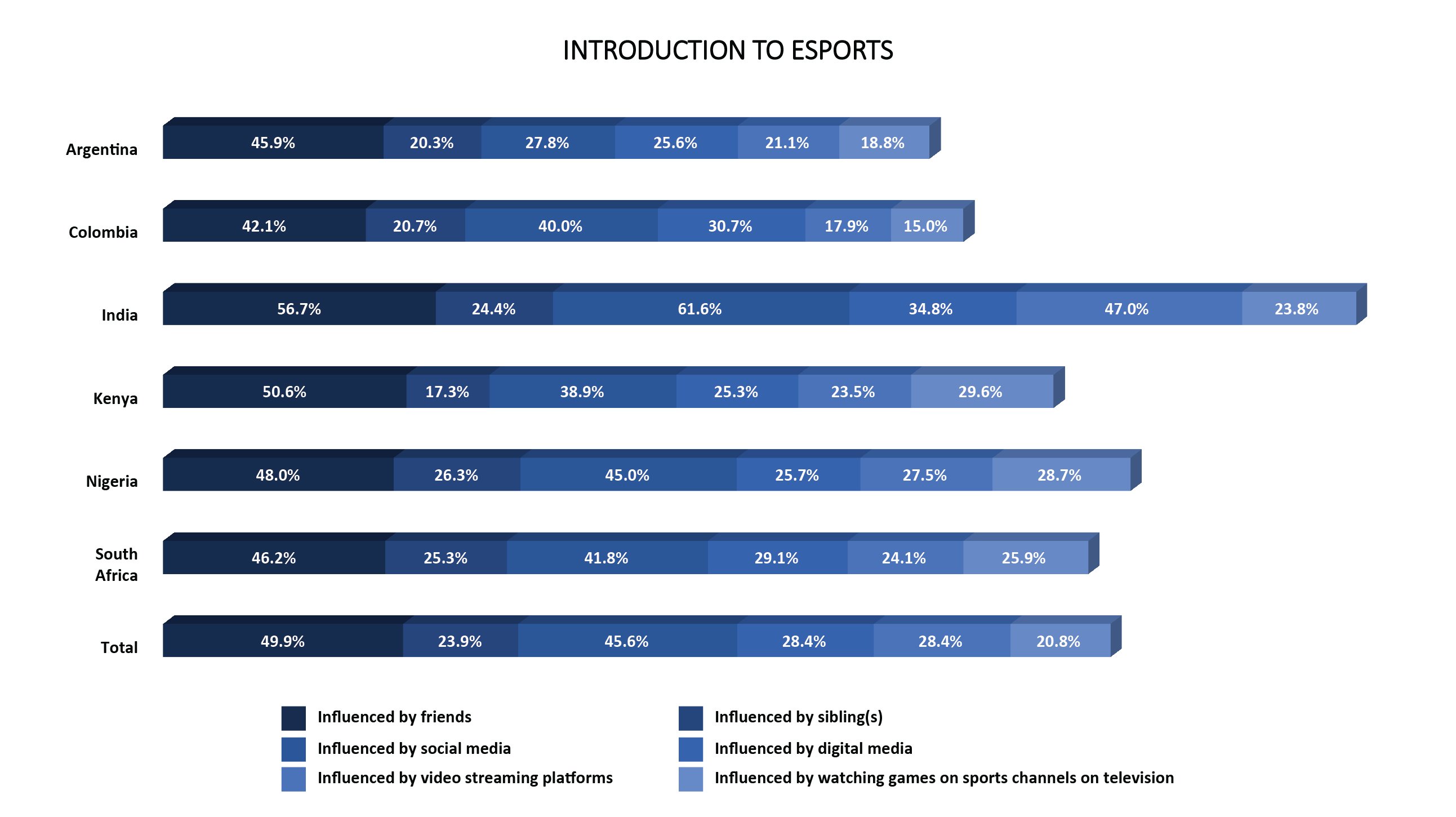 Concerning esports viewing preferences: The where, when and how
While there are a myriad of dedicated esports and video game streaming platforms available to audiences, YouTube is the king in developing markets. On an average, over 58% of audiences in these markets watch video games on YouTube. The percentage is the highest in India, at 70%.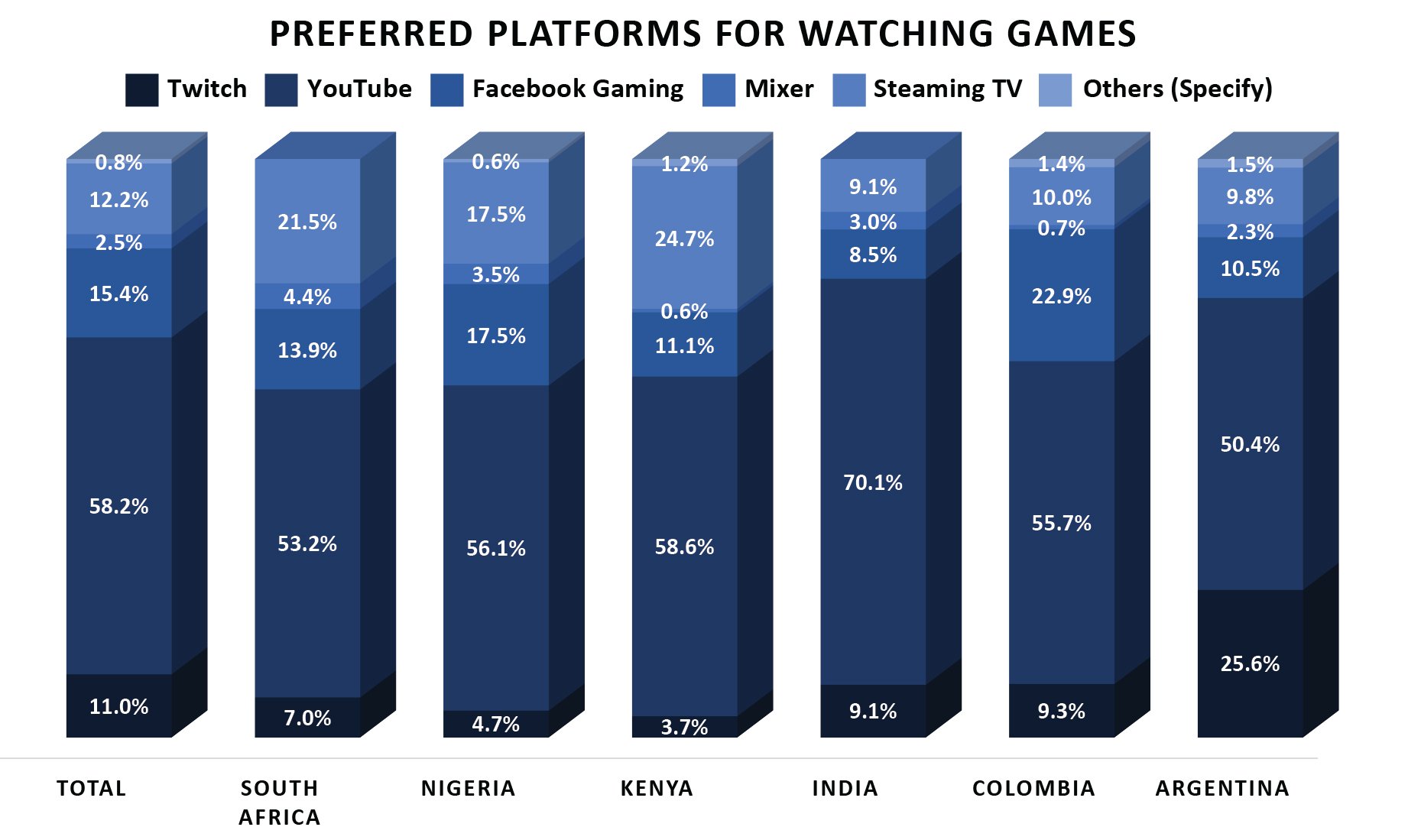 Viewers in India and African countries prefer to watch live as well as recorded games and past events equally. Audiences in the South American countries on the other hand mostly lean towards recorded games and events.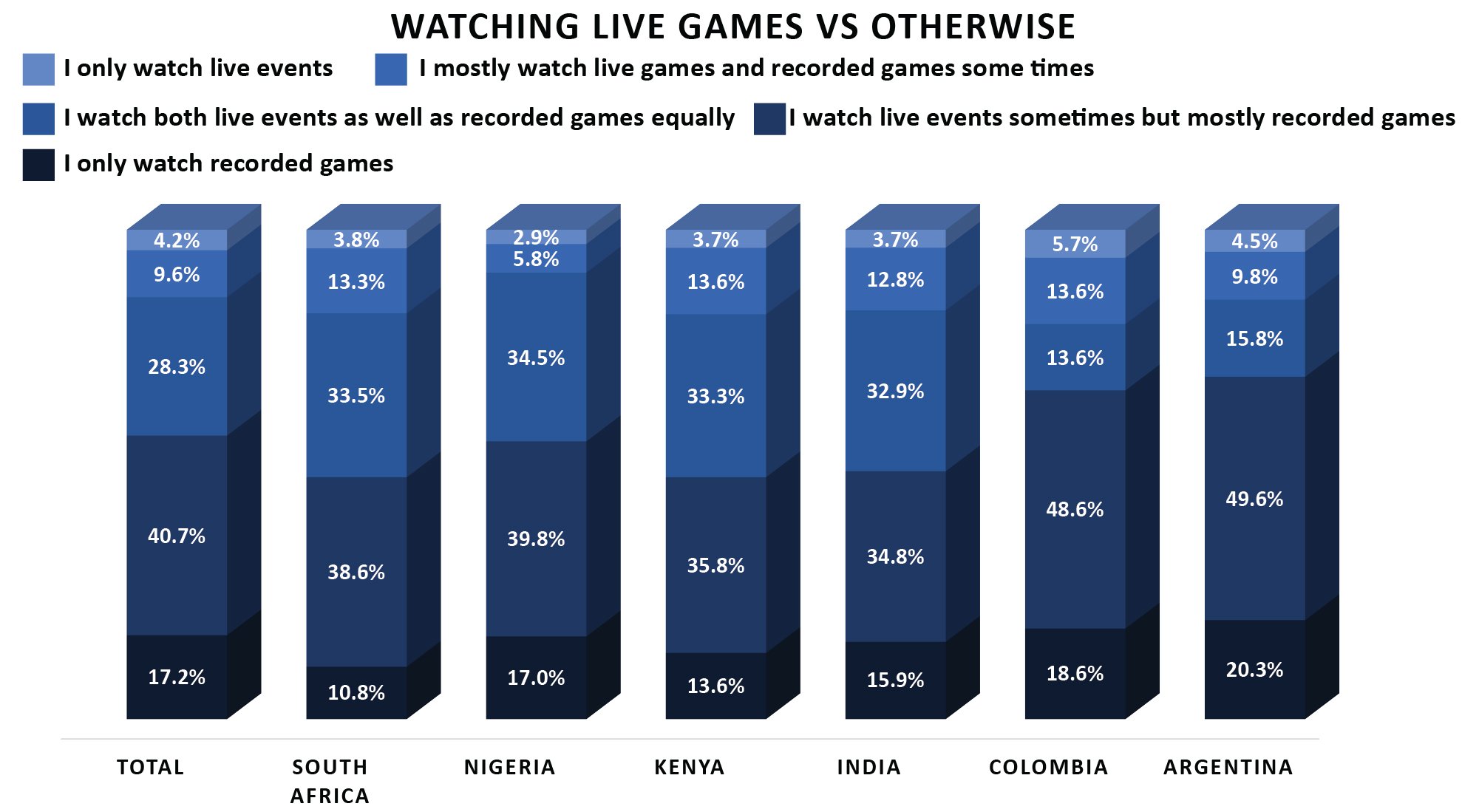 Another important aspect of any viewership is the time spent doing a favourite activity. Looking at esports viewership in these countries, we see that on an average, 47% of the audience watch games for less than 5 hours in a week. A large section (29%), while in the minority, spend 5 to 10 hours in a week.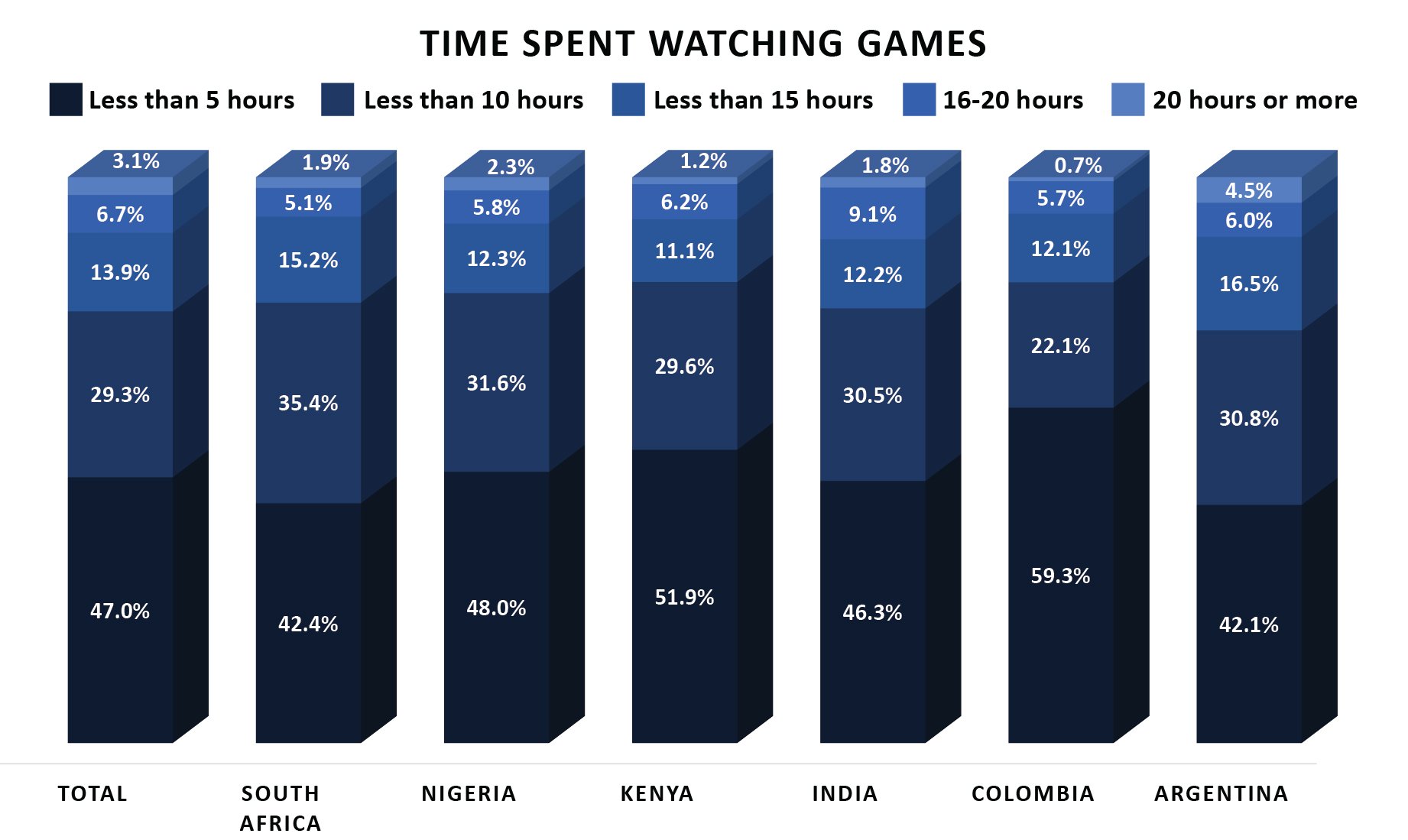 Looking at how the watch time is distributed, we see that most audiences prefer to watch video games whenever they have spare time. Weekends, after work/college and before going to bed are other preferred times to catch up on esports. Only 5.4% of the audience said they never miss a major event.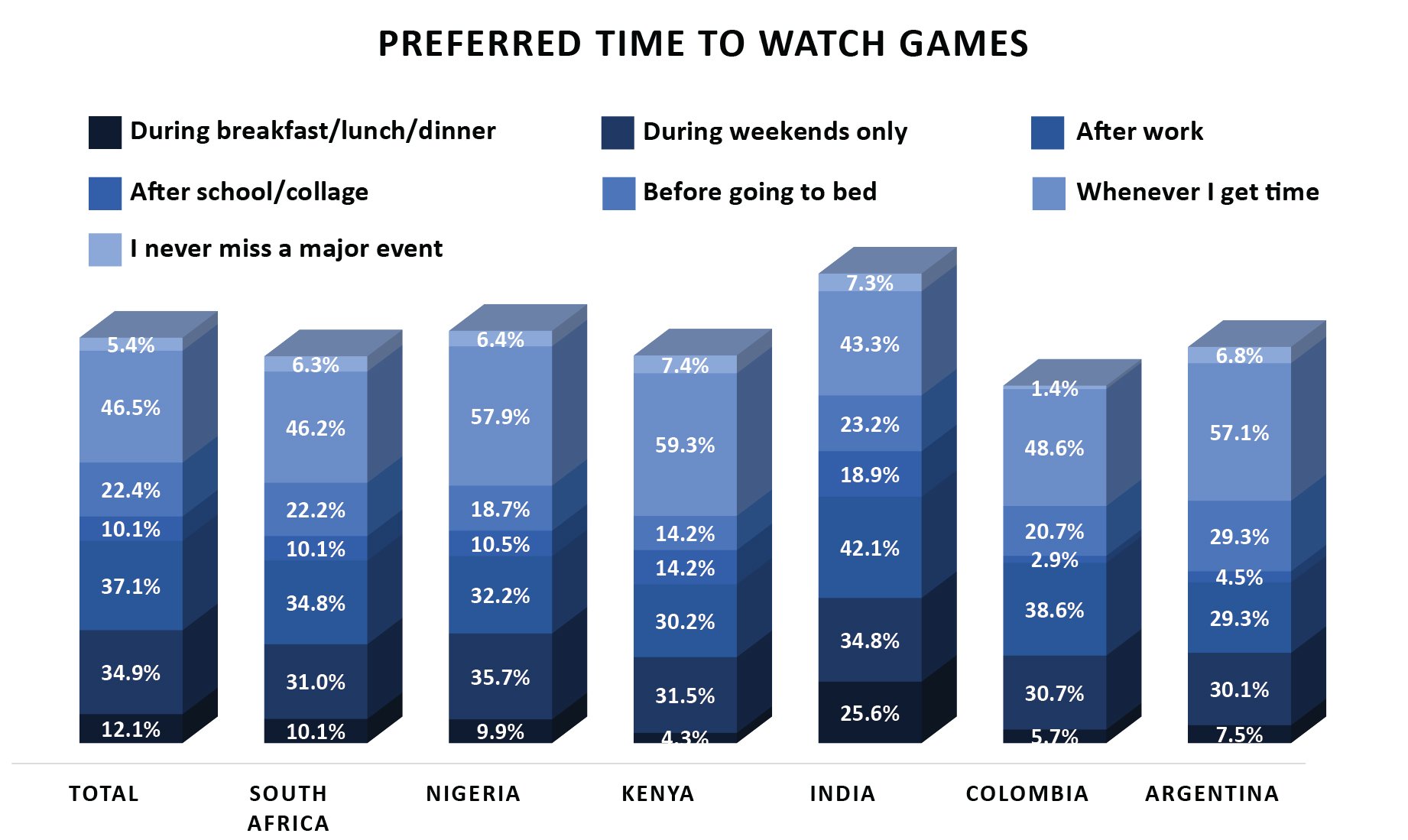 Viewer preferences for games
On an average, the majority (52%) of esports and video game enthusiasts watch or follow 2 to 3 games, while another 29% follow 4 or more games.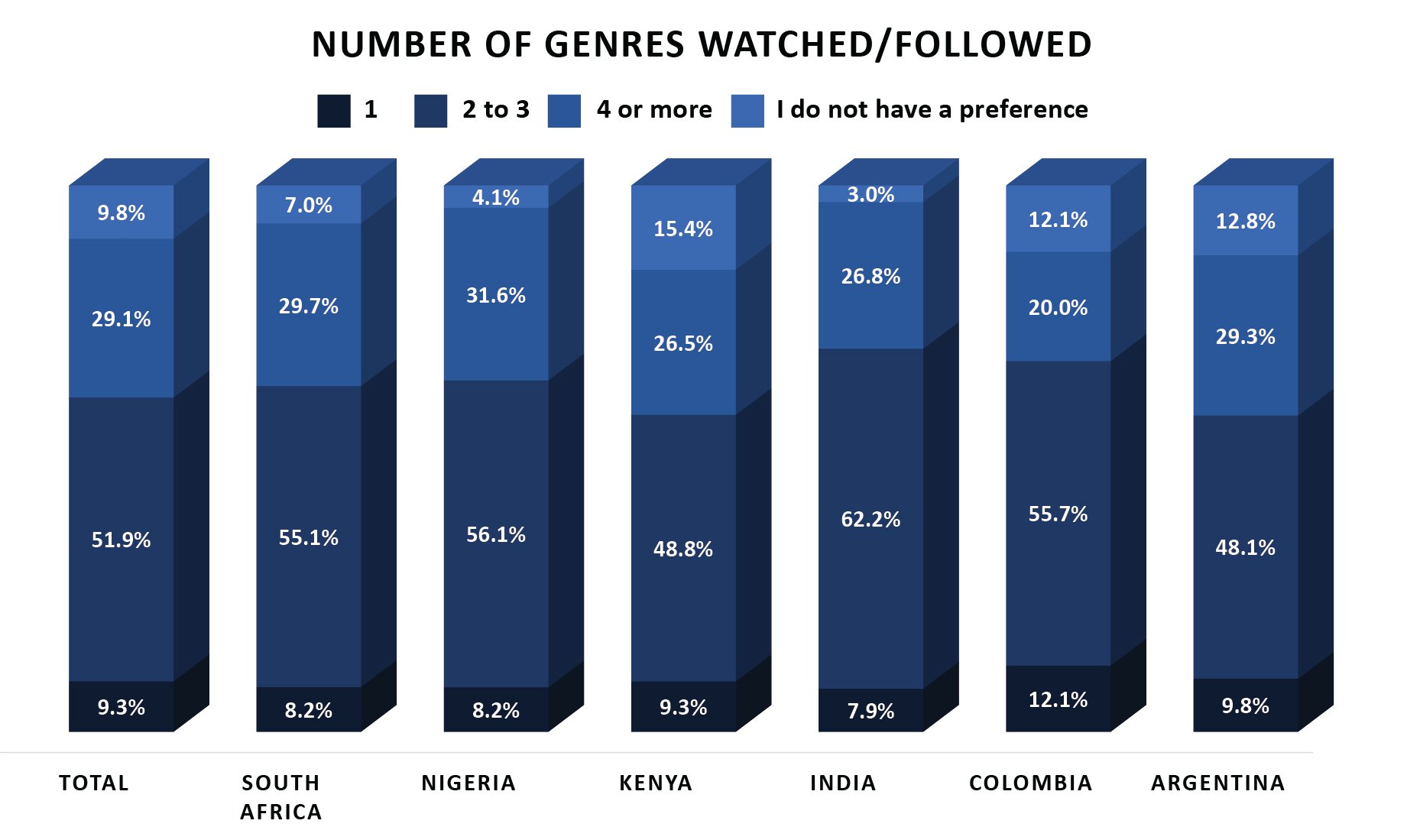 Diving deeper, we notice that the majority of those who follow more than 4 games prefer the sports, puzzle and racing genres. On the other hand, the majority of audiences who prefer to follow a single game prefer games from the open-world sandbox, role-playing, simulation and real-time strategy genres.

On an average, racing, sports and shooting game genres are the most popular in developing markets and the open-world sandbox genre is the least popular when it comes to watching. However, it should be noted that almost all genres have a substantial amount of preference in all developing markets in our study.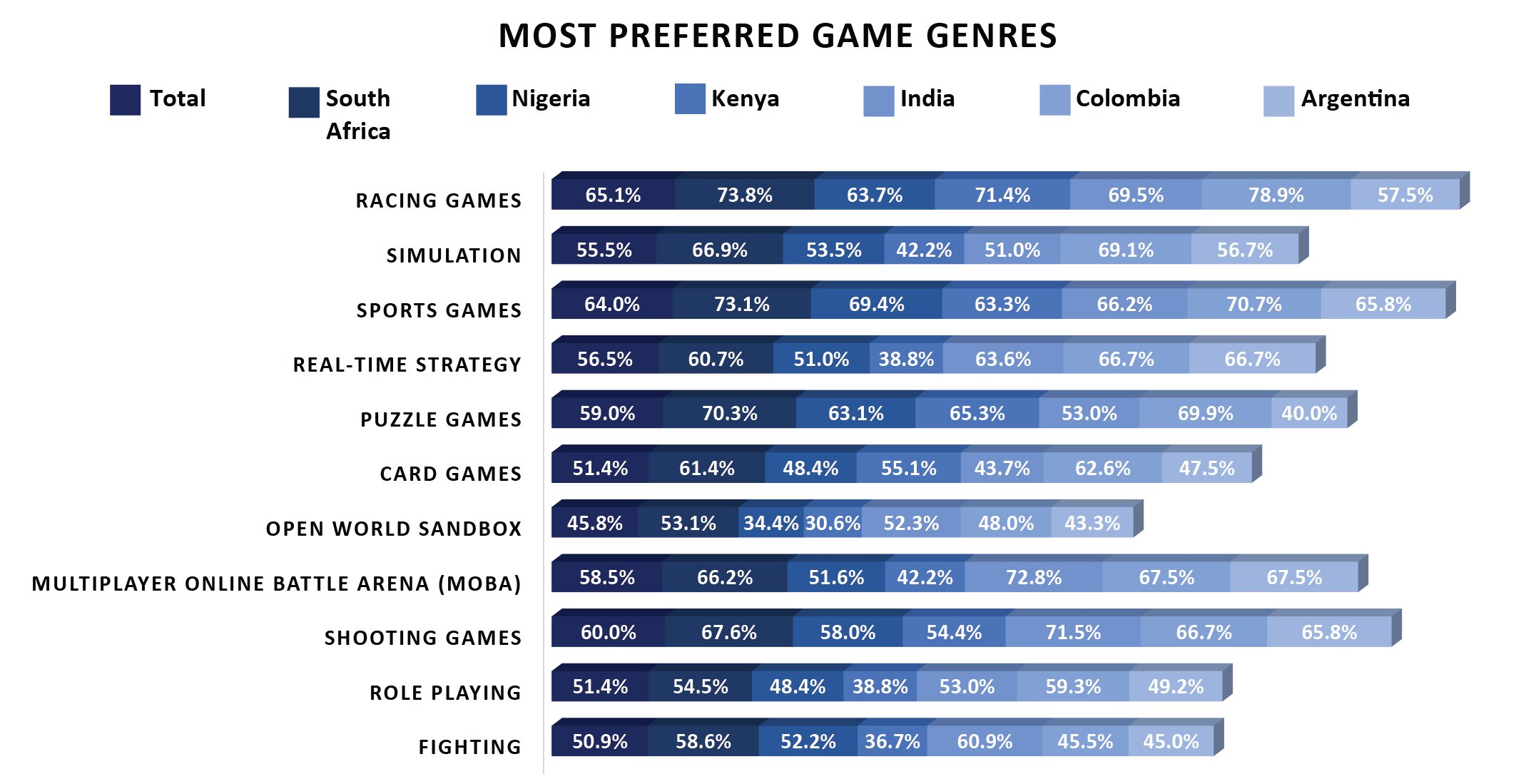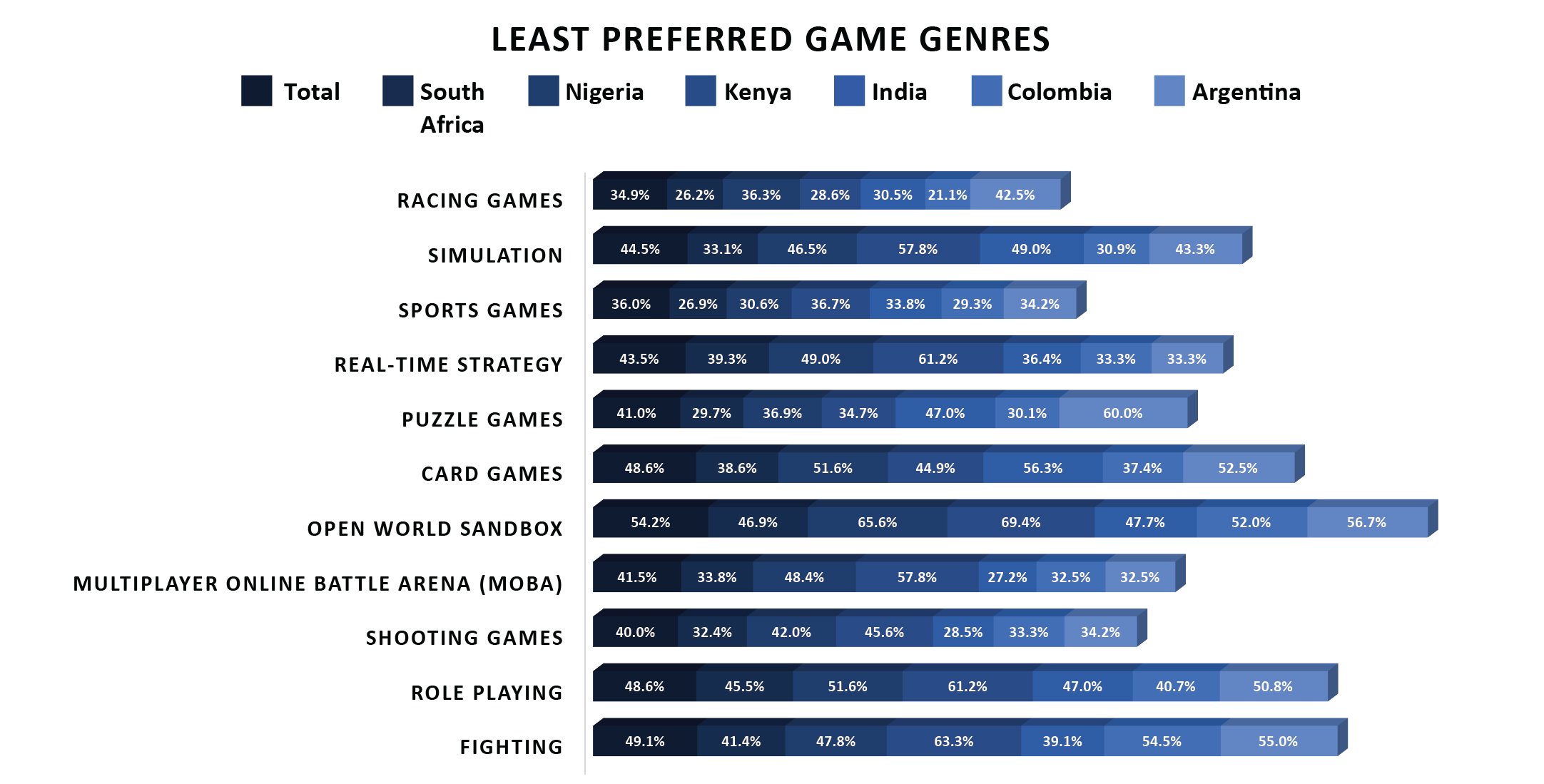 While only a small minority of esports viewers say that they follow every major event, the large majority of esports viewers have a favourite team, player or event that they support.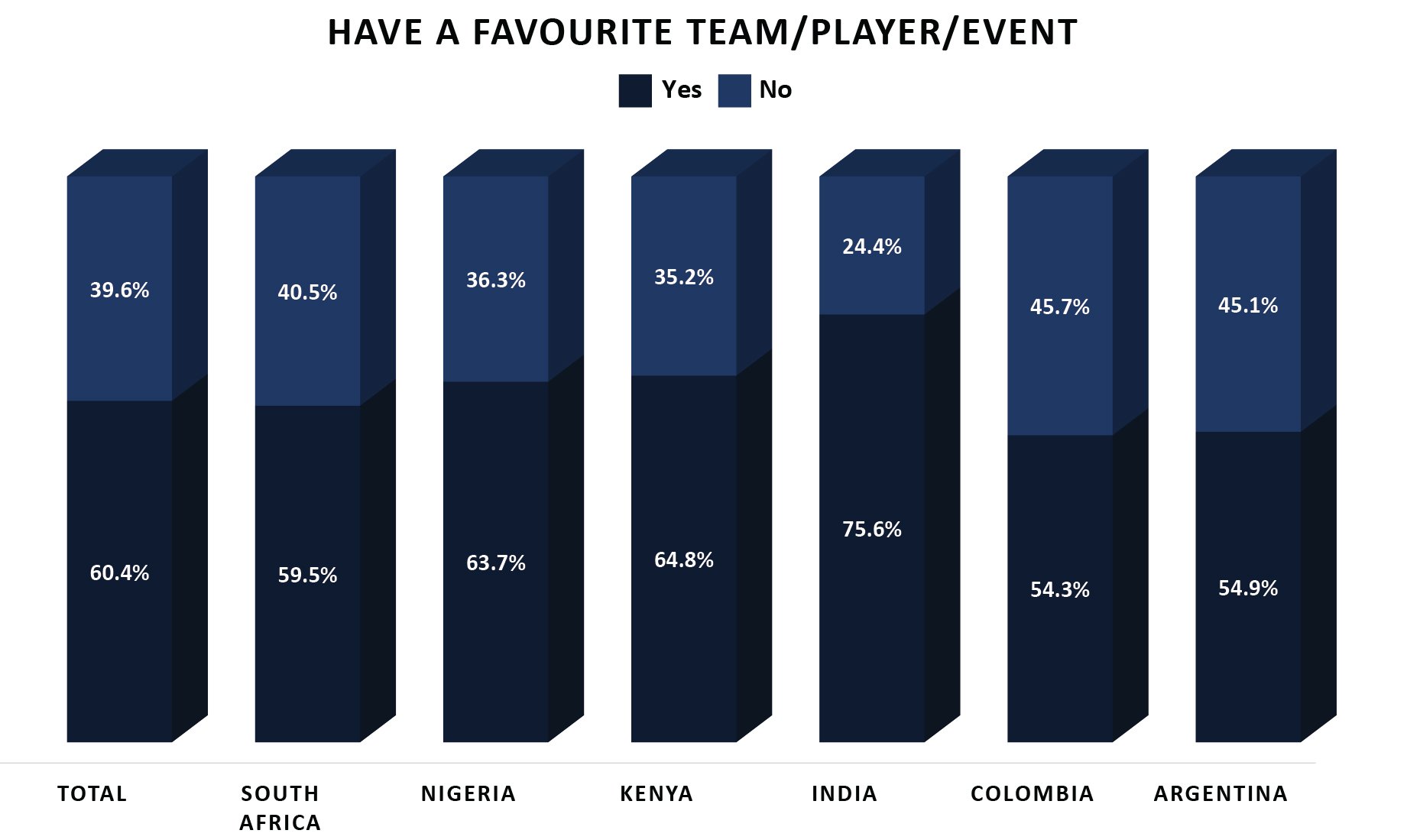 As proof of the popularity of esports among viewers, we observed in our study that only 13% of the audience said they prefer traditional sports over esports. On the other hand, close to 63% said they enjoy esports as much as traditional sports and the remaining audience said they prefer esports over traditional sports.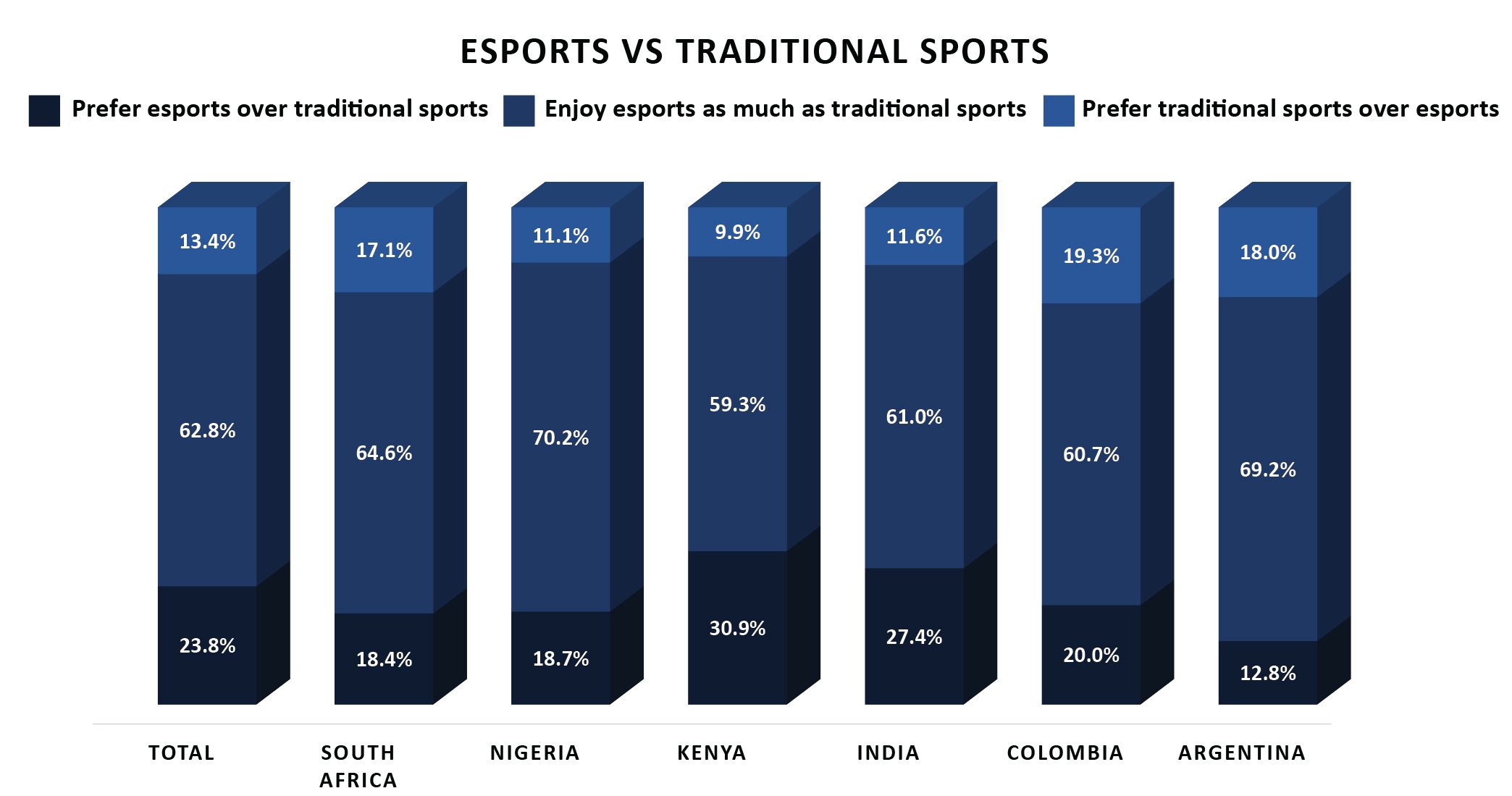 Conclusion
From our study, we can draw a clear conclusion that esports viewership has arrived in developing markets. There is a dedicated and passionate audience for esports who spend a considerable amount of time watching and following esports. The fact that the majority of the audience find esports as or more interesting/entertaining as traditional sports proves that esports viewership is ready to be given the required support and consideration by brand and businesses while giving back to brands in terms of eyeballs and brand recognition.
You can read our report on esports viewership in developed markets here.
About the study:
The online study was conducted in the months of April-May 2021 among an audience of n=2000 in the age bracket of 16-45 years. The audience consisted of 52% males and 47% females. Among these audiences, 69% were working professionals and 30% were students or students who were yet to start working.
---
For more similar insights from the consumer and B2B landscapes, connect with Borderless Access. We'll look forward to discuss how various digital research solutions BA Insightz, BA Health and Panel Solutions can help your business operations and market research requirements.