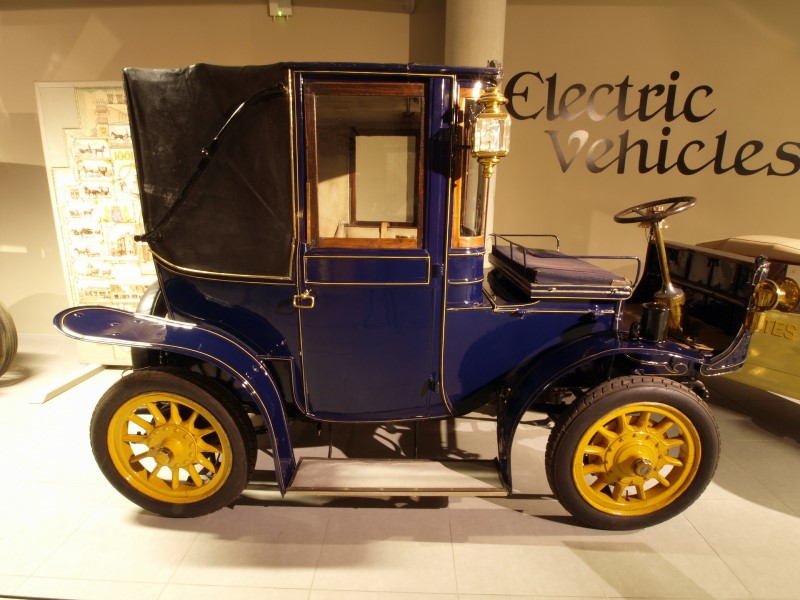 Photo: 1905 Hedag Electric Brougham from the heydays of electric vehicles
Some people say that the global environment appears to have permanently shifted in favour of electric vehicles (EVs). But is the world truly getting serious about EVs? In 2018, about five million electric vehicles were sold, a staggering 63% increase over 2017, as per an IEA report. However, a vast majority of EVs were sold in China, followed by Europe and the US. The rest of the world only accounts for a small portion of EV sales.
How does this play out in emerging markets? India, one of the world's largest market for automobiles, is still a largely insignificant player in the EV space. Nigeria and South Africa, Africa's two largest economies do not fare much better and neither is the UAE, a country that does not shy away from experimenting with revolutionary transportation technology, a big market for EVs.
Lack of consumer interest is a common reason why a new consumer product/category does not take off. However, the lagging or non-existent EV market in these countries is not a reflection of lack-lustre consumer interest, according to a recent survey conducted by a digital market research company, Borderless Access.
As with any consumer-centric product, understanding consumer sentiments is an effective means to understand ground-realities and how to shape the automobile industry that is making a shift towards EVs. And according to the report, a vast majority of consumers in these four markets are highly optimistic about the advent of EVs.
Consumer perception about viability
Universally, favourable government policies have fast-tracked the growth of the EV industry. And consumers acknowledge this. At the same time, consumers also believe that the onus also falls to a certain degree on automobile manufacturers, who ought to be more proactive in pushing forward EVs rather than playing safe.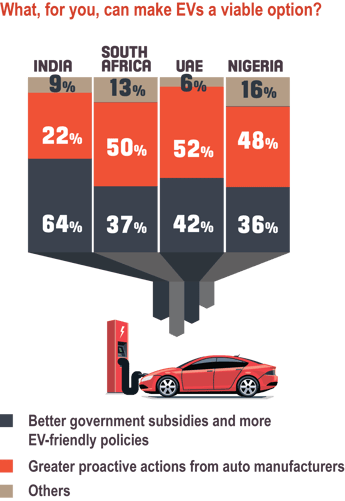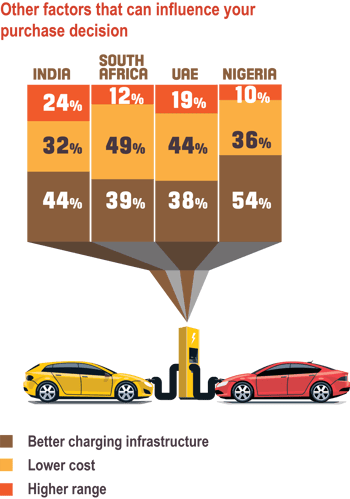 Range anxiety?
There is a belief that the limited range of EVs makes them not viable as a form of transportation. 'Range anxiety', the term used to refer to this aspect, is often cited as the main reason why EVs cannot succeed, especially by the proponents of ICE (internal combustion engine) vehicles. However, on the contrary, range anxiety does not seem to be as big an issues as it is made out to be. As per the survey, an EV's range is not at the top of consumers' list of concerns (see graph 2). This is likely because the range offered by EVs today is good enough to meet the transportation requirements of most consumers, especially urban consumers.
Instead, consumers willing to consider EVs are more concerned about the availability of charging stations and the cost of purchase, which continues to be high even when the cost of lithium-ion batteries continue to fall.
Is enough being done?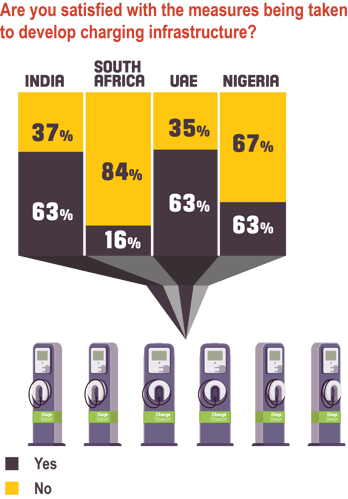 Not surprisingly, more and more people across the globe, are charging their EVs at private charging points instead of public charging points. We could conjecture that the pace at which charging infrastructure is being developed needs to accelerate to drive greater adoption of EVs. And, that currently, most EV adopters still mostly restrict travel to a radius that would allow them to return home to recharge their vehicle's battery.
Battery operated EVs V/S hydrogen-powered EVs?
We have today come to accept that vehicles powered by renewable sources of energy are the future and are important to counter global warming. In this regard, EVs or more specifically BEVs (battery-operated EVs) are still not ideal as long as the source of electricity does not come from a renewable source. On the other hand, fuel-cell electric vehicles (FCEVs) or hydrogen-powered vehicles offer a promising alternative.
The current growth of BEVs comes with a caveat. As demand for batteries go up, so will the need for scarce materials such as lithium and cobalt. While the cost of batteries will continue to fall owing to the economy of scale, it will only be a matter of time before we feel the pinch as we run out of these key materials, unless a more sustainable source of energy is developed.
While governments and most auto manufacturers are firmly invested in the development of BEVs, consumers feel that widespread BEV adoption will result in new problems in the long run. And they strongly believe that FCEVs are a better bet for the future (Graph 5).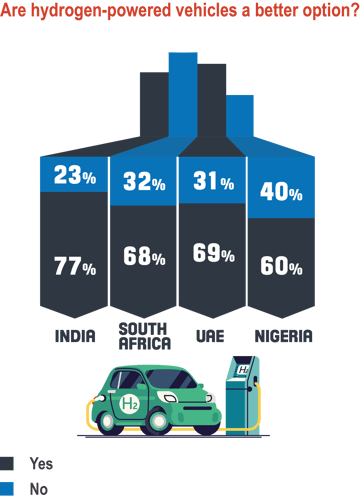 Electric vehicles are definitely the future
The sentiment amongst consumers towards EVs, by and large, is optimistic. This survey brings to light certain aspects of consumer mindset that are important for the healthy growth of EVs including the factors influencing consumer purchase decision for EVs, one of which goes against the generally perceived notion. In addition, the fact that most consumers in India and UAE believe EVs will become mainstream in roughly a decade, can be taken as a sign of these markets being a lot more ready for more aggressive marketing and product introduction by automobile companies, which would need to take a more measured approach in African countries.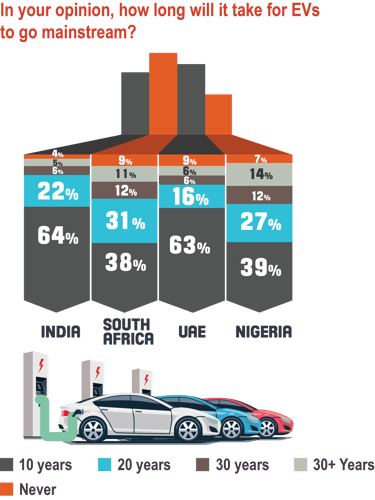 We are at a critical juncture where decisions taken by key institutions will shape the future of transportation for better or worse. It is important that these decisions are taken with forethought and by involving everyone invested. Raising the right questions and understanding the consumer sentiments and market insights should be the right way forward.