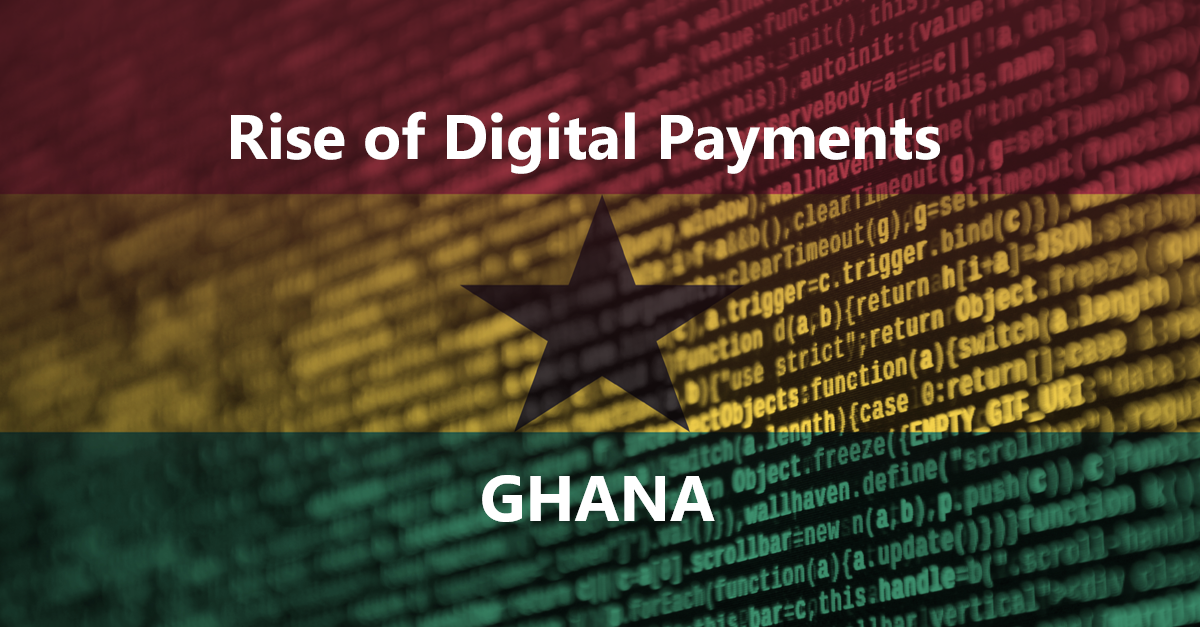 One of the fastest growing digital payments markets in Africa, Ghana, gives the digital revolution a new meaning. The unprecedented growth of the digital economy in Ghana in recent years, especially its penetration in rural areas, speaks of the opportunities it offers in terms of social inclusion and accessibility. This is furthermore important now, where the world has adopted 'safe distancing and digital lifestyle' as the new normal.
At the same time, the expansion of digital payment comes with its fair share of challenges as with all things new. To fully capitalise on the many possibilities of digital commerce, it is, therefore, necessary to learn the nuances of consumer spending habits.
In this regard, Borderless Access conducted a study across Ghana, as well as South Africa, Nigeria and Kenya, to explore the uptake of a wide range of digital payment methods by the masses. It is important to note, that this study was conducted just before the lockdown was implemented in any of the African countries, thus the results indicate a long term trend, rather than being skewed by the unusual spending behaviour of the past few weeks.
Popular modes of payment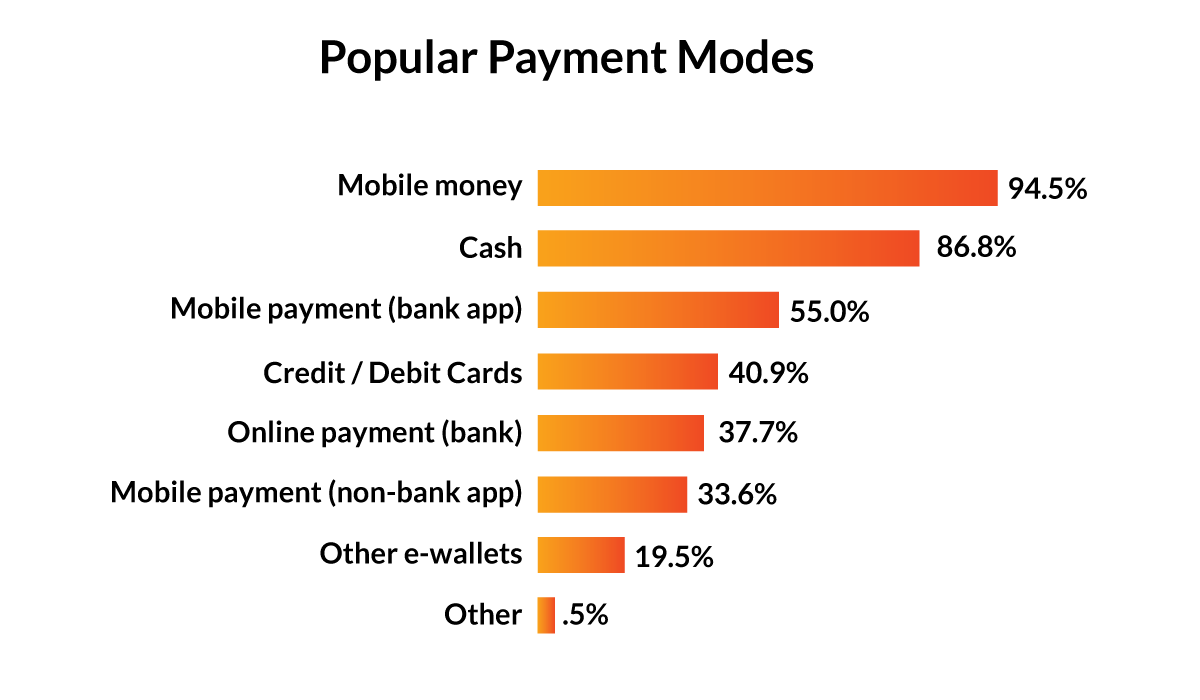 Our study revealed that 94.5% of our respondents in Ghana use mobile money as a mode of payment, followed by cash at 86.8%. Among other modes of payment, mobile payment using bank-issued apps is popular, followed by card payments, online bank transfers, and non-bank mobile payment apps.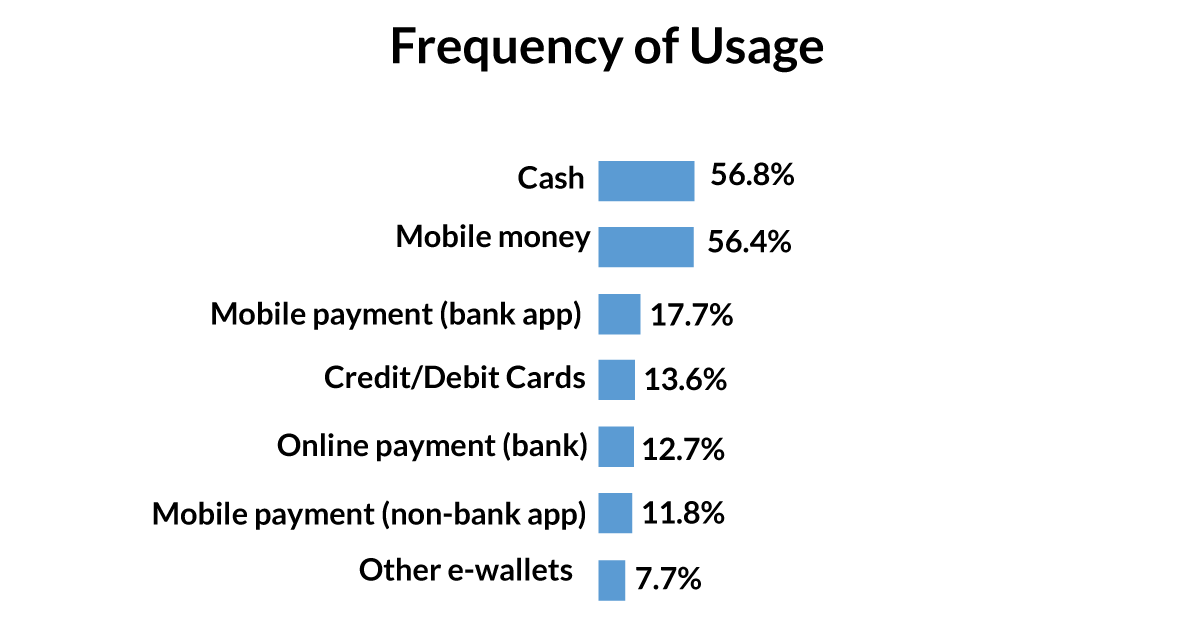 Even when it comes to the actual frequency of usage, both cash and mobile money dominate commerce almost equally, followed by bank-issued mobile payment apps and online bank transfers.
Preferred mode of payment by transaction
At over 78% usage, in-shop & market purchases such as groceries and other day-to-day items are dominated by cash payments. Mobile money usage comes a distant second at 33%.
Dependency on cash continuous for non-essential in-shop purchases (51%) such as clothes and accessories, jewellery, and other irregular purchases. At 38%, mobile money is also used to a significant degree.
When it comes to online shopping, mobile money is preferred over all other modes (57%). Cards are also used for online transaction, however, to a much lower degree (27%).
When it comes to paying for services such as plumbers & electricians, etc., payment by cash is the primary mode (58%), followed by mobile money (36%).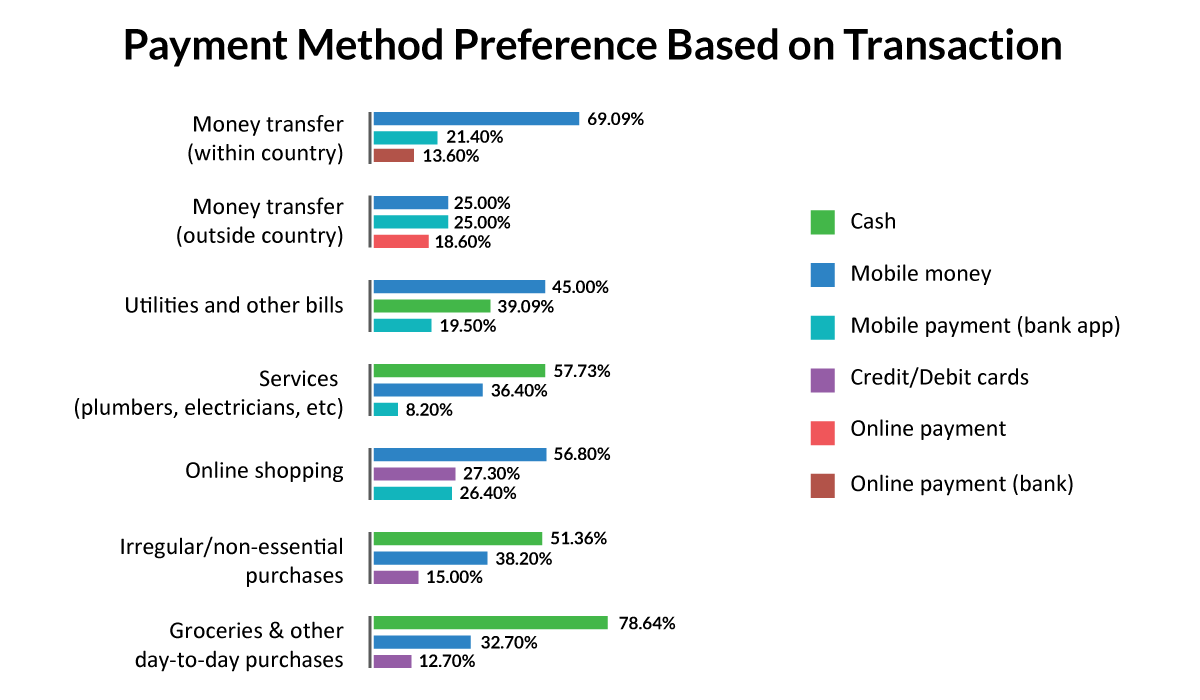 People in Ghana pay for utilities & other bills using both mobile money and cash, but the former is used more commonly (45%) than the latter (39%). At close to 20%, bank-issued payment apps are also popular to a certain degree.
Mobile appears to be the most popular way to transfer money both within (69%) and outside (25%) the country. Bank-issued payments apps are just as popular for money transfers outside the country (25%), but a distant second (21%) for transfers within the country. Online bank payment, cards (for outside the country transfers only), and certain e-wallets/non-bank payment apps also used to a small degree.
Overall, cash and mobile money are the most preferred modes of payment across various types of transactions, with cash usage being more popular with offline & non-regularised transactions.
Change in usage in the last 1 year
While the usage of cash, bank-issued payment apps, non-bank payment apps, and online bank transfers have all increased by around 40%, mobile money has seen the largest increase in usage among Ghanaians in the last 1 year. Over 88% of the respondents said they have increased their use of mobile money.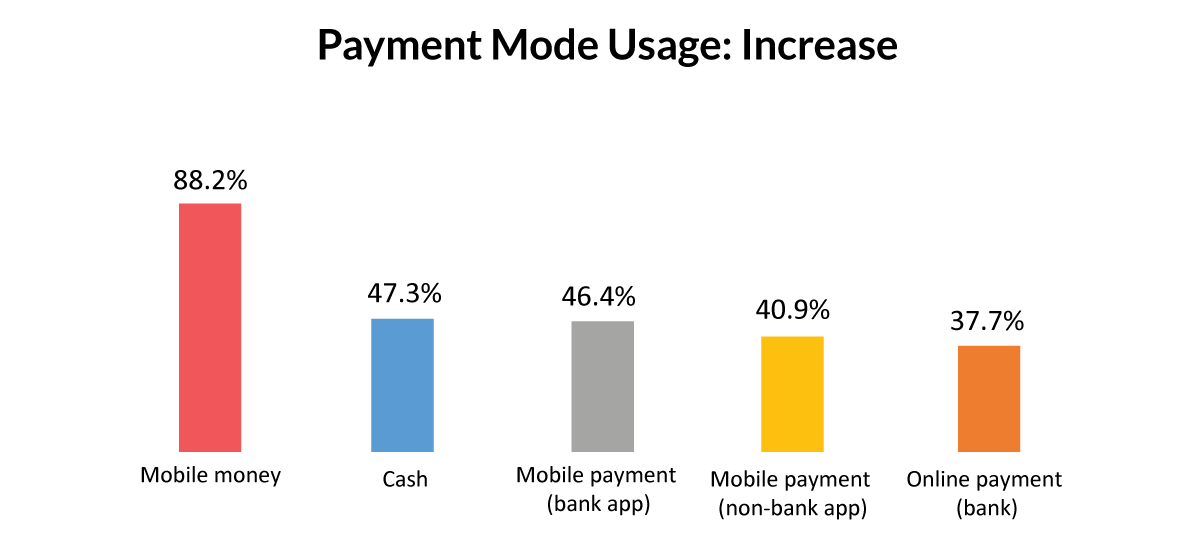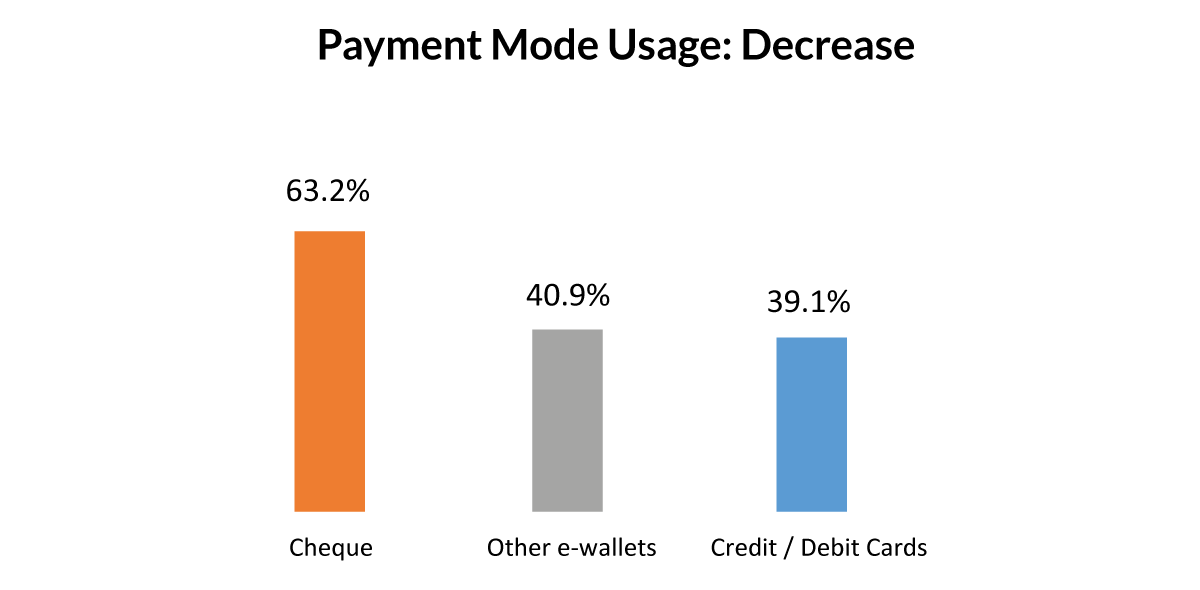 However, over 40% of the respondents revealed their e-wallet usage had dropped. Cheque payment mode has seen the highest drop in the last 1 year, with over 63% stating they had reduced its use. Surprisingly, 39% of the respondents also claimed their card usage had reduced in the last 1 year as well.
Rise of digital payments in Ghana – Key Reasons
The convenience of digital payment methods and concerns associated with carrying cash came across as the top reasons for the increase in the usage of digital payment methods like mobile money and payment apps in Ghana.
Mobile money was rated the highest in terms of convenience, brand trust, security, and availability of offers and discounts by the consumers. Bank-issued payment apps and online bank transfers were also rated high on these aspects.
Adopting digital payment modes – Top Concerns
Though it is evident that the digital payment adoption is continuously rising by consumers in Ghana, however, the growth is not as steep as expected due to few notable concerns that came out in this study, such as –
Safety in linking their bank accounts to apps/services came out as the top concern
Lack of universal acceptability, poorly designed apps/lack of features, and need for better government/industry regulation & standardisation, were few of the other concerns that are restricting consumers in Ghana to adapt to digital payment modes as quickly as other nations.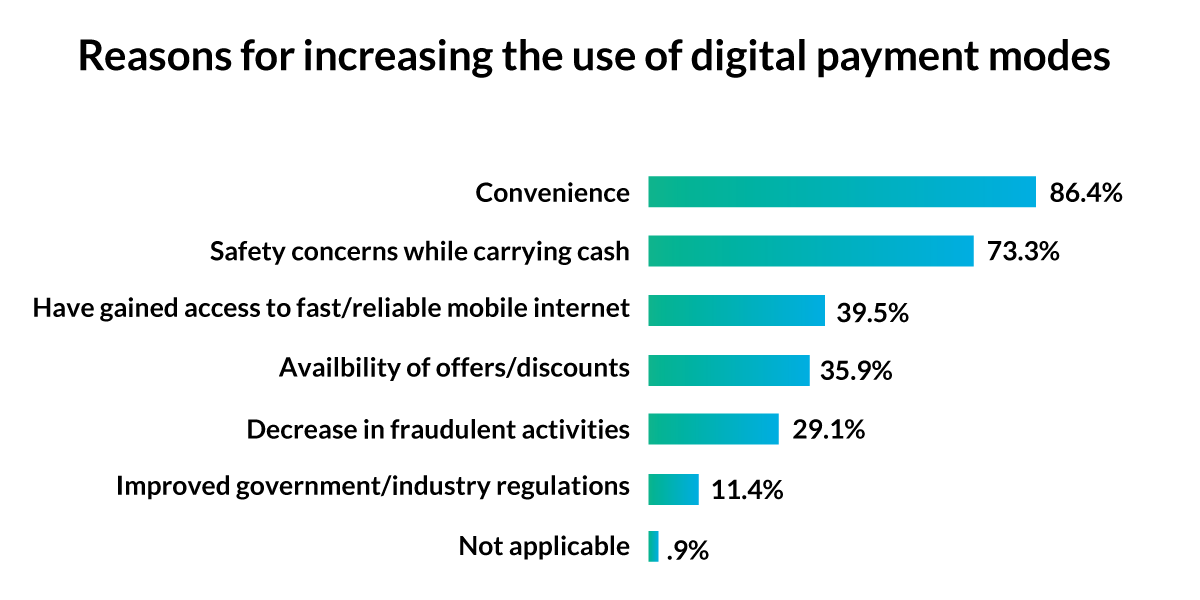 Conclusion
Ghana has plans to largely eliminate cash transactions and aims to become Africa's largest digital economy. While this may sound ambitious, it is certainly within the realms of possibility. The current stats reveal that cash usage is growing. But so is the usage of digital/online payment modes. The most significant of which is mobile money, which is being used roughly twice as much as cash.
While convincing Ghanaians to move away from cash will not be achieved in a day, the first step would be for the government to address the few remaining concerns of people surrounding digital payments.
---
Contact us if you would like to know more about consumers' spending habits in Ghana and other African nations or gain other niche insights.