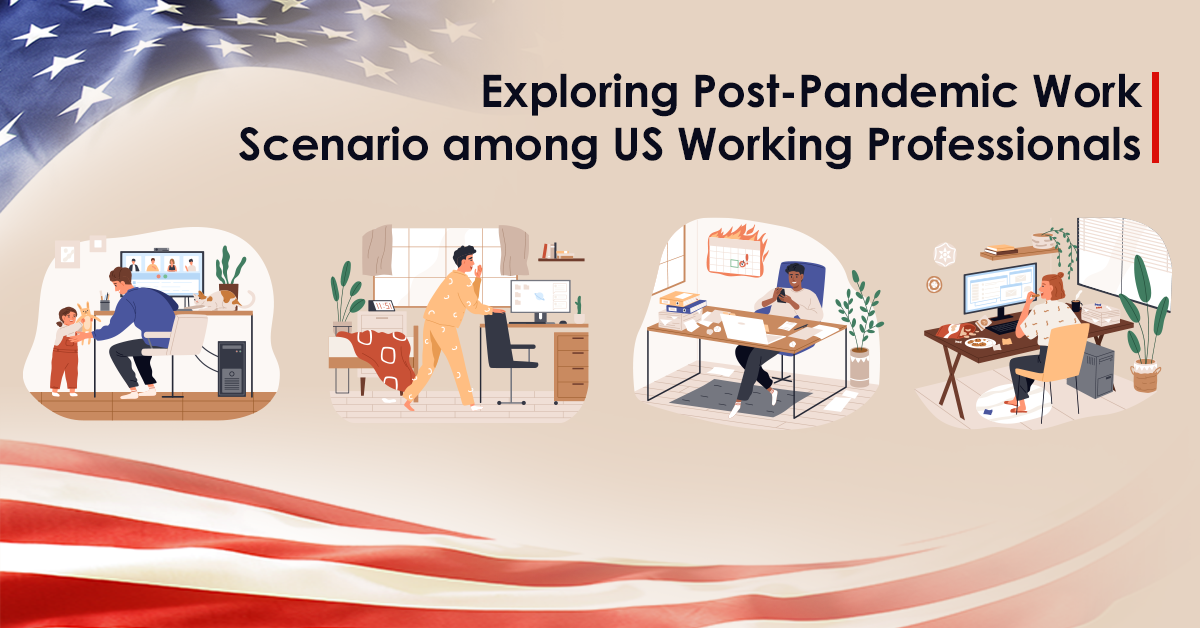 The words "job loss" have been used quite frequently with the word pandemic in 2020. The pandemic has also dramatically changed the way people work. Telecommuting has become the new normal and it is likely to stay that way for the foreseeable future. In this scenario, we conducted an online study in the US, and other parts of the world, to learn how the pandemic and the accompanying lockdown have affected the work-life of white-collar working professionals. The results of the study give us a good idea about the current state of work-life compared to the rest of the world.
Impact of the pandemic on job and income
The number of respondents in the US who claimed the pandemic has had a significant adverse effect on their job and income stands at 43% as against the global average of 62%. Meanwhile, those who said there had been no impact at all stand at 32%.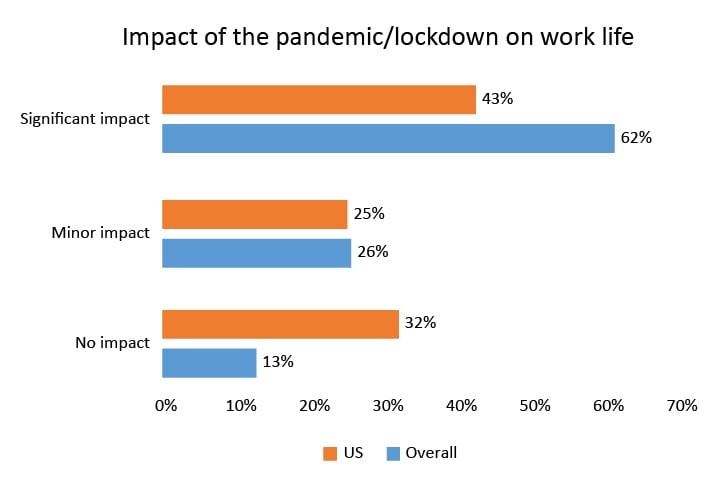 Among those impacted by the pandemic, 18% claimed they had lost their job, which is close to the global average of 19%. And only 1% of them have found a new job. Another 31% have retained their jobs, however, their income has taken a hit.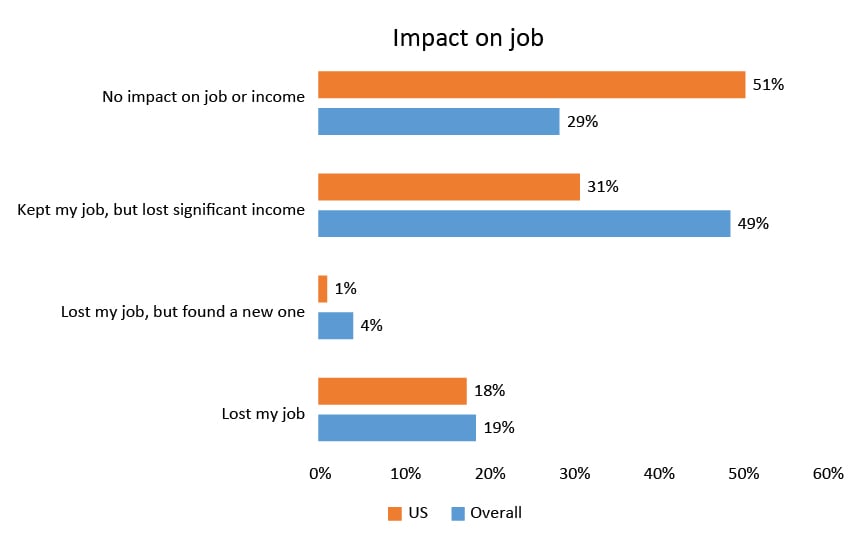 On the bright side, 42% of the respondents who are currently working, feel confident their job is not at risk, whereas only 23% globally feel optimistic about their future prospects.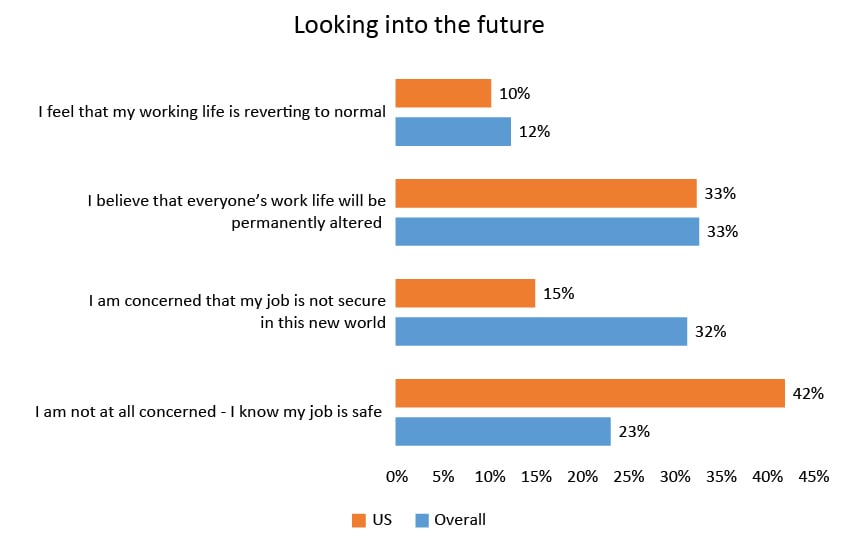 Work-life since the pandemic
A significant majority of working professionals in the US are currently working from home, of which 40% say that they plan on continuing to do so indefinitely for the foreseeable future.
Notably, 33% of respondents also said that they are considering changing their job as a result of complications arising from the pandemic.
Lastly, 39% of the respondents said that they find working from home stressful while simultaneously handling parenting duties. To be noted here is that all these responses are close to over the global average.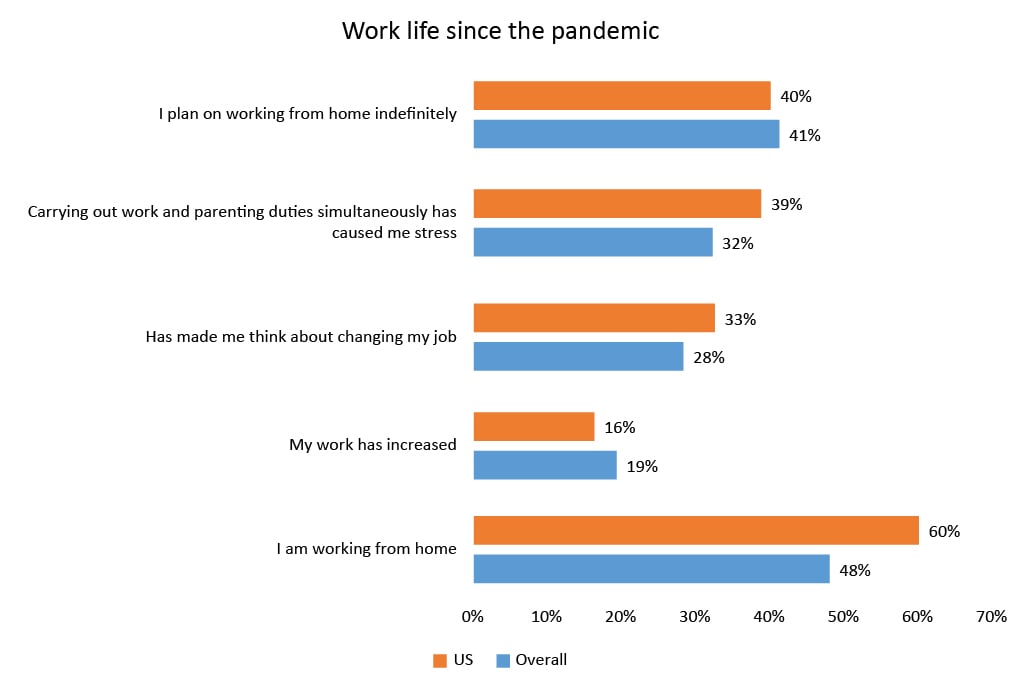 Even as a large number of people plan to continue to telecommute indefinitely, we asked which amenities they considered critical to making working from home convenient. On top of most people's minds is the need for faster internet, at 52%. Uninterrupted power supply and the need for a dedicated workspace/room at home came next, at 45% and 42% respectively.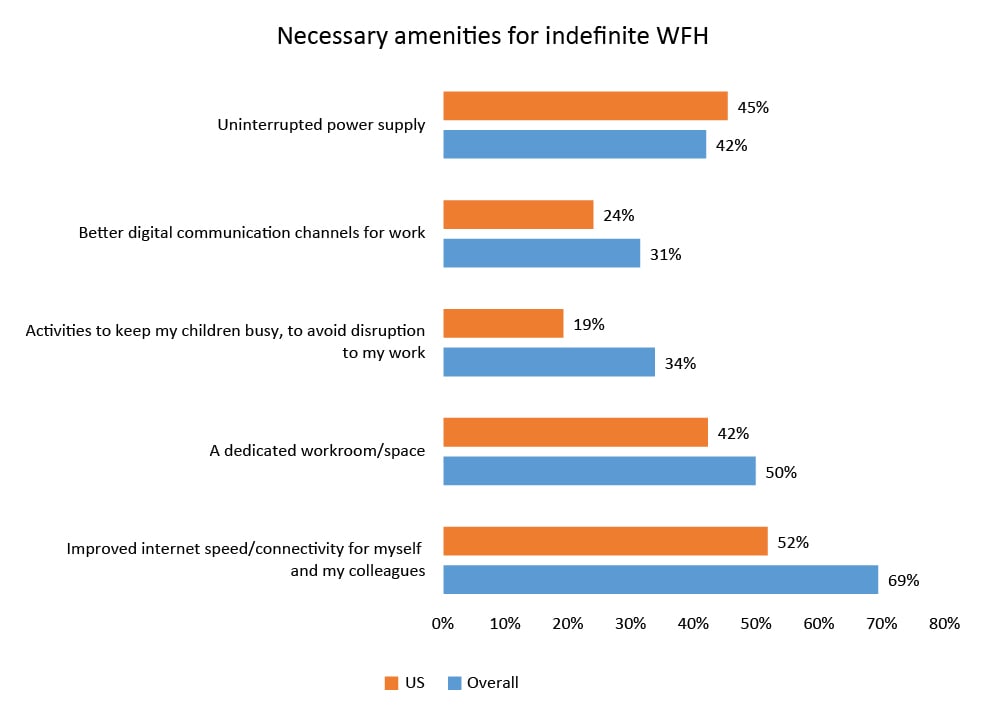 We are still far from tiding over the pandemic, which is likely to take several months until an effective vaccine is developed. Until then, the world has to adapt to living in the new normal, whether it is looking for jobs for a more stable income or making oneself comfortable at home as we continue to work from home.
You can also read our previous blogs on the topic to find out how the US fairs against other countries around the world including Germany, the UK, and other countries in the Middle East and Africa.
Contact us to discuss how we can help you better understand your consumers and your need for actionable insights.