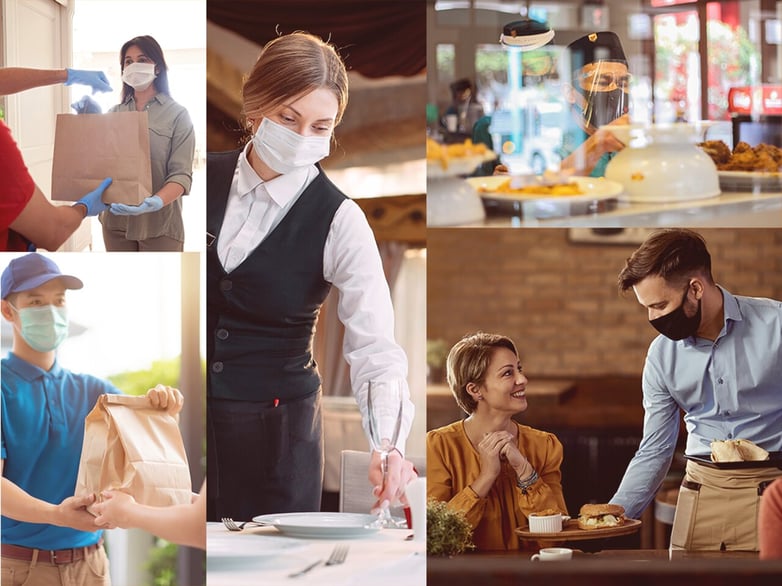 There are very few industries that have been adversely impacted by the pandemic and the subsequent lockdowns as severely as the restaurant sector. According to the National Restaurant Association of India (NRAI), 7 million direct employees of the restaurant industry have been hit by the pandemic and the industry body had approached the government of India for a bailout package to help sustain them through the worst phase of the pandemic. The situation is similar in other parts of the world, as people's habits regarding eating out has changed since the pandemic.To explore the impact of the pandemic on the restaurant industry further, Borderless Access recently conducted an online study among owners of restaurants and eateries in several countries around the world. In this blog, we highlight the findings from India, Indonesia and Vietnam.
NOTE: Standalone restaurants, cafes, eateries and fast food, and established restaurant chains are included in this study.
Concerning eating out and ordering in
Restaurants and eateries have undoubtedly suffered monetarily during the pandemic. In India, Indonesia, and Vietnam, respondents that agree with the statement were 52%, 49%, and 49%, respectively. However, a relatively small percentage of respondents said they had to shut shop, especially in Indonesia where 5% said they had to shut down.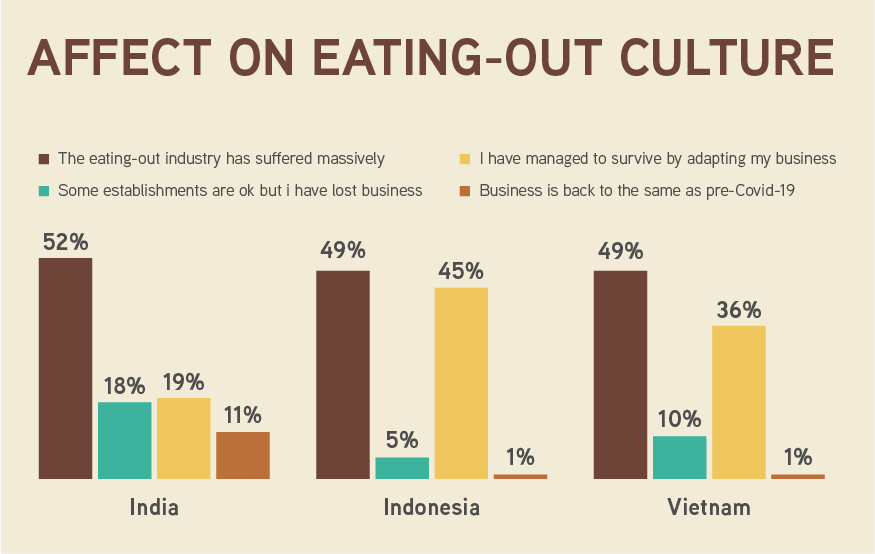 On a positive note, the majority of restaurant owners said that most of their patrons are keen on eating out again, with some customers understandably being cautious about eating out. Notably, 25% of Vietnamese respondents also said that customers are still very concerned about Covid-19.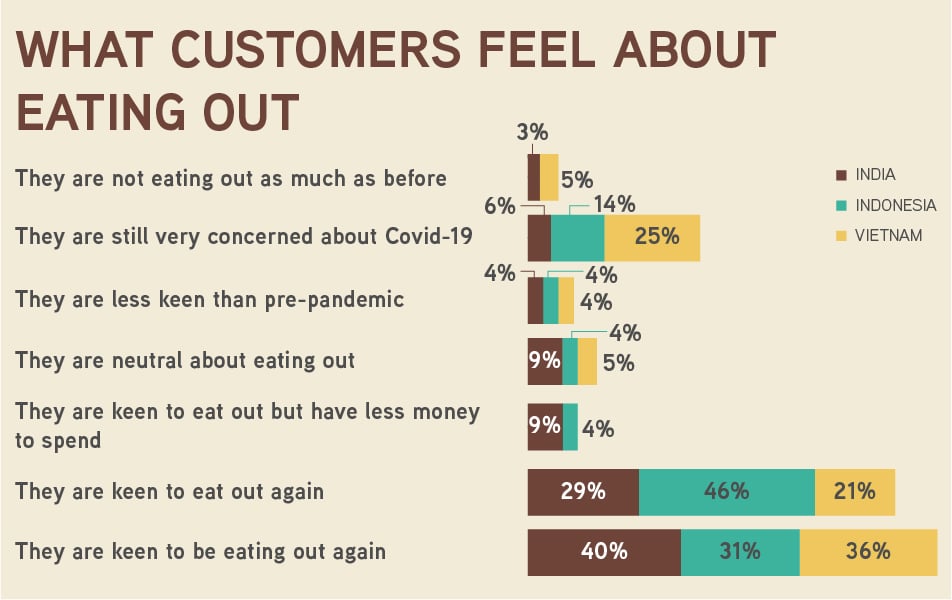 When considering people who order food online from restaurants and eateries, we notice that the situation is not as one-sided when compared to people eating out. A fair percentage of respondents said they managed to tide over the pandemic by adapting to the situation (India – 28%, Indonesia – 52%, and Vietnam – 43%).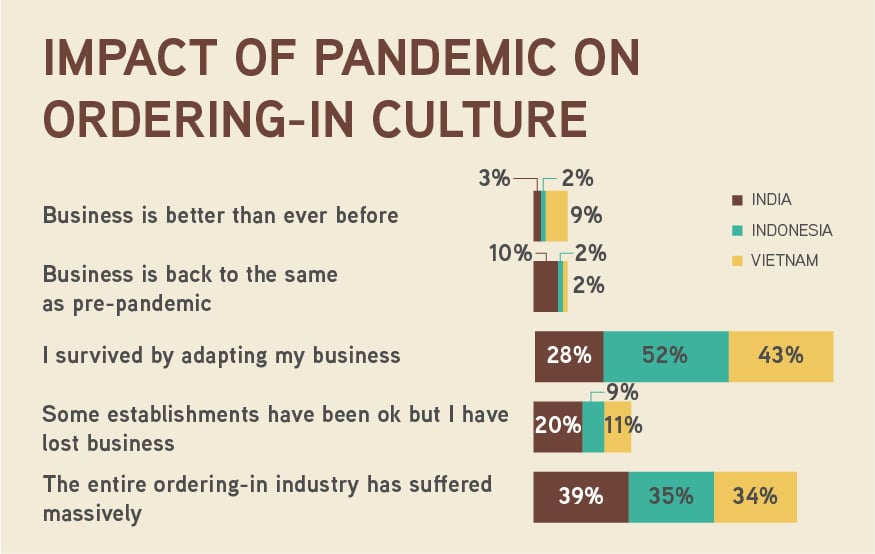 In fact, the majority of respondents, particularly in Indonesia and Vietnam (53% and 50%, respectively), said more people are ordering food online compared to before the pandemic. At the same time, many also feel a fair number of their customers are still being cautious about ordering food-in, particularly in India (37%).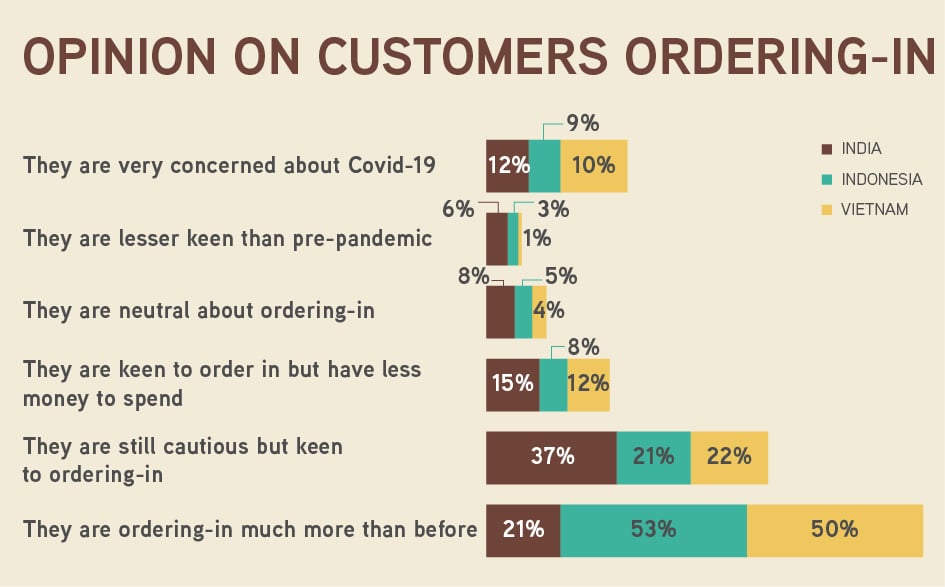 Adapting to the new normal
Restaurant owners in all three countries adopted several measures to ease the minds of their customers, provide easier ways for them to continue enjoying their favourite food and make it safer for everyone during the pandemic.
In India, 61% of the respondents said they have increased their delivery times and locations and another 53% said they have started ordering as an option since the pandemic. In Indonesia, an exceptional 81% said they have now allowed customers to order food online and 70% have partnered with delivery companies. It's a similar story in Vietnam, where 59% and 58% of the respondents said they now let customers order in and have partnered with delivery companies, respectively.
Regarding making customers feel more comfortable to step into a restaurant or to order their food online, the majority of respondents in all three countries said they have implemented social distancing rules as well as made wearing masks mandatory. The number of guests allowed has also been limited.

The shift in consumer food preferences
The majority of respondents in all three countries said they have observed a shift in their customers' eating preferences towards healthier food.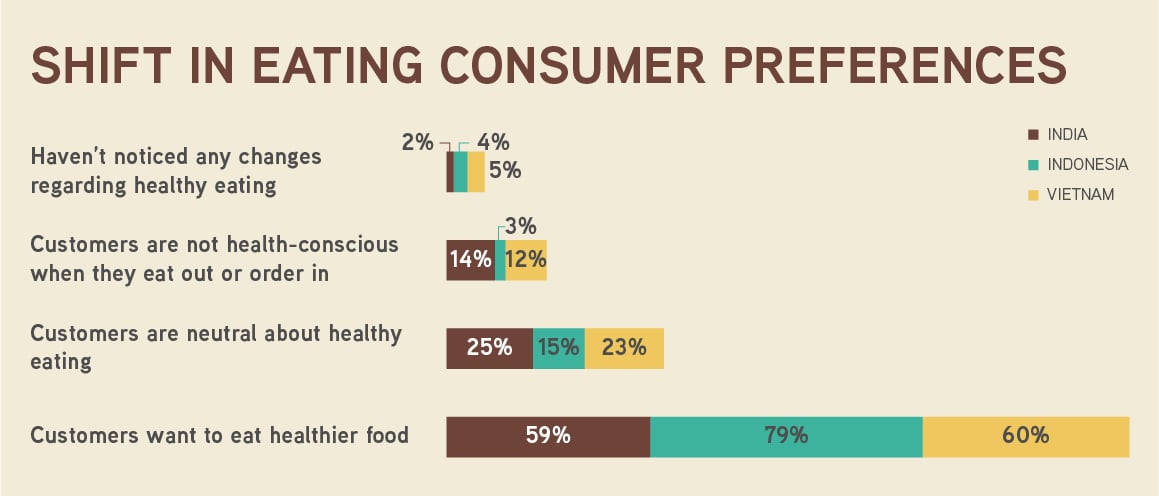 In India, 65% of the respondents said their customers prefer vegetarian food now compared to pre-pandemic, while 56% and 54% of Indonesian respondents said their customers prefer low-sugar and low-fat food now, respectively, more than before. In Vietnam as well, the same preferences hold true.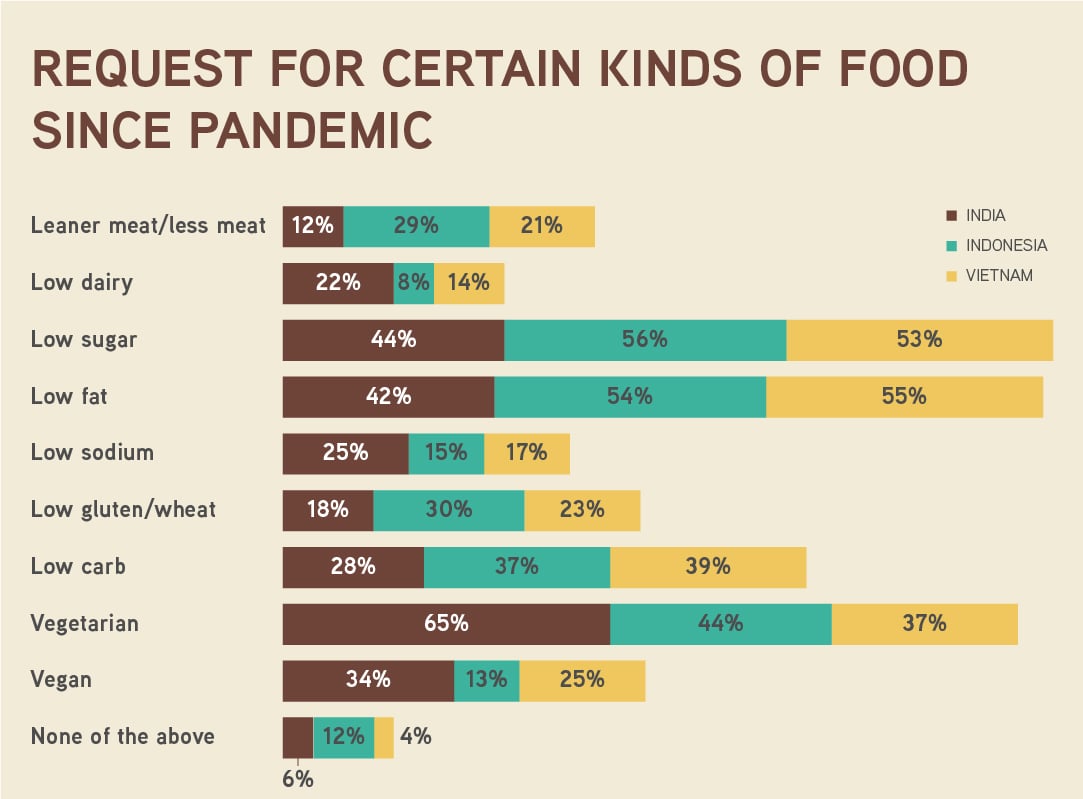 Marketing methods to match the situation



In an effort to make the best of this difficult situation, restaurant/eating establishment owners in all three countries have made certain changes to their marketing methods. This includes increasing the marketing budget (53% in India, 47% in Indonesia and 46% in Vietnam) as well as trying out various marketing methods, some more than others.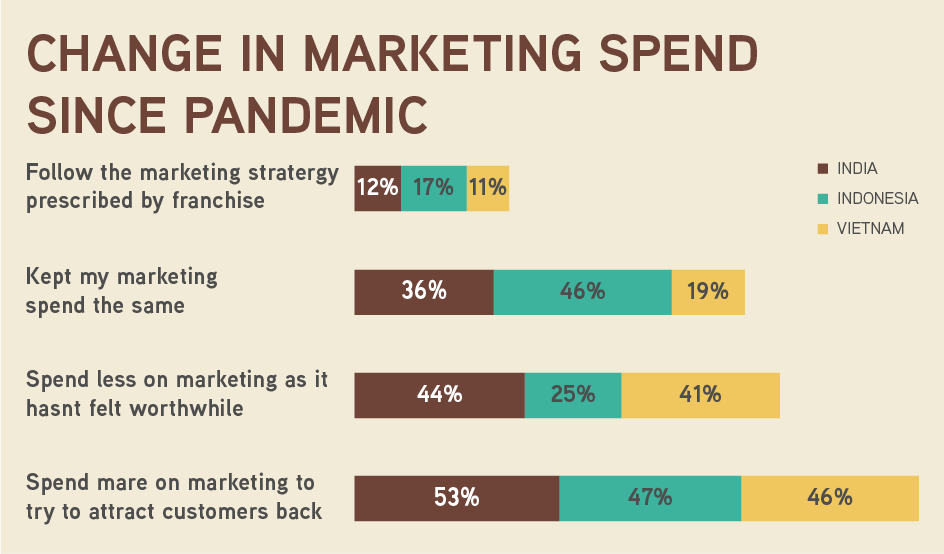 58% of Indian restaurant owners said they leaned more heavily towards digital marketing methods than before the pandemic and 49% said they marketed on delivery partners' platforms more than usual. The same holds true in Indonesia as well, but to a higher degree with 70% adopting digital marketing and 54% relying on delivery platforms for advertising. In Vietnam, the same marketing methods were employed by 62% and 51% of the restaurant owners, respectively.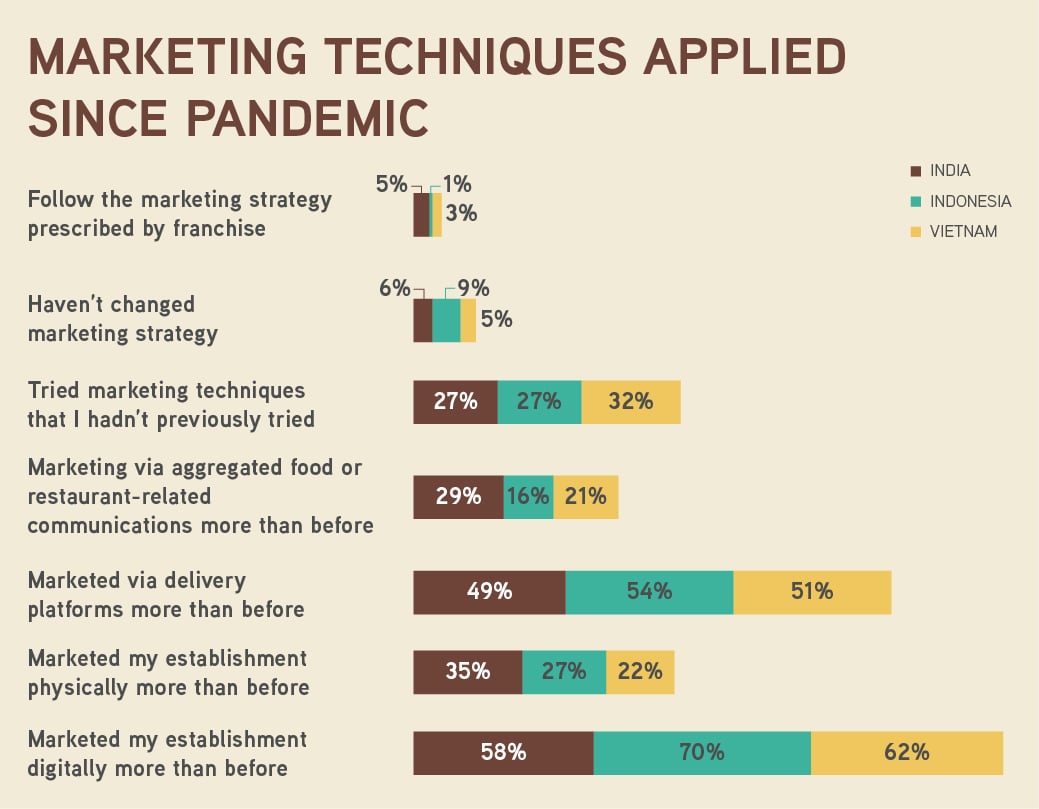 For many restaurant owners, the internet-driven tech space has been a saviour during the pandemic, allowing them to reach their customers in new ways, even when they could not come to them. Online booking systems and food ordering apps have been particularly useful in all three countries. The internet has also helped in terms of opening new avenues to market and advertise.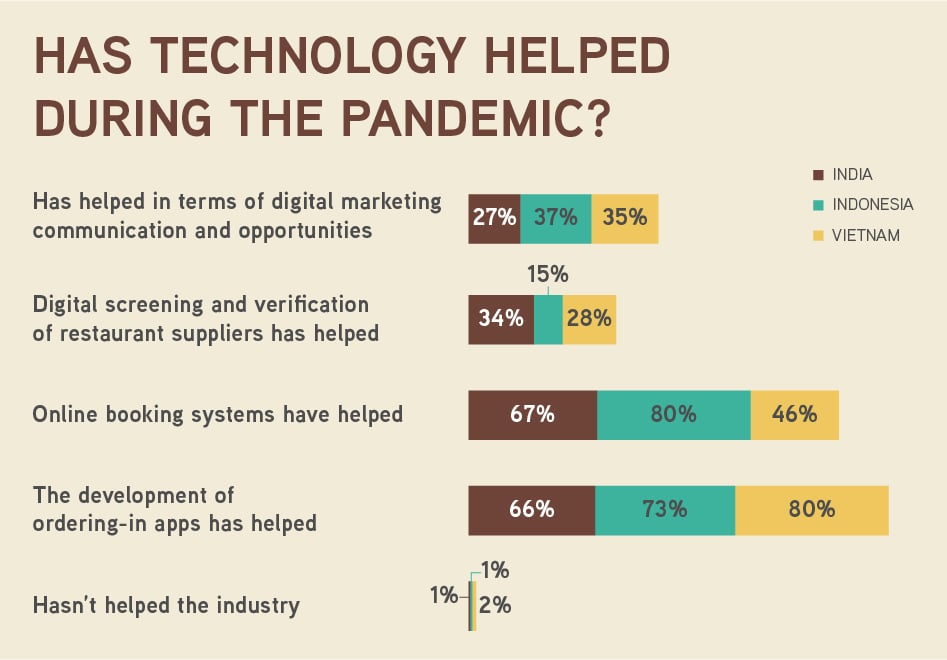 Conclusion
While a large portion of restaurant owners in all three markets are unsure of business being as significant as it was pre-pandemic, the majority are optimistic about it reverting to pre-pandemic conditions.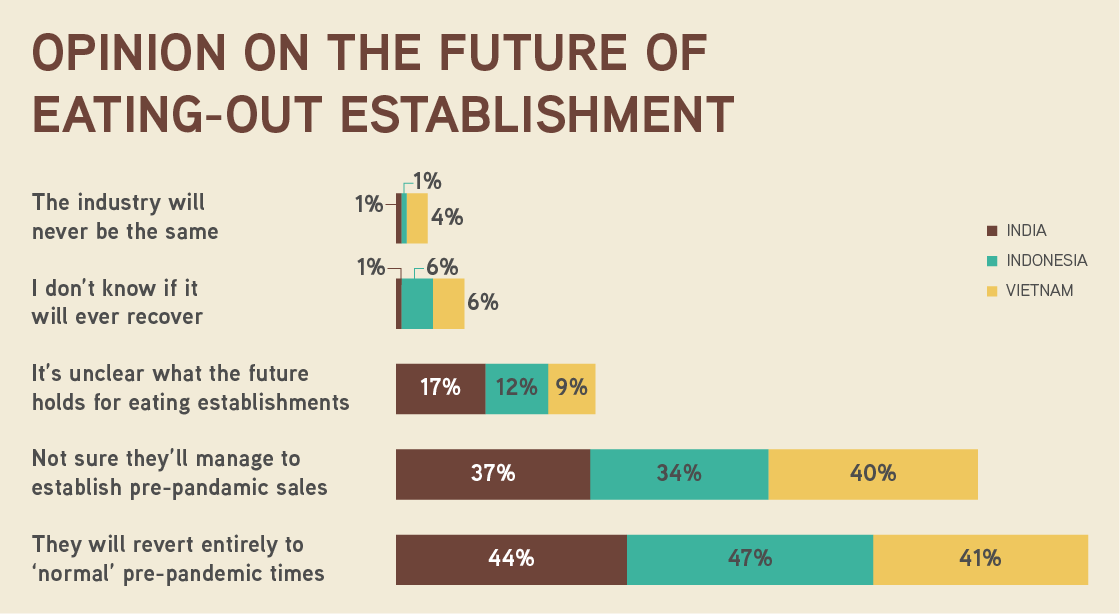 The primary reason for this optimism seems to stem from the new wave of opportunity enabled by digital avenues for restaurant owners to market their business digitally as well as reach out to their customers via digital means when the patrons themselves cannot. To add a positive twist, this also offers opportunities for a new wave of marketers and brands to grow that can cater to the restaurant industry.
To gain more such insights, you can reach out to us here.
About the study:
This was an online study conducted in mid-2021, a year after restaurant restrictions were implemented globally due to Covid 19. The study covered the US, UK, Brazil, Nigeria, South Africa, UAE, Saudi Arabia, India, Indonesia and Vietnam markets. This article, however, focuses on the impact of the pandemic on the Asian markets. The respondents in this study comprised of both restaurant owners and consumers of standalone restaurants, cafes, eateries and fast food and established restaurant chains, with a sample of 200 owners and consumers from each market.