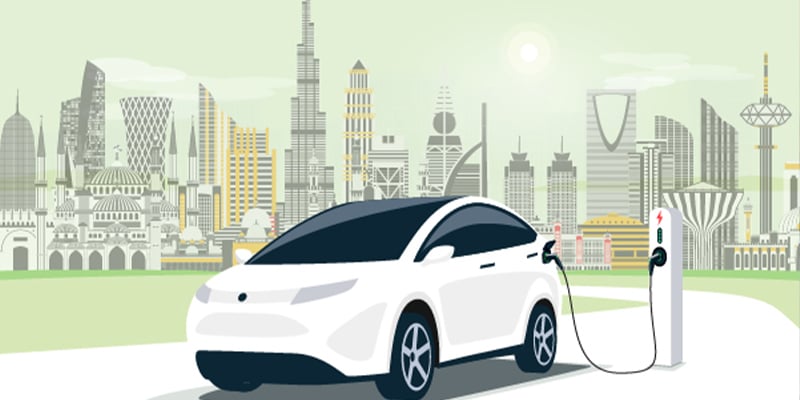 There is a lot of pressure on governments around the world to commit to becoming carbon neutral – the Middle East is no exception. Reducing the number of petrol-driven cars on the road is integral to this mission. As a result, we've seen steady growth both in Saudi Arabia and the UAE and also worldwide in the number of electric vehicles (EVs) being purchased, and car manufacturers are constantly releasing different models to cater for this broadening market.
Borderless Access has done a deep dive into who is buying EVs and what they look for in an EV, with a special focus on EV owners living in Saudi Arabia and the United Arab Emirates (UAE).
Is it a Youth-driven movement?
Worldwide 88% of EV owners are under the age of 45. We've witnessed the same trend in Saudi Arabia and the UAE. Going further, 20% of EV owners in the 18-25-year age group claim that their current car is not their first electric car. This claim rises to 30% in the UAE.
Feature seeking in the Middle East
When it comes to wanting more out of electric cars, the worldwide trend is that men want more -- more drive range and more features specifically. Both men and women want more power, but women are far less likely to seek an upgrade of their EV with 15% of women happy to keep their current EV compared to 8% of men.
A different picture emerges from Saudi Arabian EV drivers. Range isn't a great concern among this cohort -- perhaps electric vehicles aren't used outside of the cities? Both men and women want more power in their EVs, but women are more interested in new features and getting an upgrade. This could be because driving is a new phenomenon among Saudi women and as a result, they are very interested in all that cars have to offer.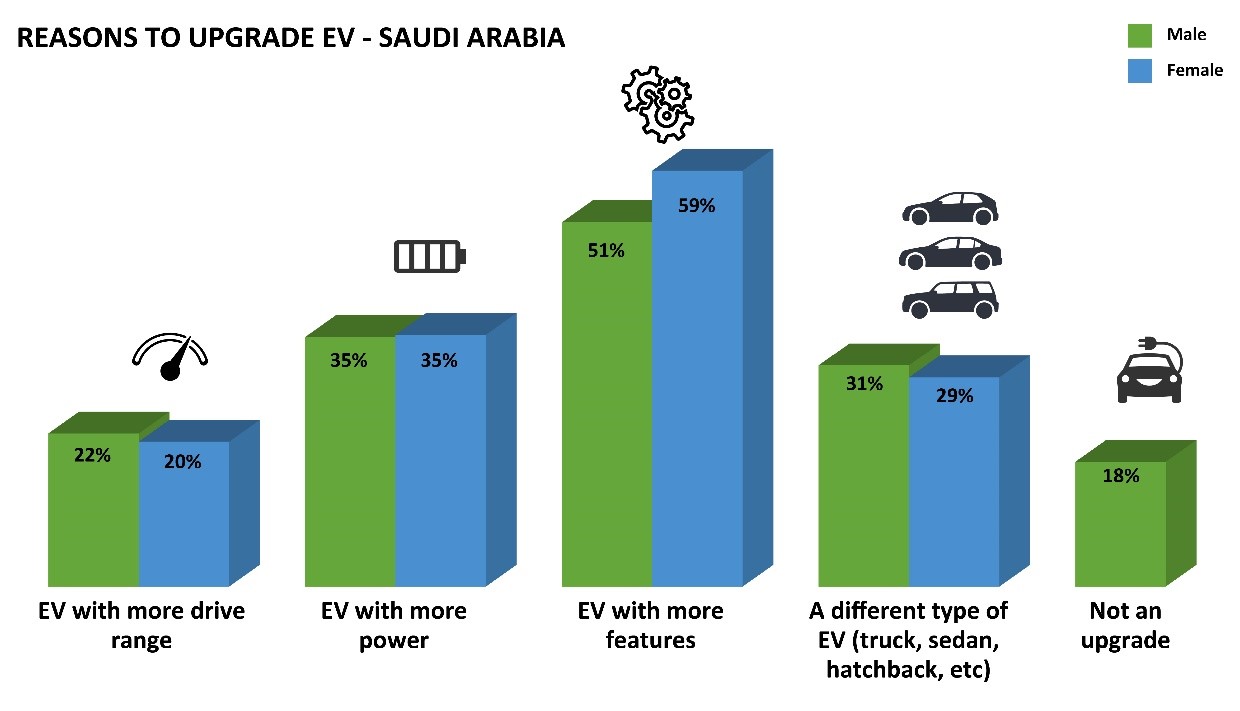 Electric car drivers in the United Arab Emirates also followed different trends -- twice as many men want more drive range than women do, and considerably more men are interested in greater power output. Yet, as in Saudi Arabia, women in UAE are more interested in the different features available in electric cars compared to their male counterparts. Women are also more interested in an upgrade.
Drive range and charging options are still a concern
Almost two-thirds of EV owners worldwide still own an ICE (Internal Combustion Engine) car. This rises to 81% in Saudi Arabia and 77% in the UAE. While just under two-thirds of people use their EV as their primary vehicle, there are certain situations, such as travelling long-distance and to remote destinations, where an ICE vehicle is still the car of choice.
Range is the biggest drawback for half of all EV owners, however being unable to charge their vehicle is also a concern, especially among women. Globally 41% of women worry about not being able to charge their vehicle. This rises to 43% of women living in the UAE and 57% of women in Saudi Arabia.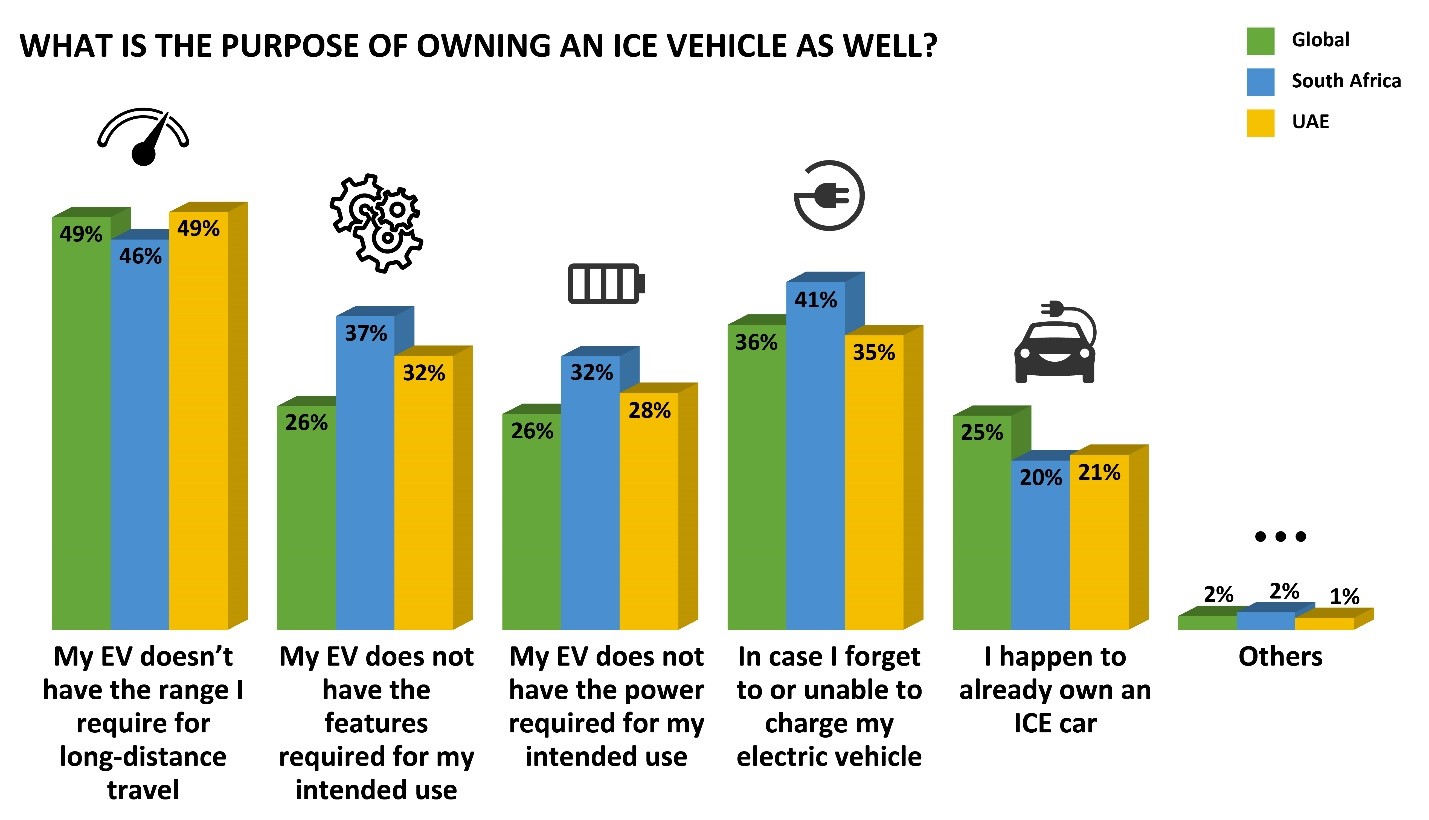 While 95% of respondents said they'd recommend getting an EV, the purchase is not without its drawbacks. The long charging time is sometimes a hassle. To fully charge an electric car with a large battery plugged into a fast charging station can take as little as 30 minutes, however for an EV with a slow recharging unit can be an overnight affair. Getting used to these time frames can be frustrating for some EV owners. The next aspect that hinders EV drivers is the lack of public charging stations. While governments are working on increasing the number of charging stations, the rollout of these will be uneven, especially in the beginning.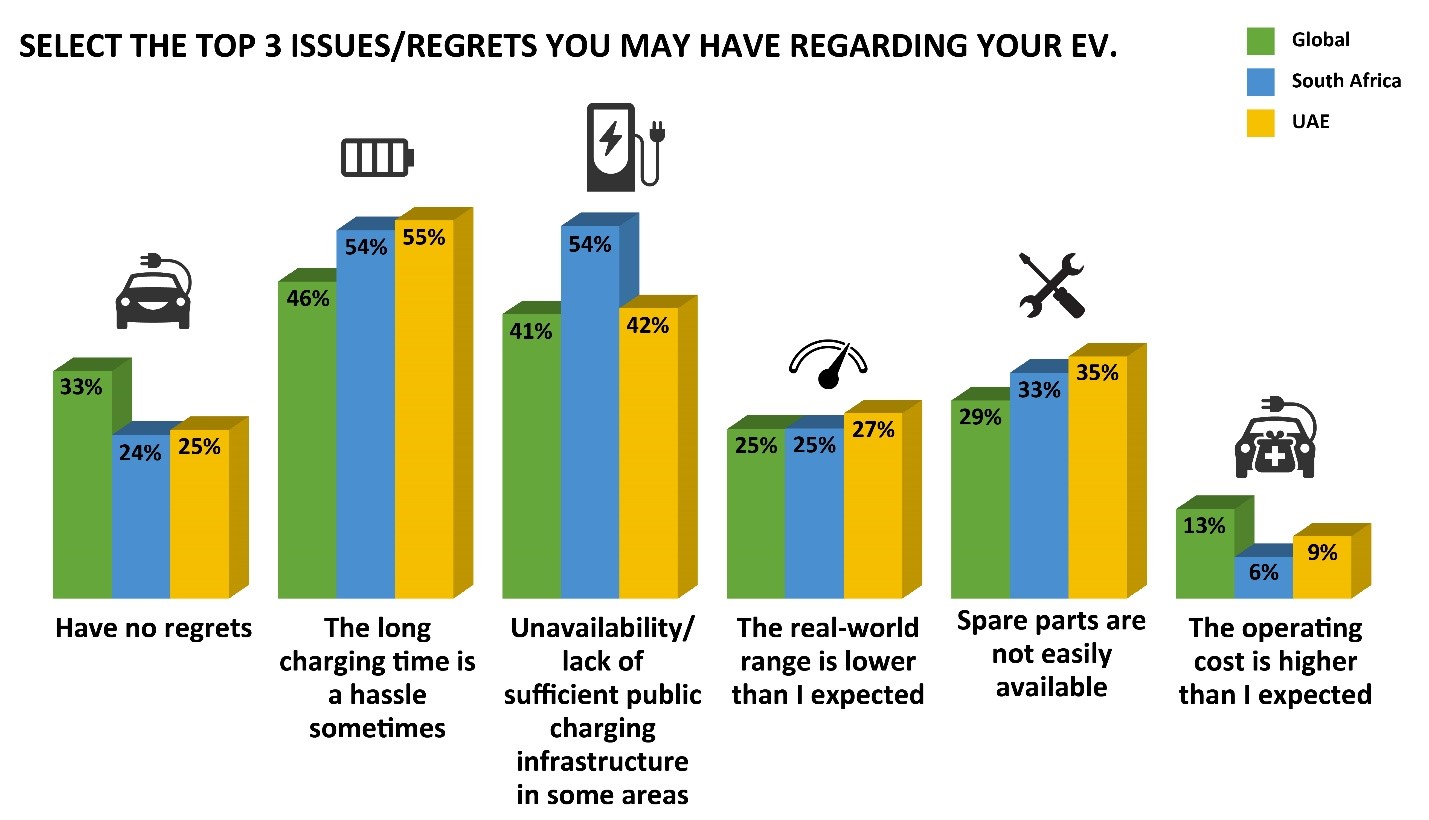 Best of both worlds: using EVs differently
Around half of all EV owners claim to use their cars in the same way they'd use an ICE car. That means that half of the people are using their cars differently -- for shorter, city-bound driving that better suits the uses of a second car. We can expect this to change as drive range increases even for low priced Evs from different stable of brands and charging stations become ubiquitous.

Surprise findings
Only 4% of people say that driving their electric car doesn't feel that different to a petrol-driven car. Most people appreciate the dramatic differences gained from low noise and faster acceleration. Also, since most car manufacturers are focusing on growing their EV market share, it's the space where the most innovation is happening so new drivers of EVs report enjoying the additional convenience features that companies are incorporating in their EVs.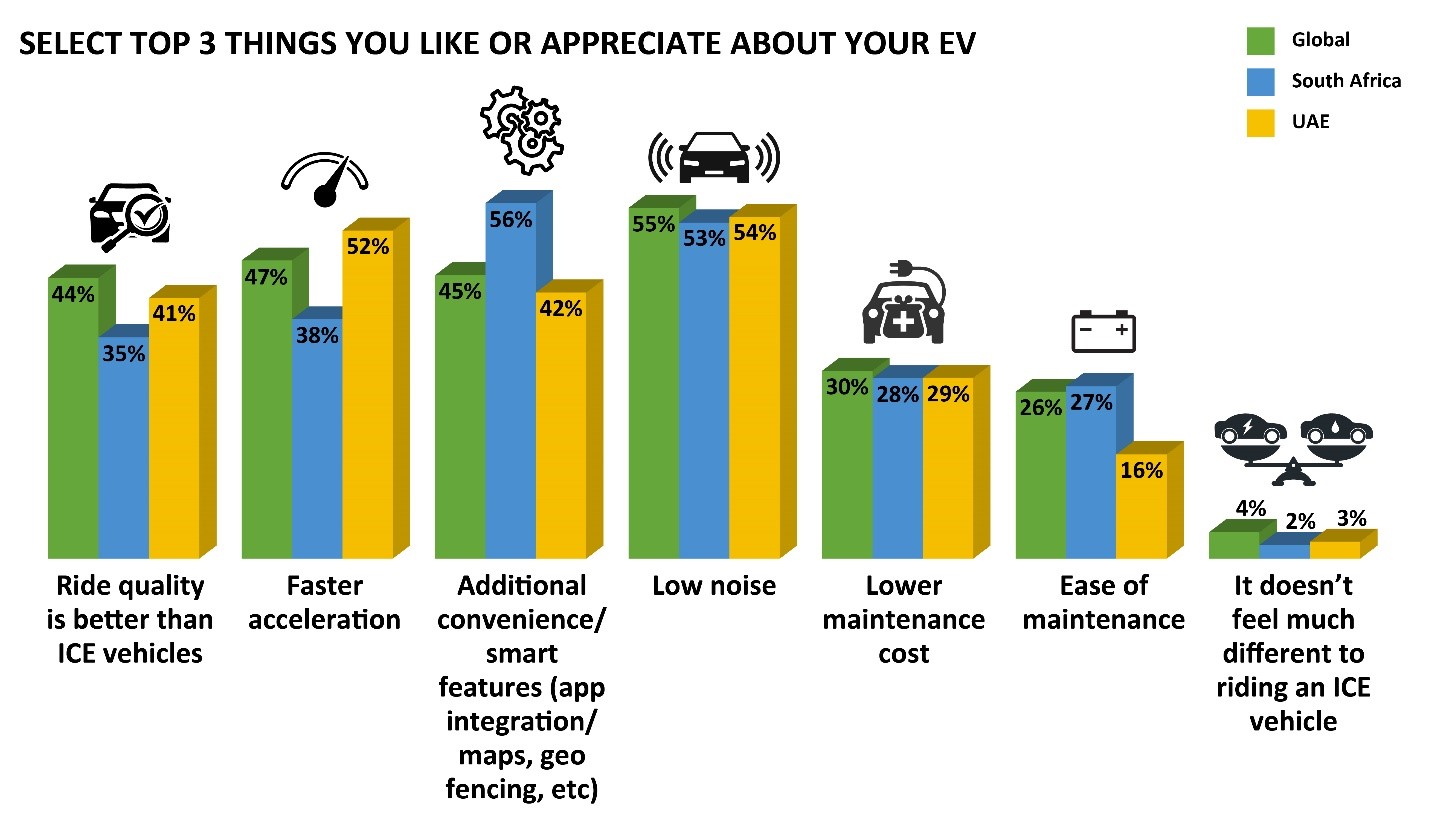 Takeaway points
Women drivers of electric vehicles in Saudi Arabia and the UAE are very interested in the different features available in different cars and are much more interested in upgrading their electric vehicles. Savvy marketers will target new cars and new features towards women, as a relatively new and growing demographic, in this region.
While the infrastructure needed to support widespread EV rollout will take time, people interested in purchasing such a vehicle should consider if the current infrastructure supports their intended usage.
---
For more information on how to gather cutting-edge research on your sector, please visit Borderless Access.
This blog was first published here.