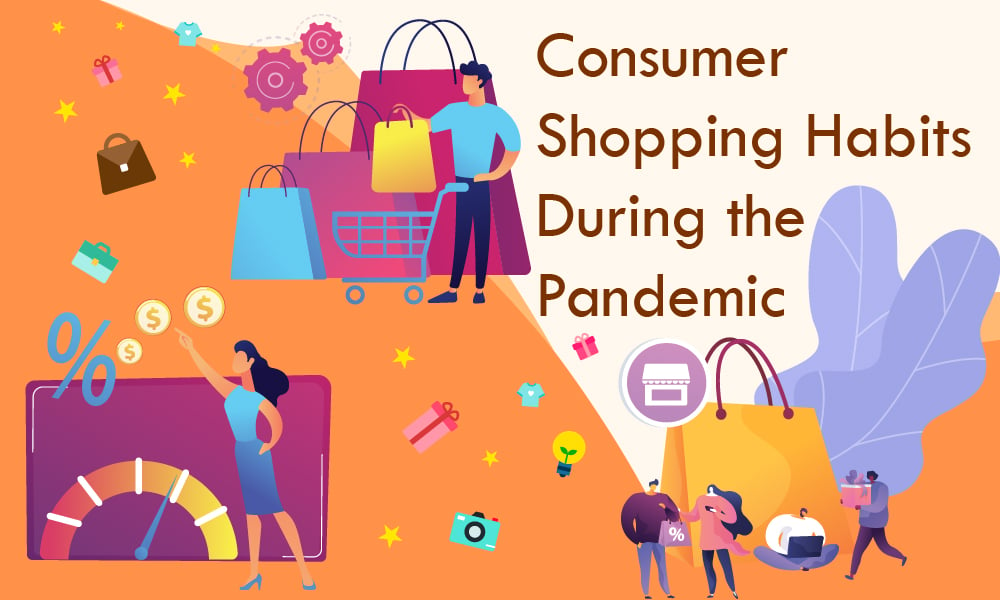 Shops and stores have been mostly open across Germany and the UK since the last few months when lockdown measures were relaxed. However, it has not been business as usual for most shop owners. As per a report, there were "no lines" and "no crowds" when an Ikea branch in the Germany city of Cologne opened. According to experts, consumers' mindsets have changed from a "gain" to a "maintain" mentality during the pandemic. In other words, people are avoiding stepping out of the house unless necessary to lower the risk of catching the virus.
To shed further light on the purported shift in consumer shopping habits, Borderless Access recently conducted an online study across several countries across the world, including in the UK and Germany. Here are the highlights from the study.
Are online stores preferred over physical stores?
Globally, online shopping has picked up dramatically. 60% of all respondents said that they have started to solely shop online or are shopping online more than before and only 15% said they shop in physical stores as usual. In comparison, 35% of Germans said they continue to shop in physical stores as usual against 23% in the UK. The percentage of people in the UK who have increased online shopping is closer to the global average, at 63%.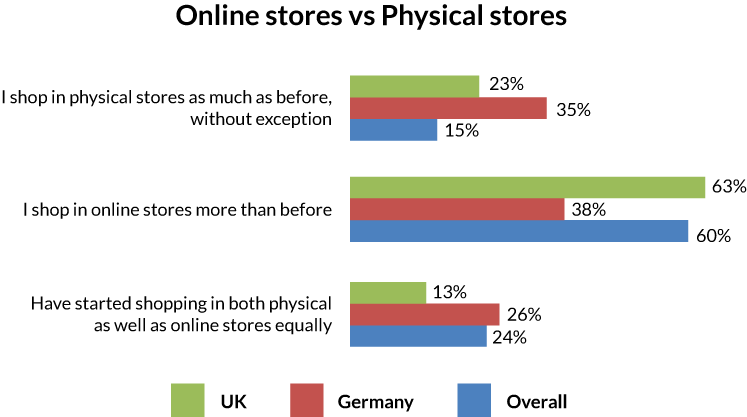 While a large number of people are staying away from stores that are too crowded or are not following safety measures, visits also depend based on the type of store. For instance, most people around the world are giving stores located inside malls (54%) and stores selling non-essential items (58%) a miss. The same trend can be seen in Germany as well, where 54% of people said they are avoiding malls and non-essential stores. In a similar fashion, but to a greater degree, 57% and 64% of respondents in the UK said they have been avoiding malls and non-essential stores since the pandemic.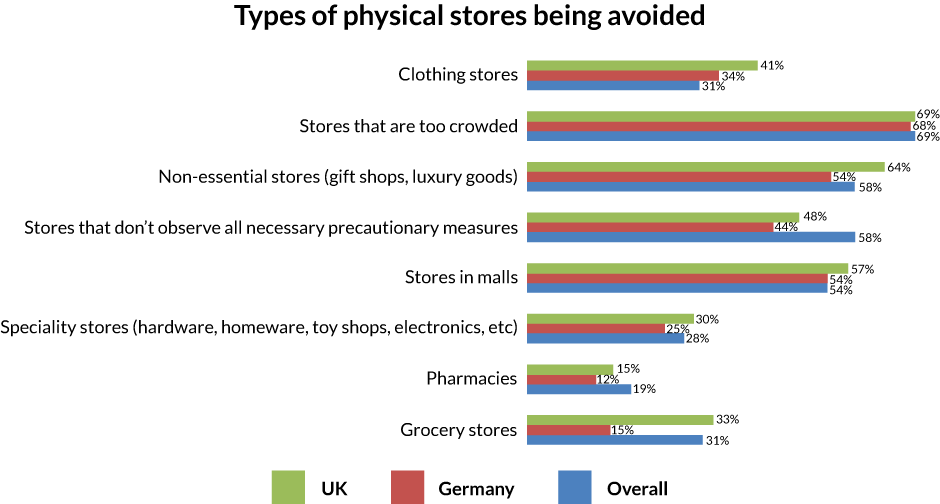 Are people shopping less frequently?
The pandemic has influenced how often people shop, particularly in physical stores. Globally, only 10% of all audiences said their frequency of visits to stores has remained the same or has gone up. 15% of Germans and 12% of the audience in the UK also said the same thing.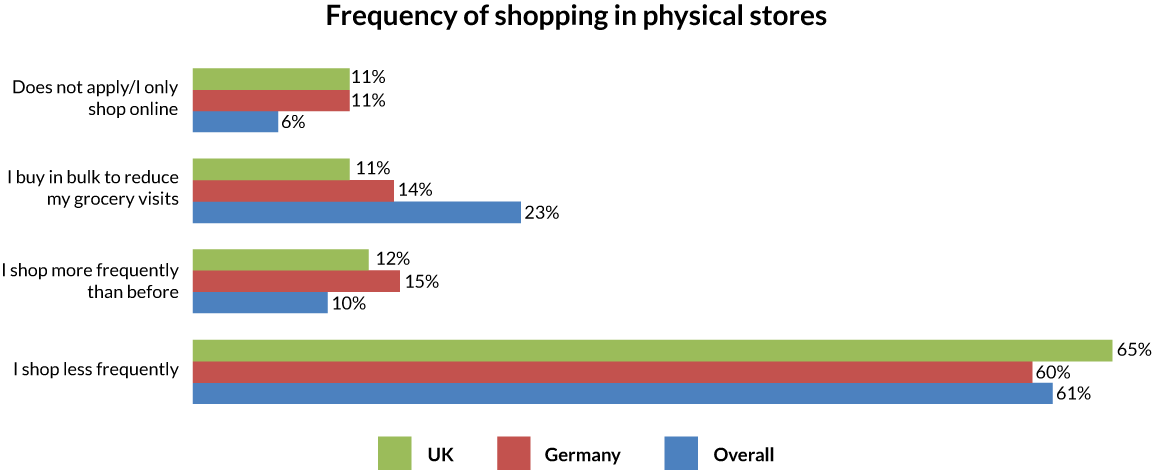 Interestingly, even though online shopping is considered relatively safer, 32% of the global audience said their frequency of online shopping had reduced. In Germany and the UK, this percentage stands at 30% and 38% respectively. However, the majority of audiences globally (44%), as well as in Germany (39%) and the UK (42%) shop online more frequently than or as often as before.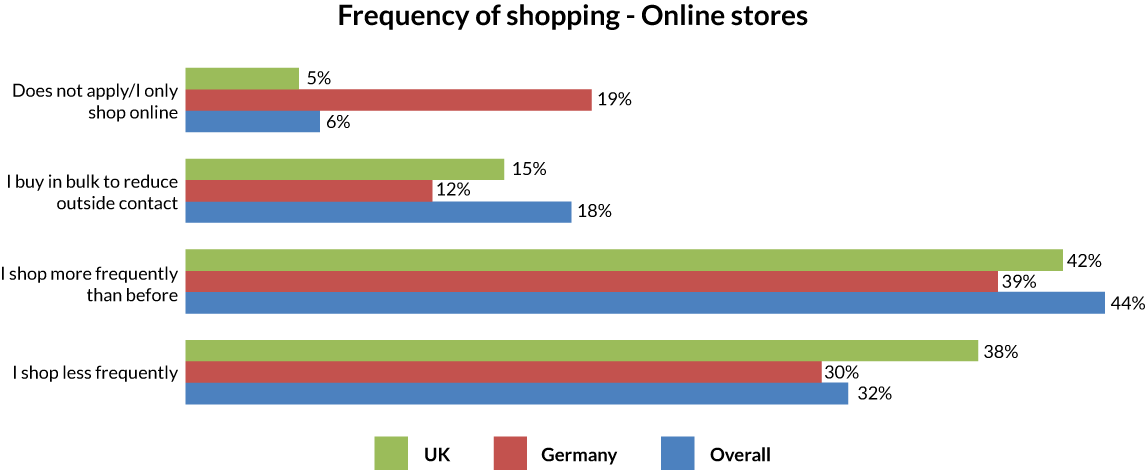 Notably, a significant majority (72%) of the global audience, who are currently staying away from physical stores, said they would be willing to shop in physical stores if strong safety measures are implemented. 68% of the UK audience shared the same sentiment. However, 51% of Germans said they would avoid physical stores in the current scenario no matter the safety measures.

Among those staying away from online shopping, 82% globally and 75% in Germany and the UK said they would consider shopping online if certain measures were implemented. Of these factors, In Germany, safe packaging and delivery practice, easy and intuitive purchase experience and easy exchange policy were given top preference in that order. In the UK, easy exchange policy, easy and intuitive purchase experience and safe packaging and delivery practice were the top factors.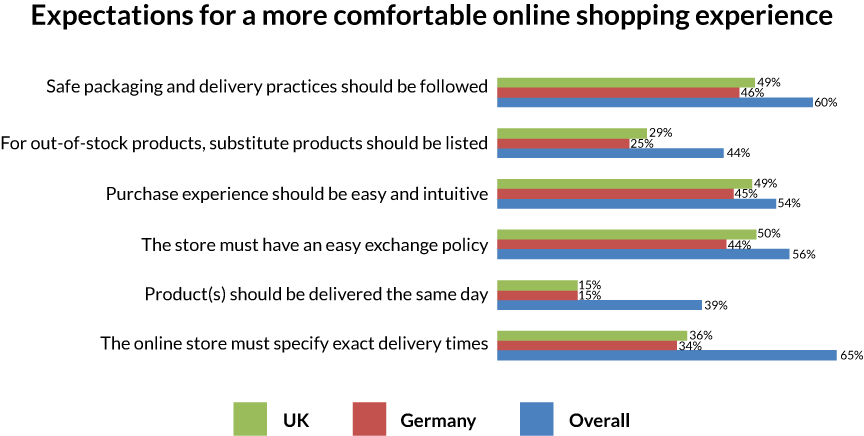 A once-in-a-lifetime occurrence like the current pandemic is expected to leave a lasting impression on people and how we function as a society. Since the pandemic, the shopping habits of consumers across the world have changed. 60% of Germans and 49% of the audience in the UK now primarily shop for essentials alone. Meanwhile, the purchase of healthy food has gone up among 31% of Germans and 23% of the UK audience. People are also shopping less frequently but at the same time, we are witnessing an uptake in online shopping. While some of these changes could reverse over time, others could result in a more permanent behaviour change.
You can learn more about how consumer behaviour has been influenced due to the pandemic in our report, "Impact of COVID-19 on Consumer Behaviour"
Contact us for actionable consumer and B2B insights for your brand