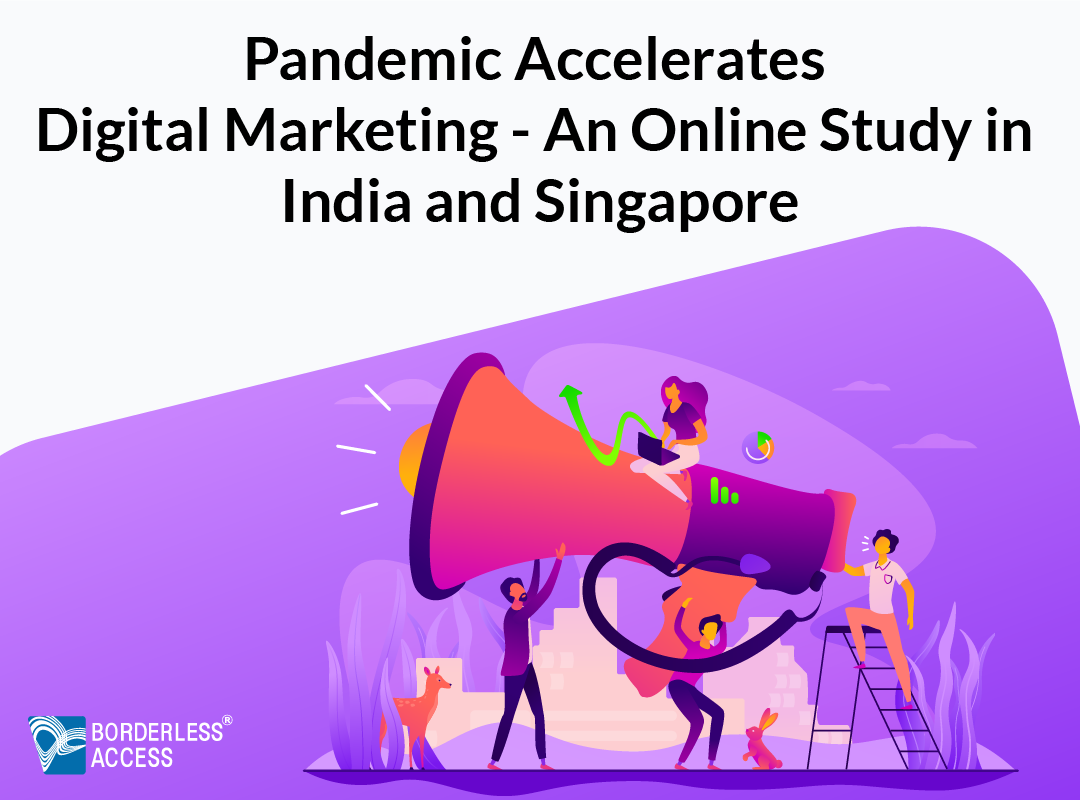 Of the many changes the world has gone through in the past year since the start of the pandemic, consumer behaviour and evolving expectations from brands is an important one that is also critical for marketers and advertisers.
To understand how marketers have reacted to the effects of the pandemic and the resulting changes in consumer behaviour, over the last year, Borderless Access conducted an online study in the United States, India and Singapore and in several countries in Africa, Europe and the Middle East. The study gathered responses from approximately 1000 respondents consisting of marketing and advertising professionals from different industries.
The study explores marketing activities and budgets, preferred marketing channels, perceptions, experiences, and implementation of traditional and digital marketing and advertising methods. In this blog, we talk about the findings of the two Asian markets and how they compare to the rest of the markets in our study.
Changes in marketing activities since the pandemic
Since the start of the pandemic, 43% of marketers from our study said they had reduced marketing activities and would resume full-fledged activities once things were back to normal. 43% of Singaporean and 45% Indian marketers gave the same statement. Also, 18% of Singaporeans and 15% of Indians said they were focusing on digital marketing more since the pandemic.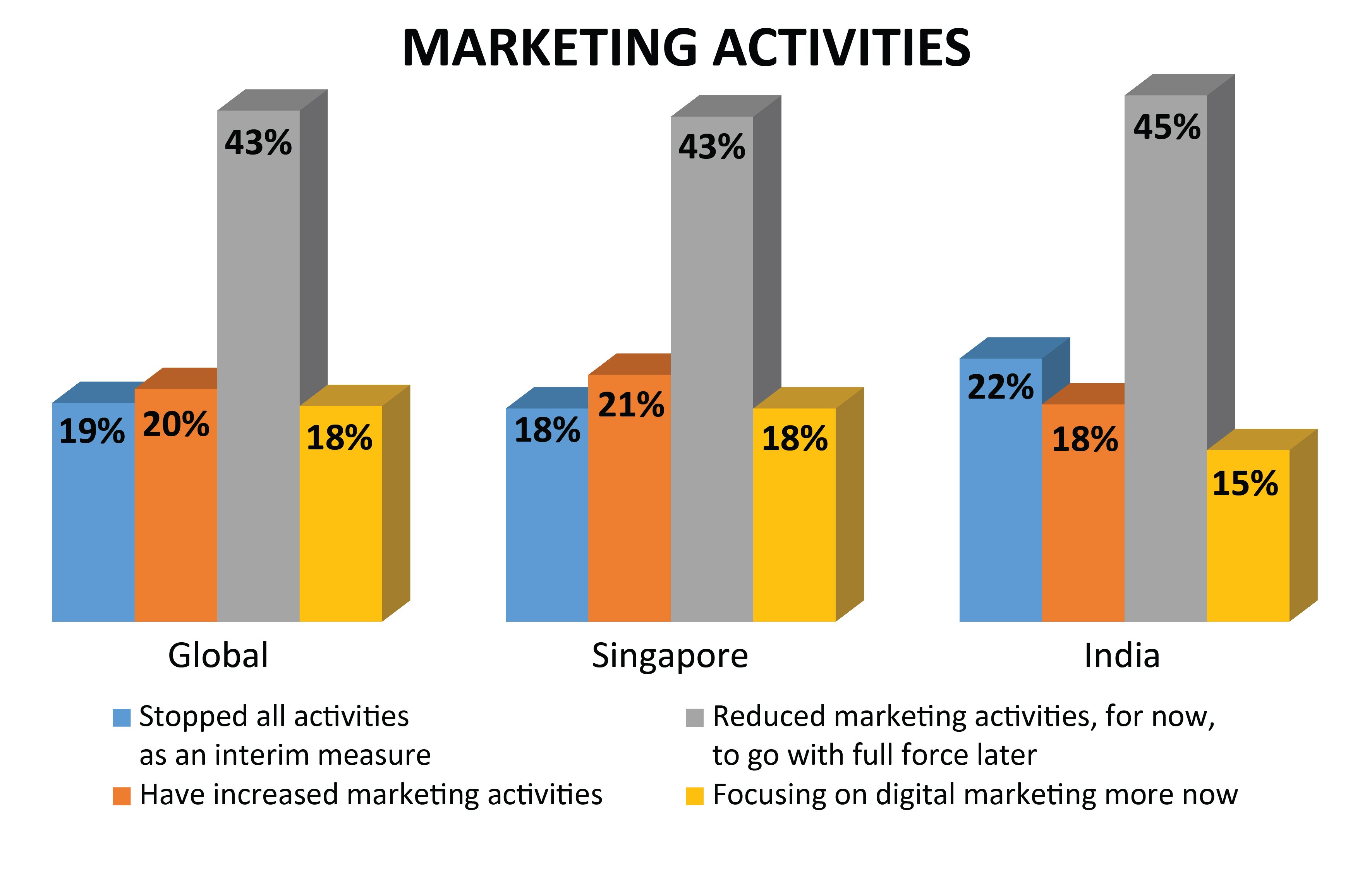 In terms of marketing budget, 54% of the Indian marketing professionals said they had reduced it significantly, which is lower than the overall percentage of 49%, which is also on par with Singapore. At the same time, 29% of Indian marketers said they had increased their marketing budget (against 18% in Singapore). 33% of Singaporean marketers said their marketing budget had remained more or less the same.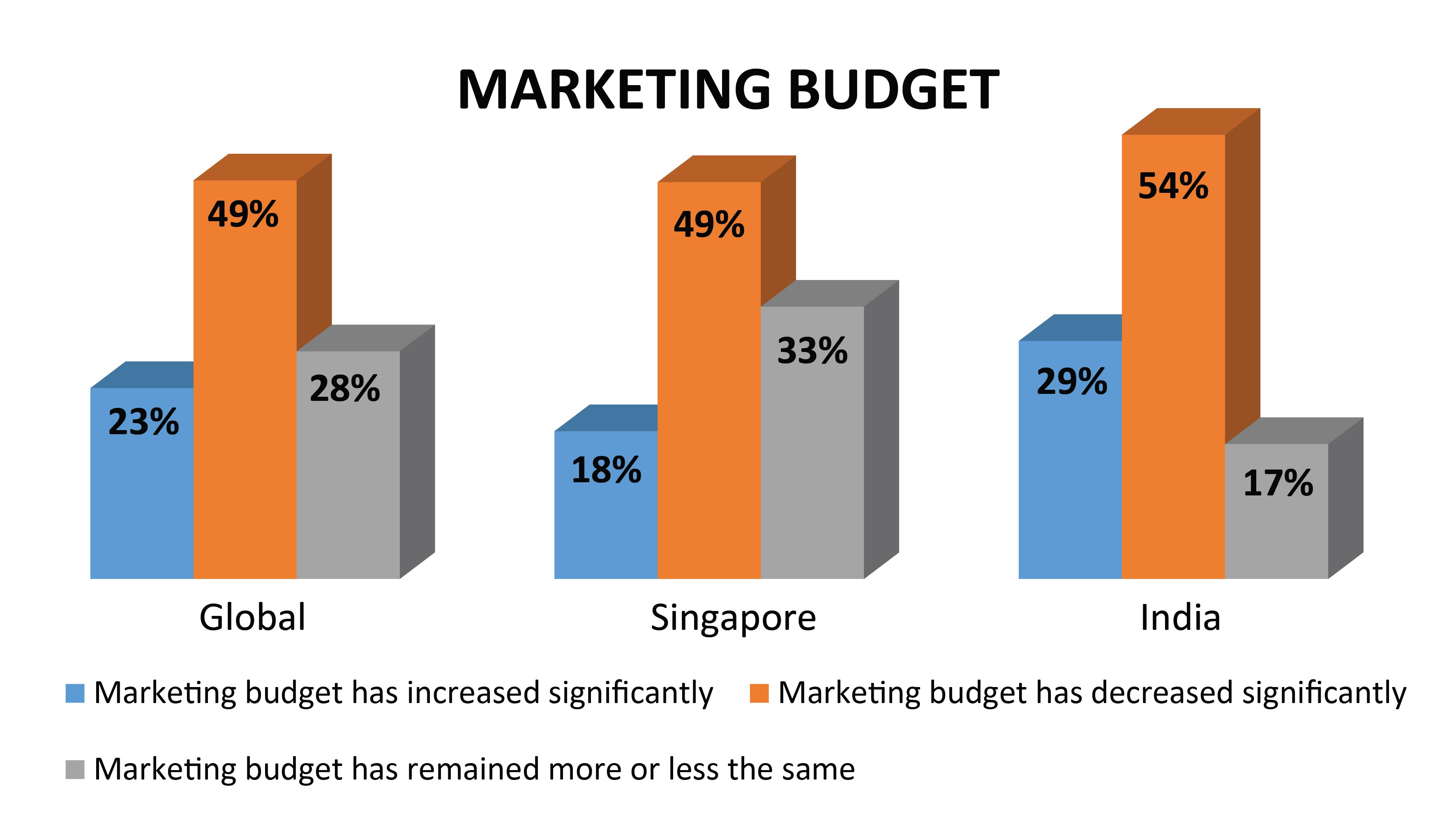 Marketing channel preferences in the new decade
In India, various digital marketing channels are widely used by marketers, where 62% to 65% of marketers picked mobile apps, social media, websites and digital and online publications as their most preferred mediums. Television is also a chosen medium by 50% of the marketers in India.
On the other hand, in Singapore, social media is preferred by 42% of marketers as their most preferred channel of marketing. This was followed by websites and digital publications, which were chosen by 38% and 33% of the respondents respectively. Only 18% of the respondents in Singapore went with television as their preferred channel of marketing.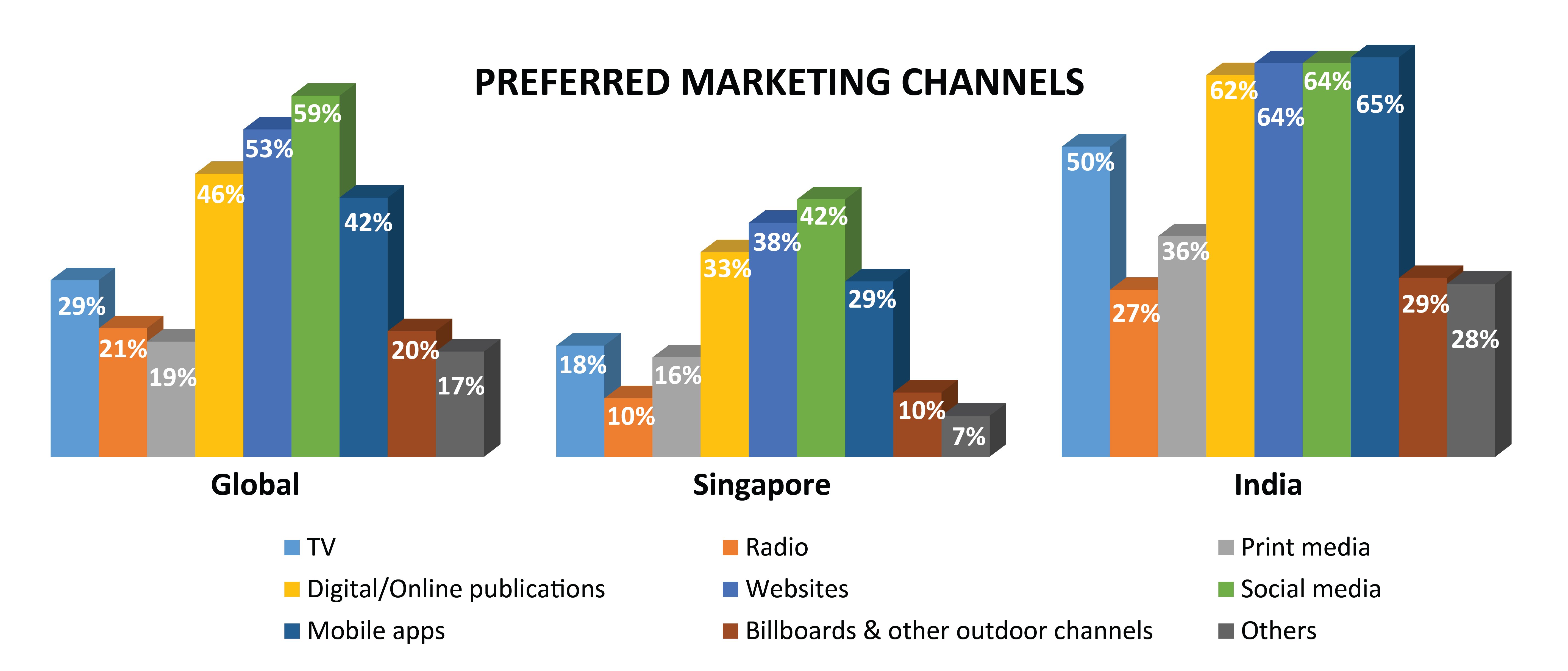 Looking at the best returns on investment, we observed that in India, social media marketing, as well as marketing through websites and digital publications were said to be the most effective by 67%, 64% and 61% of marketers respectively.
Meanwhile, in Singapore, marketing on websites yielded the best ROI according to 35% of the marketing professionals, followed closely by social media, at 33%. However, it is to be noted that, when compared to India, fewer marketers agreed digital marketing channels provide the best ROI.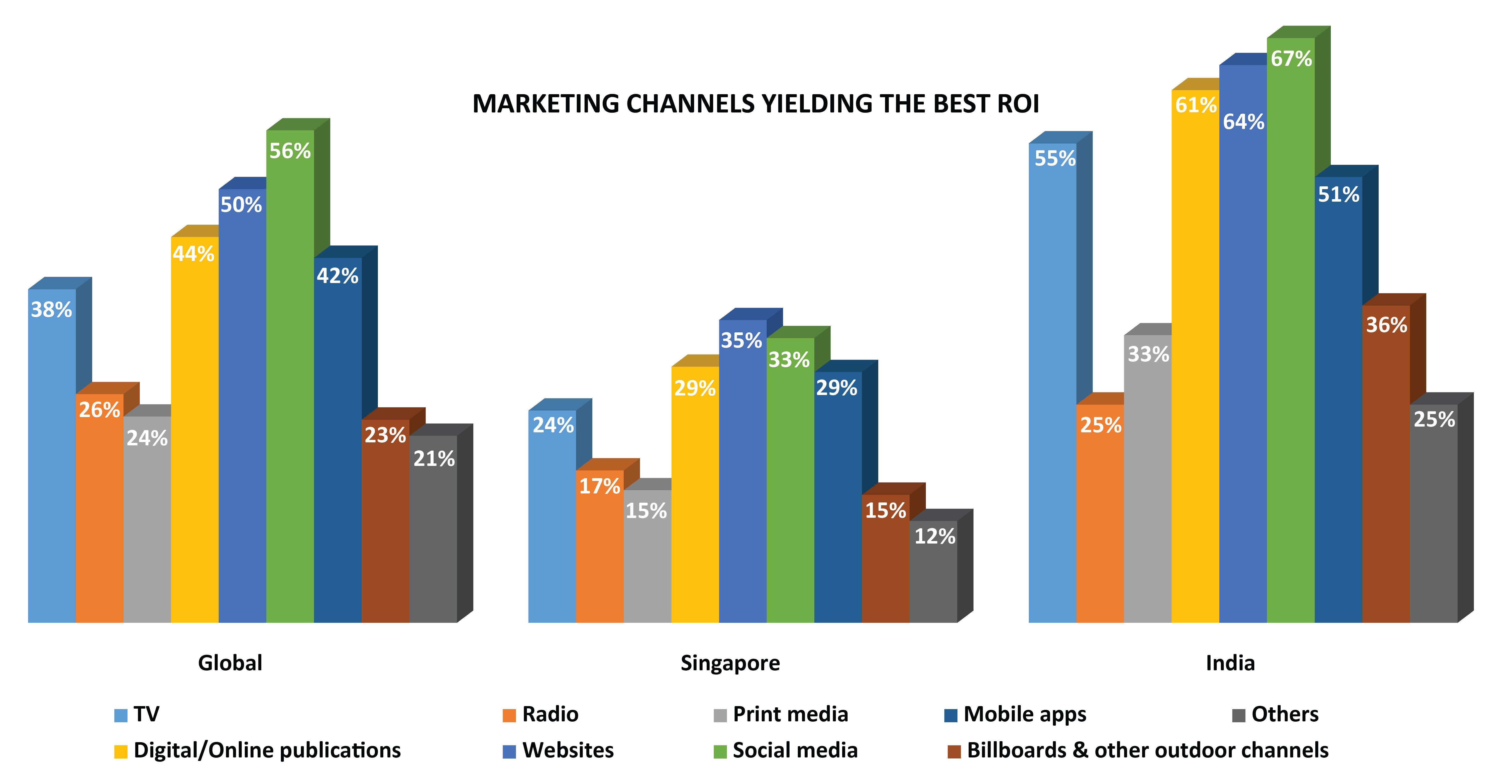 Perceptions about digital and traditional media
Across all the markets in the study, 25% of the respondents believed traditional marketing methods and platforms are still relevant and 22% said digital, while it is growing, is as of yet most relevant amongst younger audiences. Singaporean and Indian marketers have similar opinions.
32% and 30% of Singaporean marketers said traditional media continues to be relevant and believed that digital media was more popular among younger audiences. 20% and 24% of Indians shared the same sentiments respectively.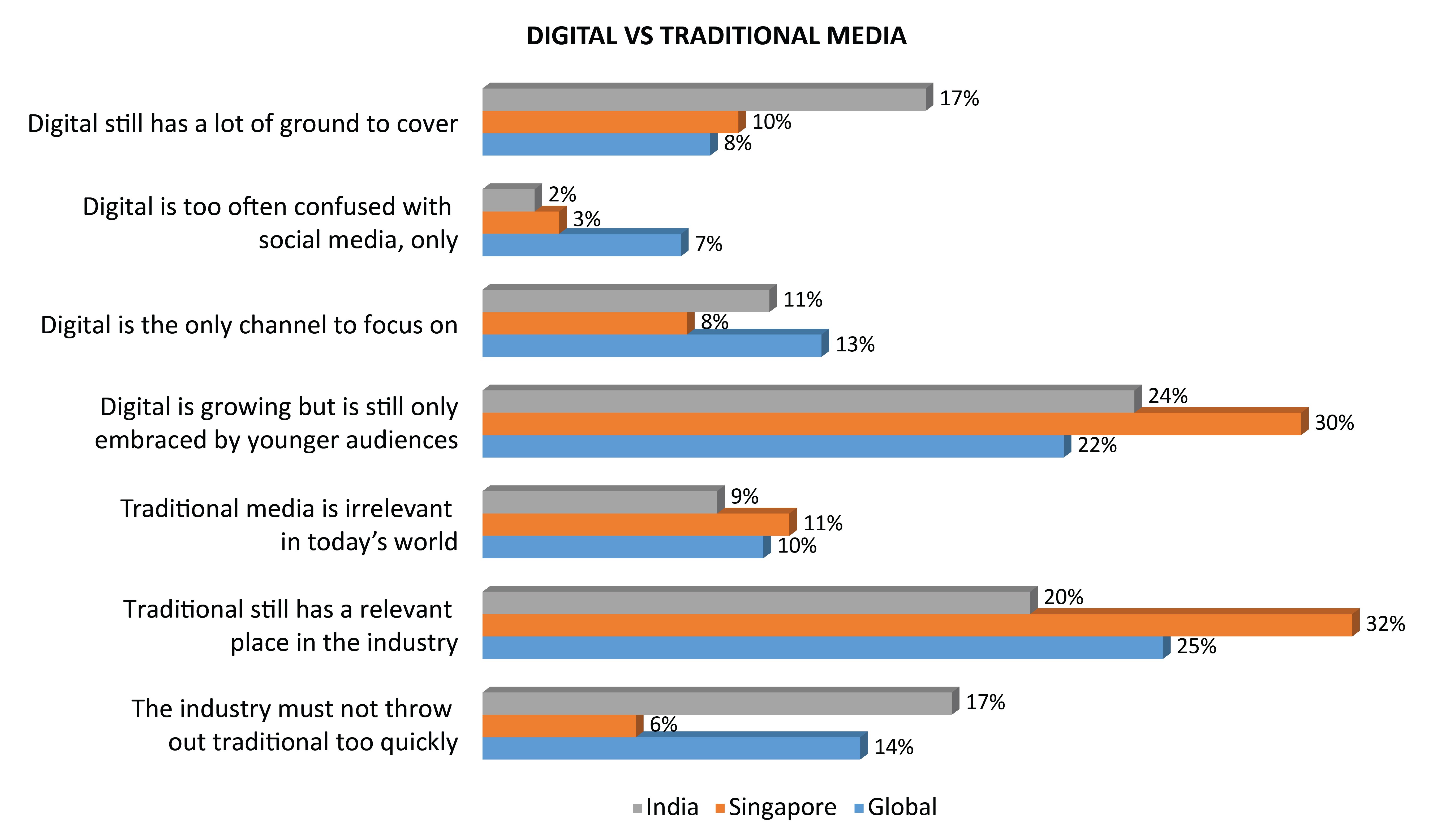 As far as the growth of digital media is concerned, the majority of Indian (65%) and Singaporean 45%) marketers agreed that digital marketing has grown substantially since the pandemic. Only a small percentage of marketers in Singapore (18%) and India (16%) believed that the increase in reliance on digital marketing would even out once things are back to normal.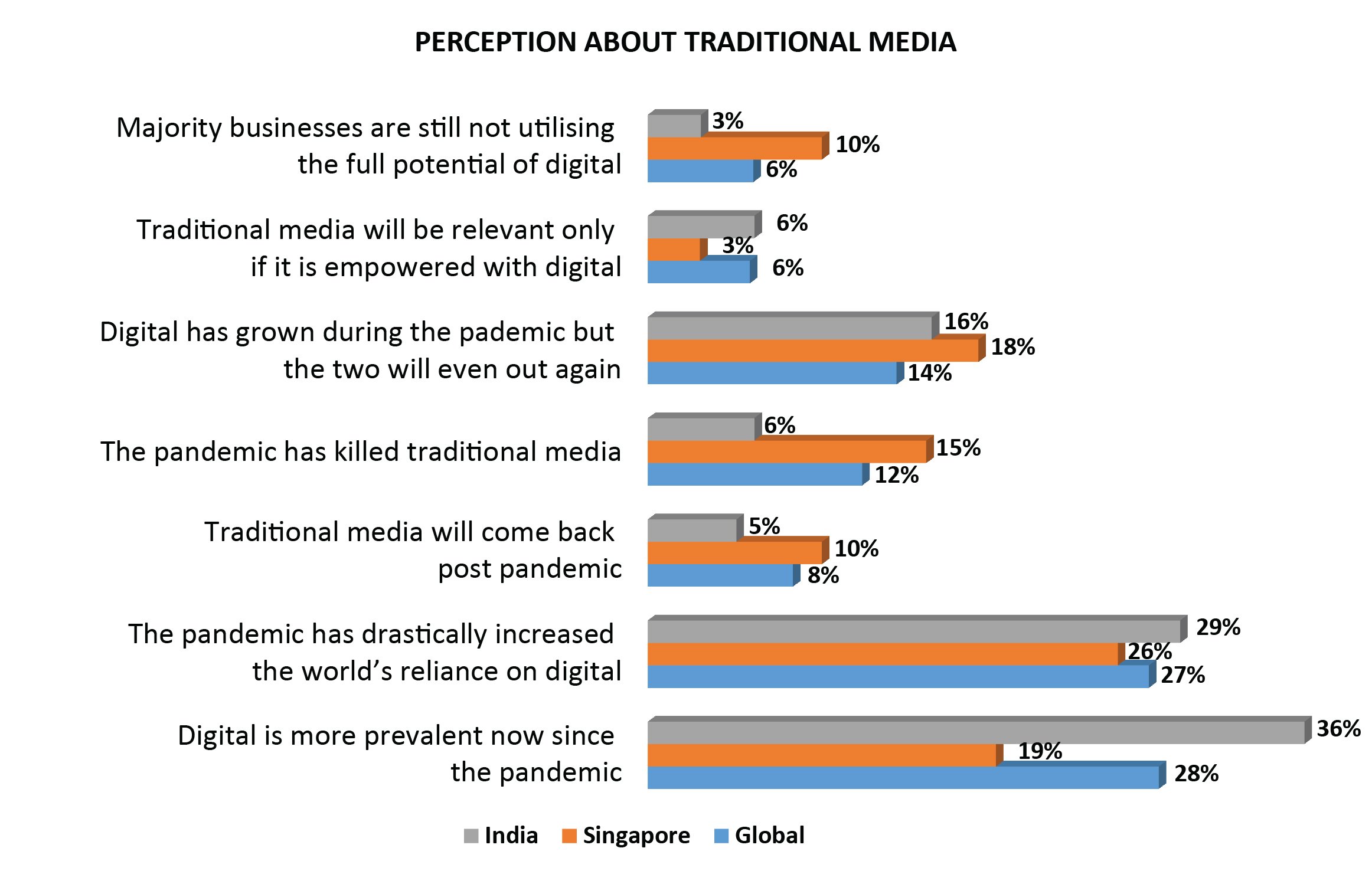 When comparing social media and programmatic ads, Singaporean marketers don't universally agree on which is better. While 22% said programmatic ads were more effective than social media ads, 24% of Singaporeans said advertising on social media was more effective compared to programmatic and other methods.
In India, 29% of Indians against 11% said that social media advertising was more effective than programmatic and other platforms of marketing.
21% Singaporean and 25% Indian marketers said that social media and digital media are often confused to be the same. While 23% of Singaporeans against 17% of Indians believed that social media is often misunderstood and misused.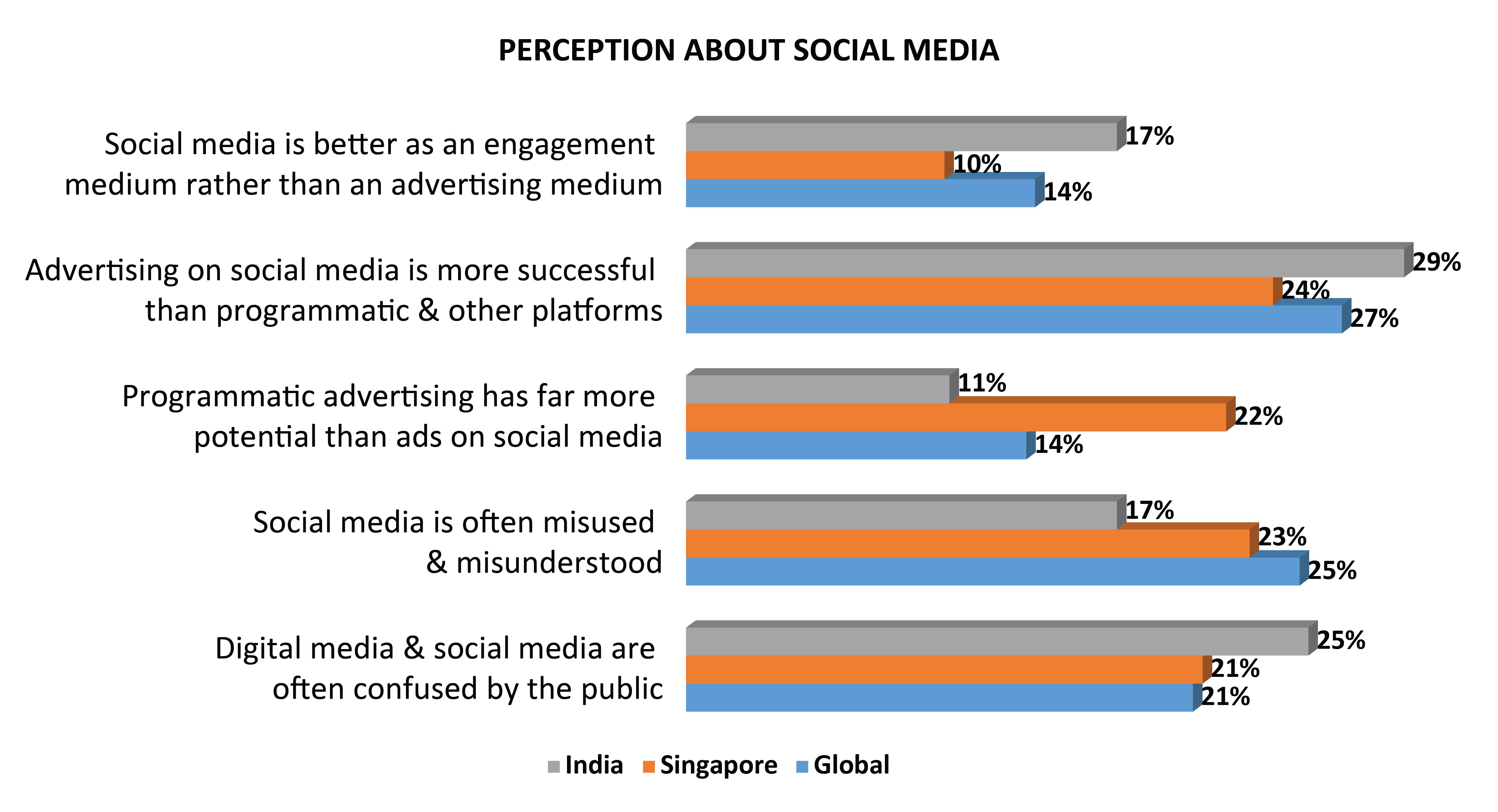 The future of marketing and advertising
The majority of marketers around the world believe maintaining a strong social media presence to be the most important aspect of digital marketing. 66% of Indian marketers find this to be the most critical element of digital marketing, against 53% of Singaporeans. Email marketing and content marketing are other areas of digital marketing and advertising that marketers in both countries consider to be important.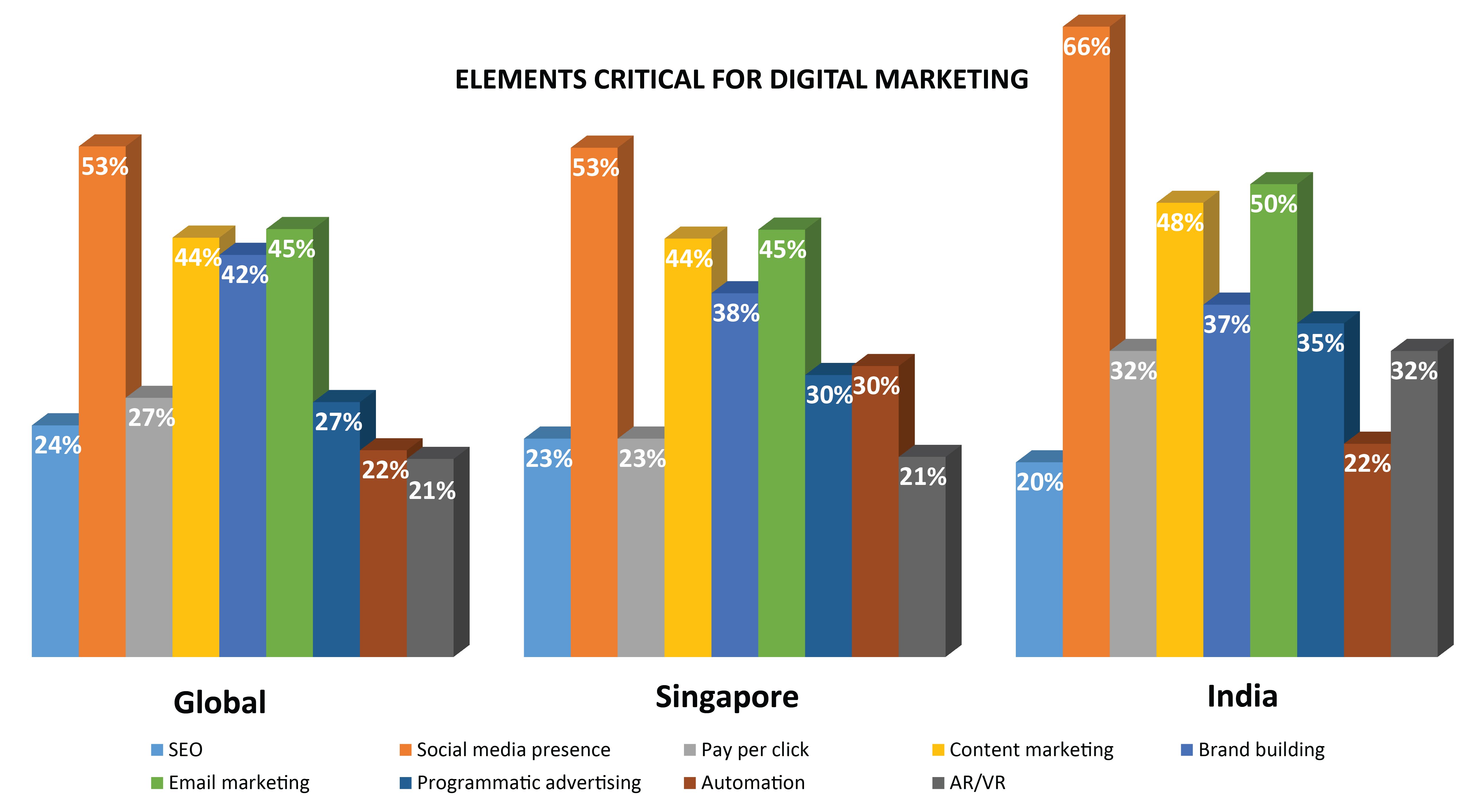 A significant majority of marketers in both countries consider digital marketing, to be the future of marketing and advertising (72% in Singapore and 74% in India). This is followed by social media marketing. OTT platforms are also high on the minds of Indian marketers more so than their Singapore counterparts (66% against 30%). 49% of Indian marketers, against only 16% of marketers in Singapore, consider broadcast television to be an important aspect of marketing in the future.
As far as next-gen technologies are concerned, 24% of the respondents in both countries consider AR and VR, while 32% of Indians against 21% of Singaporeans consider it to be a critical aspect of digital marketing. In terms of automation, 30% of Singaporeans are for it, compared to 22% Indian marketers.

Digital domination in marketing and advertising
In both Singapore and India, marketers lean significantly towards digital marketing channels and practices. Social media in particular is expected to play the most significant role in the coming years in terms of marketing and advertising. One area where the two countries differ noticeably is television-based marketing, which includes OTT as well as broadcast TV. Marketing in this space is expected to grow in India significantly more compared to Singapore, where television is considered a far less important medium. Marketing through print media is also expected to be more important in India compared to Singapore, albeit to a much lesser degree than other marketing channels.
We can say with confidence that the pandemic has had an impact on marketing activities. While digital marketing had been prominent prior to the pandemic, over the last year, adoption of digital marketing channels, methods, strategies has increased. This digital turn of events also translates to increased dependence on digital market research methodologies, which are more effective and efficient in helping marketers connect with their consumers.