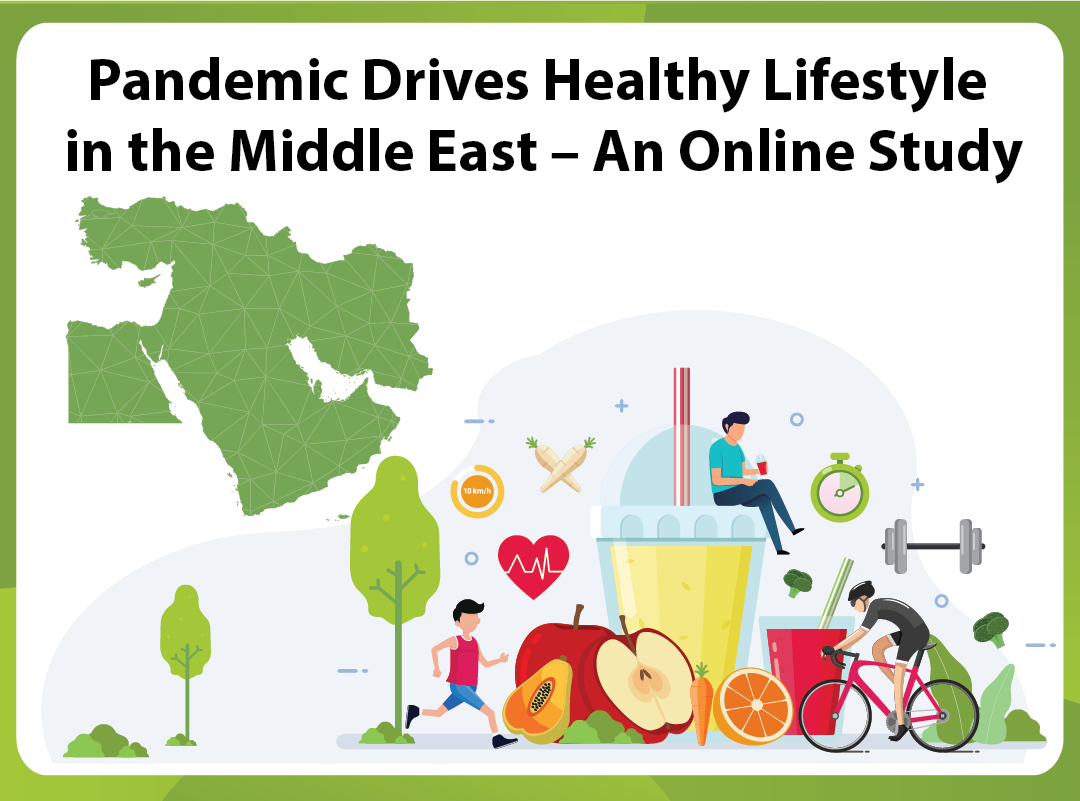 Almost two-thirds of consumers globally have become more health- and hygiene-conscious as a result of the pandemic. The Middle East certainly leads this trend with over three-quarters of Saudi and UAE consumers feeling an increased awareness of the need to look after their physical well-being.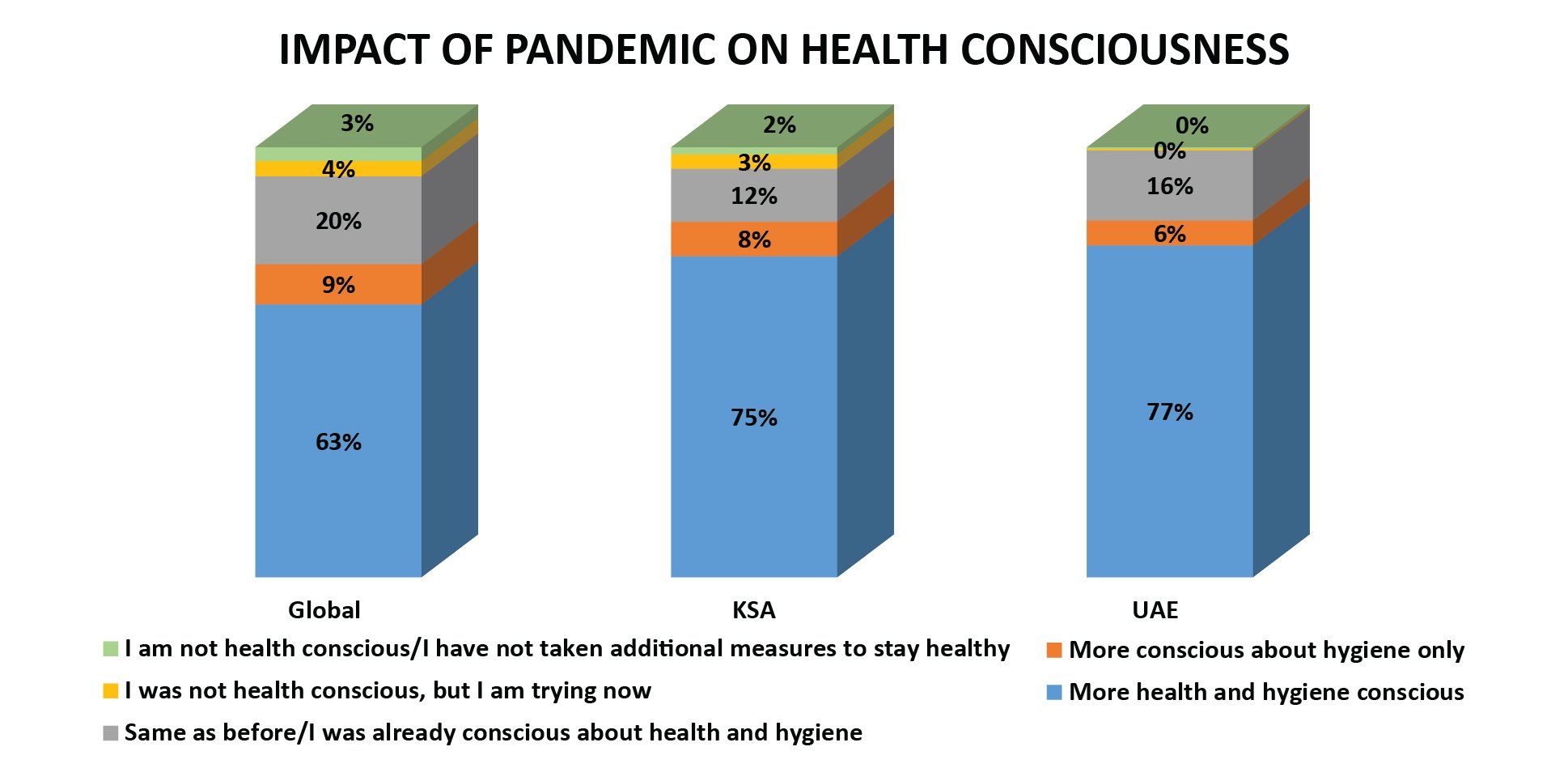 Dieting is not affected as much as other health elements
Dieting behavior shows a different story: Evidently, consumers do not link diet to efforts to stay healthy, as two-thirds have not made any changes to their dietary intake as a result of the pandemic.
Some 23% of consumers globally have turned vegan or vegetarian (or plan to do so) as a way to become more healthy. These numbers are fairly stable across countries, with the majority of consumers in KSA and the UAE also retaining the diets that they had followed pre-COVID-19.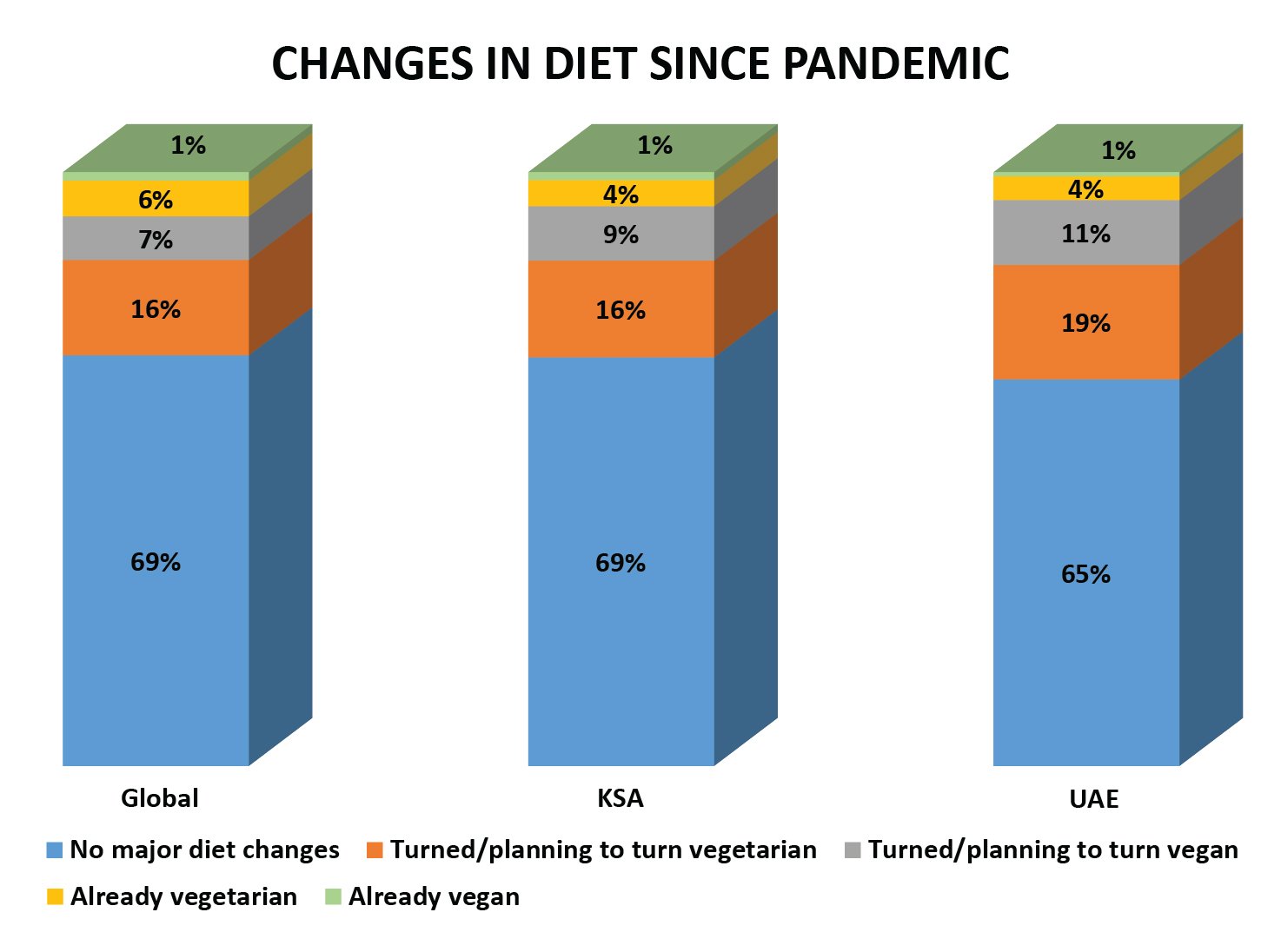 Home-cooked meals abound due to global lockdown
Globally, consumers have taken it upon themselves to drink more water, eat more fruits and vegetables, and consume more home-cooked meals, in efforts to stay healthy going forward. Consumers in the Middle East are driving all three of these habits more than the global average, especially with regards to home-cooked meals: 71% of Saudi consumers and 77% of UAE consumers, respectively, are cooking at home more now than they did pre-COVID-19. Of course, the habit of home cooking had naturally been boosted due to the closure of restaurants and fast food options during the lockdown but is nonetheless seen as a popular way of transforming eating behavior.
Eating leaner meat and trying to adopt healthier sleeping habits are deemed the least important of the potential healthy habits, at a global level, with the Middle East market also following suit in this regard.

Consumers expect to keep up exercise levels achieved during lockdown
Half of the consumers globally started exercising more as a measure to keep healthy during the pandemic. As we have seen, creative and innovative ways of exercise during lockdown have changed the face of fitness for consumers worldwide. Now that lockdown is easing in many countries, consumers have largely retained the awareness of fitness that they acquired during this period.
A third of consumers are focusing more on mental health exercises (the likes of meditation, breathing, etc) than they did before the pandemic, indicating that in some ways, the global chaos has had some positive effects on society. This trend is strongly driven by UAE consumers in particular.
Adopting a more holistic approach to healthy lifestyles and wellbeing has been a positive spin-off of the pandemic and its effects. Numerous brands globally have witnessed this shift, pivoting their focus towards healthy lifestyles.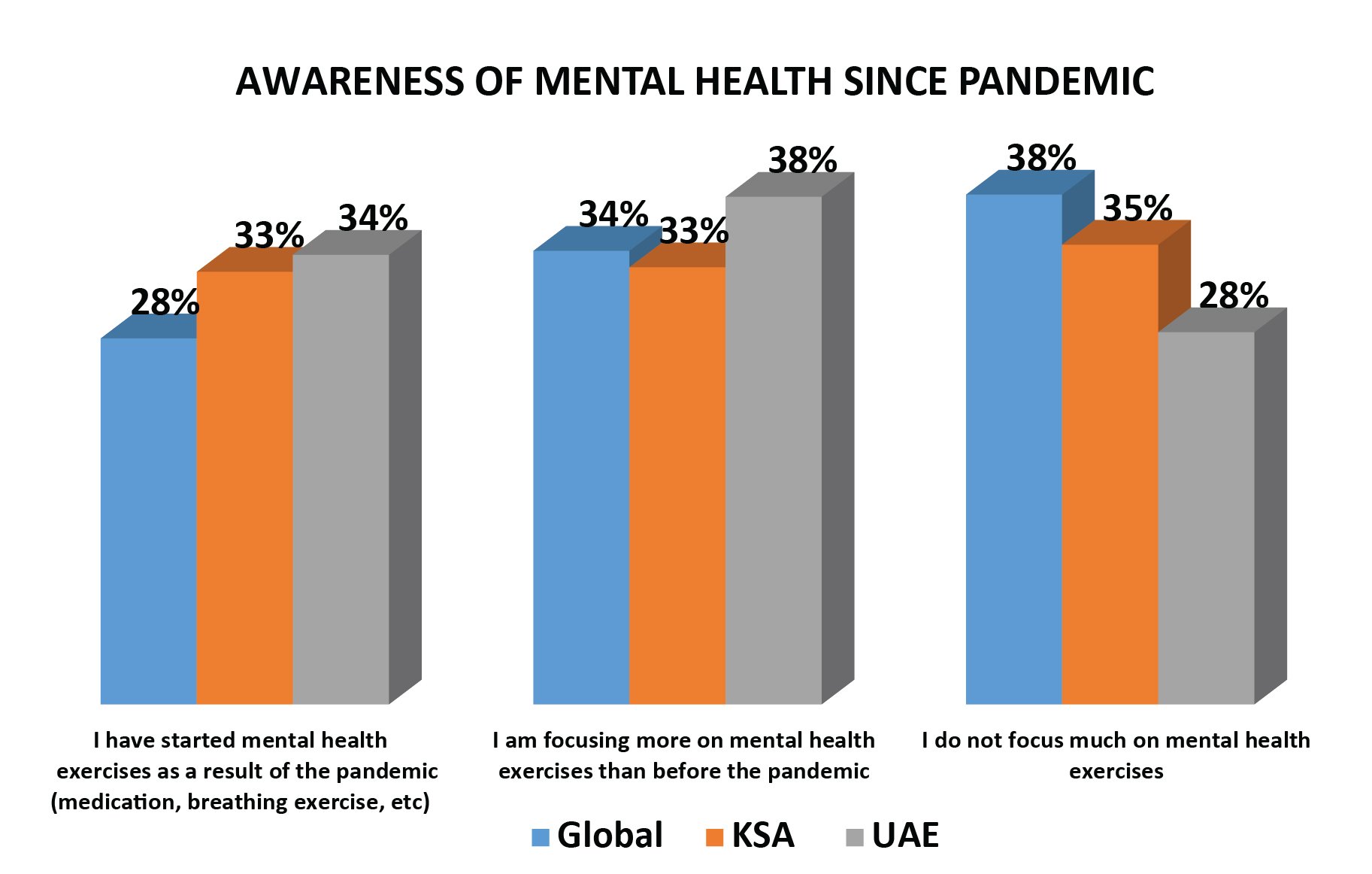 The Middle East has certainly been ahead of the trend in driving healthy behaviors as a result of the pandemic. It is anticipated that these trends will persist as the world reaches a new equilibrium.
Continue to track global and regional trends with Borderless Access as we forge through exciting and unprecedented times.
The article was originally published on AMEinfo