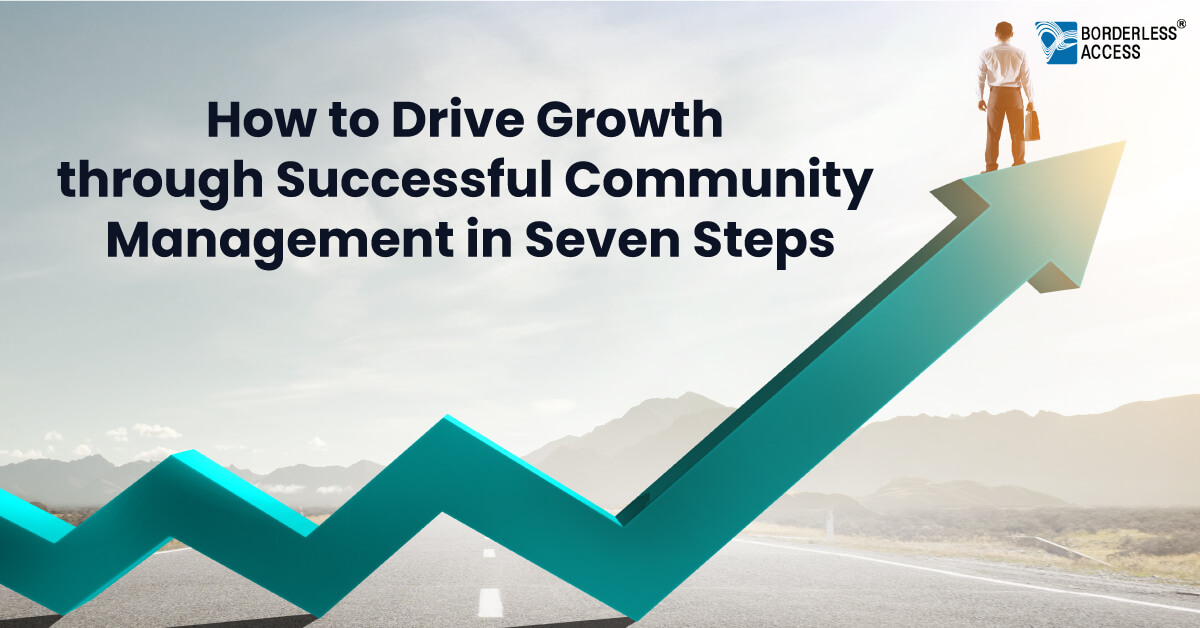 The world is increasingly becoming digitized, resulting in many online businesses. Although operating on social media is convenient, it can sometimes feel impersonal.
Despite the fact that so many people communicate online, behind screens, this connected world can sometimes feel quite lonely.
Both personal and business relationships are affected by this - specifically those between brands and their customers, as well as those between brands and their employees.
Why do people feel disconnected from others and companies they do business with?
A lack of community.
It is, therefore, critical for brands to invest in community management to connect with their customers and facilitate growth. 58% of businesses claim their customers remain loyal to the brand because of their online community.
This article will explore community management, its importance, and valuable tips for building an effective community management strategy.
What is Community Management?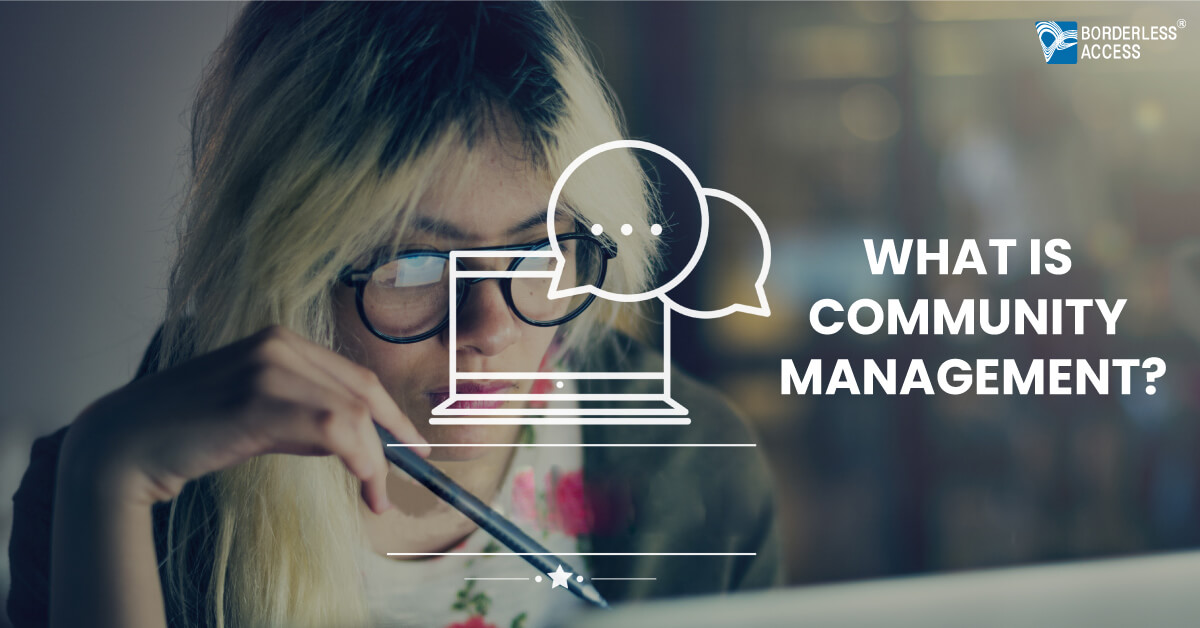 It refers to the efforts of a brand to create authentic connections with its online community comprising customers, employees, partners, and fans. Being a part of a community fosters loyalty, networking, and a sense of belonging, which are all essential for the growth of any business.
To convert followers and fans into sales, a brand must have a strategy that will serve as a community management solution. One way to do this is by hiring an individual or creating a department within your business to focus on community management. Alternatively, engage a community management company to run this aspect of your online business.
Why Do You Need a Community Management Strategy?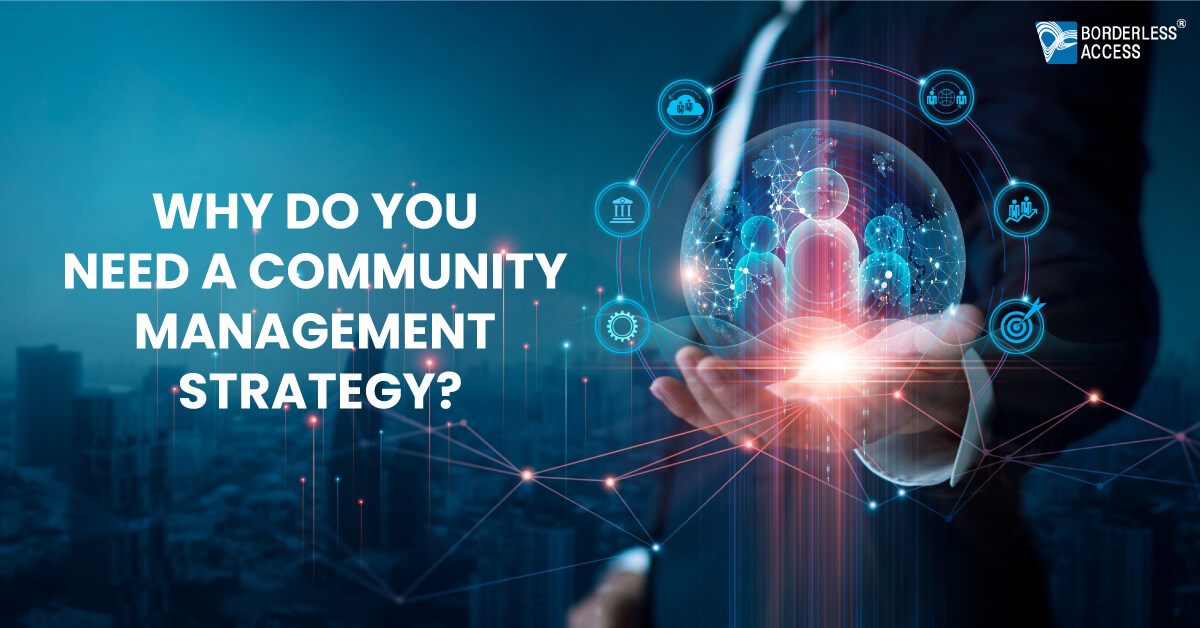 Benjamin Franklin said it best:
"If you fail to plan, you are planning to fail."
Building a connection with the major stakeholders of your business will not happen automatically. You must invest your time, resources, and efforts to grow.
Additionally, developing a community management strategy is essential for the following reasons:
It enables you to monitor what your customers and followers say about your brand and services.
To spread awareness about your brand to your target market.
Building an online community promotes loyalty and a sense of belonging among your customers.
It facilitates authentic feedback from your community members, allowing you to improve and appeal to a broader scope.
It allows you to filter the comments made online about your brand to protect your reputation.
Seven Tips for Building an Effective Community Management Strategy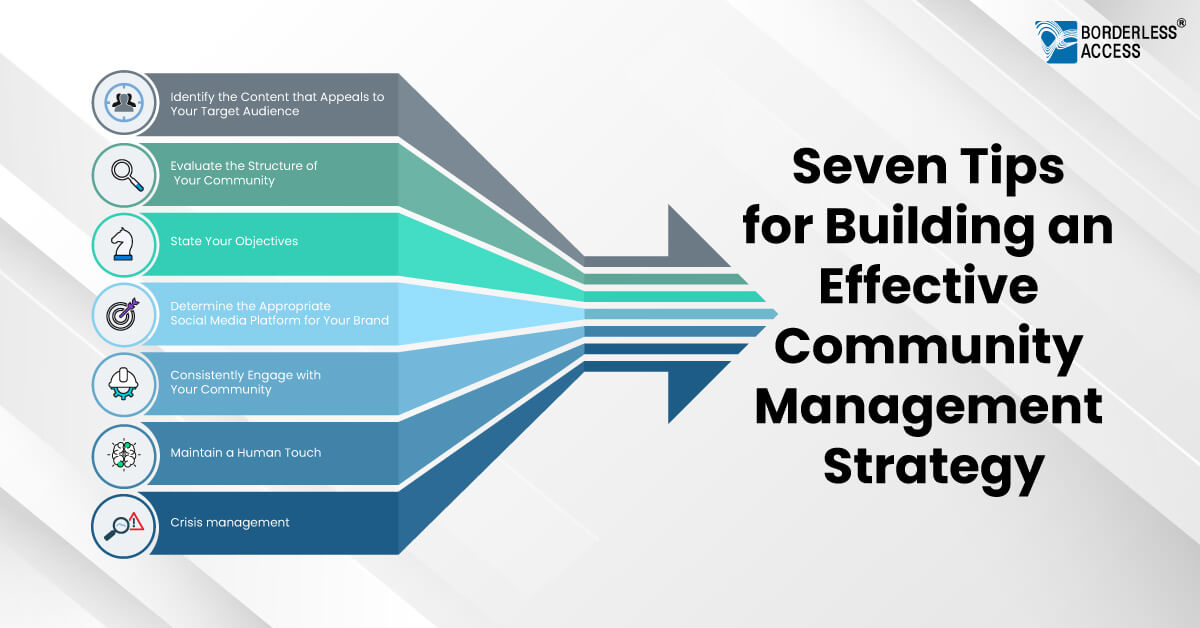 1. Identify the Content that Appeals to Your Target Audience
There's nothing new under the sun. Conduct research on your target audience's online consumption. After that, you can tailor-make content for other brands like yours.
Your audience will only join your community if they feel connected to your brand. Crack this part, and growth will be inevitable.
2. Evaluate the Structure of Your Community
So you managed to get people to join your community; that's great! But how do you ensure they remain engaged and interested in your brand? The best way to establish what your audience wants is by getting their feedback through surveys and interviews.
However, people's needs and interests keep evolving. Therefore it is important to keep re-evaluating every few months to ensure that your brand remains relevant to your community members.
3. State Your Objectives
The best way to measure the success of any business venture is by having specific objectives or goals to achieve. For example, if you set "increased engagement" as a goal, the Key Performance Indicators (KPIs) to look at will be likes, shares, comments, direct messages, mentions, and relevant hashtags for a social media community. Data relevance will be measured with qualitative KPIs in custom communities built to gather specific feedback on futuristic industry trends.
Once you have achieved your goals, set new ones to facilitate continuous growth. However, always remember to be time-specific with your objectives to avoid stagnation.
4. Determine the Appropriate Social Media Platform for Your Brand
The demographic of your target audience will determine the social media platform that will be best suited for your brand. For example, if you want to appeal to a professional audience, LinkedIn would be your best choice. On the other hand, Pinterest and Instagram are better options for a younger audience.
Ensure that you establish the most suitable social media channel to achieve maximum reach and growth of your brand.
5. Consistently Engage with Your Community
When it comes to social media, consistency is key. Posting frequently and regularly gives your audience something to look forward to; before you know it, they'll be engaging too!
So long as your posts are seen, your brand will be at the forefront of your audience's mind. Additionally, engaging with their comments and messages by liking and responding will encourage your followers to keep coming back. As they say, "Out of sight, out of mind."
You could also generate weekly/monthly newsletters, hold online webinars, host discussion forums, and hold in-person conferences by invitation only.
A content calendar can be a helpful tool for creating and scheduling content.
6. Maintain a Human Touch
Remember that you are building a community where people need to feel heard and connected. One way to foster this connection on social media is by acknowledging members' posts, tagging specific individuals in conversations, and steering discussions that are already in progress.
Additionally, allow your community members to share their ideas by asking for their feedback and then implementing strategies based on the information they give. Some brands lose authenticity when their content and overall social media presence feel more robotic than human.
7. Crisis management
Crisis management is an aspect of community management that requires strategic planning in advance.
Without timely and strategic handling, an issue spread across social media can cause immense damage to a brand's reputation. Whether it be in-store promotions or TV campaigns, unresolved social media mentions or delivery issues, problems can arise. Such crises need to be spotted quickly and handled immediately by teams with a plan and tools in place.


Establish a crisis management plan with defined roles and responsibilities to prepare you for a crisis. Leadership, product knowledge, and team coordination are critical. If your social media team needs help answering a question, determine who they can reach out to for assistance.
A brand ambassador plays a key role in managing a crisis. Building them, nurturing them, and using them when needed can make a big difference to your brand's ability to manage crises.
Bottom Line
Despite its newness, community management is a powerful industry. Creating a community management strategy at your company will enable your customers, employees, fans, and followers to collaborate share feedback, bond, and learn.
Your brand's community plays a crucial role in the growth and success of your business. As a result, it is essential to employ community management strategies to help take your brand to the next level.
It has been proven that customers remain more loyal to a brand when they are a part of its community. Therefore, employing a brand manager or even a community management department is a worthwhile investment.
However, building a successful online community is easier said than done.
So what's the solution?
SmartSight, an Artificial Intelligence - Machine Learning (AI-ML) platform developed by Borderless Access, is what you need!
By engaging Borderless Access, you can delegate this facet of your operations. Using SmartSight, an Artificial Intelligence - Machine Learning (AI-ML) community management platform, your brand will be the talk of the town!
Reach out to us today.