Facing the health crisis that COVID has provided has forced many of us to reconsider our personal well being. Coupled with this, we have been restricted to our homes, compelled to prepare our own food. Borderless Access surveyed people living in the Middle East, specifically the United Arab Emirates (UAE) and Saudi Arabia, to see how these factors have affected the type of food people are eating and how people are getting this food.
A rise in health consciousness
Eliminating or reducing the amount of meat products they eat has been the most notable change in people's diets since the start of the pandemic. Globally, 57% of people have experimented with vegan or vegetarian diets, with a further 20% saying they are consciously trying to eat less meat. Saudi Arabians follow this pattern (with a greater proportion of people opting for vegan as opposed to vegetarian meals). In the UAE there is still a dramatic shift towards meatless options, but to a lesser degree than its neighbour.
Following low-fat, low-sugar or low-carbohydrate diets has been popular everywhere, including in the Middle East, however, this group of people (especially Saudi Arabians) appear to be particularly health-conscious, with many people also trying to reduce gluten, salt and dairy products.

Cooking at home made easy
Around the world, people pick up a ready-made meal at a grocery store for convenience sake and as a way to try a different meal without having to make it yourself. In the Middle East people aren't as enthusiastic about ready-made meals, with only 10% of Saudi Arabians viewing them as a treat.
Similarly, the new trend of preparing food from a meal kit, where all the ingredients are sold together with a recipe, doesn't appeal to people living in the Middle East in the same way it does to people living elsewhere. In Saudi Arabia, people choose meal kits primarily for creative reasons and not for convenience; in the UAE people are less interested in the creative aspect than the fact that these meals are often a cheaper way to buy the ingredients for a meal.
Fresh food boxes hold less appeal in the Middle East than elsewhere
Worldwide people enjoy having their fresh produce delivered for a variety of reasons relating to quality (it's 'more organic' and lasts longer) and convenience. In Saudi Arabia, the ease factor is less important than the quality factor. Being organic is of a lower priority to Saudi Arabians, as is the variety that these boxes provide. People living in the UAE are largely much less enthusiastic about produce boxes than people living elsewhere in the world, although the variety is appreciated.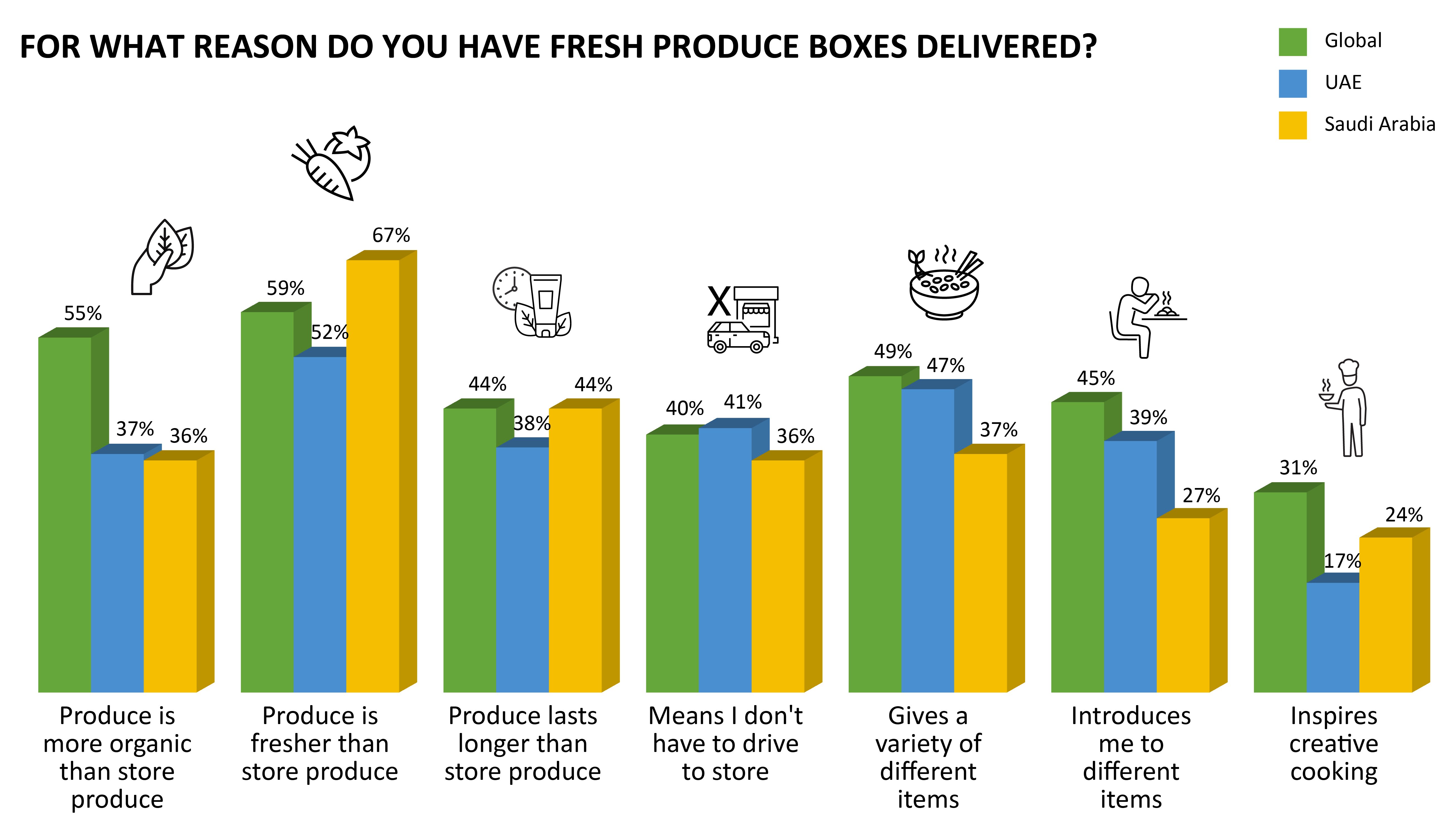 More nutritious options
Around the world, since the pandemic, people are overwhelmingly turning to more wholesome, slow-cooked meal choices when they order takeaways. Almost half of all Middle Eastern people look for nutritious options when ordering food as opposed to choosing fast food takeaways.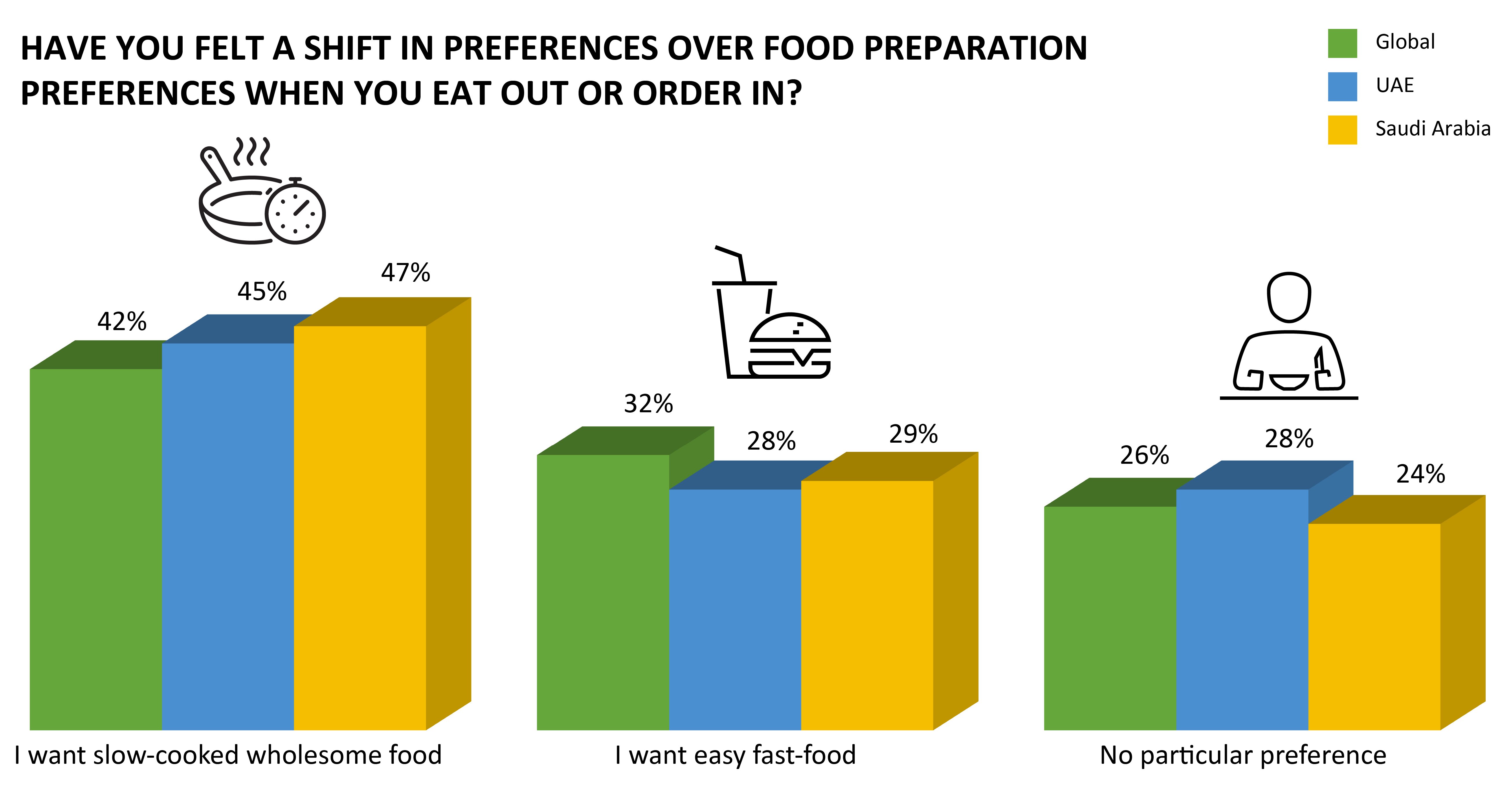 Opportunities to offer meat-free meals and healthy options
Globally there is an enormous market for meat-free meals. Whether the pandemic has inspired people to eat more healthily, or if people are concerned about the impact that eating meat has on the environment, the change in people's attitudes towards meat can not be denied. People in the Middle East, particularly Saudi Arabians, are following this trend.
When it comes to ready-made meals or meal kits, people in the Middle East are not inspired by the convenience these options provide. Rather they are chosen as a way to try different types of food. Perhaps there would be a greater appetite for these options if they were more readily available to consumers.
While there is always a time for fast food, there is a huge demand for more healthy takeaway food options that cater to meatless diets and to the growing number of people who want to reduce the amount of fat, sugar or carbohydrates that they consume.
---
Want to gain deep insights on changing consumer habits and the influencing factors. Speak to our experts >