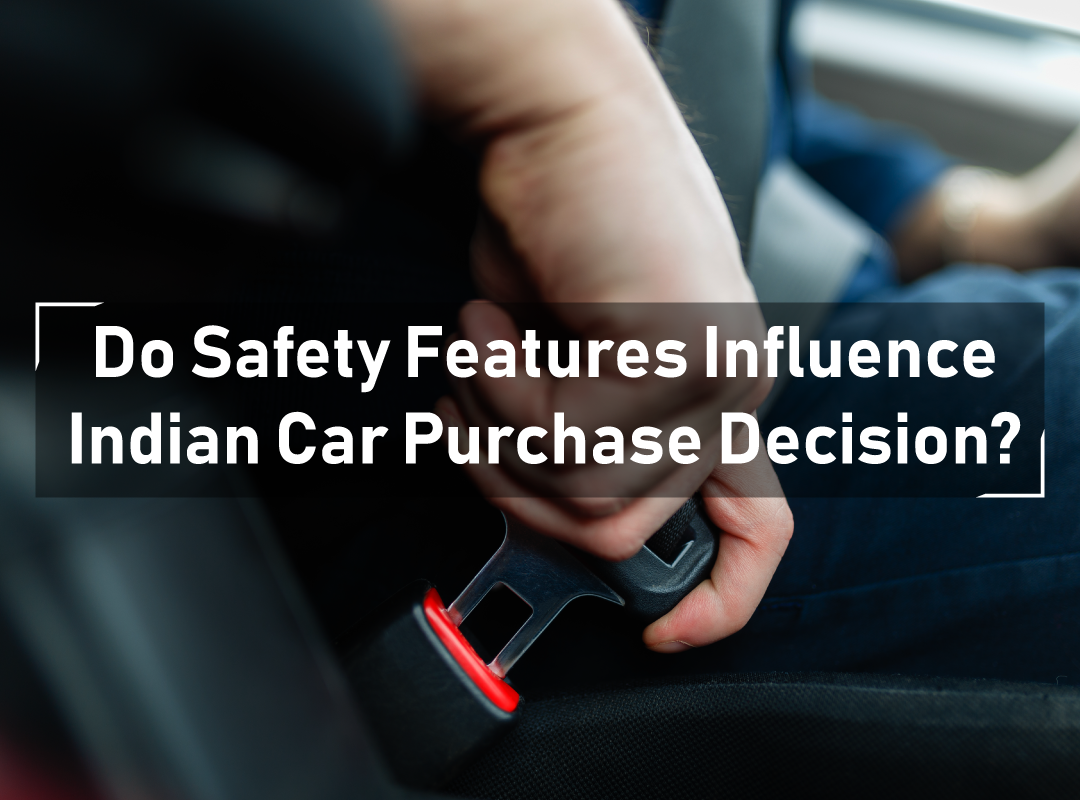 In an ideal world, the topic of automobile safety standards would be a non-contentious one, with the highest possible universal safety standards across all vehicle segments. Unfortunately, vehicle safety standards have been lower than desired in several developing countries for a long time.
Fortunately, this is starting to change due to the efforts of organizations like Global NCAP, which are working with manufacturers and global governing bodies, including local governments to raise awareness among buyers about the importance of safer vehicles mainly through crash tests and awarding safety ratings to consumer vehicles. Subsequently, several manufacturers have made their cars and trucks safer in developing countries by upping the safety standards to meet more stringent criteria.
In order to capture consumer thoughts, Borderless Access recently conducted an online study (n=1200) in India and countries in South America and Africa among recent and potential car owners. The goal of the study was to get consumer insights related to awareness, purchase decision-making and general perception of automobile safety features. In this blog, we highlight the findings from India.
Indian consumer awareness about automobile safety ratings
The study revealed that 87% of recent car owners were aware of safety ratings before making their purchase. Whereas 35% of potential buyers were not aware of safety ratings.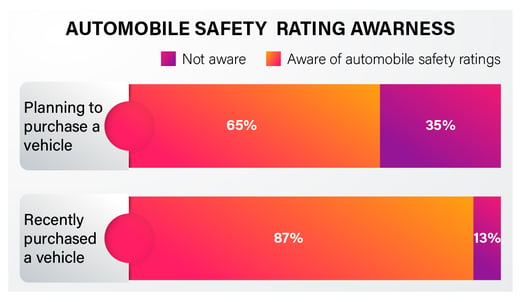 Furthermore, 54% of recent vehicle owners, who were aware of safety ratings at the time of purchase, said safety rating was an "important" criteria during purchase and 31% said it was "good to have" a car with a higher safety rating.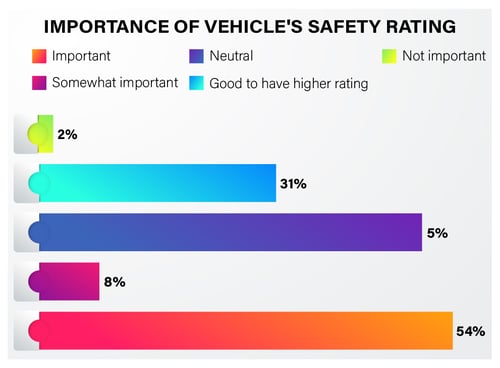 As far as spending more on a safer car is concerned, 52% and 18% of the same group said they had spent a 10% and 20% premium respectively based on the safety rating of the vehicle/variant.
Meanwhile, among the people who are planning to purchase a vehicle soon, 54% and 23% said they are willing to spend 10% and 20% more respectively on a vehicle/variant with higher safety ratings. Of the 13% (see graph-1: automobile safety rating awareness) of the audience who were unaware of safety ratings during their recent car purchase, 5% said they would have spent a 20% premium and another 4% would not have spent more on a safer car.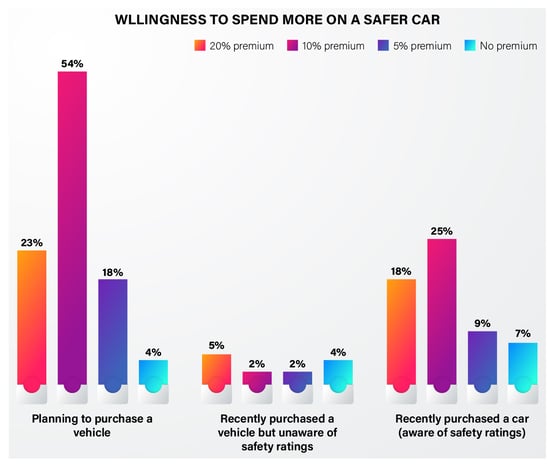 How do various factors influence purchase decisions? Safety features vs Other factors
For decades, the average Indian car buyer has made purchase decisions based on a vehicle's price, fuel economy, and looks. This has started to change over the last decade as buyers are becoming more conscious about safety features and the brand.
When weighing all the key factors that influence purchase decisions, fuel economy and airbags were the features most important among both recent owners as well as people planning to buy a vehicle in the near future.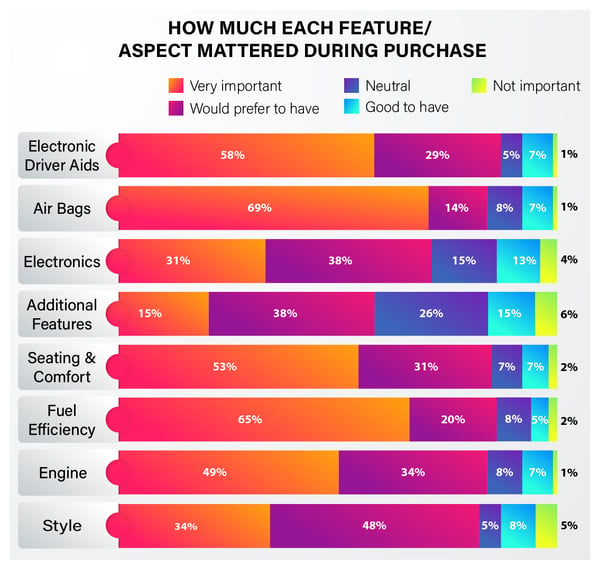 Electronic driver aids like ABS, EBD, and ESP were also considered very important by 58% of new owners and 51% of to-be owners, which is significantly more than the number of people who prioritized engine, styling and seating, and comfort over the safety features.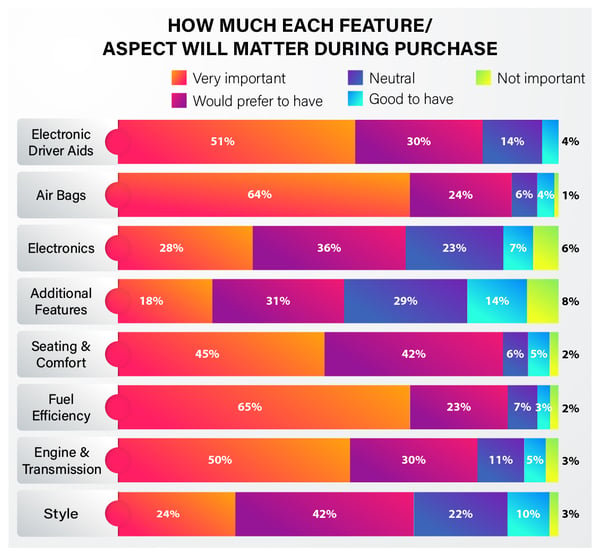 Consumer perception on airbags and electronic driver aids and their willingness to spend
Not all safety features are equal in the eyes of consumers and for good reason. At present, a vehicle with airbags can be more affordable compared to a vehicle with all electronic driver aids. While government norms are evolving to make certain safety aspects mandatory, there is still some way to go before airbags and electronic driver aids become common in all vehicles. So, how do consumers perceive them?
49% of the respondents said having front airbags was very important to them during their recent vehicle purchase. 49% in the same category of respondents also said having airbags for all passengers was important to them during their purchase. ABS, however, was the most preferred safety feature, with 55% of recent vehicle owners considering it as very important. Meanwhile, 38% said only driver-side airbag was good enough.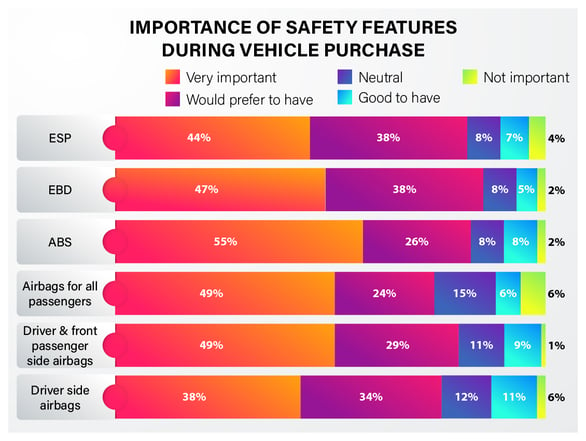 Turning to soon-to-be car owners, once again ABS was the most preferred safety feature, picked by 51% of the audience as very important. Front airbags were also considered very important by 50% of the participants.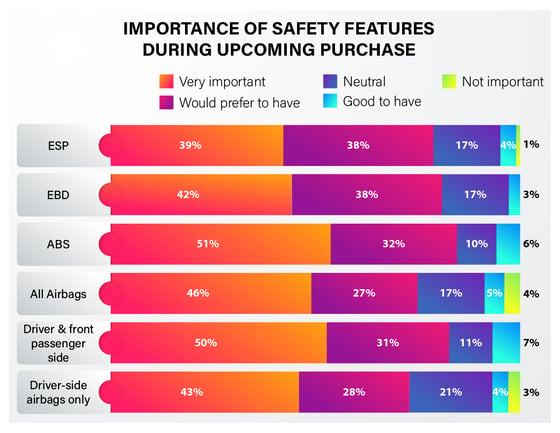 44% of soon-to-be car owners also said they would spend a 10% premium for additional airbags than what comes as standard. Another 44% said they were willing to pay a 5% premium. When posed the same question about electronic driver aids, 46% and 30% of the audience said they were willing to spend 5% and 10% premium respectively on their upcoming car purchase.

Should airbags and electronic driver aids be made mandatory in India?
ABS was made mandatory in India for all new cars in 2019. Now, the Indian government has also proposed that both front airbags be made mandatory in all new cars in 2021. Naturally, prices of base variants are expected to go up. But what do consumers think about these safety-centric rules?
49% of all current and future car owners in our study consider ABS to be very important. 43% feel the same about ESP too. In a welcome response, 56% of the audience also feel that all forms of driver aids should come as standard equipment in all vehicle models.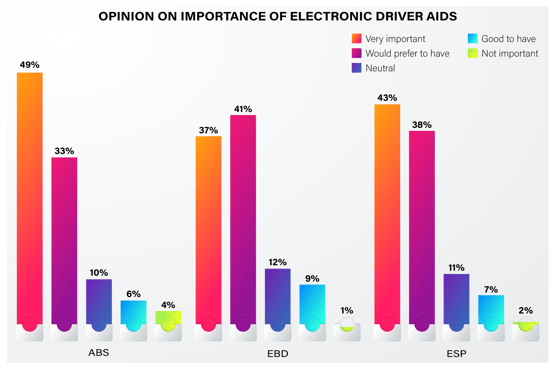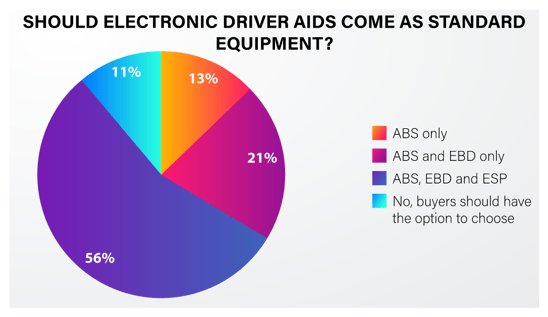 Coming to airbags, 63% of the audience feel dual front airbags very important against 43% who feel airbags for all occupants are very important. At the same time, 53% of the audience agreed that airbags for all occupants should be made mandatory across all vehicle variants.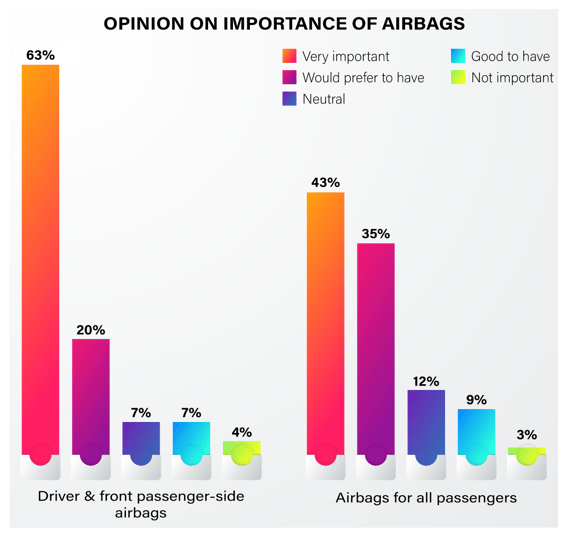 Conclusion
A few aspects of consumer preference become clear from the study. Consumer awareness about automobile safety in India is significant and safety aspects of vehicles form an important part of purchase decisions among Indian buyers looking to purchase a new car. This includes taking into consideration a car's safety ratings. A large number of buyers are also more open to spending more if it means they get a safer vehicle. Some automobile brands have already aligned with current consumer perception, which is expected to help the brand, while others should take into account these consumer sentiments in their future brand strategies.
For in-depth consumer insights and analytics, you can contact Borderless Access. We would be glad to discuss digital insights solutions that are best suited for your business operation and research requirements.