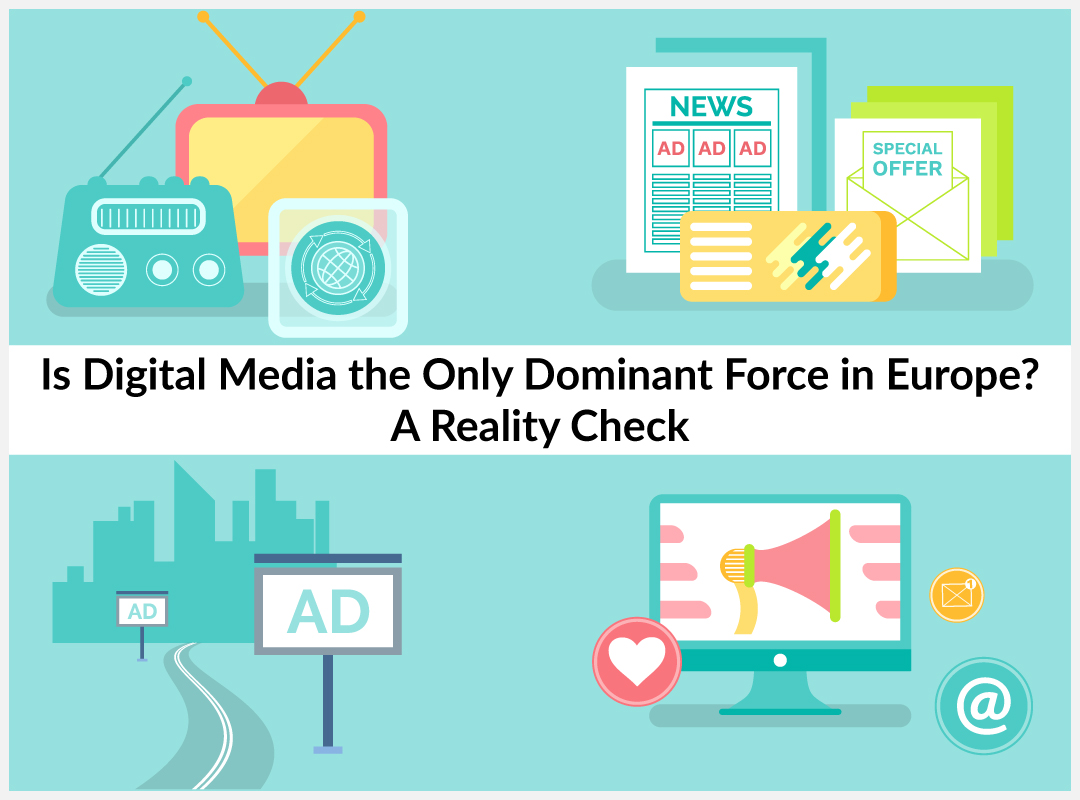 Over the last decade, product and service communication and announcements have increasingly gone digital. A natural progression considering the ubiquitous nature of online communication and media channels such as social media platforms, news websites and services, online advertising channels and others. In the scenario, where do traditional platforms like print, television, radio, etc, stand and to what extent should brands and businesses rely on them for communication and advertisements?
In search of insights surrounding this topic, Borderless Access conducted an online study towards the end of 2020, among consumer across the world, including Europe. In this blog, we look at insights specifically from Germany and the United Kingdom.
Channels on which consumers are most exposed to brand messaging
On which channels do consumers get the highest exposure to product and service messages? We asked this to consumers in both countries and 70% in the UK answered television, while 50% of the Germans also gave the same answer. Globally, television only comes in second at 67%, after social media platforms at 74%.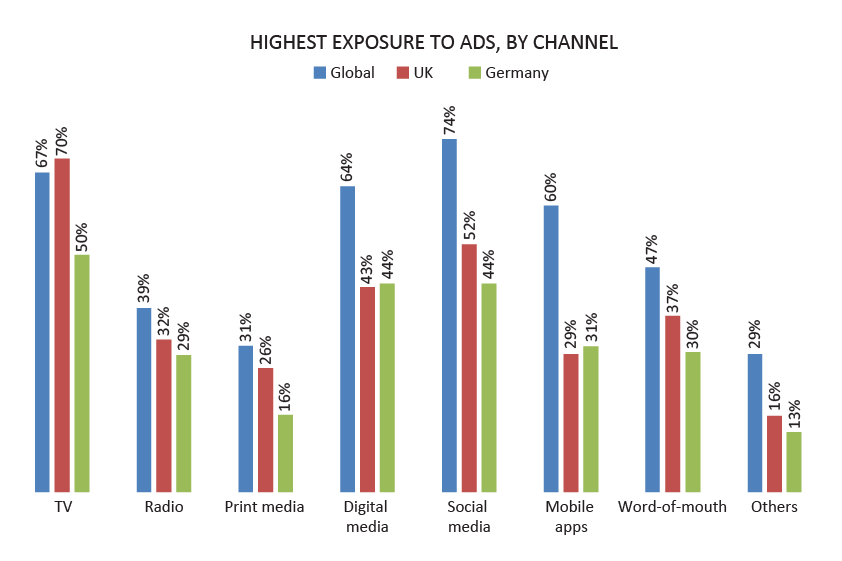 When looking at online channels alone, the study revealed that globally, a significant majority (71%) picked social media platforms as the place where they were exposed to ads the most. Social media platforms also lead in the UK and Germany, however, at 46% in the UK and 35% in Germany, the majority is not as great as the global average.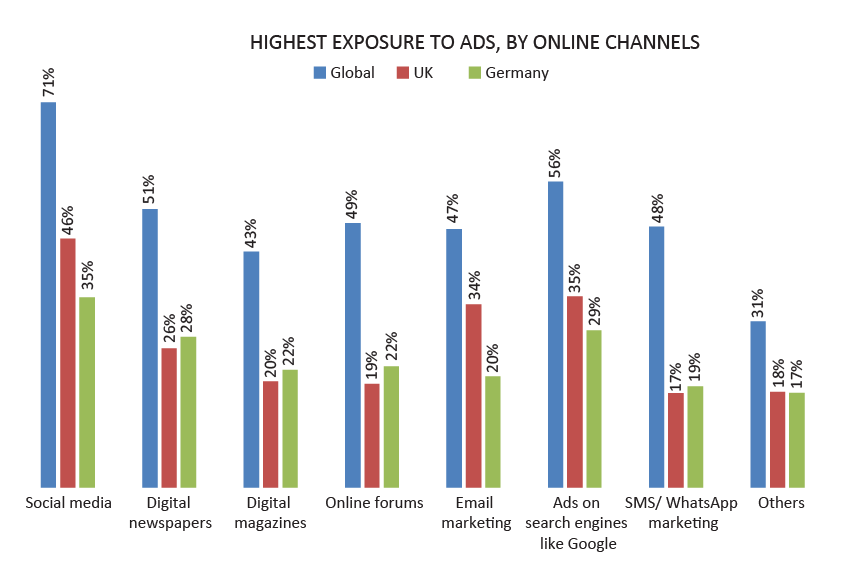 From ad exposure to ad conversion
Globally, social media generates the highest ad conversion, with 59% of our global audience saying they had acted on an ad or brand messaging. In the UK however, digital and social media and traditional forms of mass media compete closely, with television ads having the highest rate of success, with 36% of the audience stating they had purchased a product or used a service after viewing a TV ad vs over 41% stating their purchases being influenced by digital and social media. In Germany too, traditional and digital media platforms perform on-par, with ads on online newspapers/magazines, and other similar websites and applications being the most successful at 31%, followed by print media at 24%. Social media and television come in third at 23%.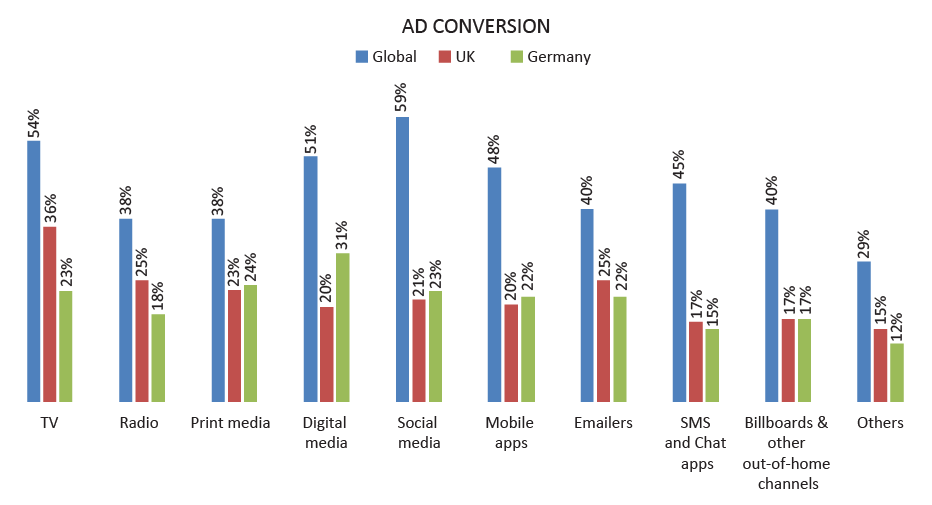 This is not to say social media platforms perform poorly in these countries, but rather highlights the strength other forms of mass media hold despite the ubiquitous influence of social media.
Trust on news and media channels
Consumer trust in platforms of communication is an important factor that cannot be ignored by marketers. As such, we asked our audience in the UK and Germany which traditional and digital platforms they trusted the most – for product and service information as well as for general news and information updates.
In the UK, television trumps all (57%), followed by radio (49%) as sources of product and service information. The same is true in Germany, where 49%, 45% and 40% of the audience said they trust television, radio and print media respectively. Traditional media platforms, namely television, radio and print media are also the most trusted sources of news in both the UK and Germany by a significant margin.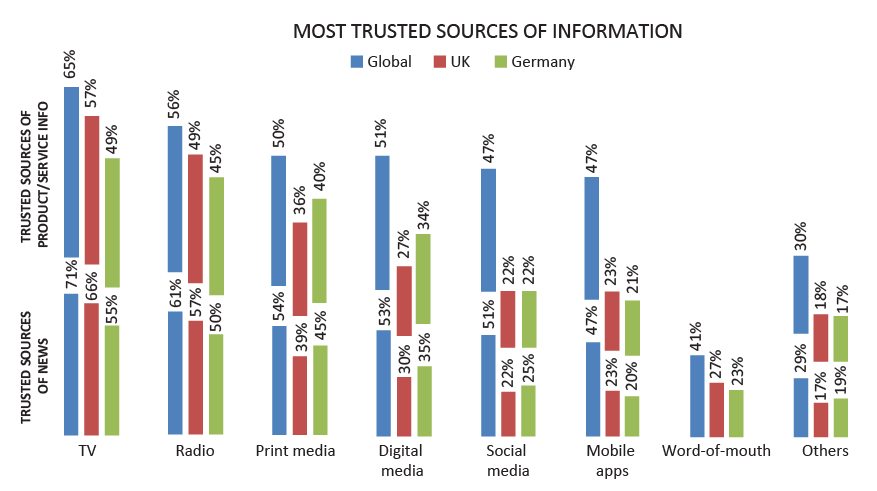 Turning our focus to online platforms alone, our study revealed that in the UK 28% of the audience trust emailers more than social media (26%), which is below digital newspaper platforms (26%) for product and service information. In Germany as well, only 22% of the audience said they trust social media platforms, whereas 31% and 27% of the audience said they trust digital newspaper and magazine platforms. However, search engine results are the most trusted way to gather product and service information in both the UK (36%) and Germany (33%).
Coming to online news sources, search engine results are on par with digital newspapers in terms of trust, in the UK, at 34%, each. Whereas in Germany, 39% of the audience said they trust news coming from search engine results, followed by digital newspapers at 33%. In Germany, social media platforms are among the least trusted sources of news.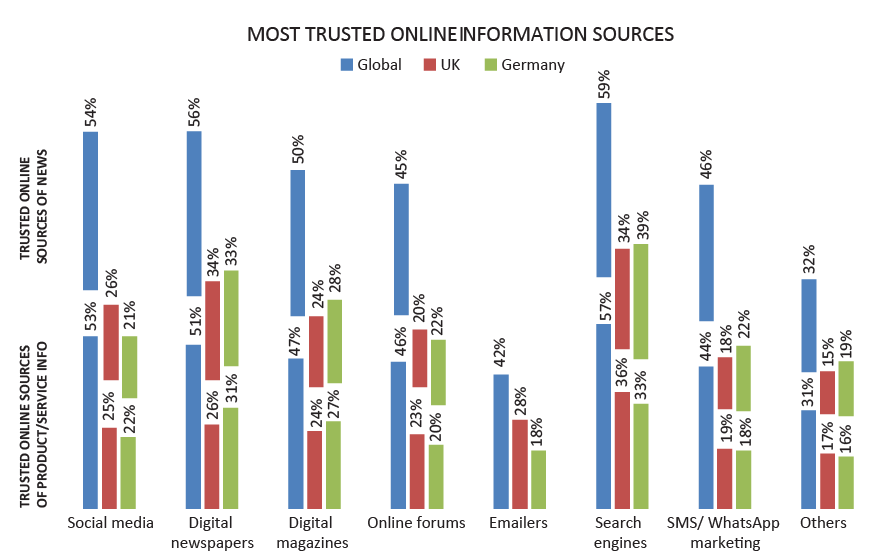 Print vs digital media platforms
The most common sentiment around the world is to have the best of both worlds, with 37% of the audience saying they would like to be able to rely on both print and digital media. People in the UK and Germany are no different, with 35% sharing this sentiment. Notably, 25% of Germans also said that they trust traditional media more than digital. 25% of the UK audience and 17% Germans also said that they no longer subscribe to print media and 14% of these subscriptions have come since the start of the pandemic in early 2020.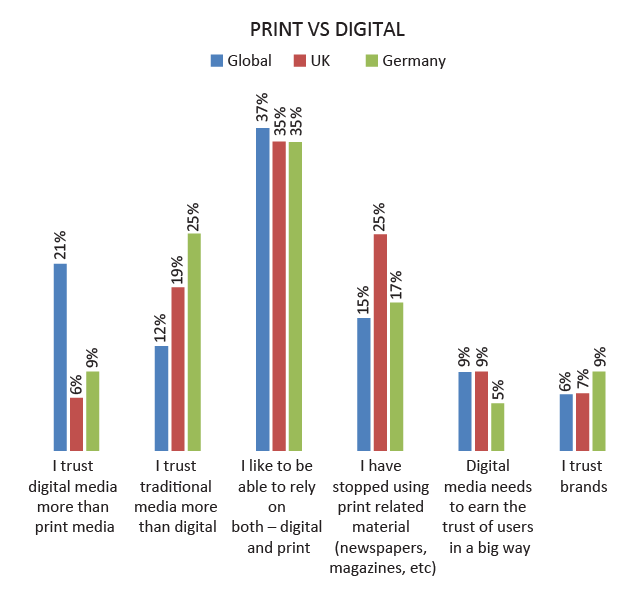 Conclusion
While the shift from traditional forms of media to digital platforms has been underway for well over a decade, we are yet to see a total shift in the status quo in favour of digital. That's not surprising looking at results from our study where audiences in the UK and Germany are conservative in terms of media platforms. Particularly significant for marketers is the strong position television still holds in both countries while digital and social media continues to increase its foothold. Even radio continues to hold a notable position in the lives of people from both countries, which is notable. . However, its important to note that a large percentage of demographics are exposed to brand communications on social media and other digital channels of communication and influences their purchase decisions. Lastly and importantly, despite a year of pandemic, we can say that social media has not taken over every aspect of people's lives in the UK and Germany, especially considering the data privacy and fake news concerns.
For insights and analysis from across B2B and Consumer space, connect with Borderless Access.
Subscribe to our blog for more such insights.