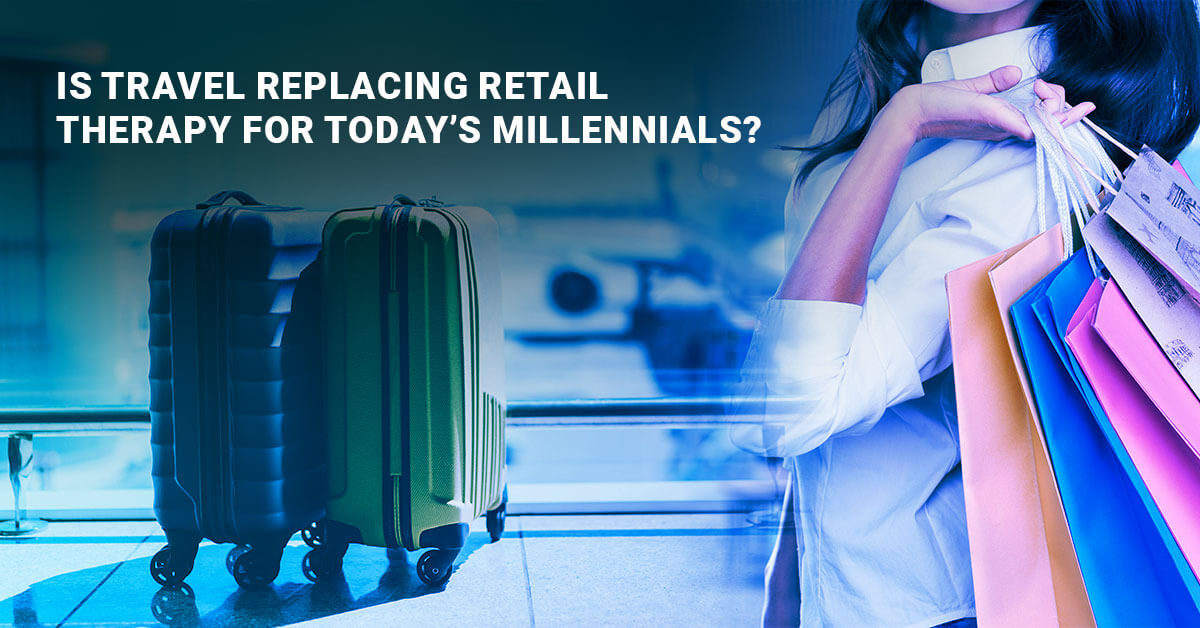 Although this might sound far-fetched at first, as shopping is a faster and often a cheaper way of spending one's money as compared to travelling, however, with the recent Covid-19 crisis, the volatility and uncertainty surrounding the travel landscape and policies, the travel sector is now seeing higher consumptions.
Over the past decade, there has been a rise in travelling to gain experience. Many industries have also discussed the growing popularity of this rising class of consumers who seek and value experiences.
There is a consensus held on the fact that while the generation 'Baby Boomers' (born 1946-64) ensured necessities (housing, education & security) for themselves and their offspring, 'Gen X' (born 1965-1980) didn't feel the need to worry about the necessities and instead worked towards attaining material quality of their lives (bigger houses, cars, superior education, and achieving financial stability and comfort.) Millennials purely live for the experiences that life has to offer.
The majority of the research we run using our futuriZm technique to understand future consumers show that a small group of consumers will start the trend, and eventually the rest of the market will follow suit. The contemporary generation eagerly anticipates experiences and prioritises making memories.
A few distinct trends that are picking up could shape the future of leisure travel.
Recently Evolved Travel Trends Revitalising the Industry:
China:
Growing in importance for the travel sector is China. In 2019 alone, over 155 million visitors spent more than $250 billion outside of its boundaries, making it the top source of international travellers before Covid-19. A floodgate is expected to open when China opens its borders to travellers who are currently deprived of global travel. So it comes as no surprise that the Gulf States are negotiating special terms with Chinese officials to establish more routes.
Proximity Travel:
Commonly referred to as 'staycations,' is the practice of travelling to locations nearby for a short break. Brands are actively seeking out close-by travellers and developing packages with unique features in response to the shortfalls in air traffic when air travel is not yet operating at its peak (or pre-COVID level) capacity. Understanding this market's needs is crucial to giving travel businesses the swift boost they require to resume their halted pace.
Revenge Travel:
With "escape" on their minds, consumers are coming out of lockdowns with a new, intensive post-pandemic type of travel bucket list. Travel for retribution has become popular, either to make up for lost ground or to comfort their pandemic-bound selves of the lockdown imposed upon them. Understanding the needs of these segments is crucial as they may differ drastically from the regular travellers. They may want to experience nature, culture, lifestyle, heritage, entertainment, a combination of these, or something else entirely.
Buddymoon:
A "friendcation," that allows one to take a fly-and-flop trip with peers, is growing in popularity. This enables you to go on vacation on a budget, much like going Dutch while dining out with friends. After all, budget is a driving factor when it comes to making travel plans. Buddymoon greatly aids in controlling it.
Brocation:
Much like Buddymoon, which is mostly associated with men, embrocation involves both independent men and women travelling in groups that are growing in popularity. Brands need to consider these groups alongside families and ask themselves if they are fit to accommodate their needs.
Bleisure:
While the concept isn't new, mixing business with leisure is certainly evolving. Previously, business travels used to get over before the weekend began (Luggers filling a Friday evening, and Thursdays for most Gulf markets). Today business trips include parties and leisure and adventure activities too. Hotels that generally cater to business stays may want to look into amenities suited for leisure stays too.
Offbeat Travel:
This is a fresh approach to travel that seeks out "underrated" remote locales away from areas over-saturated with tourists, where life is more relaxed and languid. The travel sector can take advantage of this tendency to meet a dispersed demand. Tourists travel to off-beat locations to enjoy the experience, mix with the locals and avoid crowds.
Maxibreak

:
Also known as the mini-sabbatical – it's longer than your average holiday and the chance to find a new vocation while on vacation, perhaps as part of the 'great resignation'. The industry can create great value by devising offers which cater to this trend which is different from the short-term travellers.
You can capture insights into the evolving travel trends with innovation and new-age market research from Borderless Access. The solutions under BA Insightz use the latest tech-driven methodologies that identify patterns in travel behaviour. They gather actionable data for brands on preferences for travel experiences.
Overall, the industry is optimistic, which is understandable given the fact that people believe they have recovered from an incident that no generation in existence has ever personally witnessed before. Both consumers and businesses want to reclaim lost ground and completely overhaul the sector.