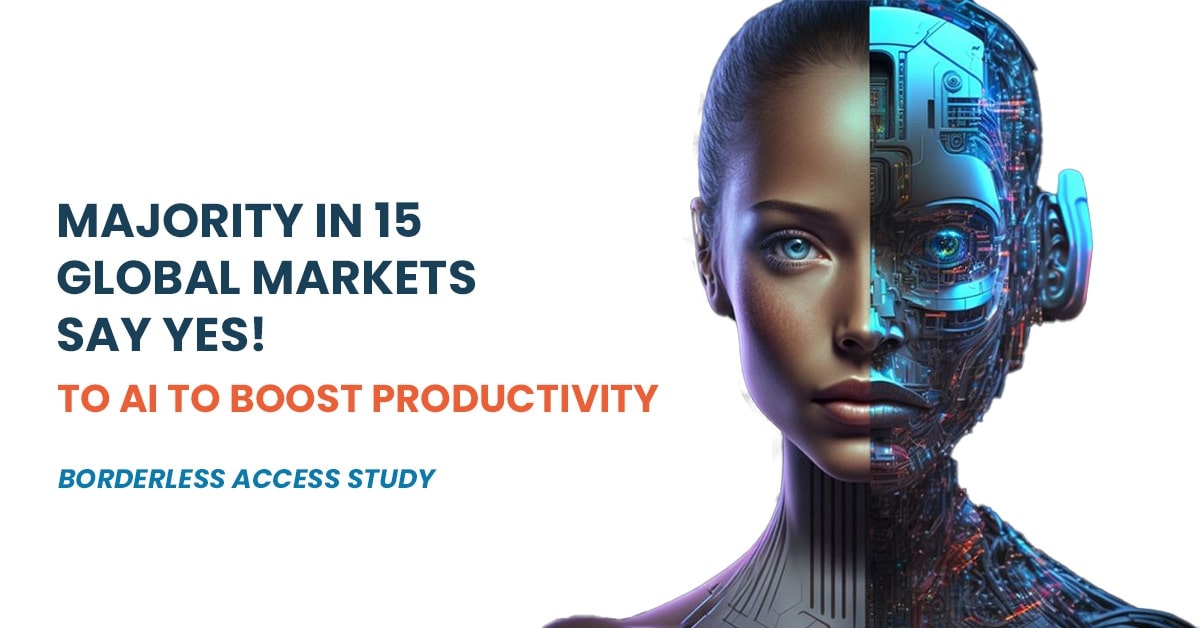 Borderless Access surveyed consumers from 26 global markets to learn about their sentiments regarding the emerging applications of Generative AI. The research questions were broadly classified into the emergence of Gen AI, the role of the new Gen AI tools and what consumer sentiments are concerning the impact of these tools on the consumer's daily life. The analysis revealed intriguing insights, sparking meaningful discourse within the global professional community.
The sudden emergence of generative AI, an advanced technology capable of autonomously generating diverse forms of content solely based on prompts has caught global attention. However, public sentiment towards this technology is split between apprehension and acceptance. When asked, "Do you think that artificial intelligence will have a net positive or negative impact on society?"
Opinions diverged significantly among respondents from different regions. 50% of respondents in the United States expressed concerns about a net negative impact while 34% believe AI will have a net positive effect. Interestingly, 16% of respondents in the US believe AI will have no significant impact on society, showcasing some uncertainty and neutrality.
Should AI's Impact on Employment Warrant Our Concern?
An interesting inference came from the study conducted in the United Kingdom and Germany. When questioned, 'How concerned are they about the potential loss of jobs due to the increased use of AI tools?' We found that sentiments regarding job security in the era of increased AI utilization are mixed. In both countries, a substantial portion of respondents are somewhat concerned that their jobs will be replaced by AI (38% in the UK and 44% in Germany), while a similar percentage expressed no concern (38% in the UK and 33% in Germany). However, in the UK, 24% of respondents are very concerned about potential job loss, while in Germany, this proportion stood at 23%.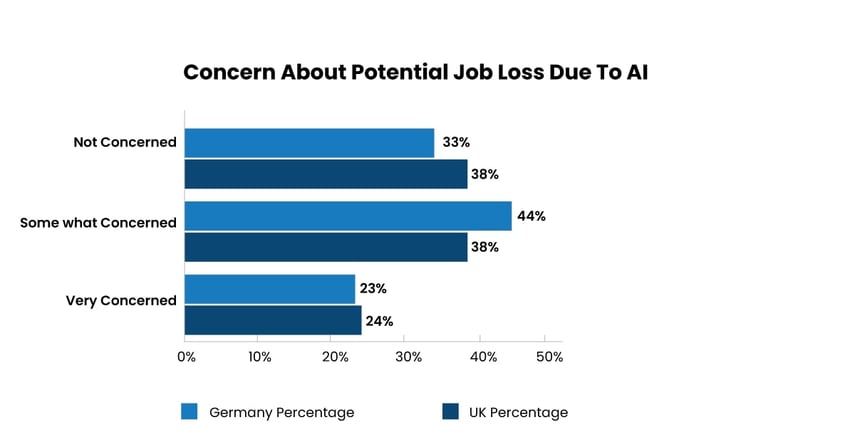 Impact of AI Usage on Customer Service
Shifting our focus to AI in customer service, our survey revealed a heightened level of acceptance in numerous African nations. In Egypt, Ghana, Kenya, Morocco, Nigeria, and South Africa, most respondents, ranging from 74% to 90%, express comfort with using AI-powered chatbots for customer service. In contrast, a smaller percentage, ranging from 10% to 26%, indicates discomfort with this technology. These findings suggest a generally positive attitude towards AI-driven customer service solutions in these African nations.
Perceived Impact of AI on Workplace Productivity
In conclusion, regarding the belief that AI's capacity to elevate workplace productivity, the data demonstrates a strong consensus in favor of AI adoption across various Asian markets. Respondents in Australia, China, Hong Kong, India, Indonesia, Korea, Malaysia, New Zealand, the Philippines, Singapore, Taiwan, Thailand, and Vietnam predominantly believe that AI tools will increase productivity, with percentages ranging from 70% to 97%. Conversely, the minority, ranging from 3% to 30%, express skepticism about AI's potential to boost productivity. This widespread optimism highlights the confidence in AI's ability to enhance workplace efficiency in these Asian regions.

Methodology: Borderless Access survey results from national representatives or targeted audiences in multiple markets. The data is based on surveys of adults aged 25+ years in 26 markets with sample sizes varying between 100 and 200 for each market.