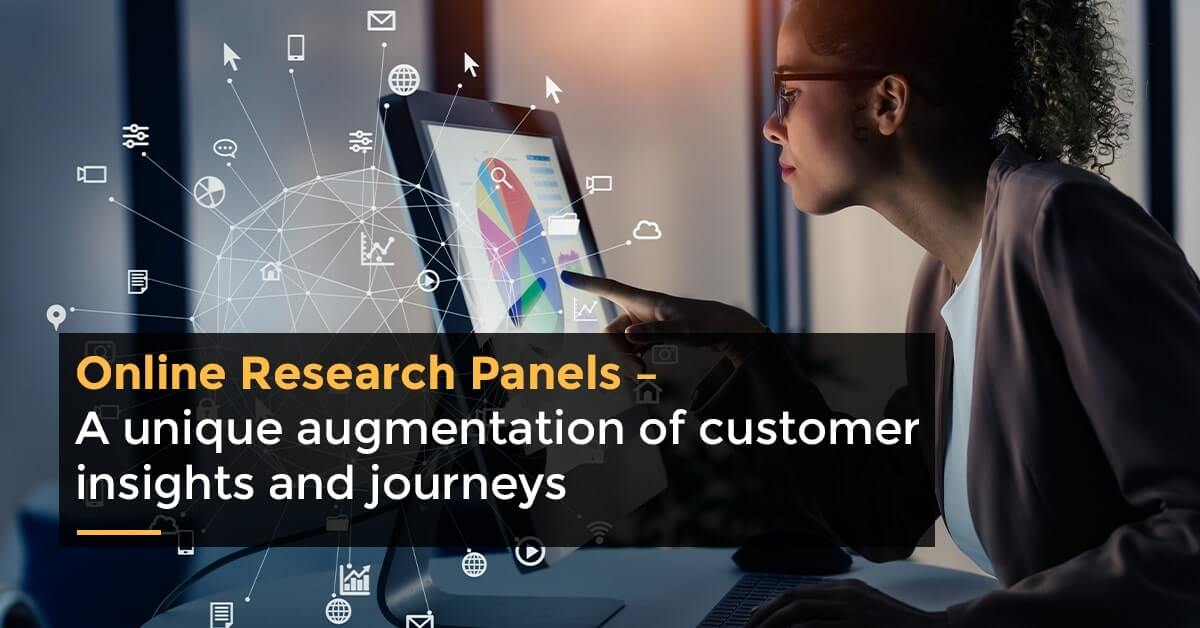 Nuts and Bolts of Market Research
Every product (or service) is designed to keep the customer as the focal point. Therefore, how a product is perceived by the customer, from look and feel, to ease of use or quality, is key in deciding the eventual success of the product and brand resonance across the market. Typically, every organization allocates 1%-2% of its corporate budget towards market research every year. This number could go as high as 3%-5% when new product launches are planned. Primary or secondary market research provides tools that bridge the gap between what a customer wants and what a customer eventually gets as a solution. Primary research involves gathering information that is not available in the public domain using methods such as surveys, focus groups, etc. Secondary research, as the name suggests, involves leveraging data that is readily available in the public domain in the form of blogs/articles/research papers/statistics from authors or nodal agencies who've already studied the subject in the past. Organizations typically focus on getting as much data as possible from secondary research first and later add primary research to the mix to get a good understanding of customer needs, market size and product potential. Primary research is an expensive investment, in terms of time and cost, and it is important to consult with the right research partner to conduct your research. In today's digital world, research partners typically make use of online panels to conduct primary research.
Definition of an Online Research Panel
The Internet penetration across hard-to-reach audiences and regions has really and truly opened up the landscape of primary market research. Researchers can now target large audiences across a variety of geographical segments in a short span of time via digital means. An Online Research Panel is one such example where doors to a survey are opened to participants willing to provide feedback digitally for a commensurate incentive. There are several avenues by which an online research panel recruits audiences to join their respective platforms. Some of those means include –
Running ads/promotions on social media platforms such as LinkedIn, Facebook, Quora, etc.
Engaging with local and global publishers to run recruitment campaigns targeting audiences who visit their websites/content repositories
They are running ads on search engines such as Google, Bing, etc.
Generating organic traffic via search engine optimization techniques
Interested respondents are profiled on demographics, interests, etc. so they participate in relevant surveys and earn incentives. Profiling, however, is insufficient to cater to the ever-growing demand for niche/B2B audiences. Online panel providers are increasingly investing their time and resources in onboarding such audiences and amplifying their research capabilities. Since these audiences require a different structure of loyalty management, there's an increasing shift in customers seeking to build custom panels.
Generic vs. Custom Panels – Which one is right for you?
Imagine a soft drink company trying to gauge the market potential of a new offering OR an ed-tech firm looking to constantly enhance the learning needs of children, the research paradigm for these two objectives will take different approaches where the former would be better served using a generic panel whereas the latter would require a custom panel. Here's why. A soft drink is potentially consumed by a large demographic where children, teenagers, adults and senior citizens would be the target audience for the research. However, the ed-tech firm would typically look at children of a specific age (and potentially their parents) to understand their learning needs whereas the firm would seek the advice of children (and parents) on a periodic basis.
A generic panel caters to multi-market research requirements involving masses who are profiled across a variety of research segments. A wide array of incentive options along with a loyalty program is generally designed to maximize the lifetime value of the respondents who choose to join such panels. The motivations of these respondents are two-fold –
Contribute towards shaping future products and services
Make some money while you're at it
A custom panel, however, is designed to keep the research requirements of a specific client. The audiences who choose to join such panels are carefully screened with additional security questions, sometimes authenticated via means relevant to research requirements, and only then onboarded onto the panel. The participants of such a research panel are homogeneous in nature and this is by design. Therefore, the incentives for participating in a custom panel are sometimes very different from what is on offer on the generic panel. For example – an ed-tech company that's designed a custom panel of students could offer new digital courses relevant to its student groups as incentives.
The overall purpose, however, of both types of research panels lies in the insights they generate and by calibrating those insights with market circumstances, organizations are able to formulate the strategic direction of the product or service.
Insights –Human versus Machine
Ever since machine learning and AI came into the fold, there's been consistent chatter about what these tools can do versus where human intuition and perspective can add value. Over a period of time, we have come to realize that they both complement and co-exist to accomplish the overall goal of customer satisfaction. Every business fundamentally has two goals –
Acquire new customers
Retain existing customers
Acquiring new customers requires the human perception and understanding of a problem that needs solving. Human communication that involves reading customer expressions and emotional sentiments goes a long way in shaping the overall problem statement. Human intelligence plays a key role in ensuring that the designed solution solves the customer's problem by asking the right questions, at the right time and at the right place via the lens of traditional market research.
However, implementing machine learning models and AI leads to generating actionable insights with consumer behaviour due to a machine's ability to merge multiple data sources quickly, process large amounts of data efficiently, and manage repetitive tasks without errors. Such models require human intervention from time to time to remove false negatives and positives so the insights can be better employed to increase the customer lifetime value.
Conclusion
Online research panels offer a terrific source of information to existing and aspiring businesses w.r.t to customer wants, needs, and desires. When the insights derived from an online research panel are applied to solution design and the new customer journey is analyzed via the lens of ML models and AI, a business is not just able to thrive but also expand and grow. As we advance into the next decade, more and more researchers and technologists will come together to solve some of the real-world problems in spaces such as green energy, waste management, carbon-neutral economy, etc. The future is unknown but listening to coherent and consistent voices can help shape the future course of action and that's what Borderless Access panels do, day in and day out.