As the pandemic spread around the world has been upturning people's lives, it also changed the way that people do things. Shopping habits are yet another example of a routine that has changed in a big way. We've taken a close look at how these practices have changed in the Middle East, focusing on the Kingdom of Saudi Arabia (KSA), the United Arab Emirates (UAE) and Egypt.
Like our sudden shift to working from home (see our earlier article COVID-19 Wreaks Havoc On Job Security In The Middle East) where and how we shop has changed too. While most people in this region say they shop in both physical and online stores, there has been a definite move to online shopping with 48% of Egyptians and 35% of people from the KSA claiming to shop online more than they did before the pandemic. This is higher than the global average of 34%. Only 10% or less of shoppers in this region claim that their visits to physical stores remain unchanged, despite the advent of the pandemic.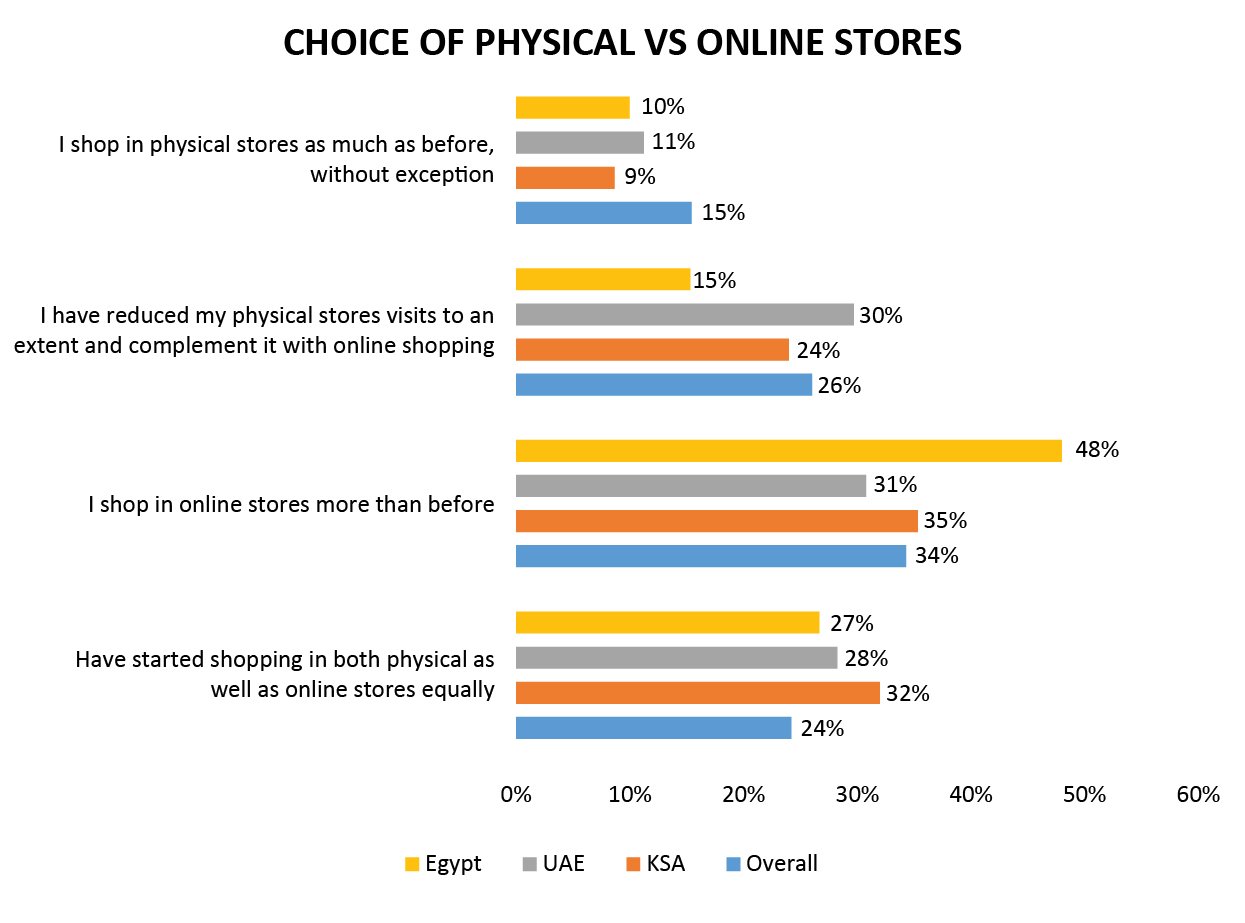 Shoppers in the Middle East largely track global trends during the pandemic with regards to avoiding stores that don't observe stringent hygiene and social distancing practices. They are also following global patterns where 61% of people claim to be shopping less frequently than before.
While almost half of the global respondents (44%) say they are shopping more online during COVID to avoid physical contact with people inside stores, 46% of people from the KSA and 49% of Egyptians claim the same. Only 40% of people living in the UAE say they are shopping online more.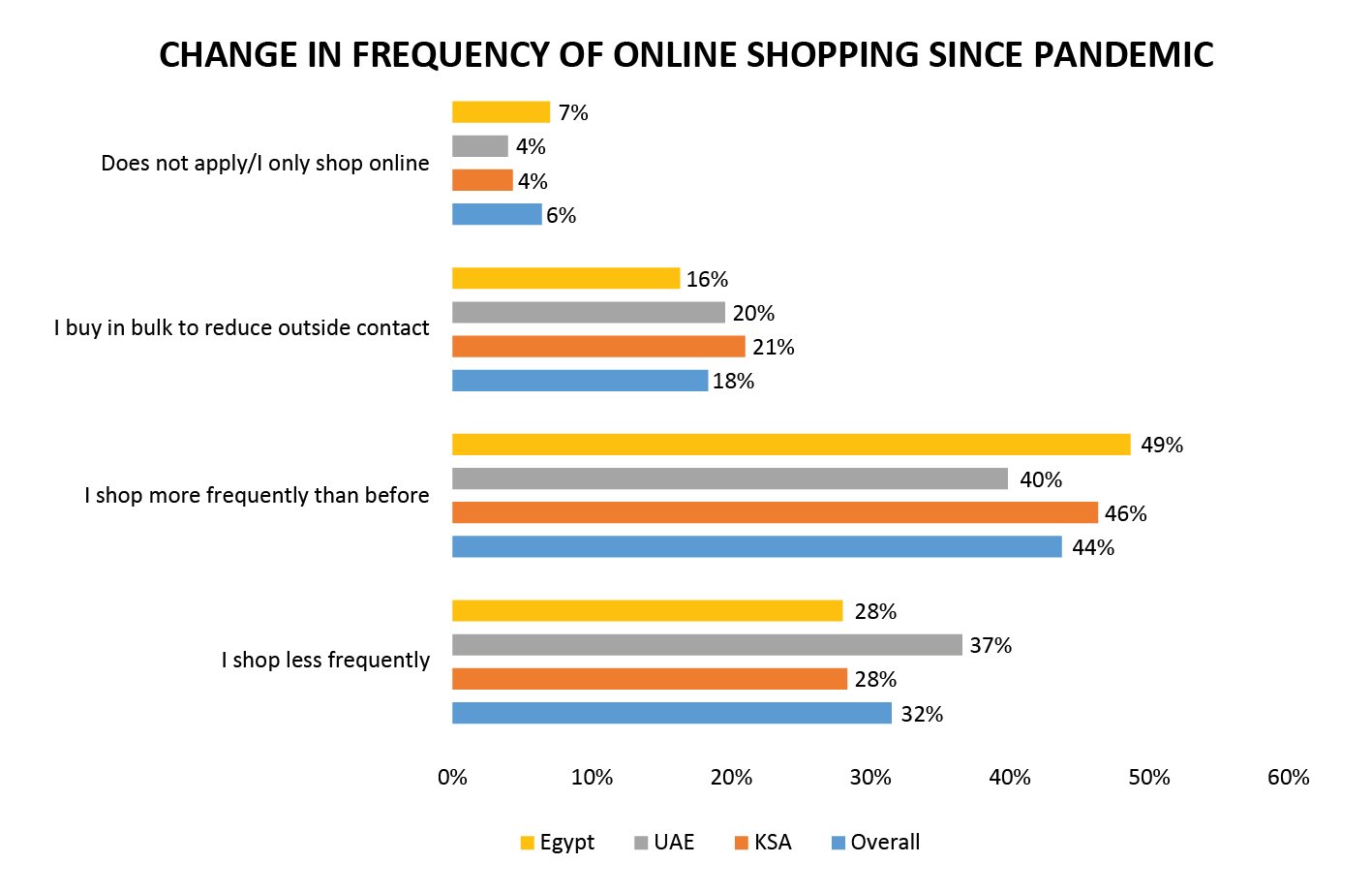 Like their global counterparts where more than two-thirds of those surveyed say they might shop more frequently in brick-and-mortar stores should strict hygiene and social distancing protocols be implemented, people living in this region are nervous of venturing out during the pandemic. However, they are less scared than people elsewhere with only 17% of people in the UAE claiming that nothing would make them feel more comfortable outside, compared to a global average of 28%.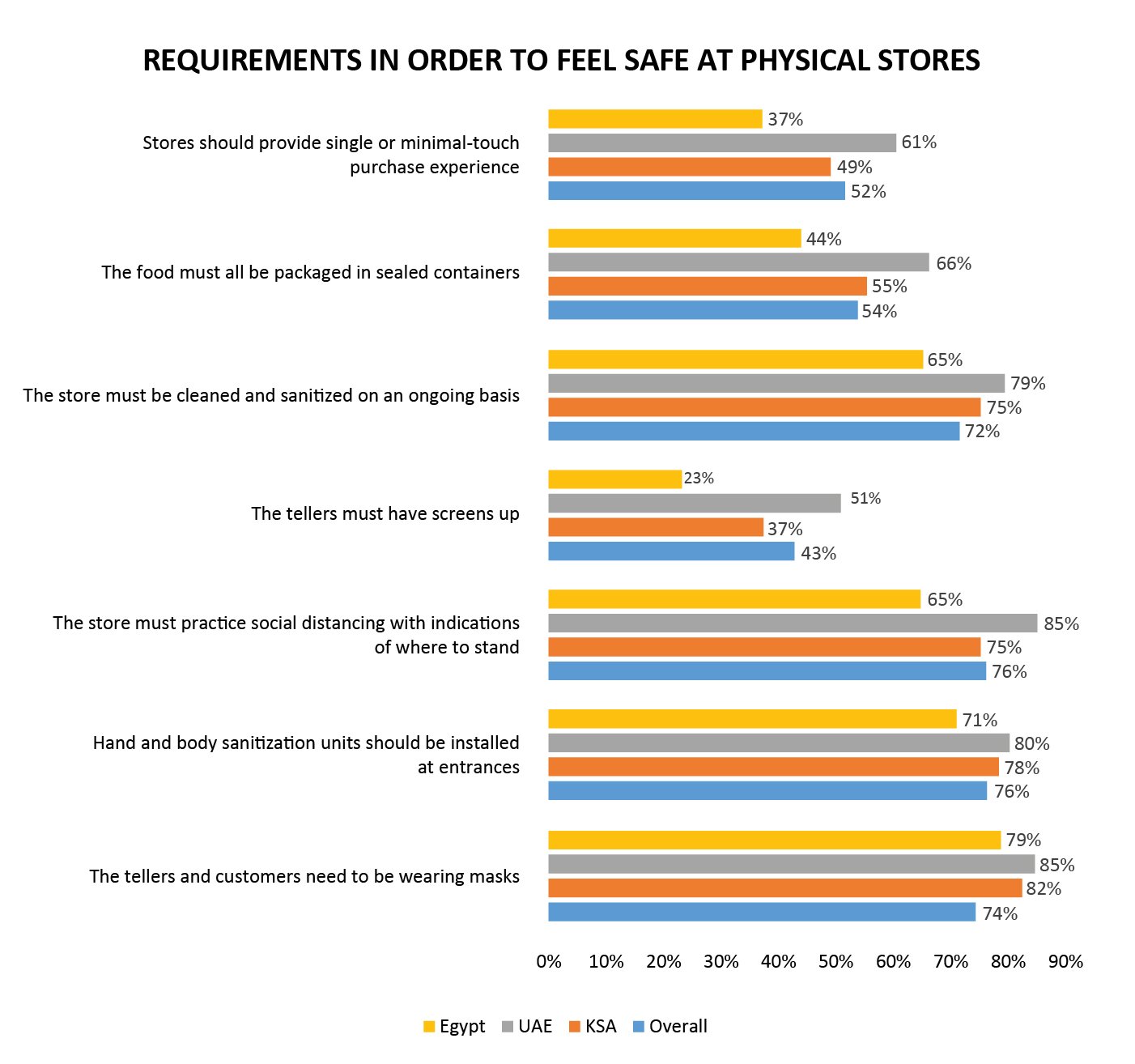 There are some discrepancies within the region about the importance of cleanliness and social distancing. While people living in all three countries value mask-wearing, inhabitants of the KSA and UAE generally have more stringent demands with regards to social distancing and sanitation compared to Egyptians.
To attract Middle Eastern shoppers online brands needs to focus on speedy and specific delivery options. 76% of shoppers in the UAE require detailed delivery times and 52% want their items delivered on the same day. While less demanding, shoppers in the KSA and in Egypt still value these aspects more than their global peers. On the whole, shoppers in this region expect a lot from an online shopping platform where exchange policies, the option to substitute items and intuitive experience are all expected.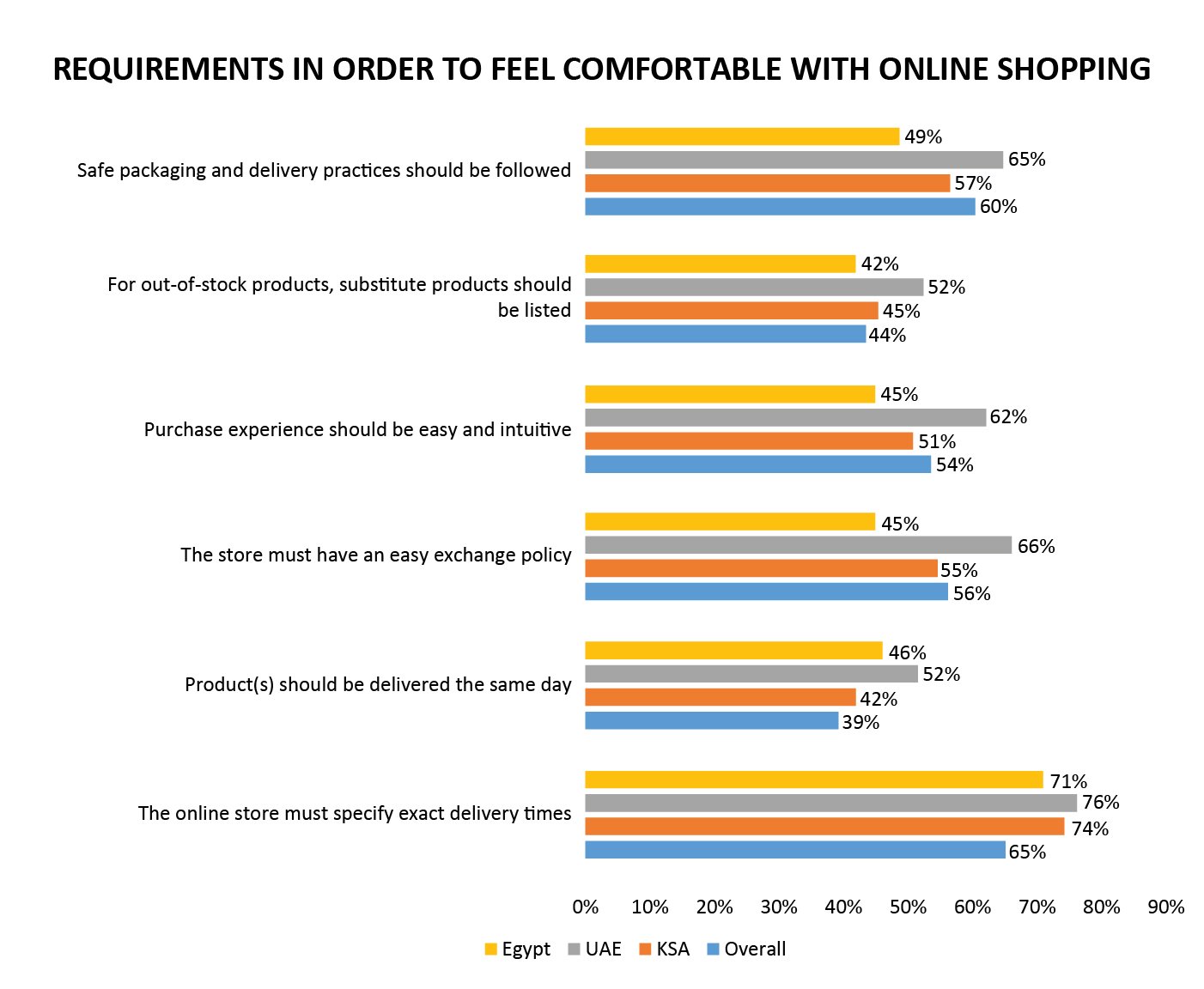 The pandemic has definitely been a boom for online shops in the Middle East with shoppers in all three countries reporting to use internet shopping channels that they had not explored before the pandemic. Even placing orders by telephone has become more popular here compared to global trends. For another look at how shopping habits have changed read our report on the Impact of COVID-19 on Consumer Behaviour.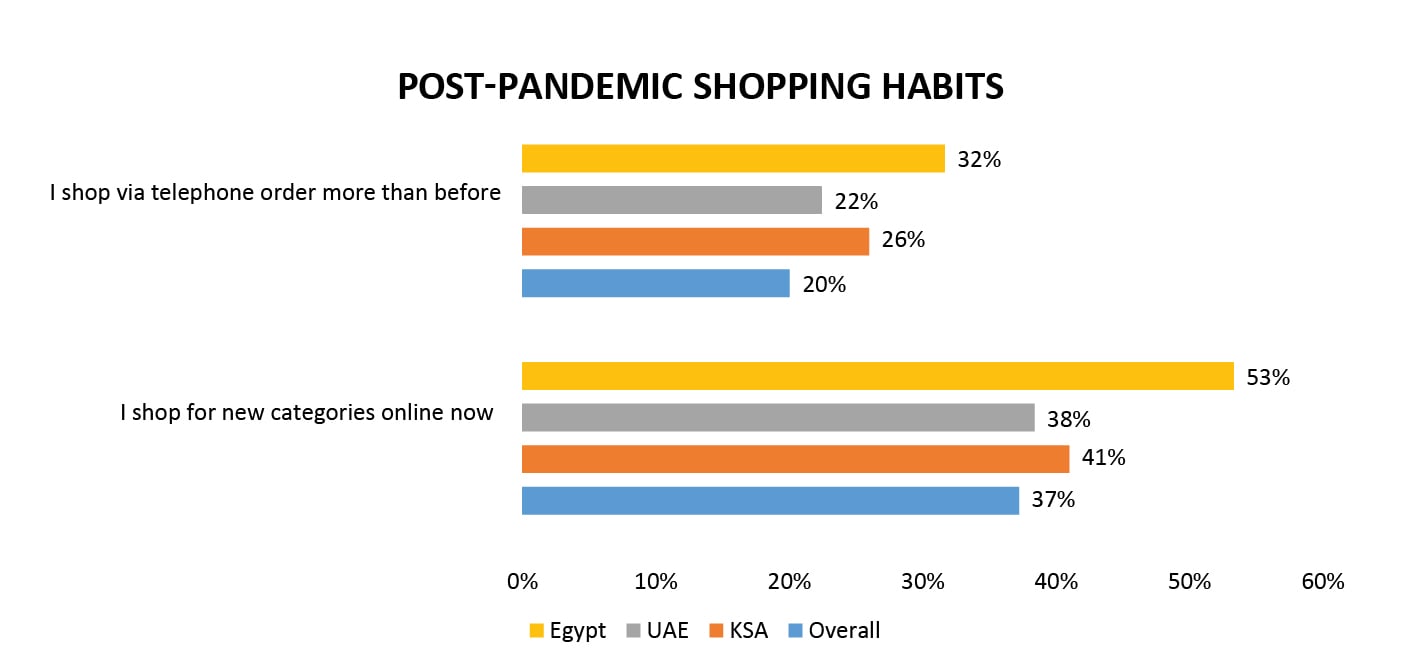 Contact us to get reliable data and insights for your brand.