Globally, lockdowns limiting people's movements, coupled with a genuine fear of contracting COVID-19, have delivered a brutal blow to the hospitality industry. In Sub-Saharan Africa the lockdown rules in some countries have spanned from bans on the sale of alcohol in addition to strict curfews, intensifying the financial predicament for restaurants in particular.

Borderless Access has done extensive research into the meal-buying habits of people living in Sub-Saharan Africa, specifically South Africa and Nigeria. Here we examine data on people's buying habits, whether short-term or permanent, with regard to visiting restaurants, ordering takeaways, opting for drive-through choices, ordering meal kits to be cooked at home, buying ready-made meals from grocery stores, or choosing to only cook at home.
Nigerians not frightened to eat out at restaurants once more
In Sub-Saharan Africa people appear to have been less afraid of visiting a restaurant than the global average, with 82% of Nigerians admitting to having done this in the past three months. People in this region are also comfortable ordering takeaways (76% of South Africans) as digitization abounds, partially driven by lockdown. A trend that has perhaps taken off during the pandemic as people look for alternative ways to enjoy good food, is that of ordering meal kits for quality food preparation at home. While less popular than getting food from a restaurant, it appears to have become a viable option for Nigerians where 29% of respondents claim to have recently ordered one.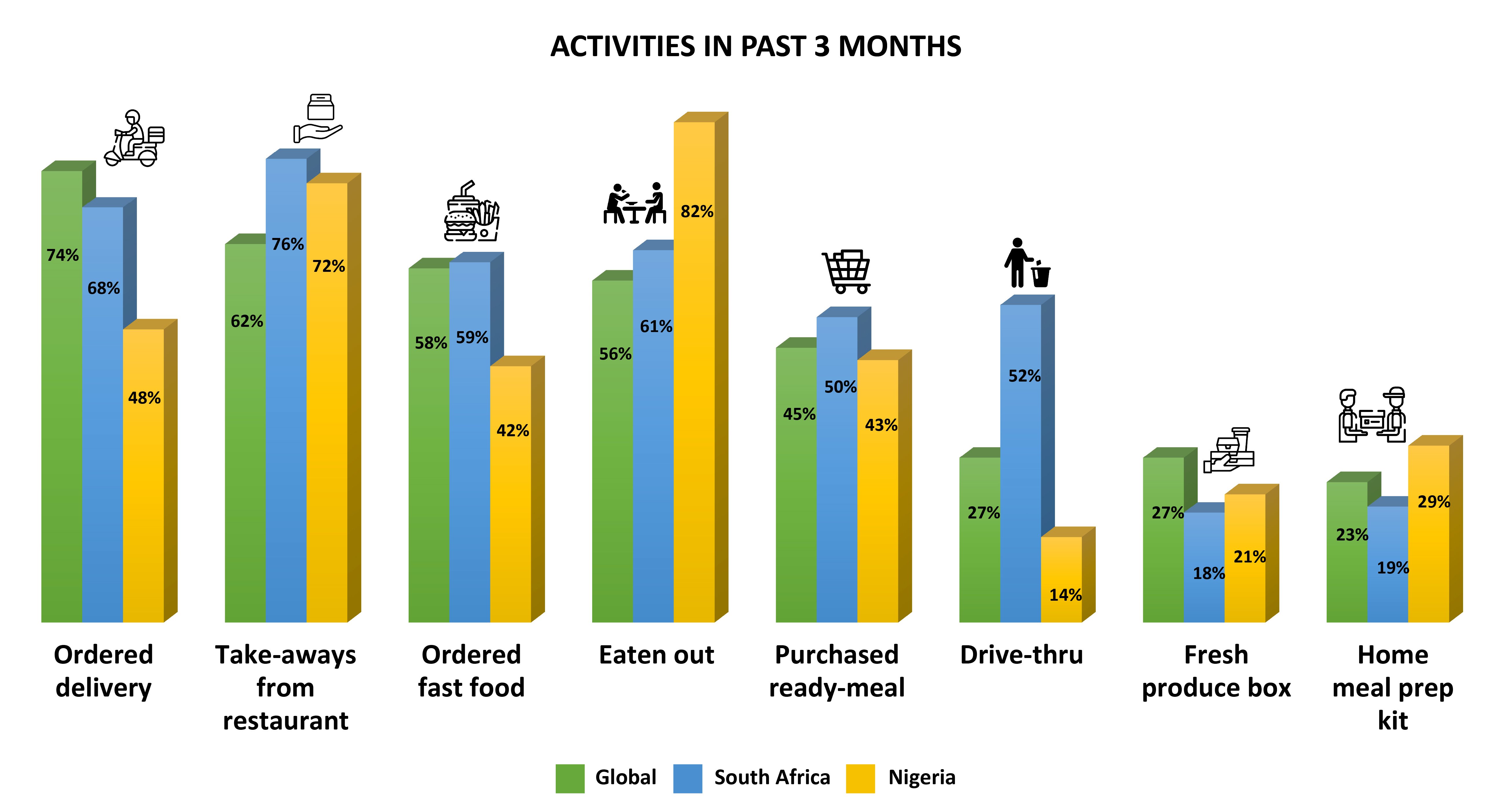 Cooking at home has boomed during lockdown
As lockdown restrictions ease in the northern hemisphere, more people are visiting restaurants. South Africans, who have experienced a third wave in this time frame, have been more conservative than their global counterparts. Nigerians, by contrast, displayed much less cautious behaviour. A similar pattern can be seen when looking at the number of people ordering weekly takeaways. Nigerians again are more likely to order a takeaway than their global peers.
Having a weekly box of fresh produce delivered is a popular option around the world, however, slightly less popular in Sub-Saharan Africa. Similar patterns can be seen when we look at the purchase of ready-made meals.
Coronavirus has delivered a brutal blow to the restaurant industry with only 9% of global respondents claiming that their eating habits have been unaffected by the pandemic. Worldwide, cooking at home has become more popular than ever. A higher proportion of people from Sub-Saharan Africa claim to be cooking at home more than they did prior to the pandemic, due to both being home-bound and also to the adoption of healthier habits since the virus. Furthermore, only 28% of South Africans and 24% of Nigerians say they are ordering food to be delivered more than before.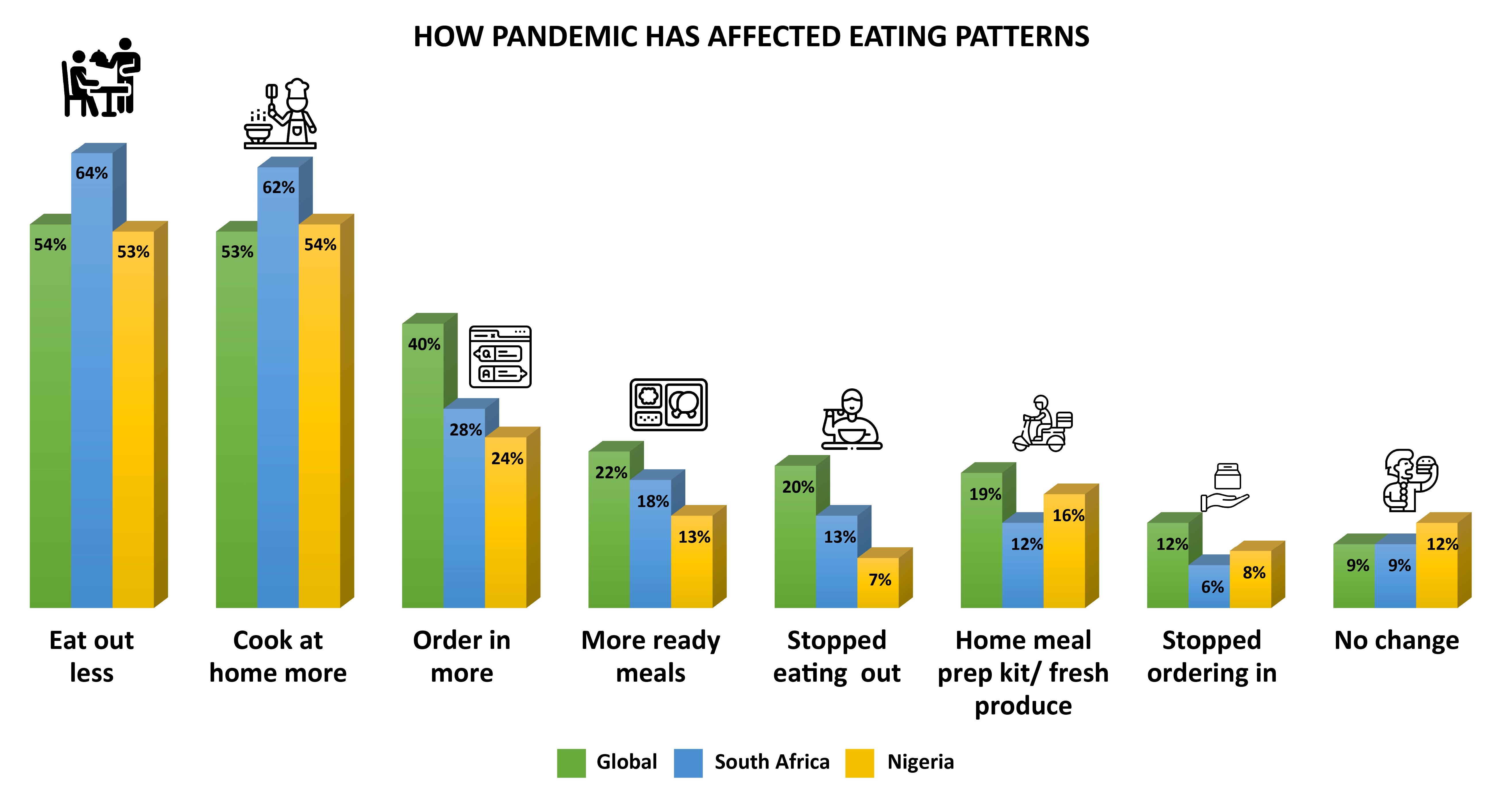 Consumers feel that chains follow Covid-19 protocols better than independent restaurants
Interestingly, when asked which type of restaurant they would choose in our current circumstances, our global and Sub-Saharan respondents' opinions aligned, with people preferring national chains and independent restaurants over international chains. When looking at their reasons for selecting a chain restaurant specifically, South Africans and Nigerians believed that chains followed COVID-19 cleaning protocols more carefully. There was greater loyalty shown to national chains.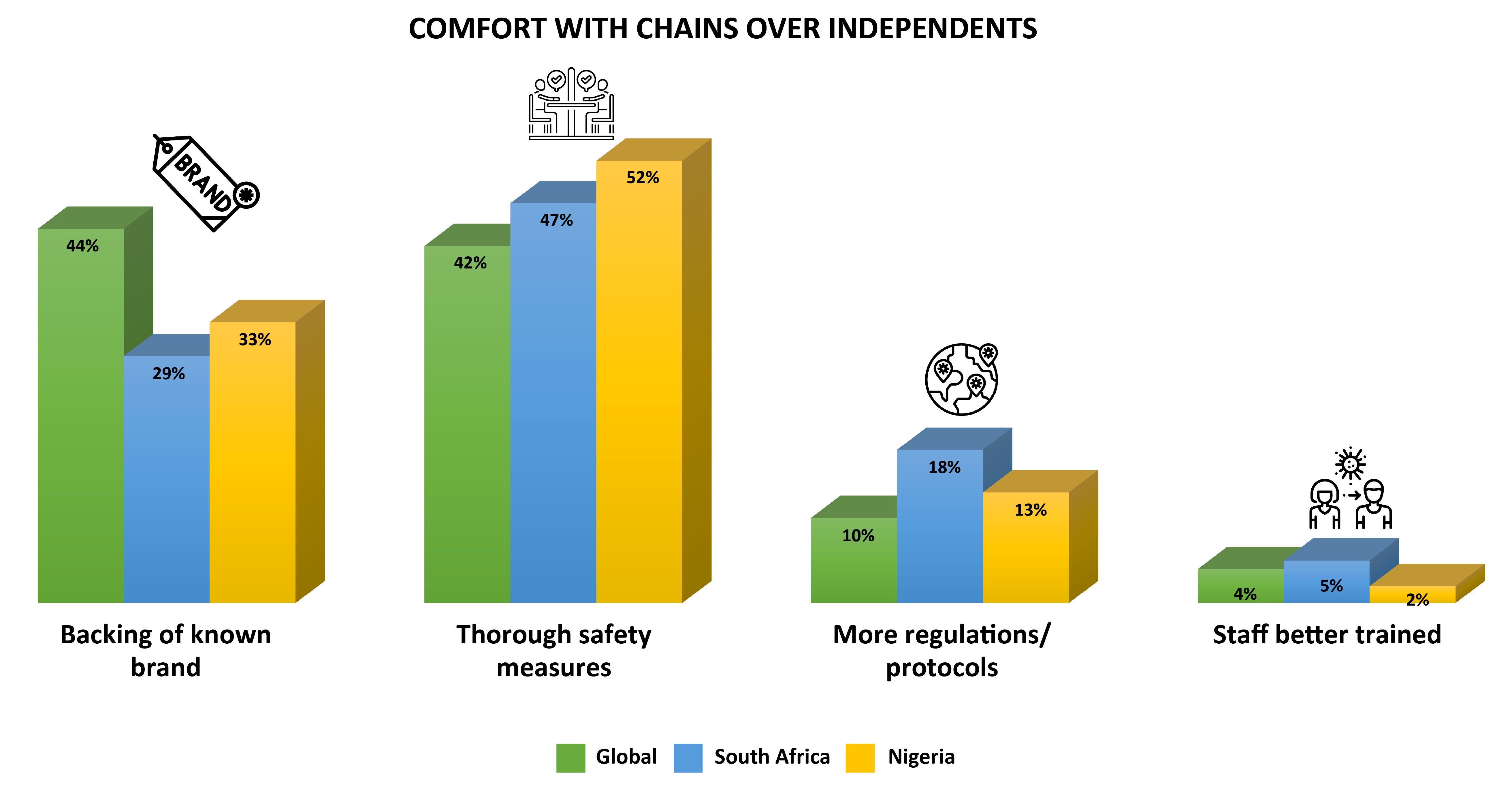 When looking at reasons why people chose an independent restaurant over a chain, trust was the overwhelming reason given (52% globally). This was also the most popular reason given by Sub-Saharan respondents, however this group were less confident than their global peers.
Fast food has gained popularity in South Africa since pandemic
Before the pandemic upended our eating habits fast food chains, casual dining spots and coffee shops were the global top three most popular destinations to eat in public. South Africans' preferences mimicked this pattern. Nigerians, however, overwhelmingly supported fast food restaurants, with bakeries/dessert shops and ice cream parlours being the most popular destinations for buying food.
Interestingly, since the pandemic arrived, these patterns have remained the same for all eating-out options for both our global and Sub-Saharan respondents. The number of people visiting them is obviously lower.
However, the degree to which each type of restaurant has been affected is different. In South Africa fast food has become a more popular option, probably because of a trust in the COVID-19 protocols followed by chains, plus the quick turnaround fast food restaurants promise. Casual dining and coffee shops, by comparison, have taken a major hit. In Nigeria food vendors, previously among the more popular options in that country, seem to have been affected the most. Perhaps because it is difficult to assess the hygiene practices of this group of traders.
Stand-alone restaurants and food-courts felt to be safest locations
Globally, people feel safest in a stand-alone establishment, however food courts are also popular, again possibly because of the trust consumers have in the chains that operate in these spaces. Sub-Saharan Africa follows this pattern, most likely for similar reasons. South Africans are least comfortable in airports, hotels, cinemas and amusement parks, probably because lockdown restrictions have largely made these options unavailable to locals. Opportunities for eating establishments
While undoubtedly COVID has dealt the hospitality industry a cruel blow, our research shows that people still want to frequent restaurants.
Our respondents' habits illustrate that trust in those restaurants that clearly practice and communicate strict COVID-19 protocols is paramount. Here national and international chains hold a clear advantage. Independent restaurants would be wise to copy this example and ensure that strict hygiene protocols are being clearly communicated to customers.
In South Africa the move towards Fast Food has been dramatic, indicating opportunities for these establishments to leverage off this success. Counter to this, non-Fast Food offerings could benefit by offering quicker turnaround time and again communicating their strict COVID-19 protocols.
Since people have been forced to cook at home more than they did previously, opportunities exist for brands to leverage this by developing and promoting ready-made meals and meal-kit concepts.
For more information on how your brands can benefit from our research, please visit www.borderlessaccess.com/ba-insightz.