As Covid-19 has turned the world on its head, few industries have been as shaken up as that of restaurants and hospitality. Worldwide, restaurants and eating establishments have taken a beating as lockdown has resulted in closures, changes and restrictions to what used to be a burgeoning industry.
Borderless Access conducted research to understand eating out and ordering-in habits and how these have been shaped – both temporarily and permanently – by the ongoing global pandemic. Unsurprisingly, ordering in has been by far the most utilized activity in recent times… ordering food for delivery, ordering take-aways from a restaurant and ordering/ collecting food from a fast-food chain have been the top activities globally in the past 3 months, and both of these have been particularly well-utilized in both the UAE and Saudi.
With the changing lockdown rules, 56% of people globally have eaten at a restaurant in the past 3 months, with this number being higher in the UAE and Saudi, at 68% and 60% respectively. Ready-meals are much less common than ordering in, while fresh produce deliveries and home-meal-preparation kits are by far the least common ways of preparing food.

Cooking at home has increased – more so than ordering in
Despite the enforced movement away from eating out during the height of lockdown, this habit has re-established itself as restaurants are starting to open with varying degrees of capacity once more. In the past 3 months, a high 79% of Saudi consumers have eaten out at least once a week, with this number being nearly as high (74%) in the UAE. This is only just behind the incidence of ordering take-out: 81% of Saudi consumers have ordered in at least once a week, and 78% of UAE consumers have done the same.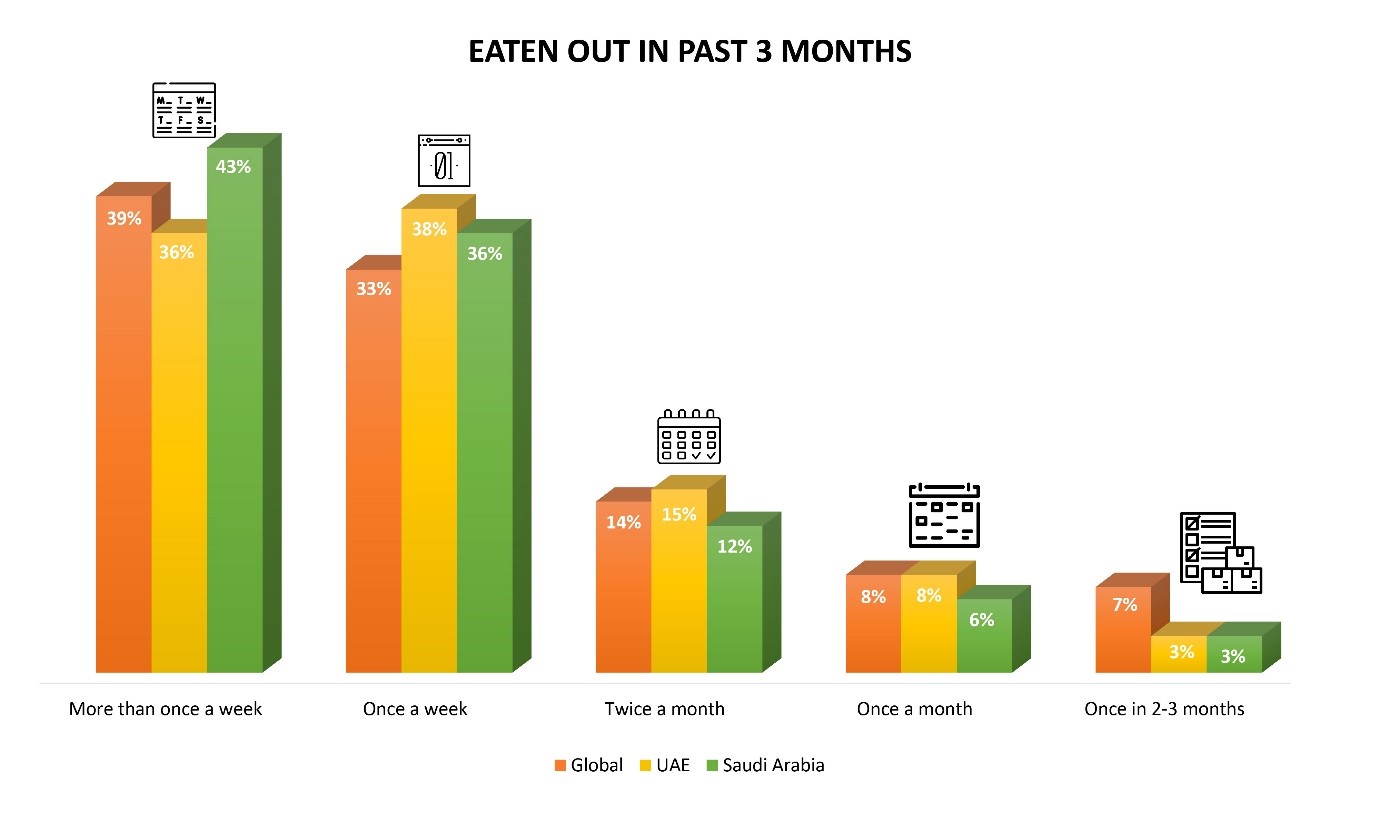 When asked about how the pandemic has affected their food consumption habits, the overriding response is that it has resulted in eating out less. Given that four of five Saudi consumers is currently eating out at least once a week (this number being only slightly lower in the UAE), the incidence of eating out pre-pandemic was evidently much higher.
Cooking at home has certainly increased during the pandemic, especially driven by the UAE more than Saudi. Ordering in has increased but not as much as might have been expected, with more people choosing to cook at home, presumably influenced by budget or health decisions.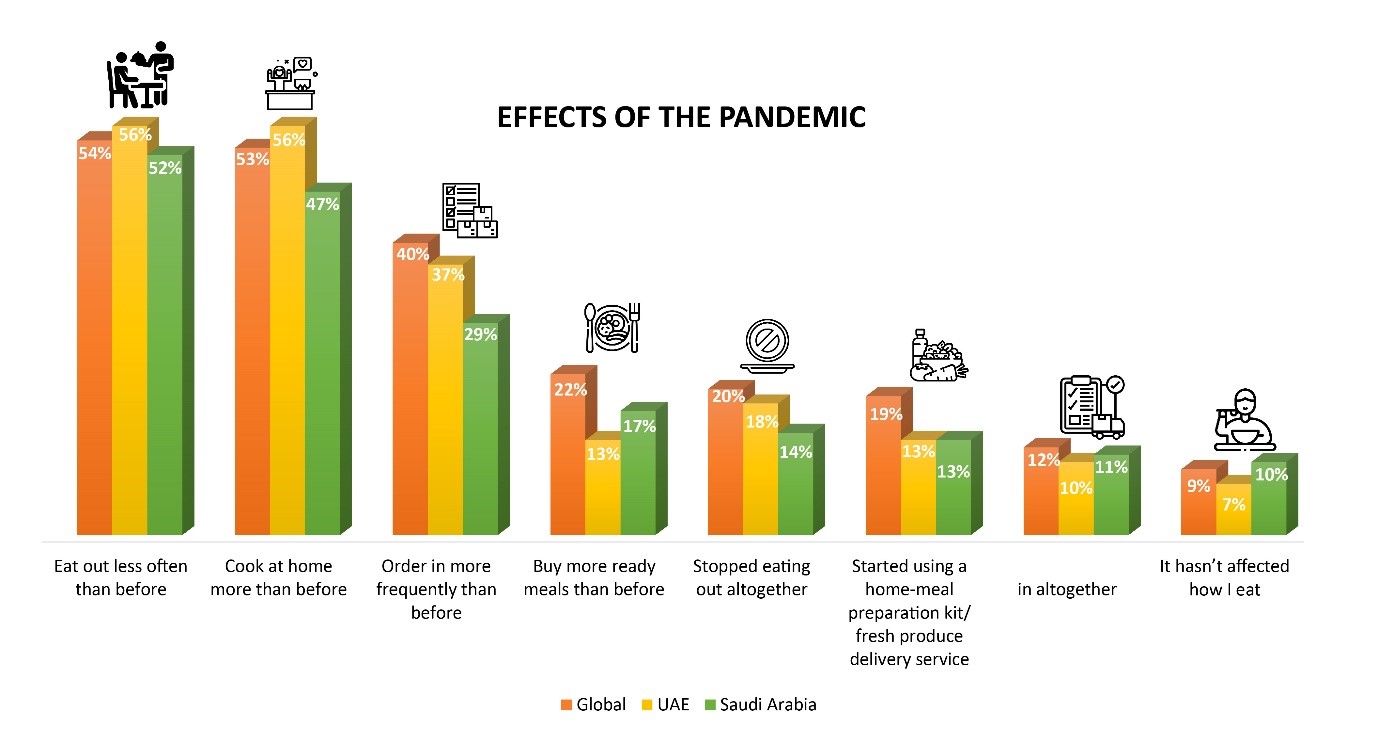 Local chains elicit the most trust since the pandemic
Globally more people feel most comfortable in local chains (the likes of Al-Baik, Al-Tazaj for example) since the pandemic, with Saudi leading this sentiment very strongly. Reasons for this are that consumers feel they carry the trust of a known brand, and that they carry out safety measures more thoroughly. This is not dissimilar to findings that we have seen from a media perspective, with tried-and-tested TV eliciting more trust than newer and more niche media channels.
In the UAE, a high proportion of consumers feel comfortable eating at Western Chains (such as KFC, MacDonalds, Pizza Hut etc), for the same reasons of trust in a known brand.
Relatively few Middle Eastern consumers feel most comfortable in individual eateries since the pandemic. Those who do feel so because of the more personal element of these restaurants.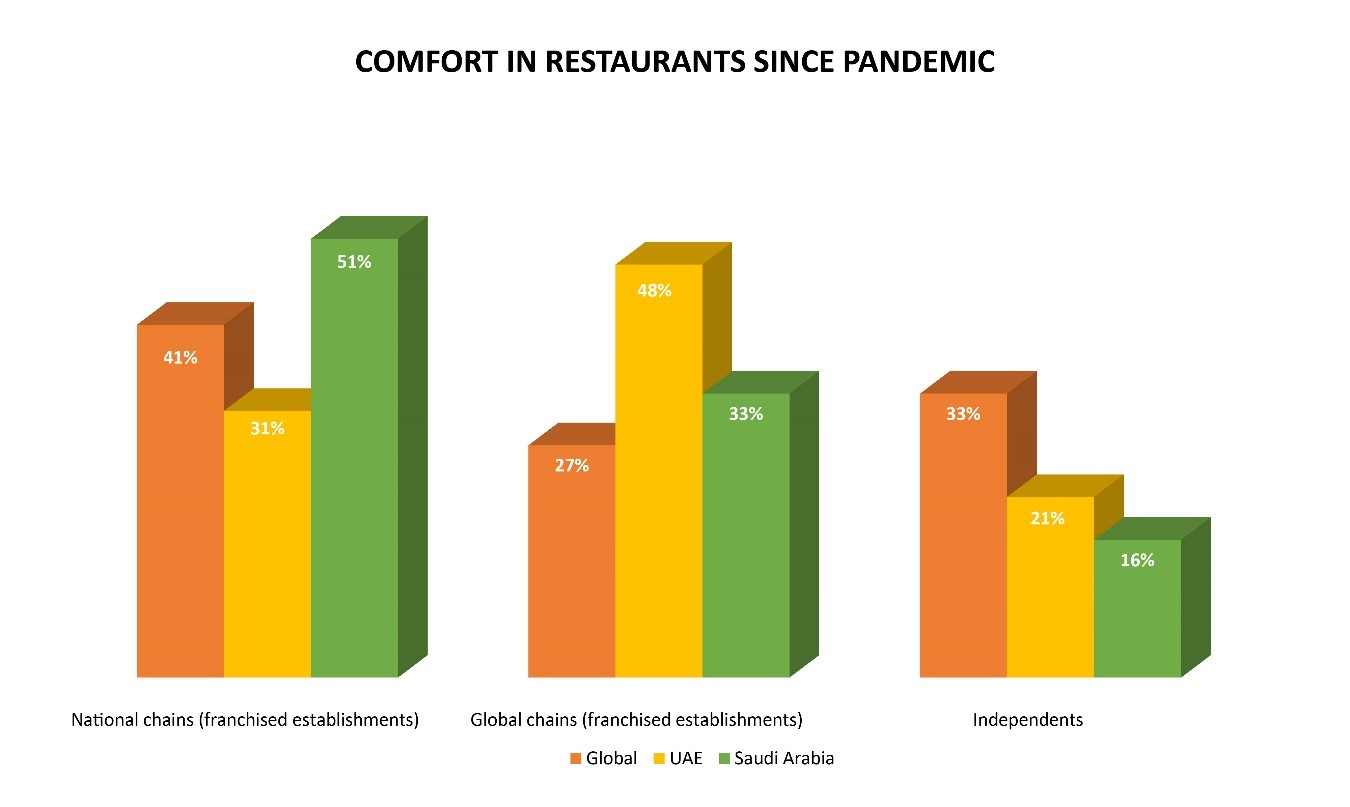 In terms of the location of eating establishments, globally consumers feel more comfortable eating in standalone restaurants than restaurants in any other location. Saudi follows the global trend. Interestingly consumers in the UAE feel almost as comfortable eating in restaurants in malls/ shopping centre food courts as they do in standalone restaurants, indicating that malls do not pose additional Covid-related concerns for these consumers.
Eating at the restaurants in supermarkets/ hypermarkets and in a commercial building, elicits a relatively low level of comfort, as does eating at school canteens, especially in Saudi. Eating inside a compound or from a food truck makes people the most anxious from a Covid-related perspective, in both the UAE and Saudi Arabia.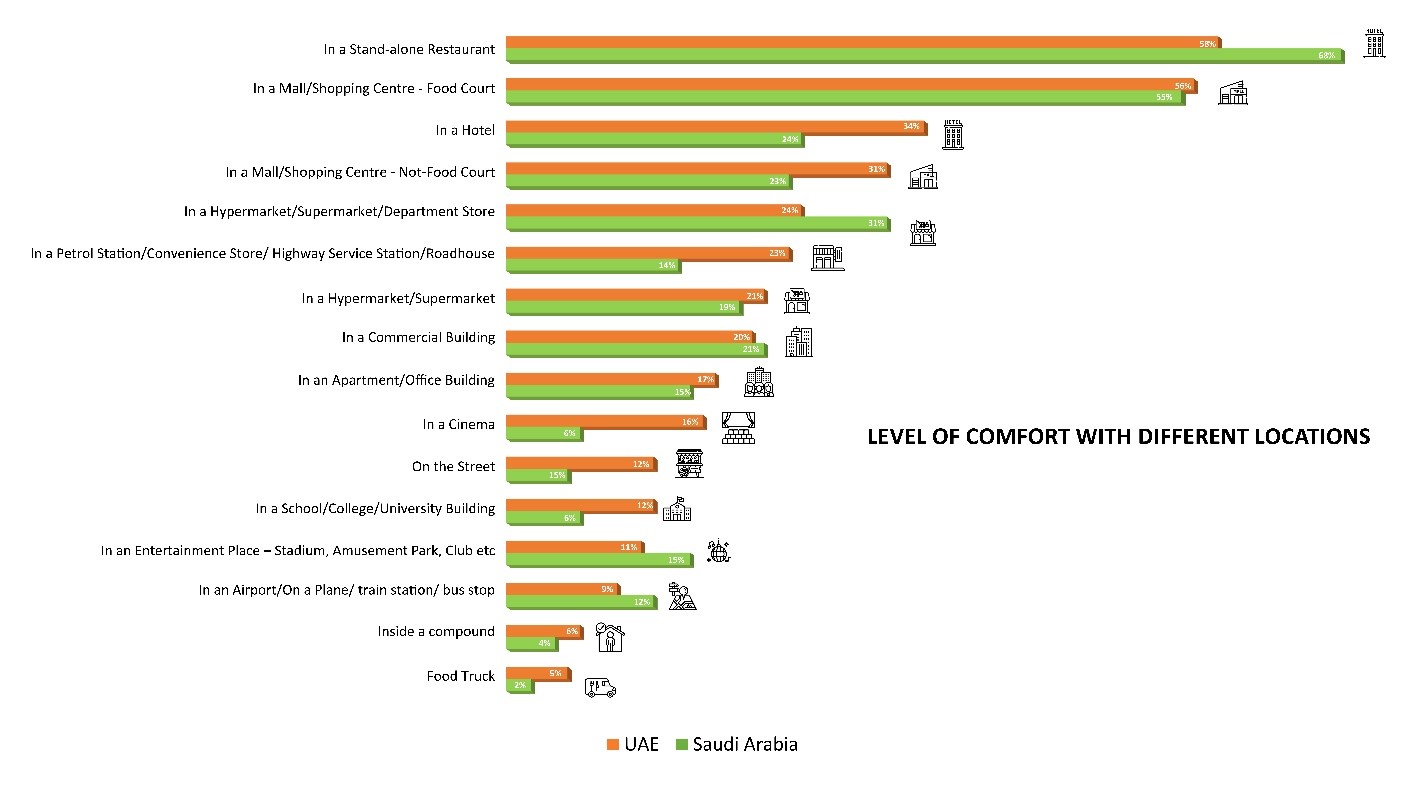 Pre-Covid-19, the preferred type of restaurant was 'fast food' globally, followed by casual dining. This trend has not changed since the pandemic, with three-quarters of Saudi consumers preferring fast food. In the UAE, casual dining is particularly popular with 45% of UAE consumers enjoying this type of dining.
Opportunities for eating establishments to leverage in the Middle East
These findings provide us with several learnings for brands/ independents and marketers operating in the eating space. The first is that restaurants are not dead… on the contrary, restaurant attendance in the Middle East is high, providing an opportunity for such establishments to communicate their offerings and meet the needs of consumers who wish to patronize these once again.
Next, we see the reliance on and trust in chains (both Western chains and local chains). For chain and franchise owners this provides communication opportunities around the 'safety' that brand names can provide when it comes to Covid protocols and establishing comfort levels. For individual eateries, the task is harder, but nonetheless, there is an opportunity to leverage off the comfort that consumers gain from the personal element that these establishments offer in terms of hygiene and safety.
There is certainly opportunity for institutions (offices, schools etc) as well as stores (supermarkets and hypermarkets) to communicate their safety practices to put consumers' minds at rest about eating at such establishments at this time.
Lastly, for brands operating in the home cooking space, there is an opportunity to retain the high incidence of this habit that the pandemic has caused, encouraging consumers to continue to cook for themselves, although restaurants are starting to re-open.
In our forthcoming article on the topic, we explore healthy eating choices as a result of the pandemic and delve deeper into need states behind eating out/ ordering in and other food-related options to understand how these have changed since the onset of Covid-19.
To gain more such insights, contact us here.