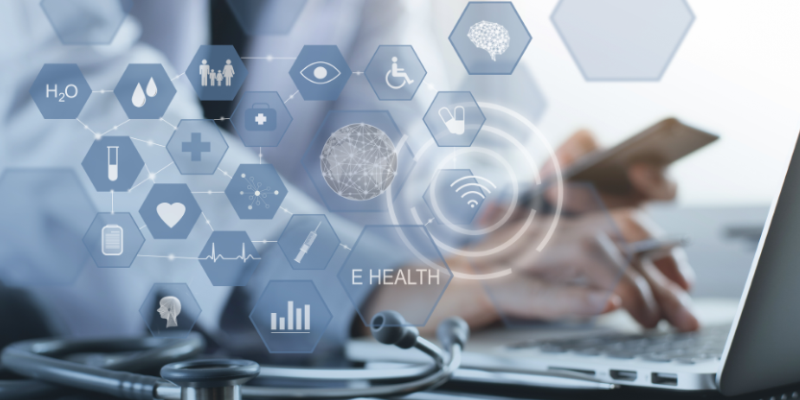 Social media holds significance across industries and healthcare is no exception. The global medical and healthcare field has now embraced it as a primary channel for patients and providers to connect and incorporate social media into various health care plans and marketing strategies.
Let's understand the role of social media in the world of healthcare and how it works as a bridge between patients, physicians, caregivers, monitoring agencies, and pharma-biotech companies.
Use of Social Media Monitoring Tools among Healthcare stakeholders
Patients are increasingly using social media to learn about doctors, specialists, and hospitals and make informed decisions. Healthcare professionals, too, take advantage of this opportunity to develop interactive patient strategies and direct patient engagement, improve health outcomes, build a professional network, raise personal awareness of news and discoveries, motivate patients, and provide health information to the community.
According to the Southern Medical Association, approximately 88% of physicians use the internet and social media platforms to research medical tools and biotech data.
Nurses, too, use social media to keep patients up to date on hospital visits, appointments, test results, and almost everything else related to medical facilities. According to Pew Research Center research, approximately 70% of caregivers use social media for medical advice and answers.
Too often, public health educators use social media to provide a platform for patients to express their health concerns.
Benefits of Social Media in Healthcare
Raising public awareness: Social media is a great way to increase public awareness of new and emerging health concerns. It also serves as a simple way to garner people's attention by reminding them of common health practices or addressing concerns they have about healthy living.
Combating misinformation: Social media allows for the rapid dissemination of information to a wide range of people. However, if the information is fact-based, helpful, and clear, it should be monitored, as social media can also be a medium for spreading false and easily debunked information. Healthcare professionals using social media can both monitor and help to prevent such malpractice.
Public Health Monitoring: Using social media as a tool for public health surveillance has advantages such as accuracy, timeliness, and cost-effectiveness in tracking population health sentiments, behaviours, outcomes, and emergencies along with disseminating information among various public health stakeholders. Monitoring public health through social media opens several avenues for profitable collaboration.
Crisis Communication: In times of a health crisis for survivors, social media is a valuable tool for first responders, affected communities, and others to broadcast. Social media effectively communicates crisis-related information in real-time, promotes resilience, and provides quick and easy access to helplines to a large audience.
Patient Support: Nearly 40% of young people (ages 14 to 22) have used online tools to connect with others who are dealing with similar health issues. This includes groups on social media. Such connectivity has the potential to provide significant benefits to patients. Furthermore, social media provides effective avenues for healthcare professionals to address frequently asked questions.
Marketing: 62% of healthcare marketers in the United States identified social media as the marketing channel with the greatest potential in 2020. Social media, as a healthcare marketing tool, is a low-cost way to reach the target audience, connect with them and inspire trust.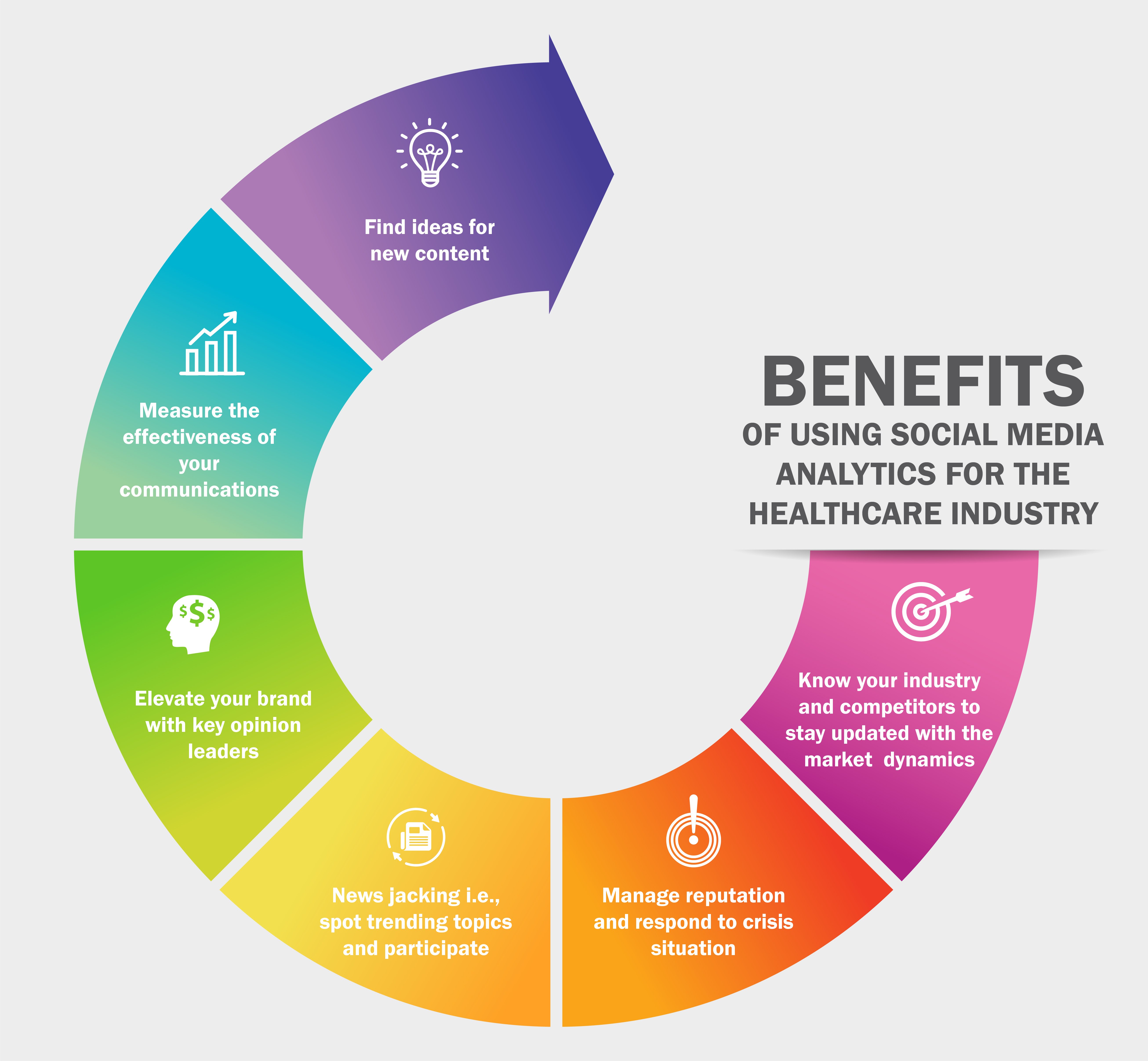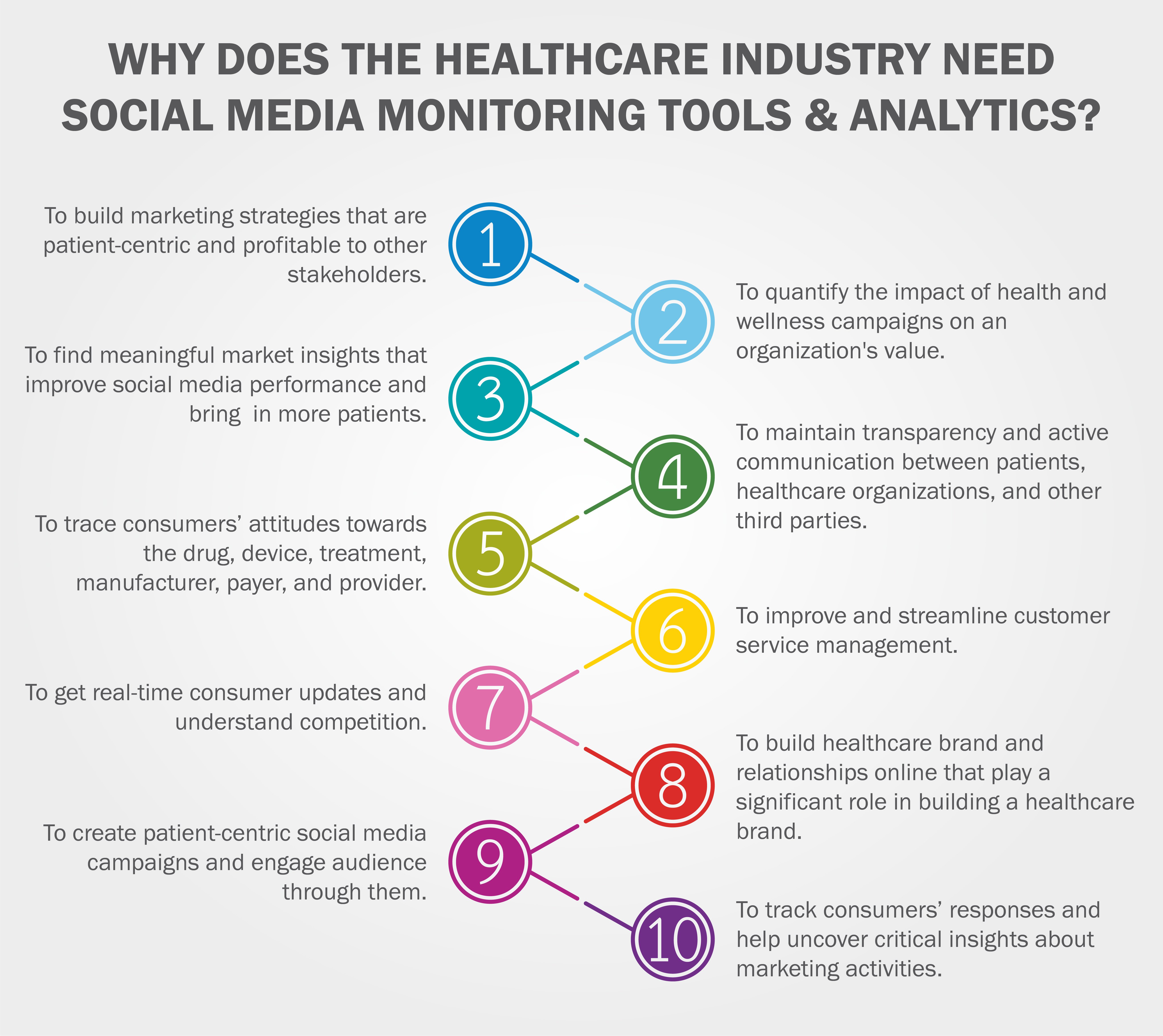 In an increasingly competitive and dynamic field like healthcare, reaching patients or a target group requires a strong digital marketing strategy. Social media is the most effective way to accomplish this. Social media platforms connect hospitals and healthcare facilities with potential patients, which can provide valuable information and serve as the foundation of an effective marketing strategy.
Social media effectively analyses a healthcare organization's reputation and assesses the effectiveness of its social media campaigns. Using social media analytics, you can categorize data and understand what works and what doesn't for your organization. From the clutter of raw healthcare data, social media extracts meaningful and real-time market insights. It assists healthcare organizations, pharmaceutical companies, caregivers, and all other stakeholders in comprehending the competition.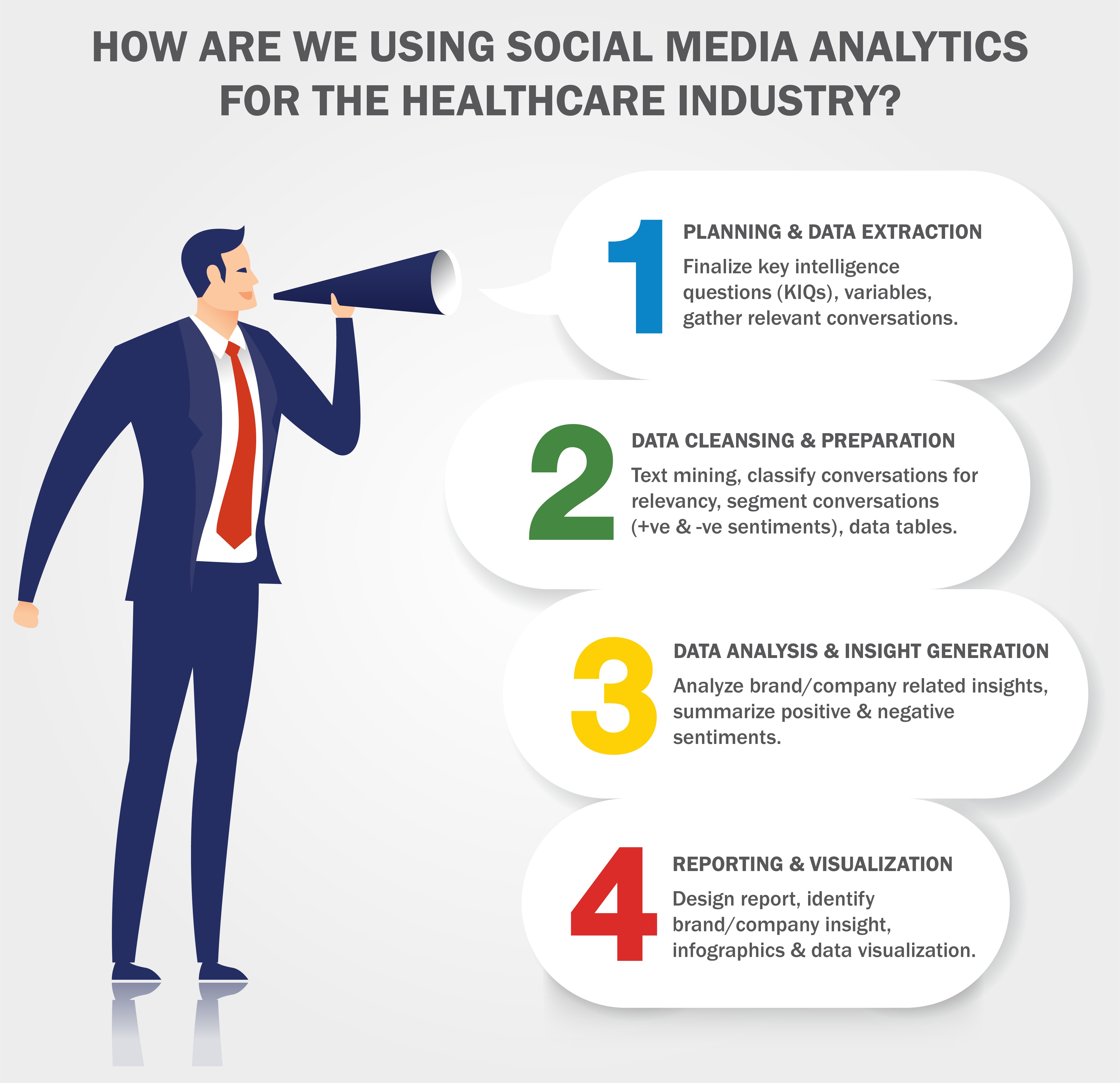 Conclusion
Social media has numerous advantages in terms of improving healthcare services and fostering strong bonds between patients and medical professionals. There are still questions about how to best analyze social media data for public health surveillance. There should be a structured and clear definition of the purposes of healthcare surveillance systems, the scope of social media data to be used, and how the data should be analyzed must all be clearly defined. Social media, when used responsibly, can be a powerful tool for promoting health education, building positive HCP-patient relationships, and improving healthcare quality.
---
Speak to our healthcare research experts to help drive your growth with the right insights that matter to your brand.