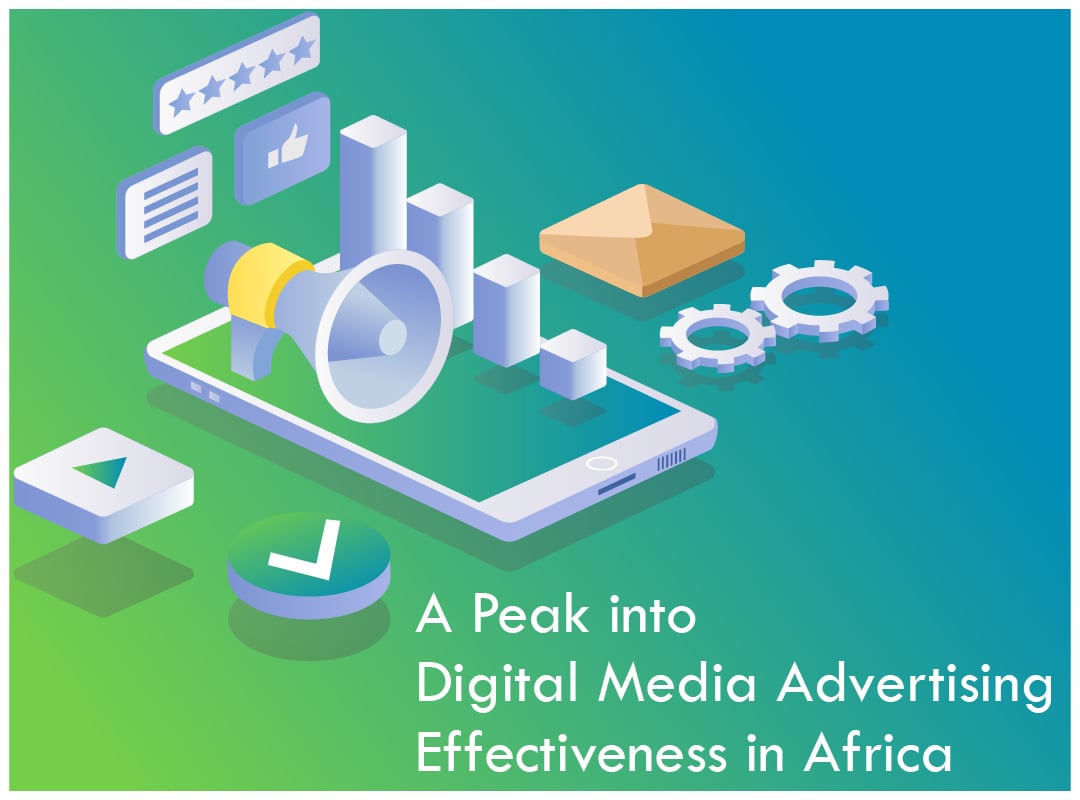 Social media enjoys high exposure in Africa
Of all the communication channels available today, social media is the channel that most people claim they have been exposed to in terms of brand and advertising messages, since Covid-19. This exposure to social media is particularly high in Africa, with South Africa, Kenya and Nigeria leading the pack in this regard. These African countries claim to be much more exposed to digital media in general than the rest of the world does, and less to physical magazines than their global counterparts.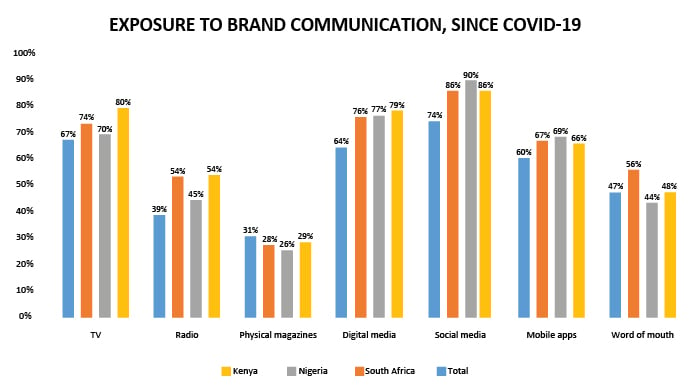 Tried-and tested television still elicits trust
However, when it comes to trusting the media for product or service information, people in African countries tend to rely on broadcast media, having the least faith in printed magazines or newspapers. Despite their evident prevalence, people in Africa are still somewhat suspicious about the integrity of digital channels, specifically in South Africa where only 39% of people trust social media.
TV holds by far the highest trust as a source of information, at a global level but being particularly pronounced in African countries. We saw the particular importance of TV in our recent study on the impact of Covid-19 on media consumption and consumer behaviour, when the majority of people turned to it their go-to source of information about the pandemic.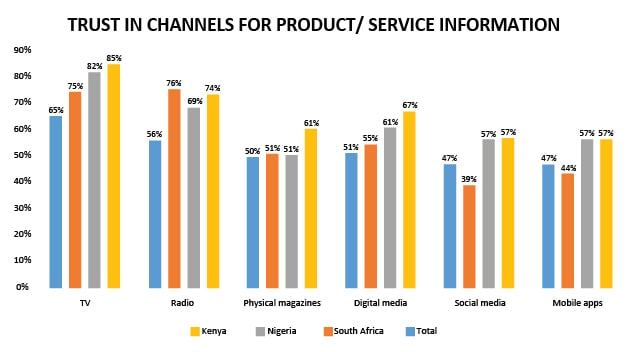 As well as being deemed the most trustworthy in terms of product/ service information, TV is also seen as the best option to turn to as a source of news. Interestingly, radio still fares extremely well in this regard, again reiterating the weight that broadcast media plays in instilling trust in the minds of consumers.
African countries mirror these trends, in fact doing this to a much higher degree than the rest of the world, with 89% of Kenyans switching on the television to get their news fix.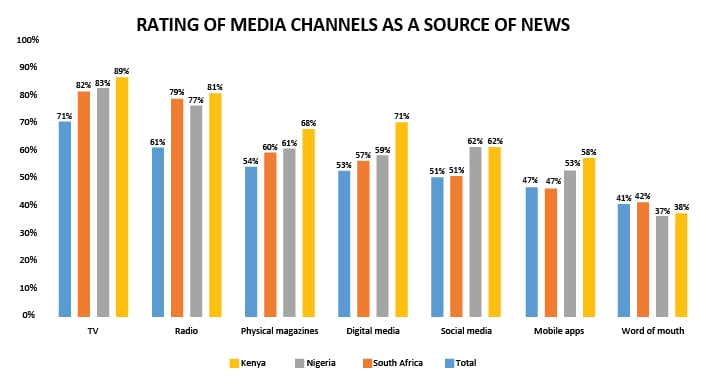 In Africa, when it comes to an advert translating to the sale of a product, social media and television are the winners. Particularly in Kenya and Nigeria, social media is extremely powerful in persuading consumers to purchase products: From this, we read that the relatively low trust that it holds does not deter consumers from allowing this channel to influence their purchase decisions. Evidently, its extreme prevalence and awareness in the region counters this effectively.
This also speaks to recent studies that we have conducted which indicate an increased reliance on online shopping in Sub Saharan Africa, since the onset of Covid-19.
In Africa, as with the rest of the world, physical magazines and newspapers are the least effective channels for creating sales.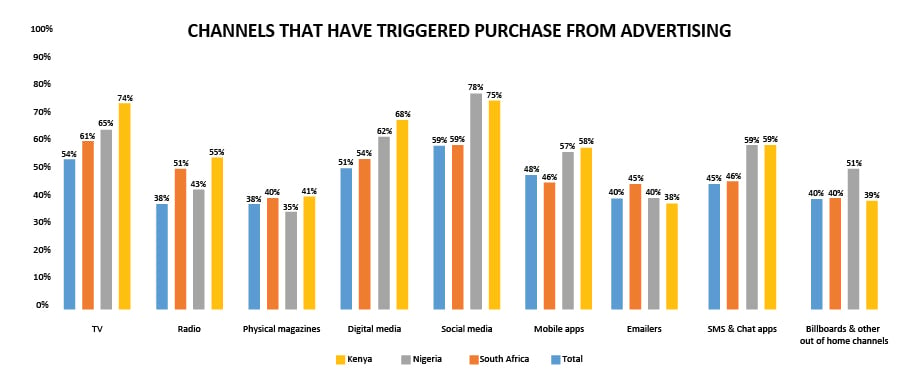 Going viral
Delving specifically into digital channels and the trust instilled in each of them, we see that South Africans and Kenyans follow worldwide patterns in that search engines are the digital channel they trust the most. This is likely because individuals exert a measure of control over the search process.
Nigerians, by comparison, trust social media the most of all the digital channels – as we saw earlier, this translates into high purchasing behaviour.
Direct marketing campaigns run through emails are the least trusted digital channel worldwide, including in Africa.

Digital trust
While there is no doubt that digital media platforms are taking over the way we search for information, shop or get the news, the majority of people surveyed still prefer a mix of digital and traditional media.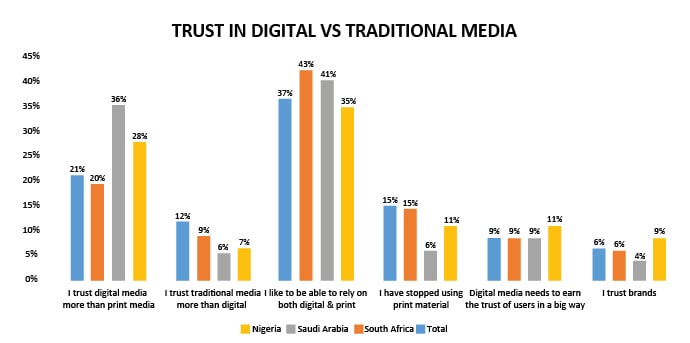 However, that figure is rapidly changing. When we asked people that claim to have stopped using newspapers and magazines altogether, 75% claimed to have done so within the last year, 25% since the onset of Covid-19. That number rises for African countries where 75% of Kenyans have given up print media since the pandemic.
Marketers should leverage the power of social media in Africa
If you want people to see your advert or to interact with your brand in Africa, digital media (particularly social media) is the way to go. In South Africa, Nigeria and Kenya, people are more likely to buy based on social media persuasion, than the global average.
They have left physical magazines behind. Traditional broadcast media (television and radio) are still powerful tools in this region compared with their impact elsewhere in the world – especially as a source of news. However, digital trumps traditional media with regards to triggering purchase, and marketers should leverage this strong tool in this developing nation.
Would you like to discover more about your consumers' media consumption and their rapidly changing habits? Then all you need to do is connect with us.