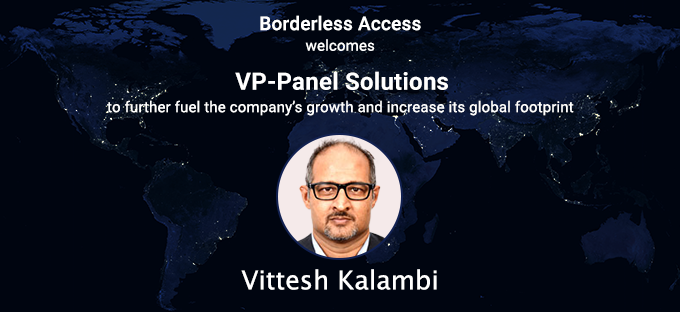 [Bengaluru, India, 16 August 2021] Borderless Access, the digital market research product and solutions company, announced a new appointment with Vittesh Kalambi as Vice President - Panel Solutions.
Vittesh Kalambi joins Borderless Access with over 18 years of experience in Research & Analytics and will now lead the Panel Solutions business across geographies with a strong focus on maintaining double-digit growth and momentum. He will also help enhance existing solutions and introduce new tech-enabled research products and capabilities.
In his previous roles, he has contributed greatly towards the development and execution of complex cross-functional projects in Global Category Management, Business Transformation and Team Management. At Genpact India, he co-led the MR Services for the Analytics CoE. He also led the Marketing Analytics practice at Absolutdata and was the Head of Analytics at GSK Consumer Healthcare, India.
"

The appointment of Vittesh is an extension of our pursuit to constantly grow our capacity and capability in key industry verticals, expand our regional reach as well as further empower our research and analytics capabilities", said Ruchika Gupta, CEO, Borderless Access. "We are thrilled to have him join Borderless Access. His business acumen and wealth of experience will be an asset to the company while expediting our journey towards our vision.''
About Borderless Access:
Borderless Access is an award-winning digital market research product and solutions company. It provides access to experiences and life moments of engaged consumers and niche audiences to a global clientele of MR firms, Ad Agencies, Consultancy firms, and End Enterprises in need of rich, intelligent, and actionable quant-qual insights through technology and consumer-analytics-driven new-age research solutions, BA Health, BA Insightz, HealthSight, SmartSight, Panel Solutions, and our proprietary 7 million+ hyper-niche digital panels across 39 growing and developed economies of the world.
Read More
Topics: press release, panel solutions, new appointment, borderless access