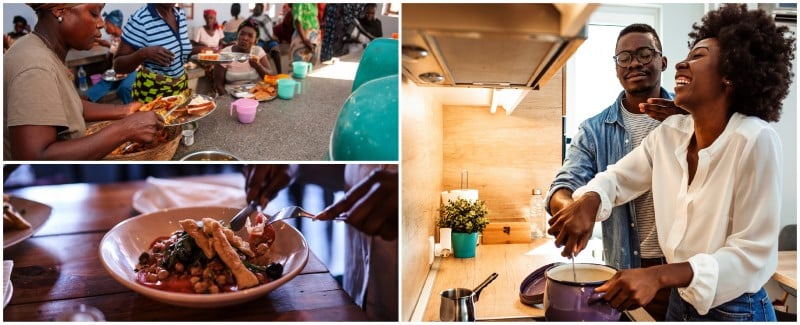 Over the past 18 months, COVID has forced many of us to reconsider what we previously thought of as healthy eating habits. Borderless Access surveyed people's changing eating habits around the world. Here we look at how people living in Sub-Saharan Africa (for this study we focused on Nigeria and South Africa) compared to their global peers, on this topic.
Sub-Saharan Africans are not health-trend followers
Worldwide, three-quarters of people have experimented with an aspect of their diet, with vegetarian preferences and low-sugar and low-fat options being the most popular. While almost 80% of Nigerians say they have tweaked their diet to some degree, around half of South Africans say they haven't made any changes. Globally, there has been a dramatic shift towards meat-free diets, with 19% of all respondents admitting they had sought out vegan options. By contrast, only 6% of South Africans and 7% of Nigerians had done the same. This may be a reflection of the importance that meat-based meals play in these two cultures. However, when we looked at the number of people looking to reduce the amount of meat they ate overall, Sub-Saharan Africa followed closely behind international trends.

The rise of ready-made meals and meal kits
Sub-Saharan Africans choose a ready meal from a grocery store for similar reasons as their global peers: these meals are convenient and are seen as a treat (the latter is especially true in Nigeria). They don't, however, choose such meals to explore new tastes - especially in South Africa.
Similar patterns can be observed when looking at meal kits delivered for preparation at home. In Sub-Saharan Africa these are seen as convenient cooking options. They are not seen as particularly creative choices.

Fresh produce boxes are less exciting to Sub-Saharan Africans than other consumers
Like people around the world over, in Sub-Saharan Africa, having a box of fresh produce delivered to their home is seen as a way of getting fresher and 'more organic' fruit and vegetables. While the rest of the world enjoys the variety that these boxes provide, this is less of a reason for choosing such a box in Sub-Saharan Africa -- perhaps because a range of fresh produce is more easily available for consumers in this region?
Rising food preparation trends
Keeping in mind the fact that COVID is still a concern for many, we take a look at what new food-preparation options people have embraced since the pandemic curtailed their access to restaurants. Nigerians overwhelmingly prefer fresh produce deliveries to meal kits, while in South Africa the reverse is true. Neither country is particularly excited by the ready meal offerings available to them in grocery stores.
While many people report enjoying having to cook at home more, this is particularly true of South Africans who have relished trying out new ingredients and recipes.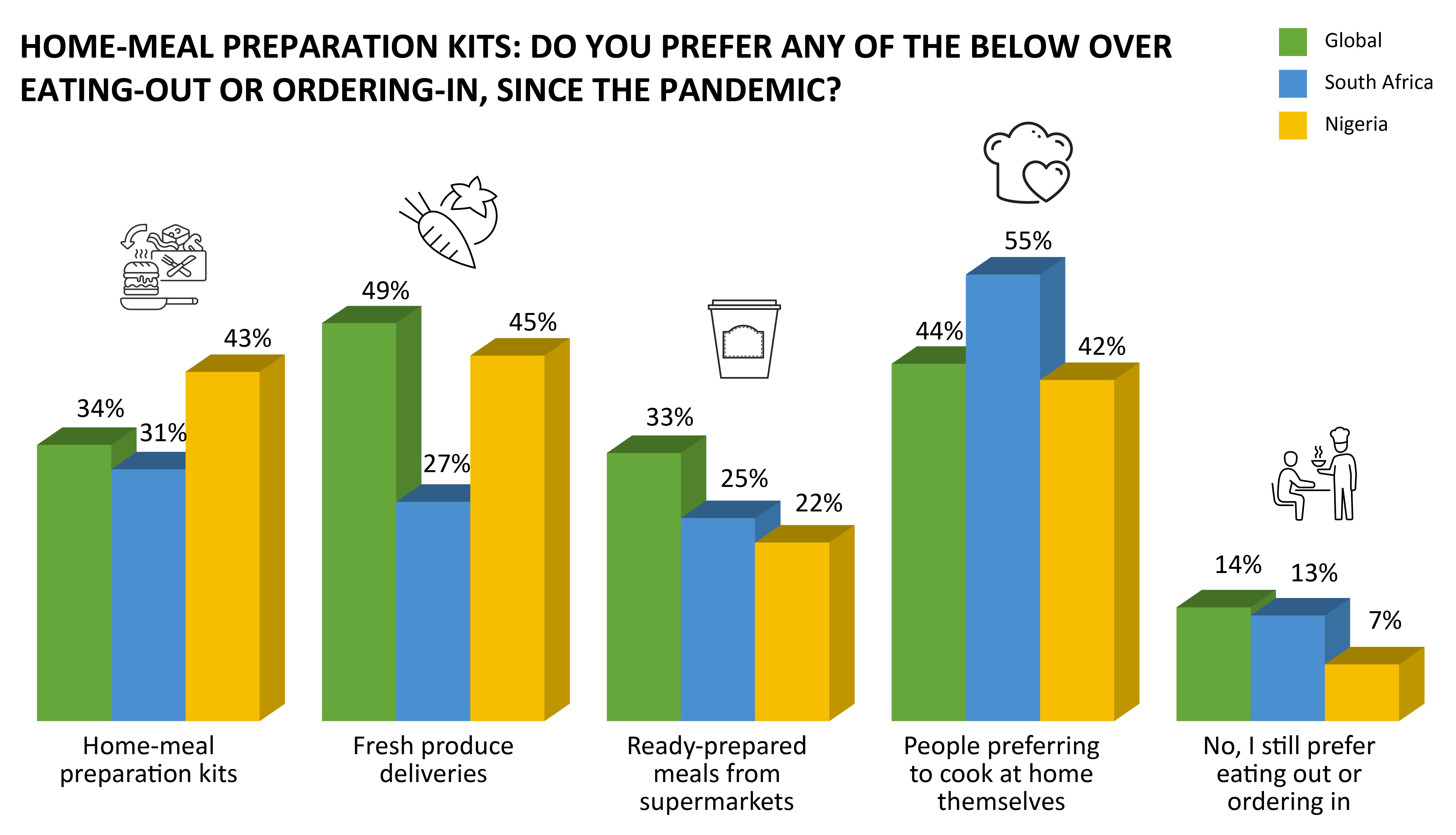 Where to for the restaurant and prepared food industry?
While meat is still an important part of Sub-Saharan Africans' food culture, there is certainly an awareness that it is becoming essential, be it for both health and environmental reasons, to eat less meat. The industry can tap into this trend in a measured manner: While recognizing and retaining the cultural importance of meat in this region, restaurants and prepared food options can offer meals that combine some meat with some non-meat alternatives, communicating the health (and cost) benefits of this more balanced approach.
Ready meals are still very much used for their convenience factor rather than as a way to try new tastes, flavours and variety. Perhaps an opportunity exists for ready-meal suppliers to entice consumers to use ready-meals as a way of trying new options, thereby expanding the reasons for purchasing ready-meals.
In contrast to this, South Africans in particular are open to trying new tastes and flavours when cooking for themselves at home. The home-meal preparation kit industry has room to further leverage this trend and continue to communicate and offer options for exploring new tastes from the comfort of one's own home.
---
Want to gain deep insights on changing consumer habits and the influencing factors. Speak to our experts >