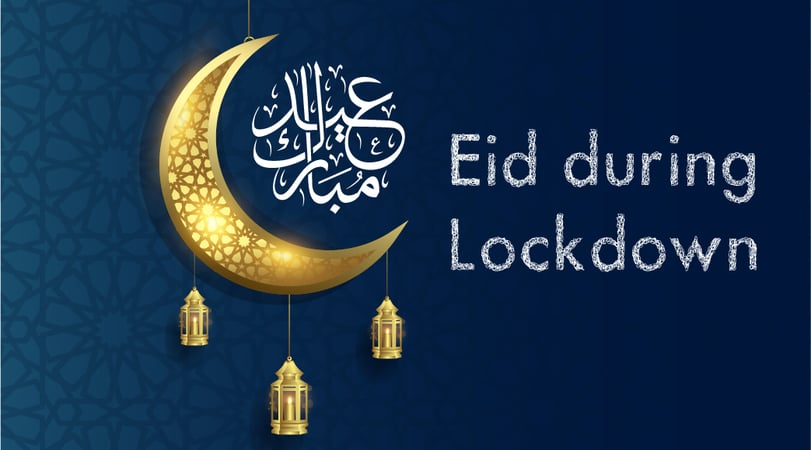 Festive celebrations amid the lockdown have been very different and unusual this year with people adopting new habits and new ways of celebrations. We noticed the impact of lockdown on Ramadan and the people celebrating it with our recent study. Hence, we continued our study to understand the effects of lockdown on Eid celebrations in Saudi Arabia, the UAE, and Egypt.
Over two-thirds of people feel that lockdown will have a big impact on Eid this year and that the festival will feel compromised due to lockdown. In the UAE this feeling is not as acute, with many believing the impact on Eid, and resultant compromise will be moderate.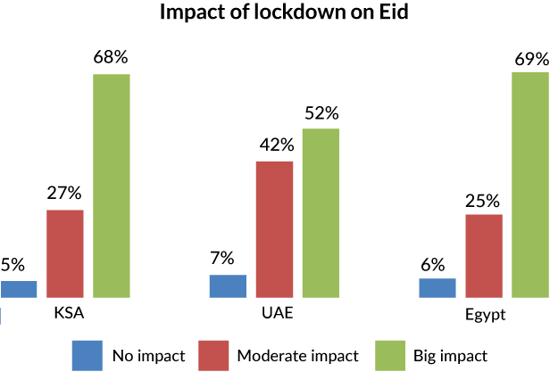 However, Muslims in all three countries agree that Eid will not feel the same as usual this year, this sentiment being particularly driven by Saudis and Egyptians.
Connections with family and friends will be digital this year
A resounding 74% of people across the three countries agree that they will miss seeing family and friends in person for Eid. Egyptians in particular feel that Eid will not feel as celebratory as usual this year. Saudis feel this concern too, but Emirates are fairly neutral about this particular worry.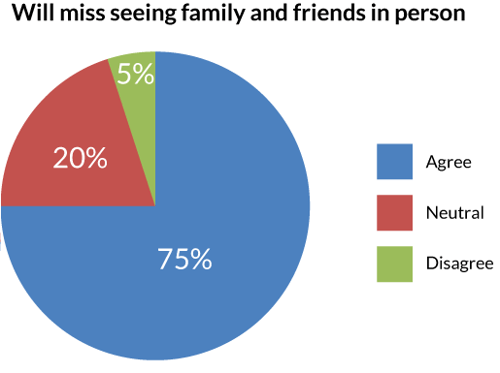 Over two-thirds of Muslims in Egypt and Saudi Arabia plan to make use of social media and online Eid celebrations more than usual, for this year's celebrations. Saudis in particular are finding ways of engaging with family and friends via digital interactions, with 61% interacting with their community in this way. Going forwards the pandemic will change digital behaviour globally, and brands will benefit from embracing this change by digitizing their offerings and systems as much as possible.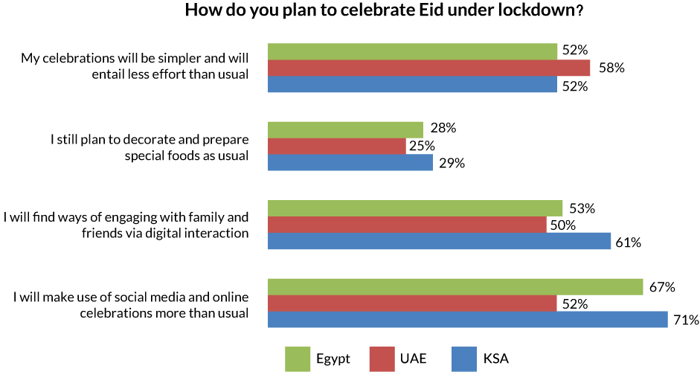 Saudis most concerned about availability of Eid ingredients
In Saudi Arabia, 35% of shoppers are concerned that they won't be able to find the foods that they want for Eid and are concerned that they have to change their planned Eid recipes this year as a result. However this concern is not shared by most shoppers in the UAE or Egypt.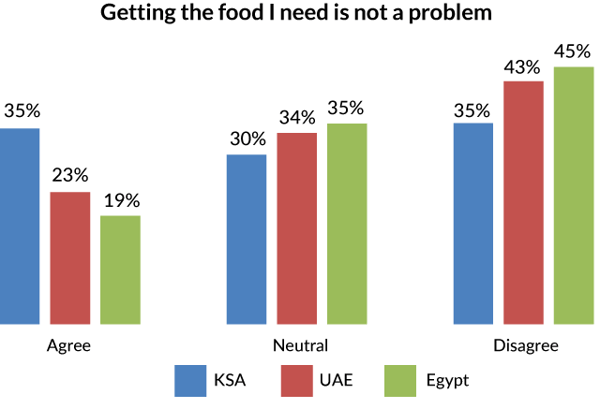 Less than a third of shoppers have stockpiled food for Eid, evidently linked to the fact that they are not finding it especially difficult to access the foods they need during lockdown.
Eid celebrations feel significantly toned-down
There is a definite sentiment in all three countries that people won't decorate or prepare special foods as much as they would in other years. Over half anticipate that their Eid celebrations will be simpler and will entail less effort than they would in non-lockdown years.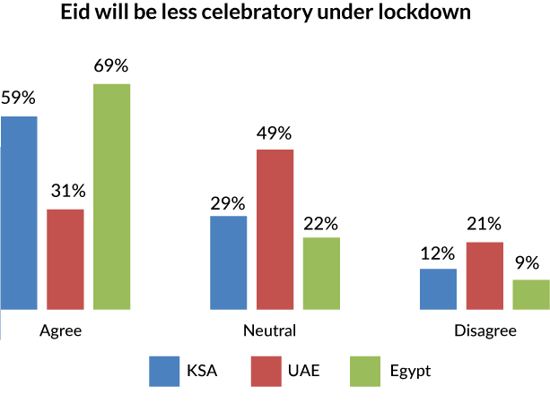 In general, people are finding it harder to wrap their heads around a lockdown Eid than a lockdown Ramadan, this being strongly driven by the fact that Eid is traditionally a communal festival to be shared with family and friends.
Visit our blog to read sentiments about observing Ramadan during the lockdown, and understand more about how brands can support consumers during the lockdown and beyond.

---
For more actionable B2B & B2C insights across various industries and other market research needs contact us.