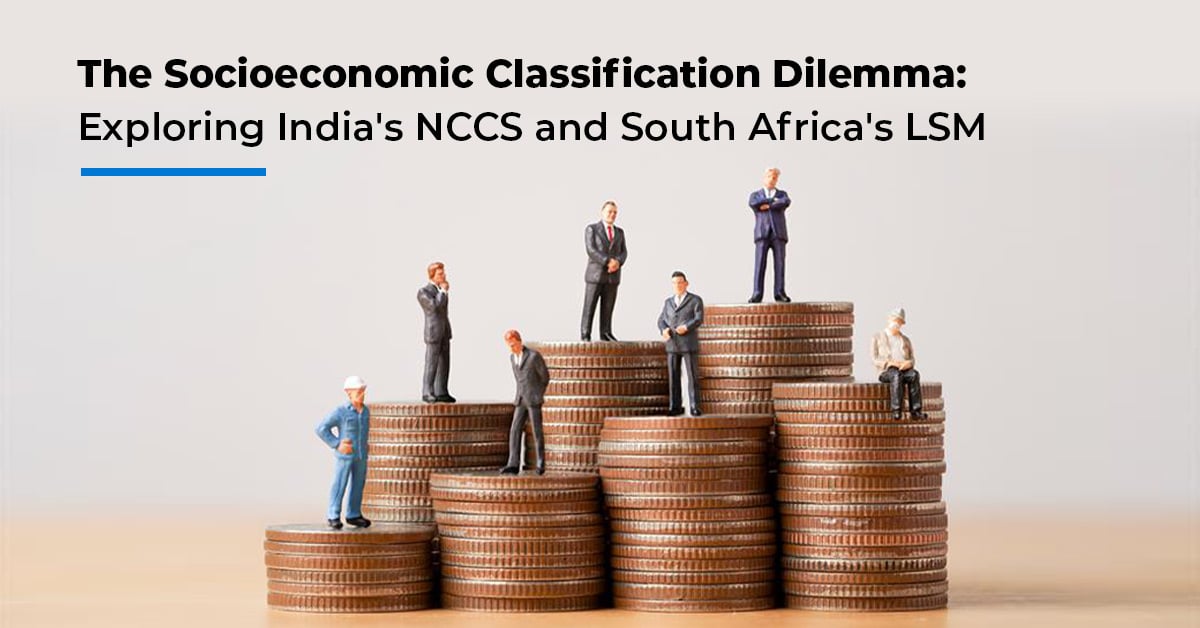 Developing economies are quintessentially marked by a rapidly changing socio-economic landscape, which constantly changes the threshold for socioeconomic classification in the market research industry. This raises the need for a regular review of the socioeconomic classification model to ensure relevancy given the pace of change.
Is NCCS relevant to the new India?
It has been well over a decade since the New Consumer Classification System (NCCS) was introduced by the Market Research Society Of India (MRSI) to replace the urban SEC classification created in 1988. While the NCCS model was a reflection of the reality back then, with transformations in the Indian economic landscape driven by increasing asset ownership, infrastructure development and government interventions over the years, there have been expansions of the upper classes and notable contractions of the lower economic strata, making the model inapt in multiple contexts.
NCCS classifies Indian households by using two parameters-the educational qualification of the chief wage earner and the number of assets owned from a pre-specified list. Based on these two parameters, in NCCS, each household gets classified in one of the 12 groups.
Image source: MRUC
Image source: MRUC
The missing pieces
With an increase in disposable income, the parameter of classifying households basis the ownership of the number of consumer durable assets holds limited value. Reports reveal that India's per capita income in nominal terms, or without adjusting for inflation, reached Rs 1.72 lakh in 2022-23 from Rs 86,647 in 2014-15.
The "How India Borrows 2022" report says that 75% of borrowers took credit to buy consumer durables, home appliances, home renovation, and business purposes. Possession of consumer goods may not correctly indicate the standard of living for households as the baseline has shifted and with one addition of a consumer durable product, the model can become volatile.
Let's look at some data to understand the transformation in Indian purchase behavior:
A 2021

report

says that 210 million households in India own a TV set, an increase of 6.9% from 197 million in 2018.
Image source: Indian Readership Survey Q4 2019
It is clearly evident that while a decade back, possessing consumer items like TVs, ACs, and washing machines was considered a differentiating factor between economic classes, now such lines are getting blurred.
Infrastructure development and Gov Policies
India has witnessed significant strides in infrastructure development driven by robust economic growth, urbanization, and proactive government initiatives. As per the India Residential Energy Survey 2020, nearly 97 percent of Indian households are electrified. The percentage of households that use electricity as the primary lighting source has risen from 26 in 1980 to 97 in 2020.
Policies like Pradhan Mantri Ujjwala Yojana (PMUY) have helped active domestic LPG consumers reach 31.36 crore as of March 2023 compared to 14.52 crore in April 2014.
With transformations like these, parameters such as LPG stove possession or electricity connection now may not be the right indicator to categorize economic class in present-day India.
MRSI has mentioned that the New Consumer Classification System had become highly volatile (just one new asset could change the NCCS) – In many cases NCCS changes between listing, recruitment and empanelment. This issue is a recurring challenge with online panels as well. It's not uncommon to observe shifts in NCCS profiles, transitioning from initial profiling to survey responses, which sometimes poses a significant challenge in effectively targeting NCCS groups, particularly those in the lower NCCS.
It has identified the shortcomings of the model and has proposed a new system

called ISEC (Indian Socio-Economic Classification)

in 2018 with an objective of rectifying these issues. It is built based on the occupation of the chief wage earner, education of the highest educated male and the highest educated female.

The test conducted by MRSI found ISEC to be much more stable and differentiated than NCCS.

However, it's

still in its agenda for adoption and is not implemented yet.

Hence majority of the market researchers still rely on NCCS in India.
Relevancy of LSM in South Africa
Developed in the 1980s, the Living Standards Measure (LSM) divides the South African population into ten groups. The variables at that time included the possession of various durable items in the household, access to water and electricity, use of various media and a wide range of demographics including population group, income and education.
Over time, the variables used in the classification changed, and only those with the greatest discriminatory power were identified and selected. Like the New Consumer Classification System , LSM oversimplifies the South African household by directly correlating ownership of consumer durables with economic well-being.

It categorizes rural residency within the lower LSM range while positioning urban living at the higher end of the spectrum. Nevertheless, that left a significant room for enhancement, particularly due to the reducing gap between rural and urban lifestyles brought about by technological advancements.
Many economists also contend that durable ownership may not consistently mirror the standard of living, particularly considering that a significant portion of South Africans carry substantial debt and often spend beyond their financial means.
Image source: CEIC
With LSM losing its significance, the industry worked towards developing a new model - Socio-Economic Measure (SEM) system. Establishment Survey (ES) was conducted for the industry in 2016, funded by PRC (Publisher Research Council) and BRC (Broadcast Research Council) which showed that LSM reveals only 6% (1 in 17 houses) to be in the LSM 1-3 group and a massive middle class, which goes against existing income inequality in South Africa. At the same time, SEM reflects 44% or 1 in 2.3 households in the SEM 1-3 group.
Image source: The Establishment Survey 2020
The ES 2020 survey found that the LSM shows that 4 percent is in the bottom LSM 1-3 group, while SEM reflects 37 percent of households in the SEM 1-3 group.
This led the industry body to suggest moving to SEM. While there is some adoption of the new model, it has been slow with the majority still using LSM.
Learnings from other developing economies
KSA & UAE
These nations have historically employed an SEC system that factors in various aspects such as main occupation, type of housing, number of cars, and the number of servants/drivers. However, with the evolution of these economies, most researchers and agencies in the region have transitioned from using the SEC system to using monthly household income or similar parameters as a more contemporary and effective means of understanding socio-economic class.
Re-evaluation is the need of the hour
While bringing out the NCCS, the MRSI mentioned that consumer durables penetration will change faster than education or occupation. That is indeed the case with India.
Today, technological advancements, globalization, government policies and shifting employment landscapes have shaped the new India differently and it's challenging the very foundations of these outdated classifications. My interactions with several industry experts in market research has laid emphasis on the need of the hour which is to challenge the status-quo and integrate changes to reflect the reality of Indian households.
As I reflect on India's NCCS and South Africa's LSM, I see an opportunity for a fresh perspective. The proposed systems such as the new ISEC for India or the SEM in South Africa are not just theoretical; they represent a tangible shift towards a more accurate reflection of our socioeconomic realities.
I believe that as an industry, we have a responsibility to foster dialogue, challenge established norms, and explore new paradigms. It's time for us to embrace these new systems, or even contribute to their refinement, in order to better understand the diverse and evolving demographics of our markets. Together, we can steer the wheel towards a more adaptive, insightful and inclusive future.