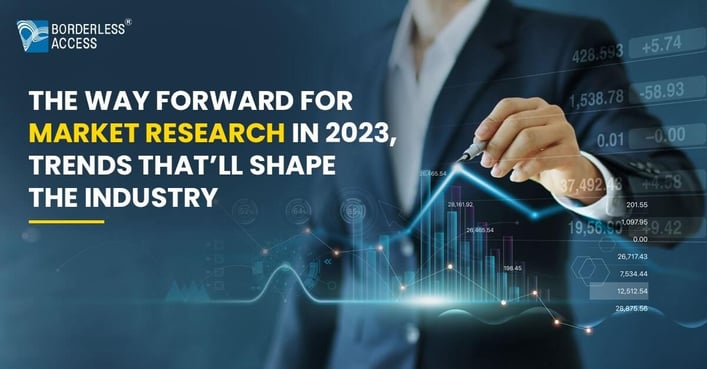 Defining consumer preferences is always a demanding yet stimulating task. In a post-pandemic world where enormous data, advanced technology and a global audience pose a staggering challenge for digital market research, the industry has smartly moved beyond all these challenges in 2022 with a hybrid approach. The shift from offline to online offered a new outlook on evolving consumer behaviours.
Creating an engaging customer experience will be a major highlight in 2023. Artificial intelligence and intuitive dashboard designs will seamlessly enable it. In-store shopping is also set to transform as businesses are creating a novel retail experience. 2023 will also witness a harmonious sync of integrated online-offline customer activity.
Here's a quick look into the prominent trends featured in this blog:
Empathy-driven customer insights - Market research helps bridge customer insights to brand experience. Empathy is what connects brands to customers. And positive research results are an outcome of positive participant experience.
AI-ML Driven Research Solutions - Innovations help brands to sustain and perform in challenging markets. Artificial Intelligence is opening many doors to generate superior-quality insights. This evolving field offers fantastic opportunities to improve customer experience and business processes.
Tech-enabled Market Research with Wearables - Wearables and smart devices are conventional consumer gadgets with remarkable research potential. They non-intrusively collect metrics that form critical consumer attributes. They carry advanced features that help to enhance the customer experience.
Observational Market Research via Consumer Neuroscience - Applying consumer neuroscience principles to market research opens up a brilliant new dimension of understanding behaviour patterns and consumer choices. This interdisciplinary field forms a fascinating and transformative market research approach.
1)New - Empathy - Driven Market Research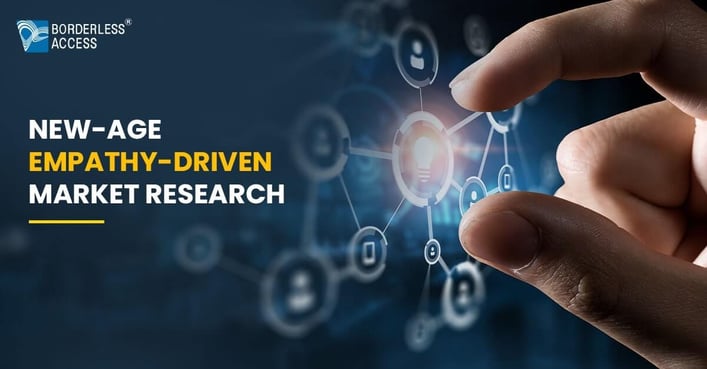 Empathy is a central pillar on which the brand-consumer relationship builds. It also gives researchers an understanding of developing products that resonate with customers. From a broader perspective, this powerful emotion streamlines processes and drives marketing.
Awareness of routine consumer problems is a starting point for developing empathy. Divergent thinking is a great tool that assists teams in figuring out potential solutions. It allows you to be creative and come up with varied alternatives. Further, convergent thinking will help them in narrowing down the best solution.
With the latest innovations, researchers now gather insights using online community platforms similar to social media. It helps them capture consumer choices through rich data sources like photos and videos. The convenience of smart devices makes interaction efficient. Empathy evoked during in-person interaction replicates in online environments.
As more market research companies embrace agile qualitative research in 2023, there will be more reliance on tech-enabled solutions that build empathy for gaining consumer insights. They'll aim to gain a deeper context behind consumer choices that aren't answerable on questionnaires.
Borderless Access also aims to blend empathy with innovation to generate insights that clearly convey customer aspirations.
Empathy research helps brands craft messages relatable to their consumers. In the coming years, more market research solutions will emphasise consumer empathy with agile research.
2)The Next Phase of AI-ML Powered Market Research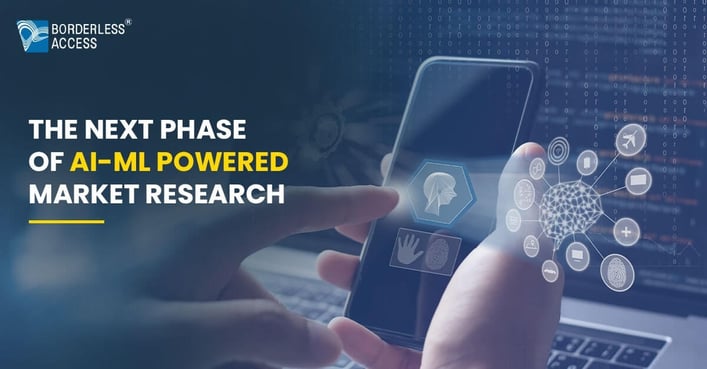 AI Building Consumer Personas
Consumer cohorts are created based on purchase and behaviour patterns. Now, we can use AI to build customer personas and transform operational data into experience data. The consumer attributes derived from the customer personas define the consumers' aspirations and brand preferences.
AI-ML modules help brands know the drivers behind repeat purchases. They also convey at what stage the consumers are in the life cycle. The data from these techniques give a holistic business perspective to make better decisions. In 2023, we will see an advancement of AI and ML to gain such insights.
AI Integrating Offline-Online Buyer Experience
AI-based solutions are bridging the broken journeys of customers by creating an integrated online-offline buying experience. Such solutions help physical stores compete with E-commerce giants and also help retailers become more efficient. With footfall and demographic analytics, AI helps stores plan richer customer experiences.
Retail chains are also using AI to generate engaging customer experiences. They're studying consumer behaviour with advanced methodologies to offer the most preferred products and experiences. Based on customer profiles having behavioural data and purchase history, the store aims to create an optimal shopping environment.
AI Leading Transformation in Market Research and Data Analytics
AI driven community management has become the new norm to engage with respondents participating in quantitative research. The insights obtained by the AI-ML programs allow for optimising response and engagement rates.
AI-ML can also strengthen the trust between research firms and businesses. The programs can accurately predict future trends from historical behaviour, thus allowing for optimization with demand-supply equations.
3)Wearables and Their Market Research Potential - Food for Thought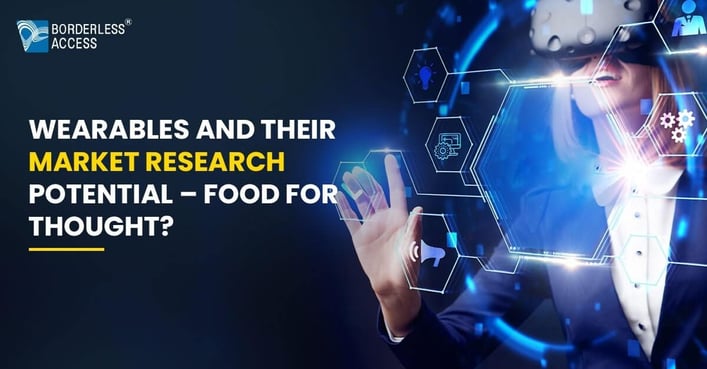 With evolving technological innovations, the market research potential associated with those innovations also evolves in parallel. One such intriguing phenomenon driving the researchers is the widely adopted wearable technology. These devices are getting prominently featured in the current health-conscious urban society.
Wearables overly appear like consumer products but carry untapped potential for businesses. There is a lukewarm fascination among researchers now but going forward it is predicted to pick up.
Tracking health metrics is the top feature of these devices. It provides a layer of understanding of consumer lifestyle. These metrics can also be monitored to test the response displayed by the consumer to a particular variety of marketing messaging. The collective responses can later be analysed to create appealing marketing and brand content.
The passive data collected by wearables can also inform us of the probability of consumers watching ads, by tracking their sleep patterns. This also gives us a glimpse into the possible time they're consuming media or surfing the web. Location data is also incredibly critical for new-age market research. GPS tracking and its analysis give essential insights into consumer behaviour for brands.
Wearables enrich observational research. If they're embedded with advanced features they also give an accurate assessment of the customer experience.
This research trend will be adopted by more researchers in the coming years for its convenience factor. Automated data collection generates a positive experience for researchers by eliminating rigorous observation and management. The whole setup enables early analysis for course corrections or shifting the strategies for brands.
4)Consumer Neuroscience – A Giant Leap in Digital Transformation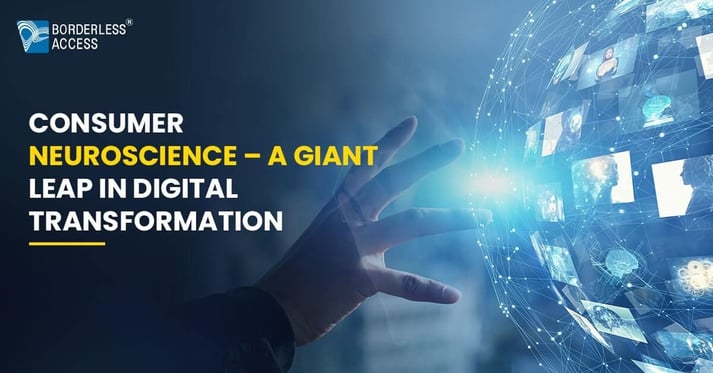 The post-pandemic world redefined market research with unique transformations with an innovative blend of technologies. The obvious emphasis on technological alternatives drove the research projects.
One emerging area carrying fascinating possibilities for businesses in 2023 is consumer neuroscience. Digital transformation in research has powered this niche area to exceptionally deliver rare insights into consumer behaviours.
Consumer neuroscience is a remarkable milestone in observational market research. It relies on an interdisciplinary approach of applying neuroscience principles to marketing and behavioural studies. The amalgamation of all these aspects converges to form neuromarketing.
Consumer neuroscience aims to tap into unconscious elements behind consumer decision-making. It provides a detailed explanation of consumer behaviour after careful analysis of physiological and psychological brain processes. Such brain activity is monitored and tracked using advanced tools. It is achieved by non-invasive brain imaging and magnetic resonance.
The outcomes of such research extend beyond consumer behaviour insights and customer segmentation. It can also contribute to improving product design, product development and branding. The benefits of consumer neuroscience widen the scope of research normally restricted to quantitative methods and data analysis. It transforms inputs into applicable and market-oriented recommendations.
Concluding Thoughts
Market Research trends evolve to be in sync with the changing business, socio-economic and geo-political priorities. Every New Year, research platforms up their game to ensure a seamless research experience by integrating various research attributes in a single place.
The implementation of agile processes to ensure more speed and efficiency will be adopted by many marketers in 2023. The reliability and authenticity of insights will be enhanced by advanced and automated tools.
The research trends are also increasingly leaning towards smartphones, social media and AI powered DIY research platforms. It will be a fascinating year to see what research techniques will best anticipate the consumer's wants and help brands reign high in the market.