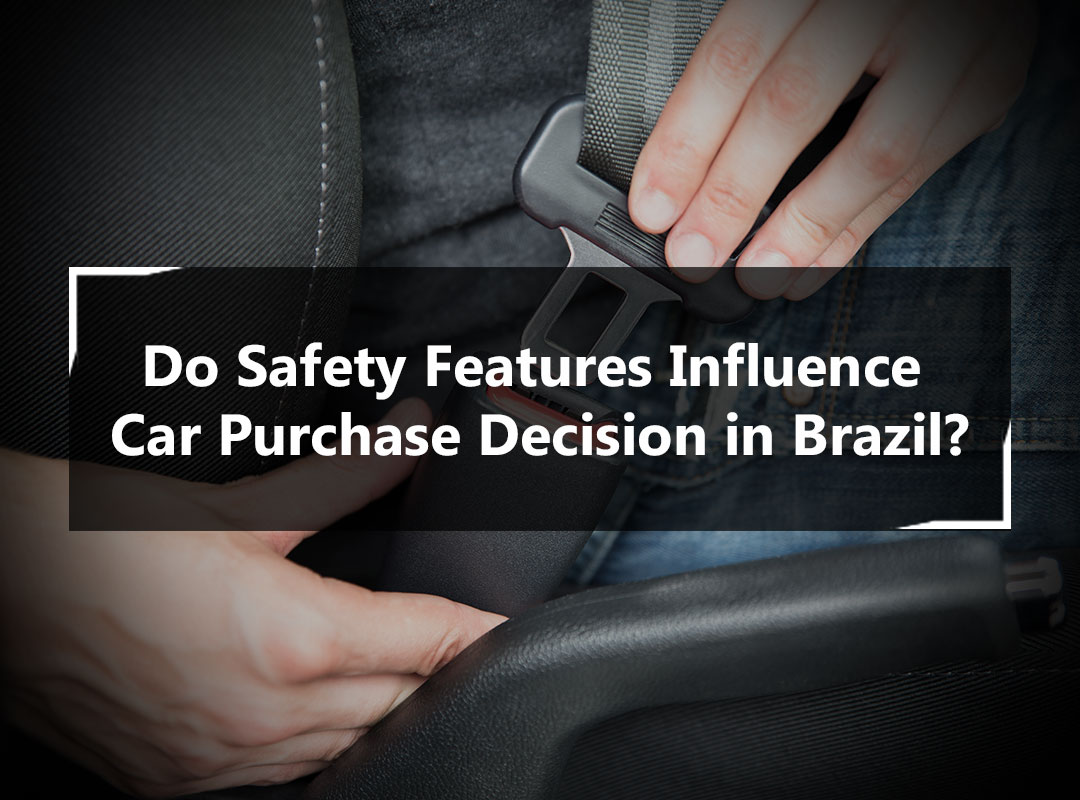 As per Brazil's National Road Safety Plan 2019-28, the federal government aims at reducing the road traffic death rate by 50% per 100,000 population.
In line with this national goal, automobile brands are making efforts to manufacture safer passenger vehicles. Efforts by Latin NCAP are also a positive step in this direction, which involves crash testing cars and rating them based on how well they protect occupants. These and other measures are helping increase awareness among consumers about road safety and the importance of owning safer cars.
To learn more about consumers' perception regarding automobile safety and how safety ratings and safety features influence their purchase decision, Borderless Access conducted an online study in India and countries in South America and Africa. This blog highlights the research findings from Brazil, one of the top ten largest automobiles markets in the world.
Are people in Brazil aware of automobile safety ratings?
Crash test-based safety ratings shed light on how cars perform in real-life accident scenarios and how well they protect their occupants.
The question here is, are consumers aware of these ratings and how likely are they to make a purchase decision based on safety ratings? According to our study, consumers in Brazil are highly aware of automobile safety ratings.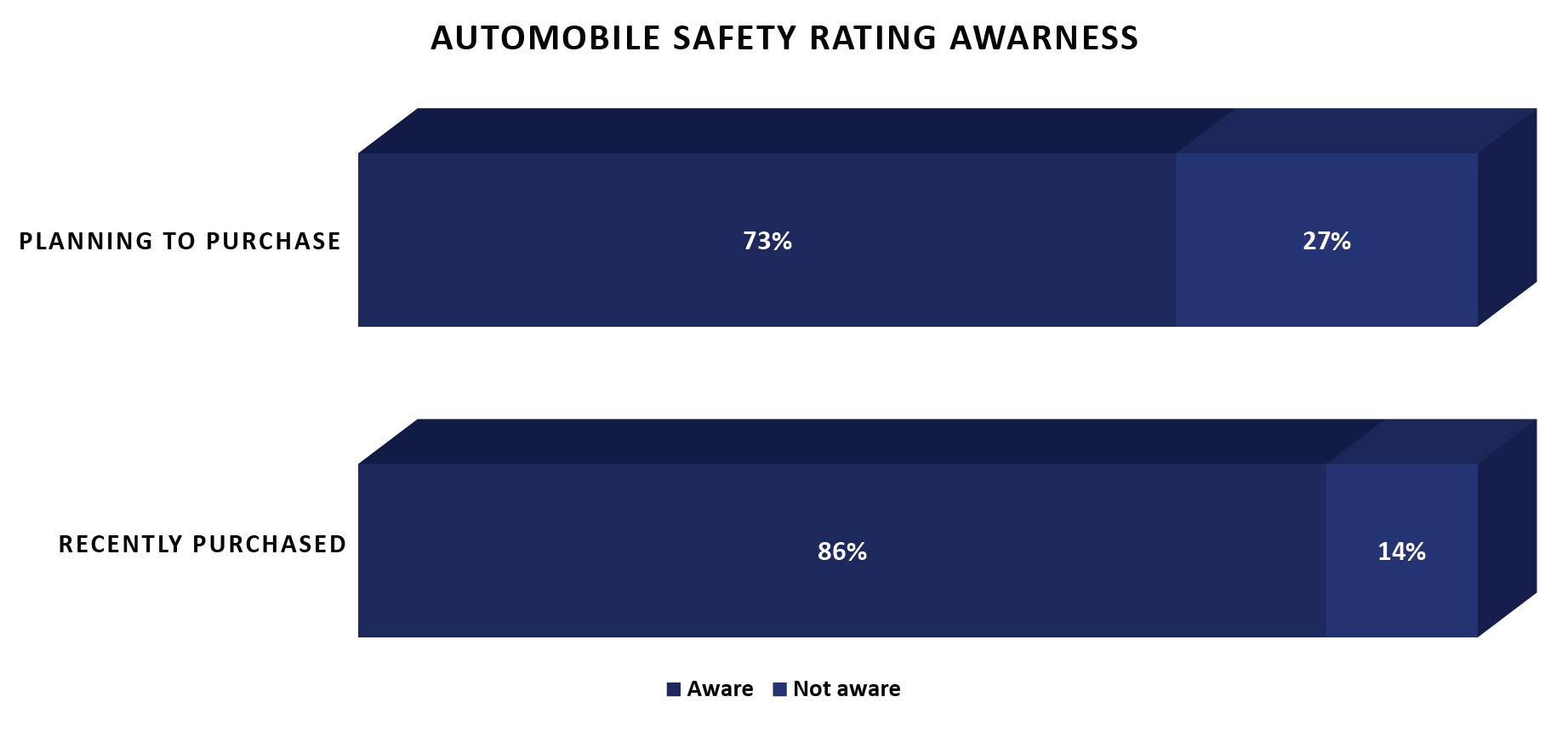 Brazil has been recording an alarming number of road crashes for a while now. Hence it is not surprising that more potential car buyers, in comparison to those who have already purchased a car (but were unaware of safety ratings at the time of purchase), are considering paying more for a car with better safety ratings.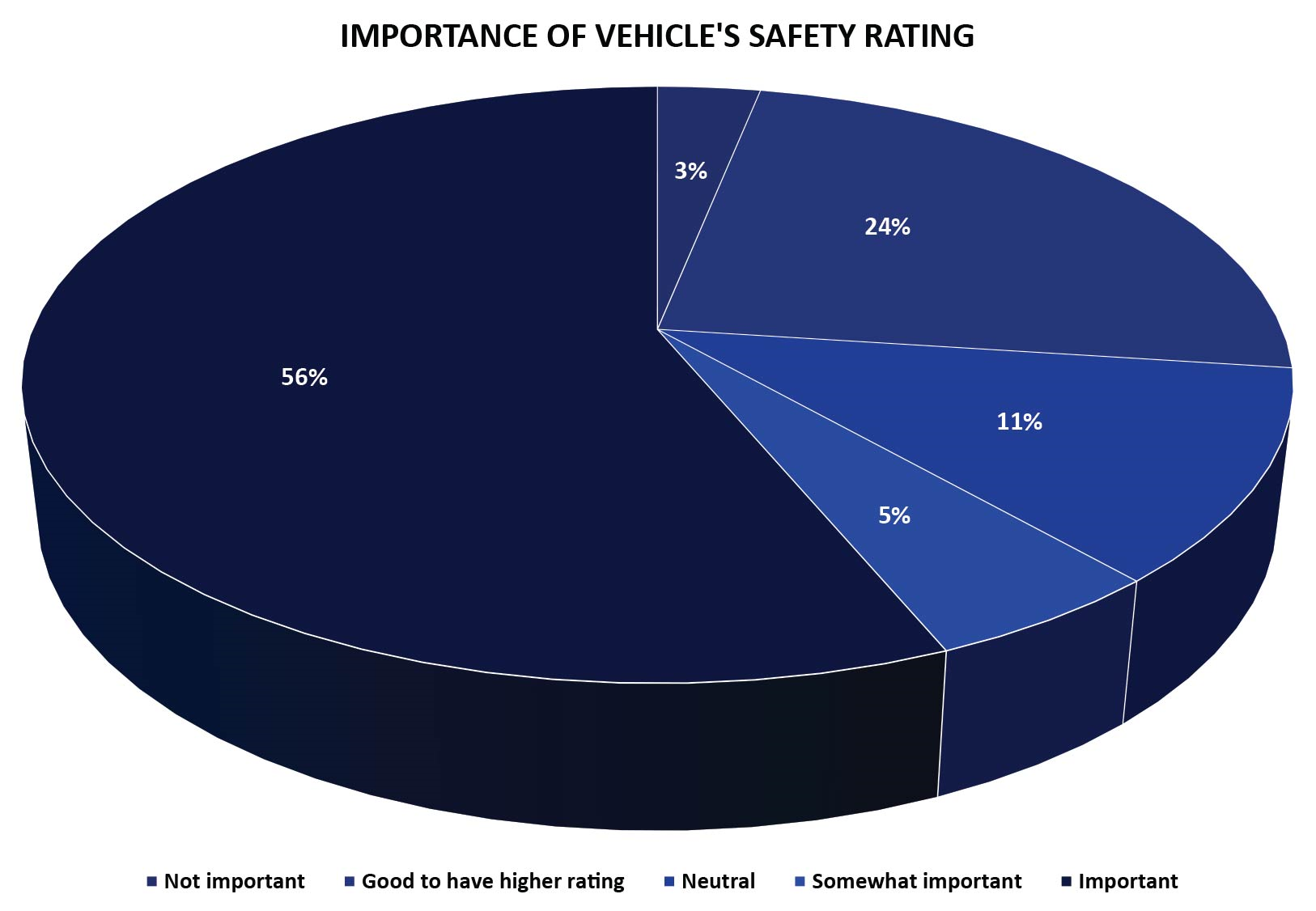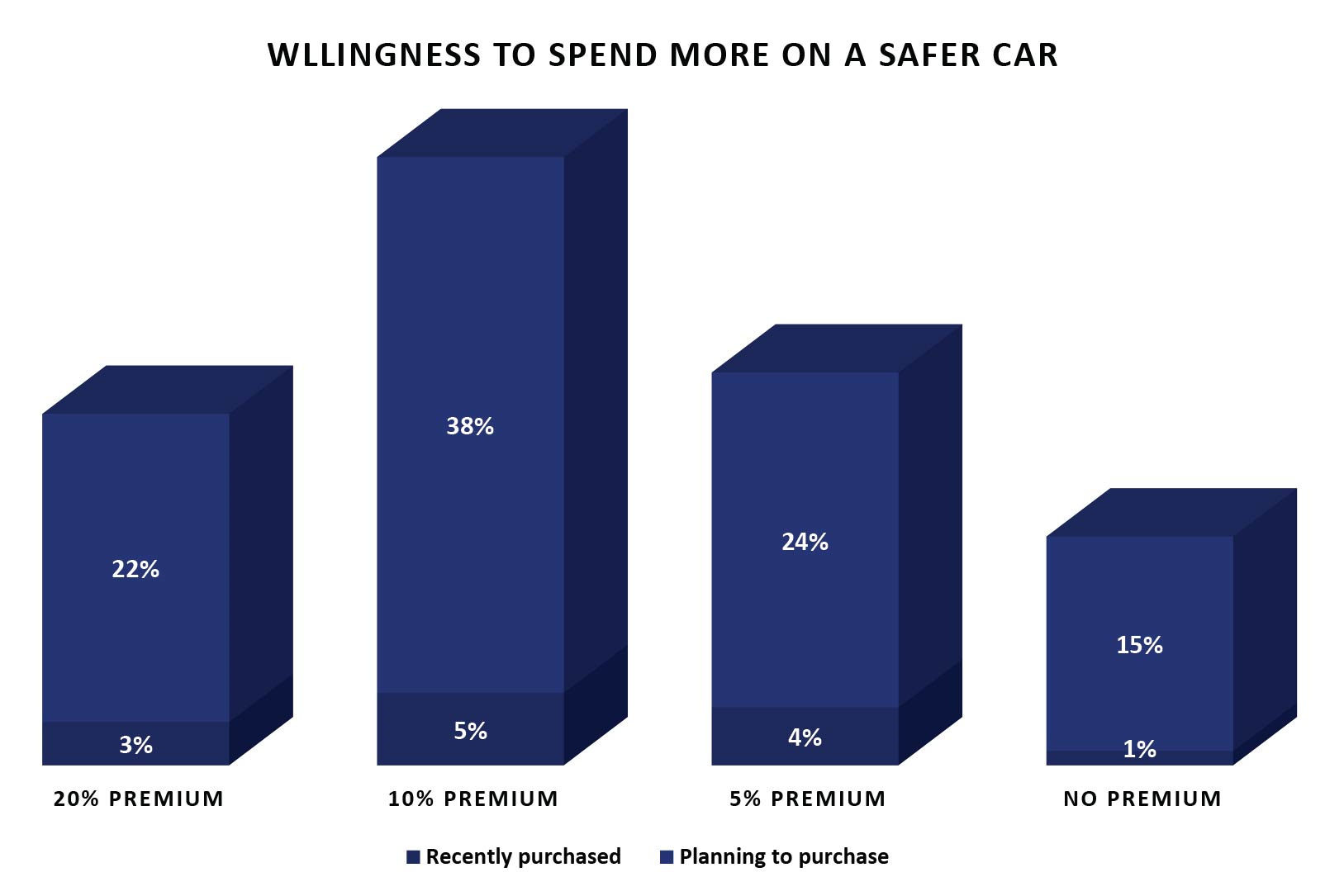 On the other hand, a significant percentage of existing car owners did not pay extra for a safer car.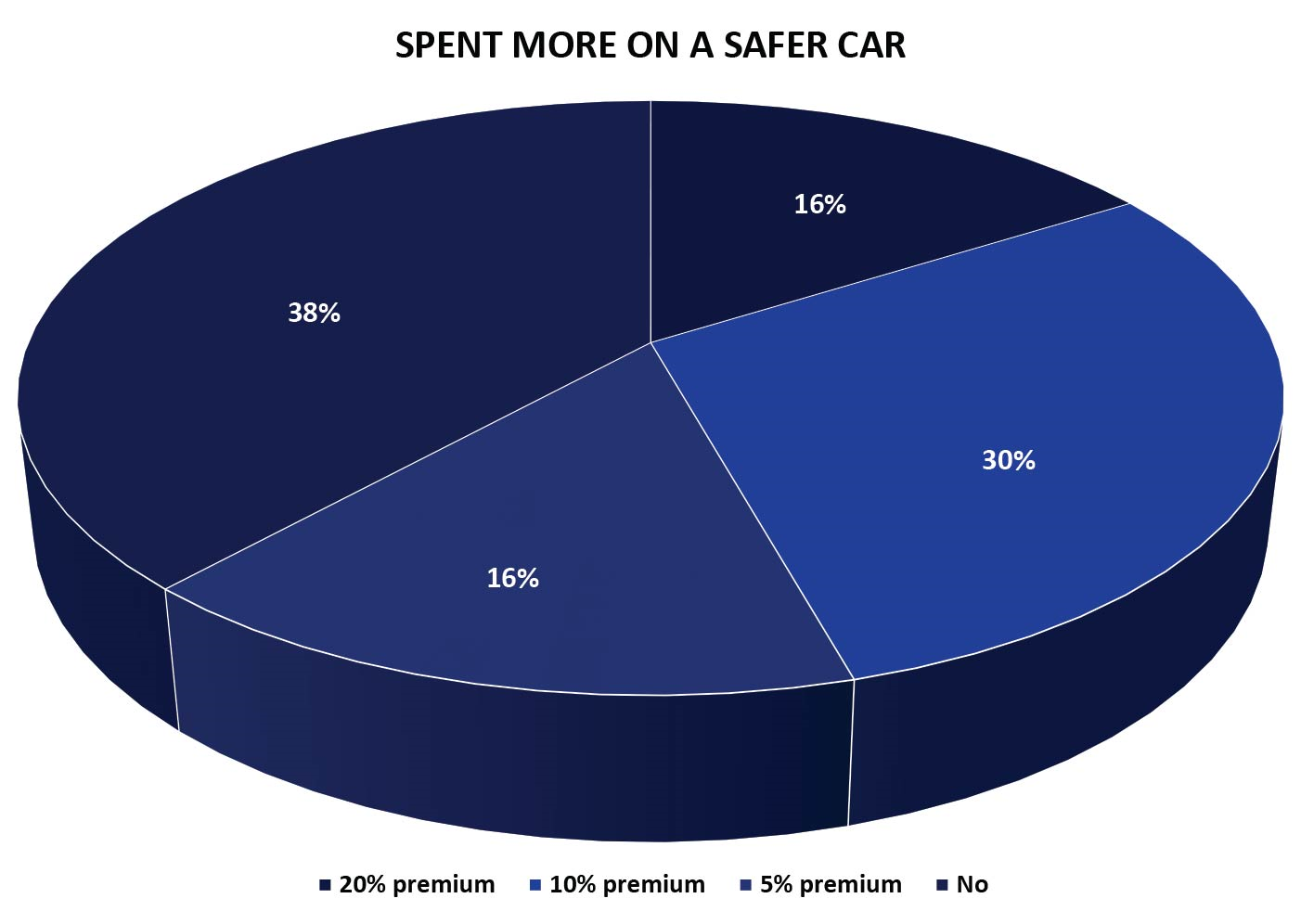 Airbags are the most sought after safety feature
Airbags as a safety feature are now available in almost all cars across variants and price ranges. Our study reveals that Brazilian consumers gave airbags the highest importance even over fuel efficiency while making the purchase.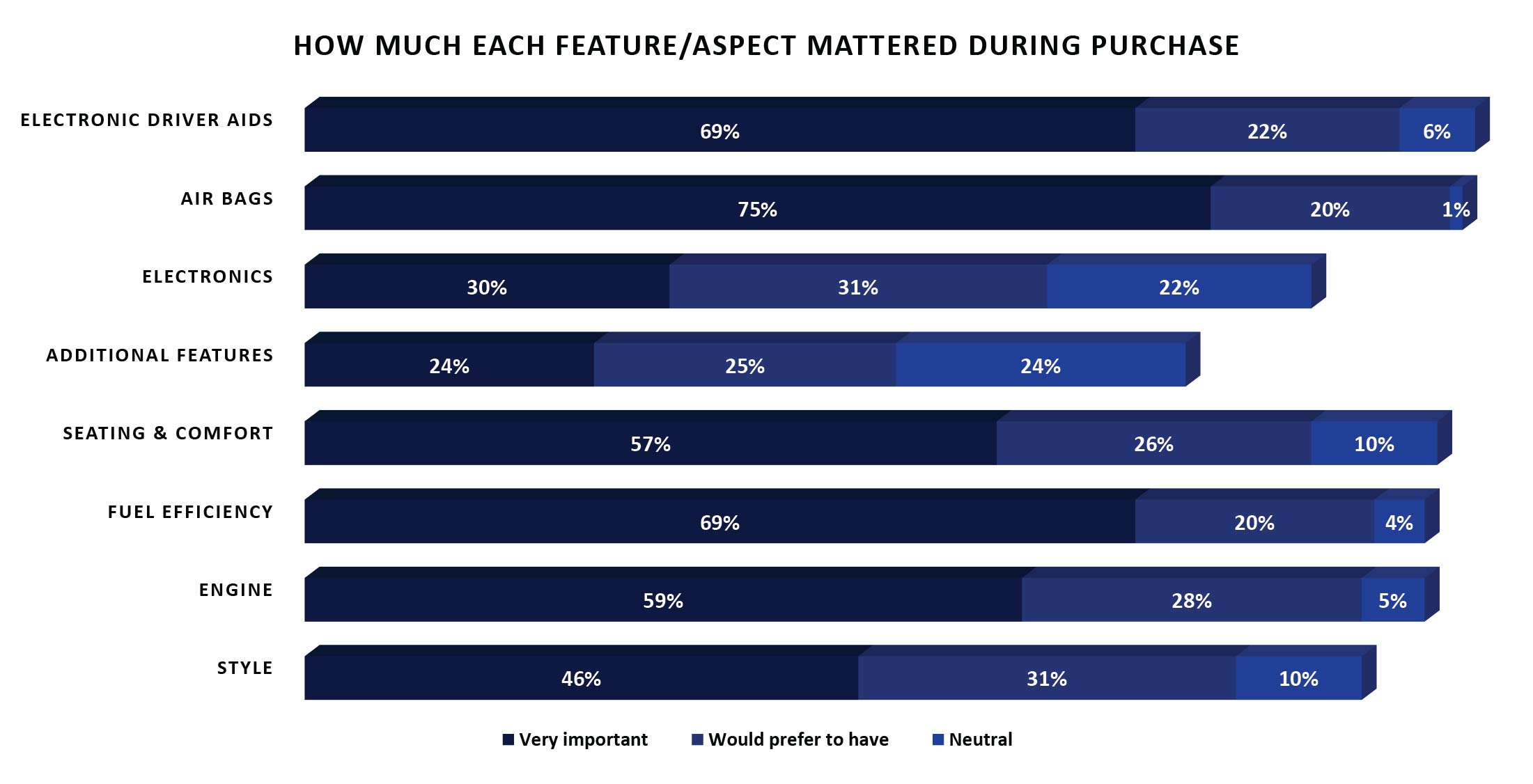 Consumers also considered electronic driver aids (EDA) while purchasing a car. Furthermore, the most demanded EDA is anti-lock braking system (ABS).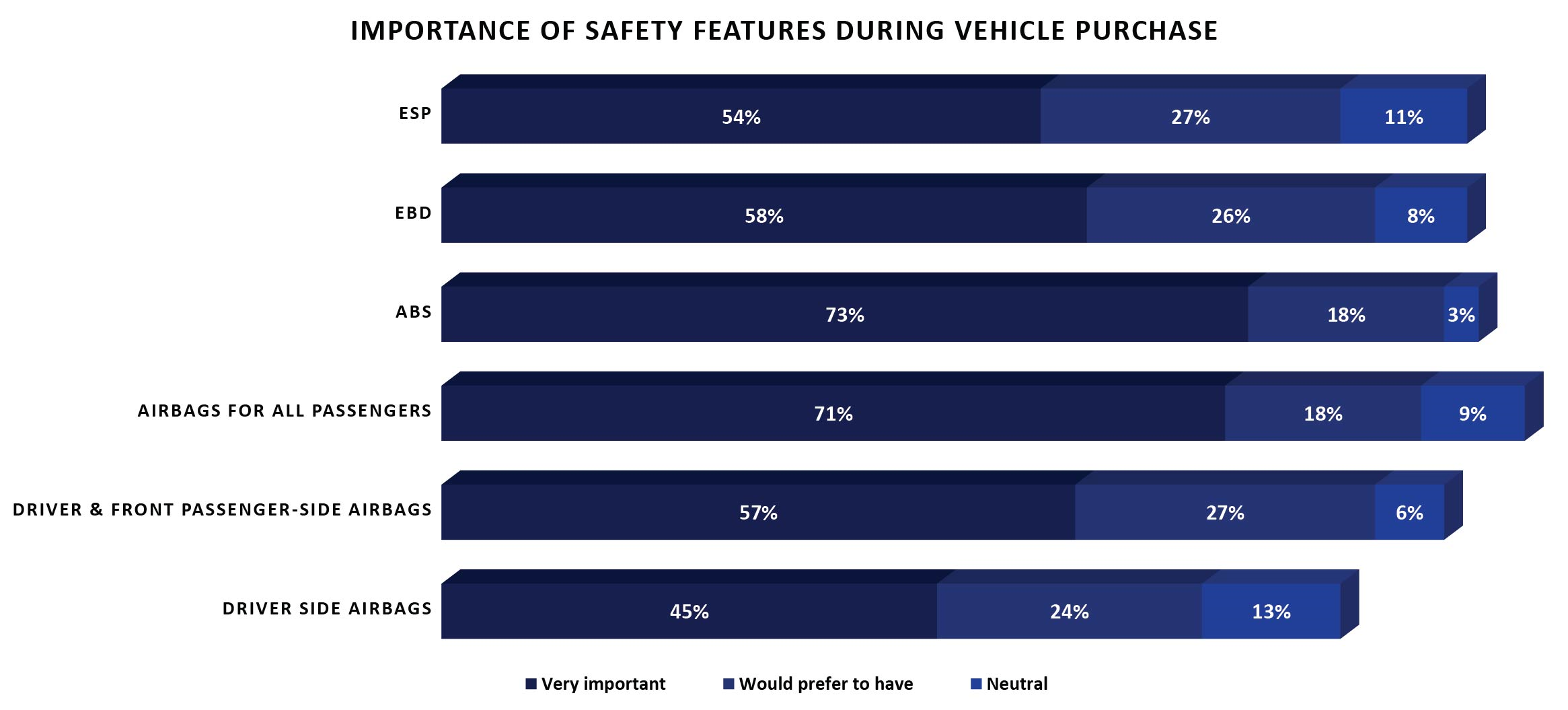 The need for a safer car equals the need for a fuel-efficient car
People planning to buy a car soon has given equal importance to airbags and fuel efficiency. In particular, the respondents consider airbags and EBAs to be of particular importance compared to other aspects of a car while considering a car purchase.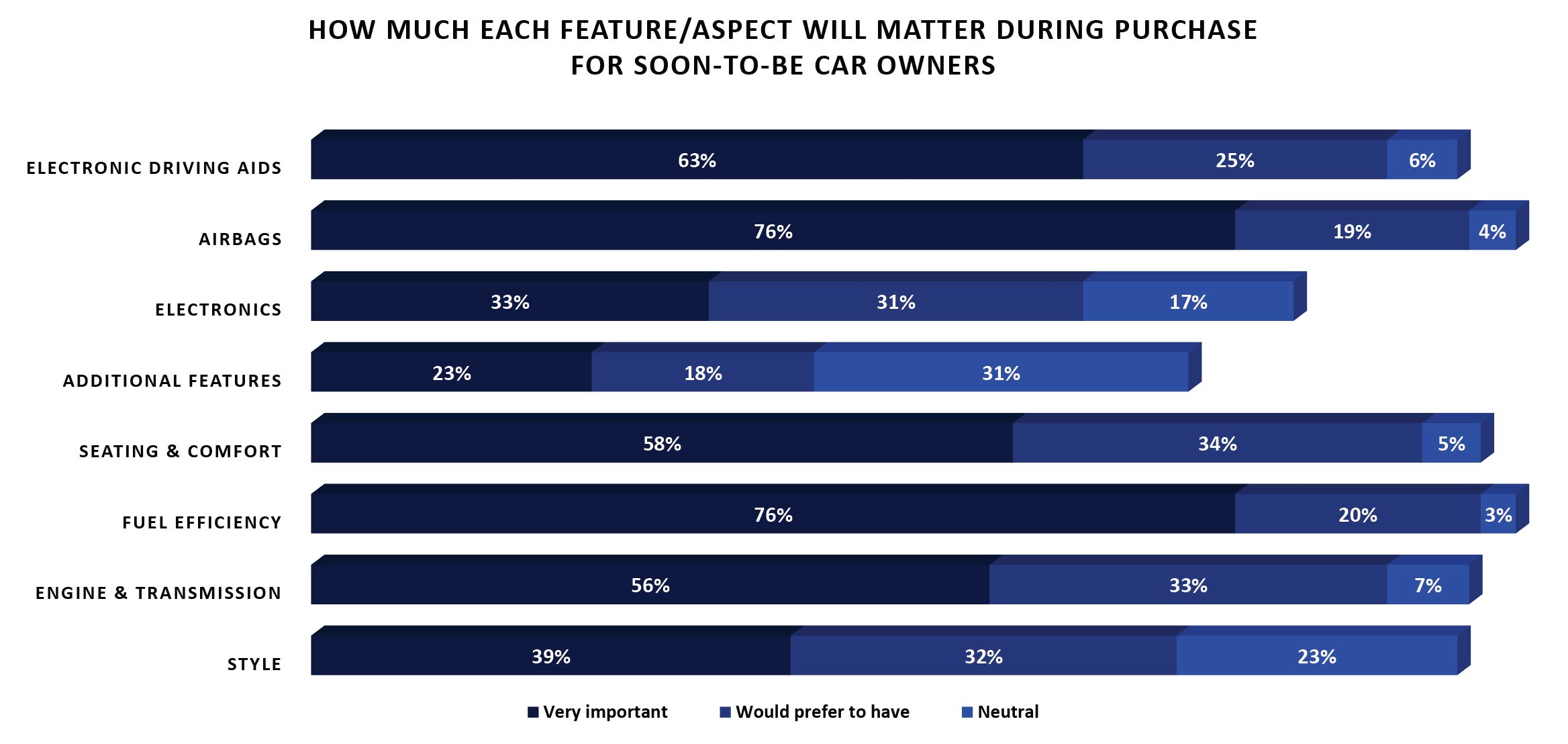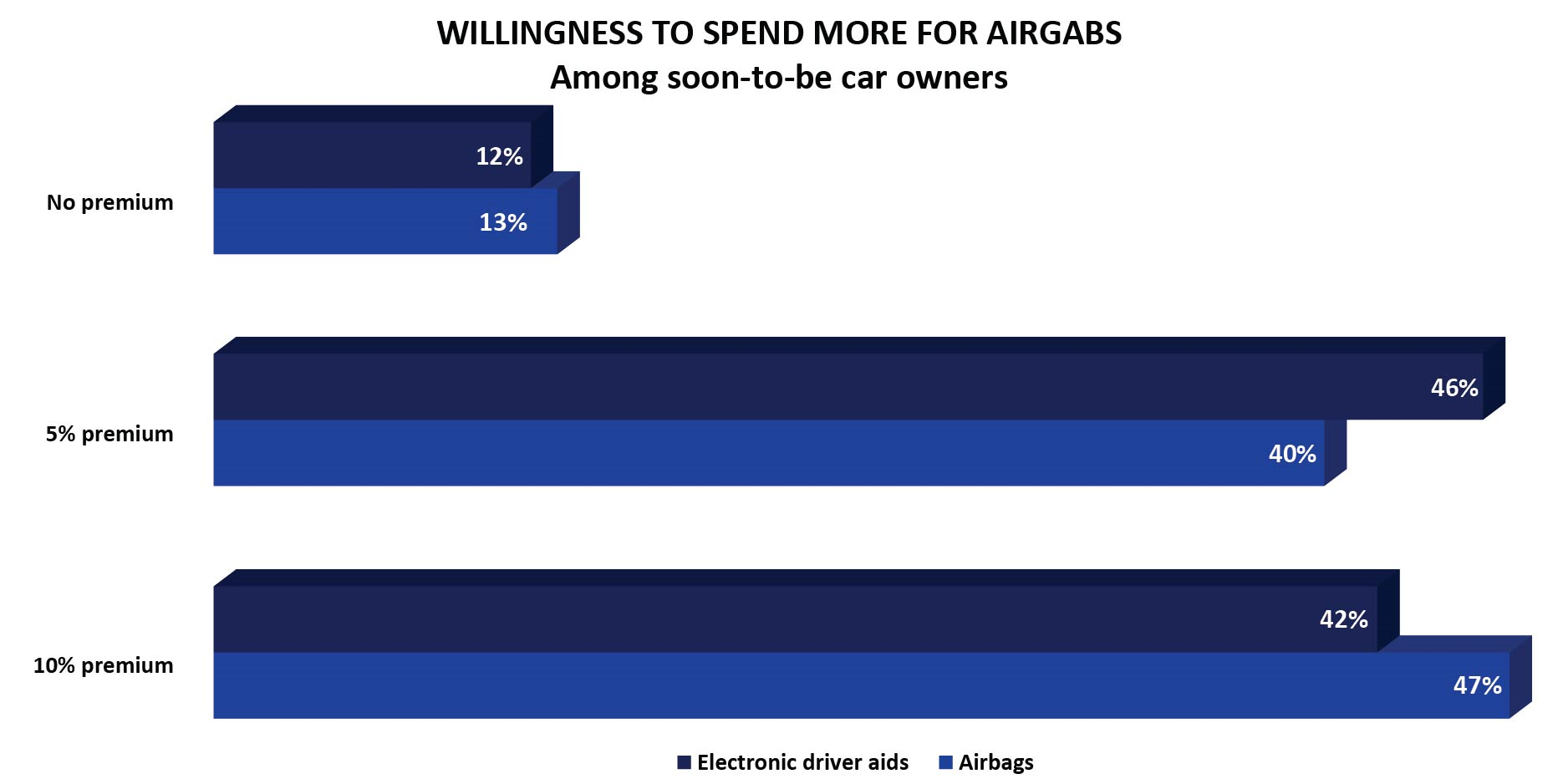 Furthermore, comparing how much a potential car buyer is willing to spend on each of these two safety features, we found that, airbags lead. 47% of respondents showed interest in spending 10% premium for airbags whereas 46% of them said they can spend about 5% premium on EDAs.



Consumer perception of airbags and electronic driver aids as standardized safety features
Our study reveals that most potential car buyers in Brazil give importance to front airbags, while a significant number also consider making all-airbags a standard safety feature important.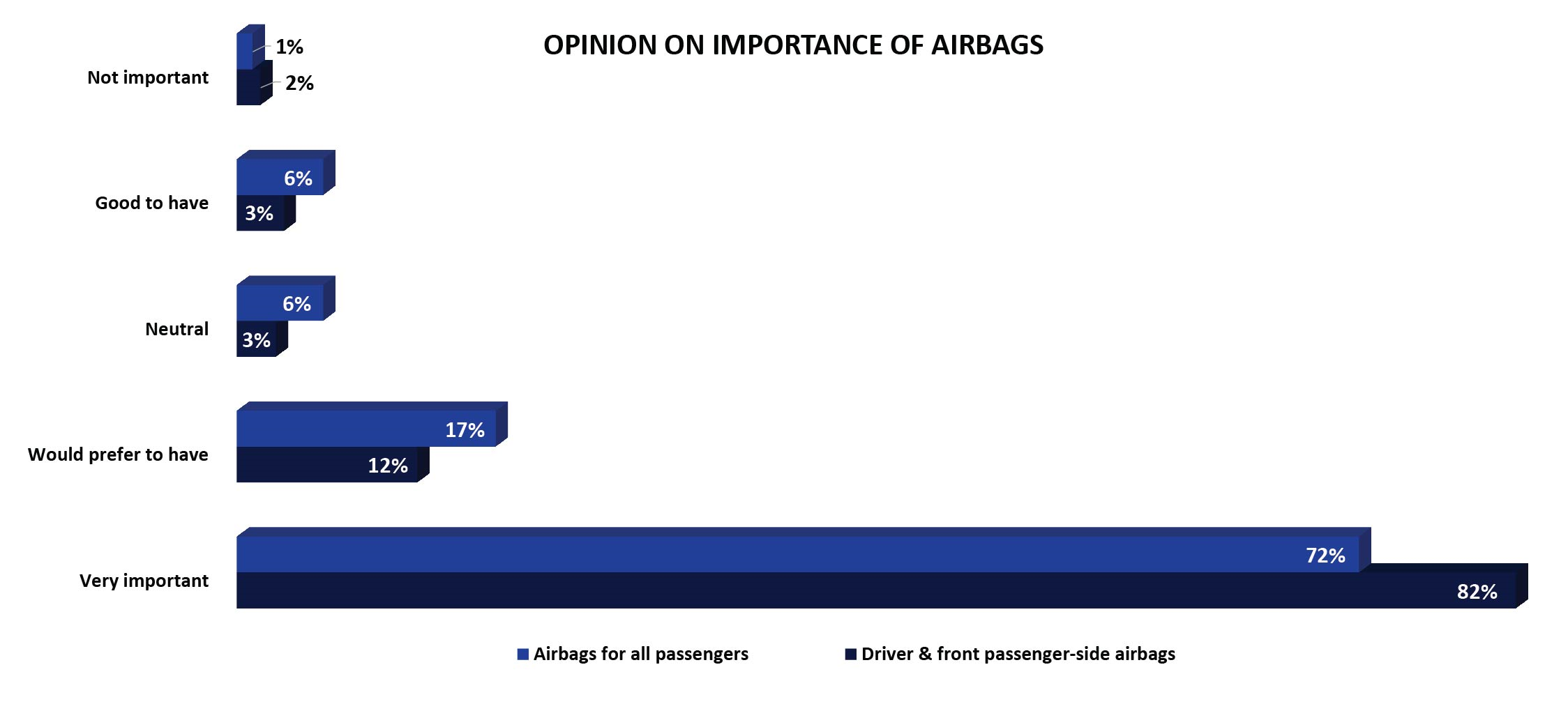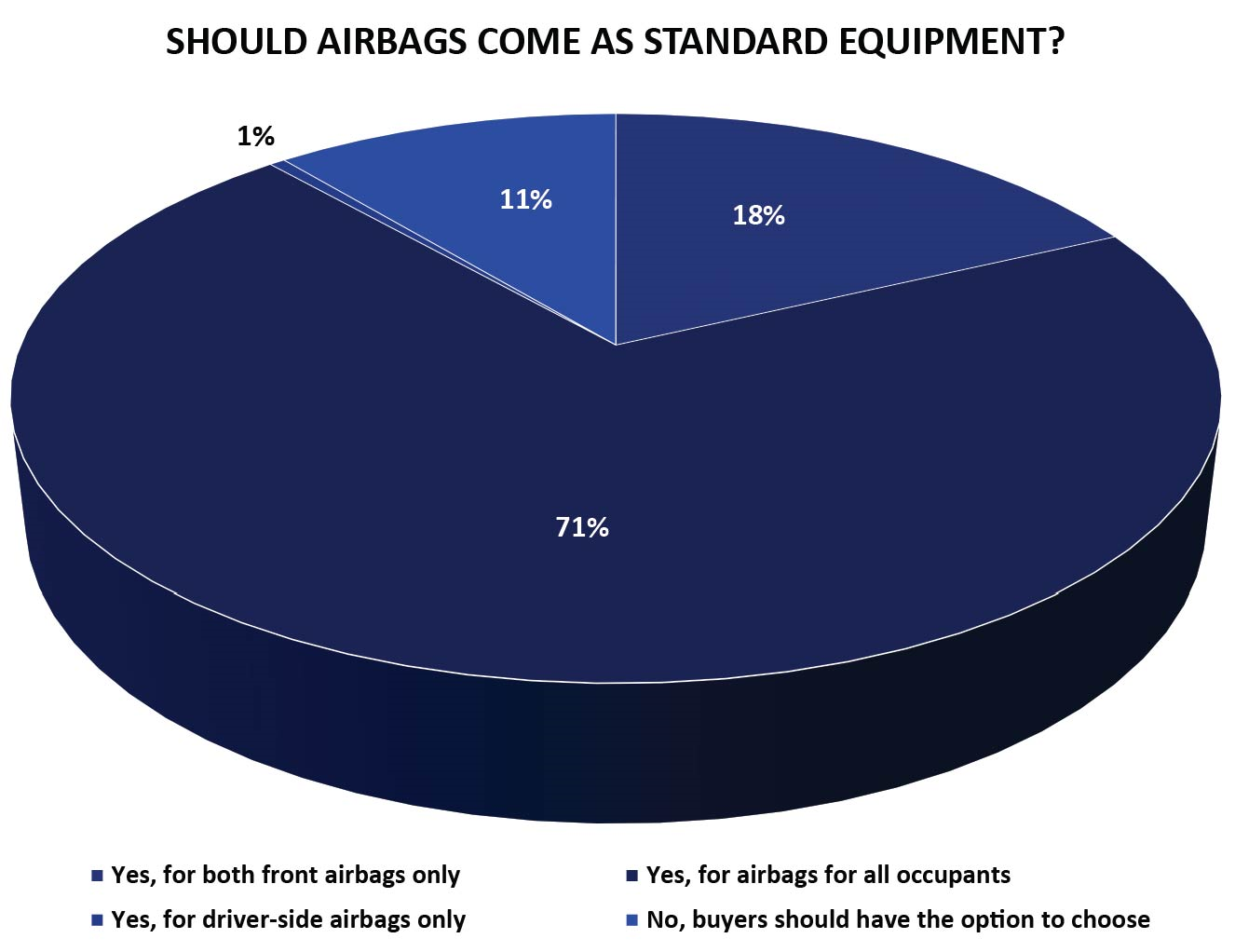 A majority of the respondents gave importance to ABS, the most demanded electronic drivers aid, along with having ESP (Electronic Stability Program or Electronic Stability Control) and EBD (Electronic Brakeforce distribution) as standardized equipment.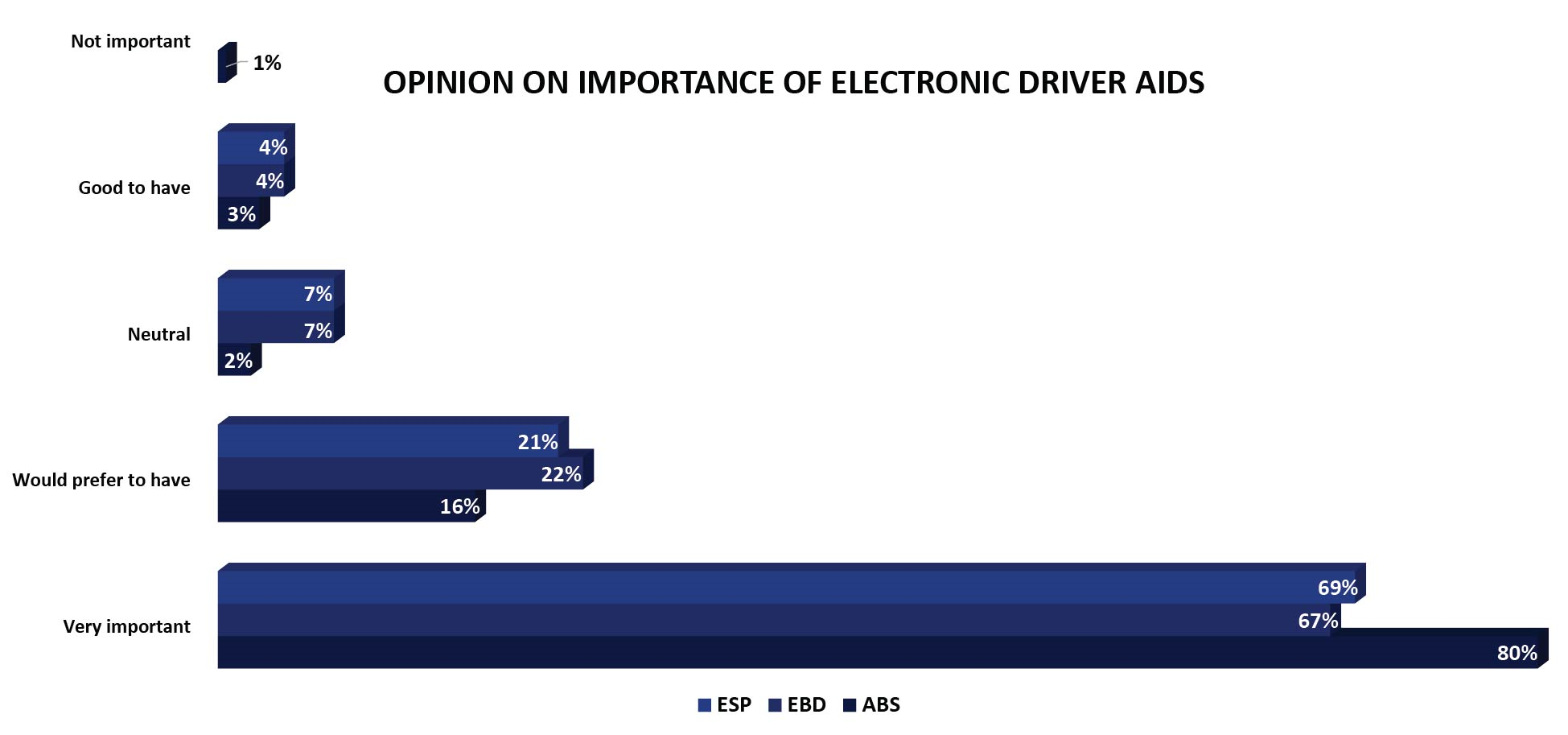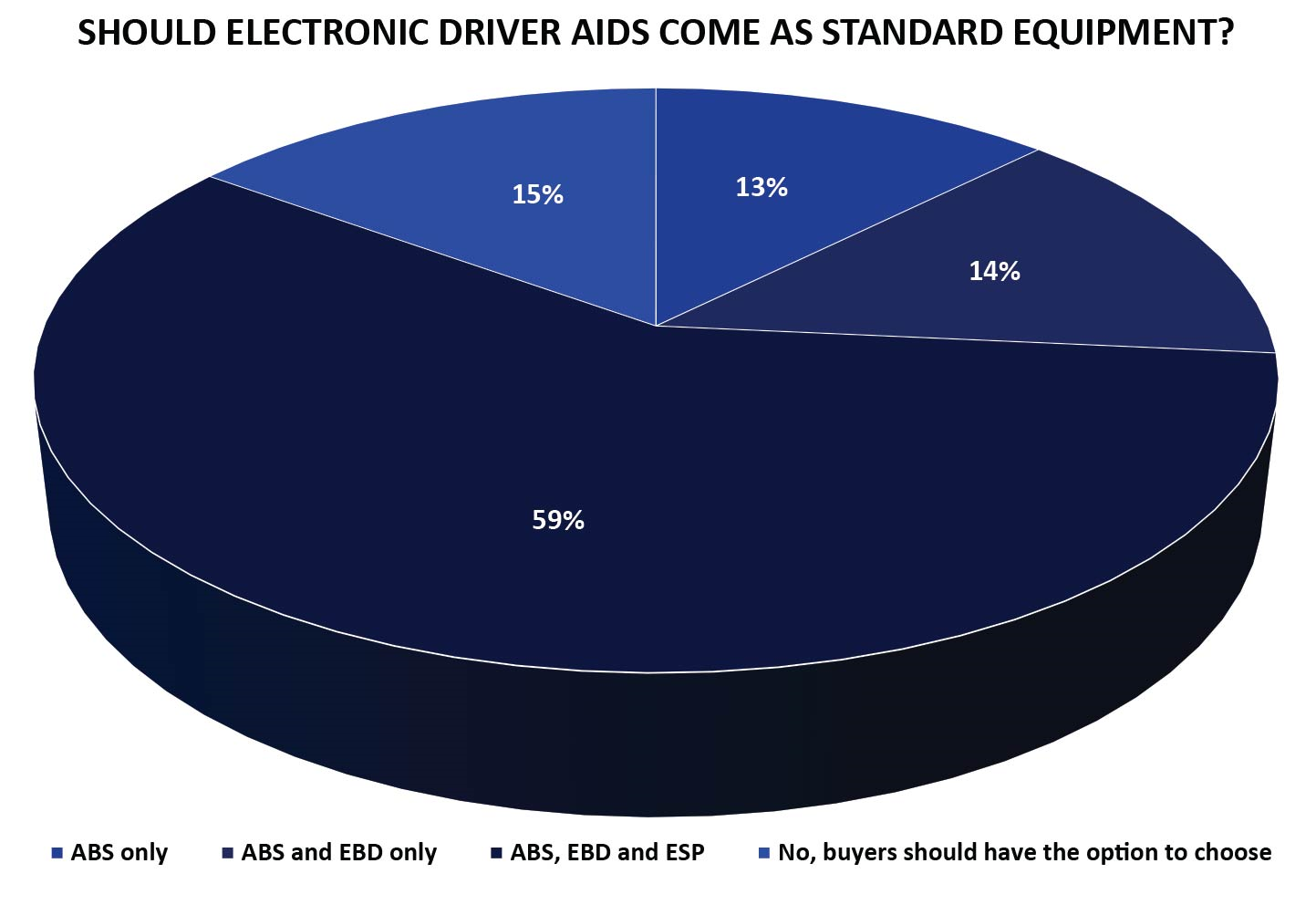 Conclusion
Auto safety has come a long way from the days of cars without seatbelts. Today's consumers are considerably informed and conscious of their choices, especially when it comes to making an important purchase such as a car. Summing up the study findings, we see that the car buyers are highly aware of safety ratings and give significant importance to safety features while making a purchase decision. These are key points for auto manufacturers to take into consideration when marketing their products, which can make or break a potential buyer's purchase decision.
Read our other blogs to know how automobile safety features influence Indian and Colombian consumer purchase decisions.
---
Contact Borderless Access for more rich and actionable consumer insights. Our expertise in market research helps your brands and business grow and expand.