The incredible growth of esports viewership
The esports industry has gained momentum in the past decade with millions of eSports fans worldwide, thanks to a multitude of reasons. The growth in the industry has remarkably accelerated the growth of viewership, making esports one of the more popular forms of entertainment.
As per a report by a leading financial and business news website, the total esports viewership is estimated to grow at a 9% compound annual growth rate (CAGR) between 2019 and 2023, which means the viewer base around the world will nearly double in roughly half a decade.
To further explore the esports viewership landscape, Borderless Access conducted an online study across 14 countries to understand the preferences of the esports audience and other impacting factors on esports content consumption. In this article, you can find insights related to the audience group that follow or watch esports in nine markets where esports has considerable popularity- USA, UK, Indonesia, Peru, Brazil, UAE, KSA, France and Germany.
Introduction to esports - when and how
Let us start by answering a simple question. Why did people start watching or following eSports in the first place? What is so fascinating about someone else play on a virtual platform? A report from a leading solution and support provider to esports tournament organizers says, ''89% of viewers say that they watch esports to get better at playing the game.''
Another reason for the growing esports viewership is the urge to become a part of the community and gain a sense of acceptance. Our study reveals that friends and social media platforms play a significant role in introducing new audiences to streaming esports and perceiving it as a form of entertainment.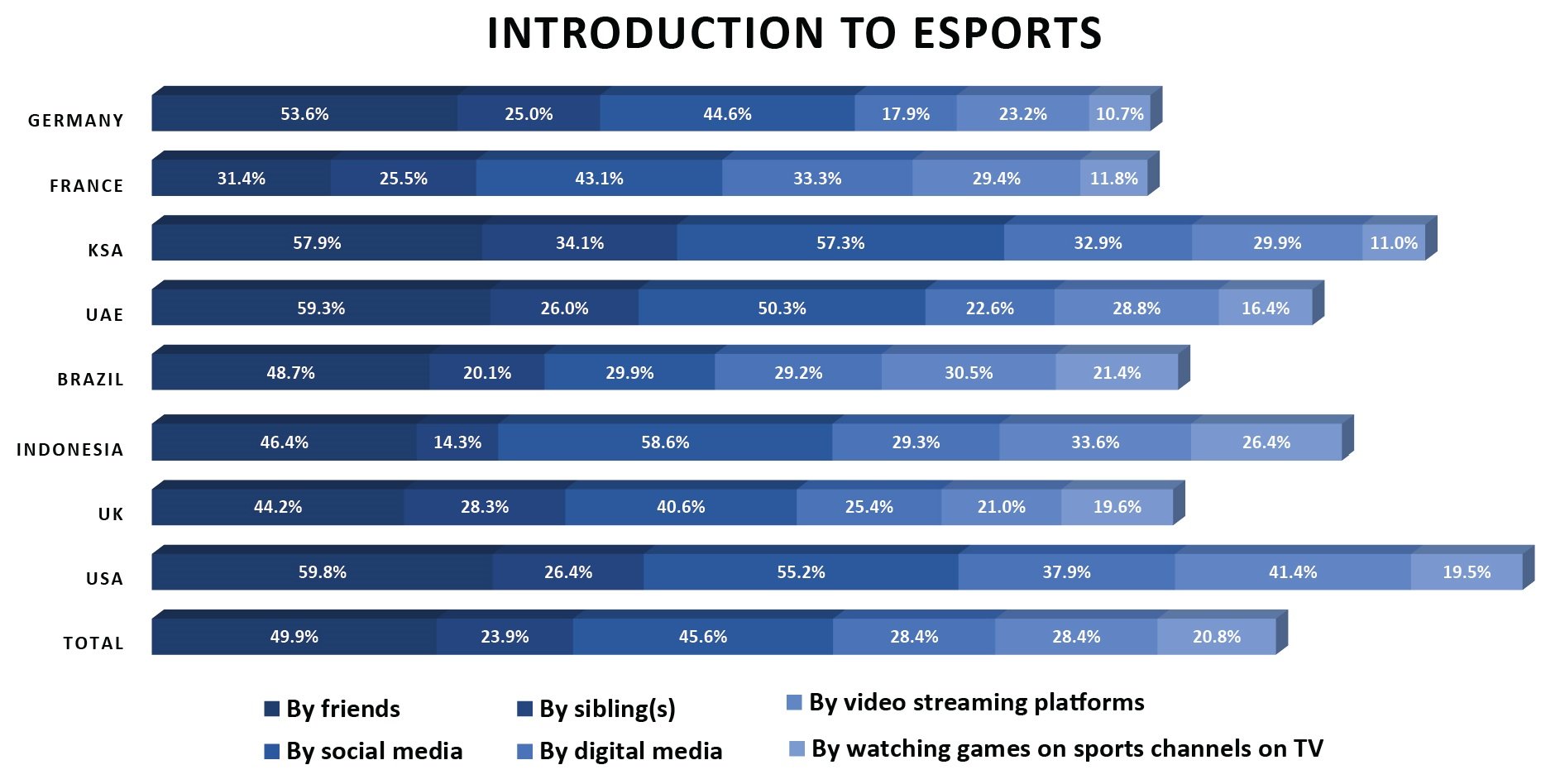 The esports viewer or follower base has also grown substantially in the last 2-3 years due to the availability of more free time resulting from working from home during the pandemic.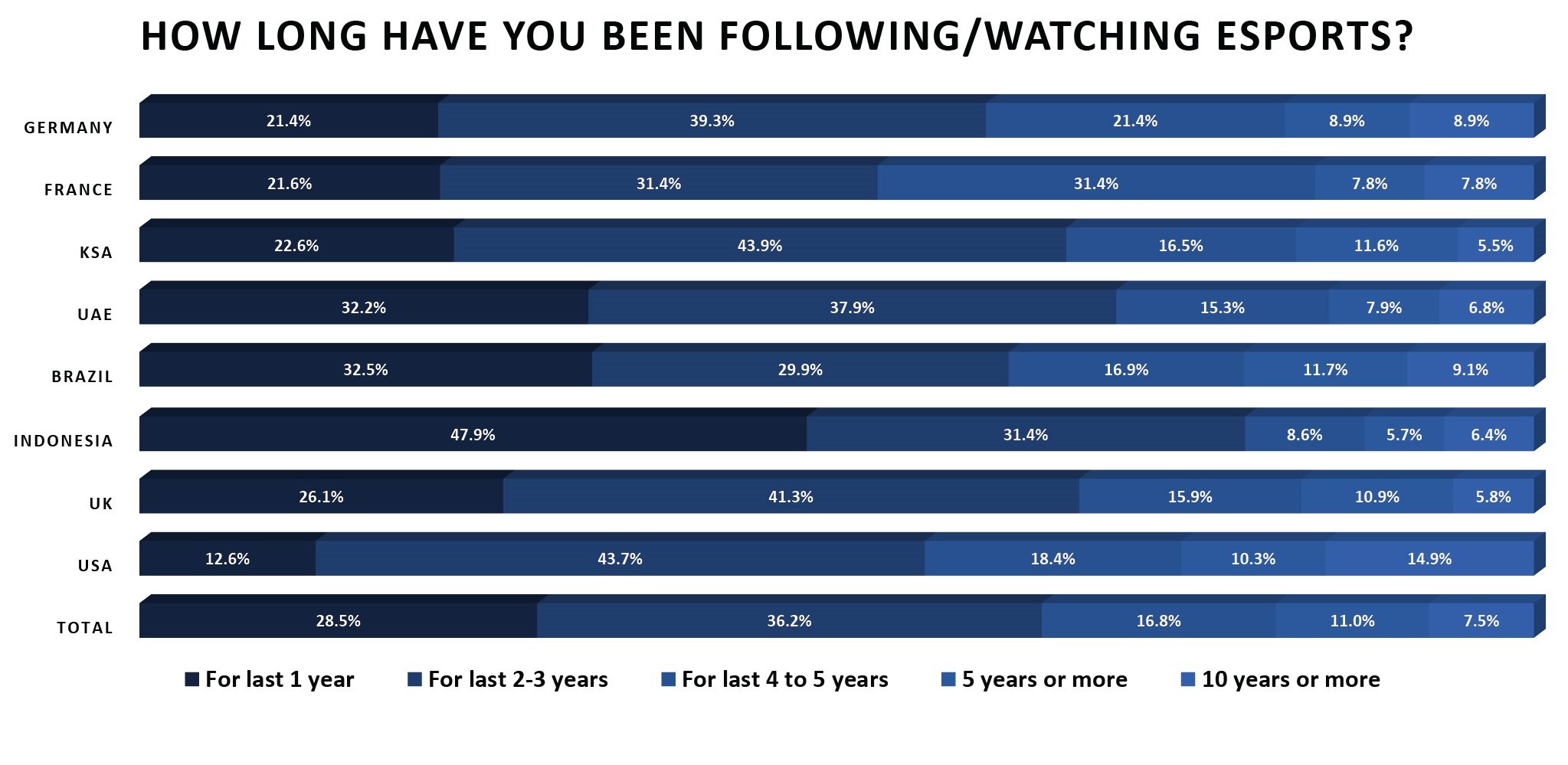 Diversity in esports genres trigger multiple preferences
Genre preference plays a vital role in understanding the consumption pattern and gaming behaviour of esports enthusiasts. According to our study, the majority of the esports audience follow 2 to 3 genres. The reason for this is because of the diversity in esports and availability of various genres to choose from.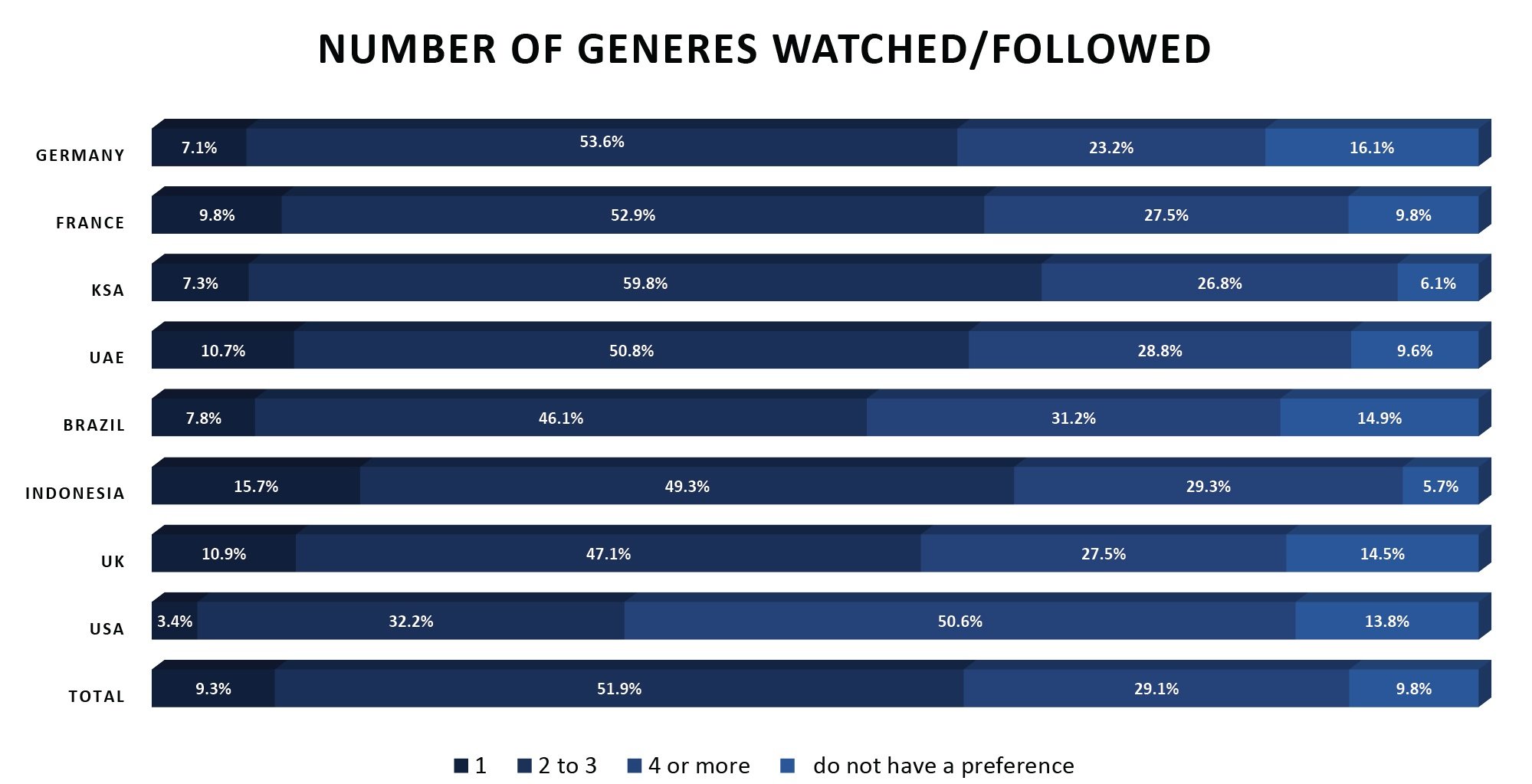 Sports and racing games remains one of the two most popular game genres in our study markets. Interestingly, the USA has a fairly even distribution of viewers/followers across genres.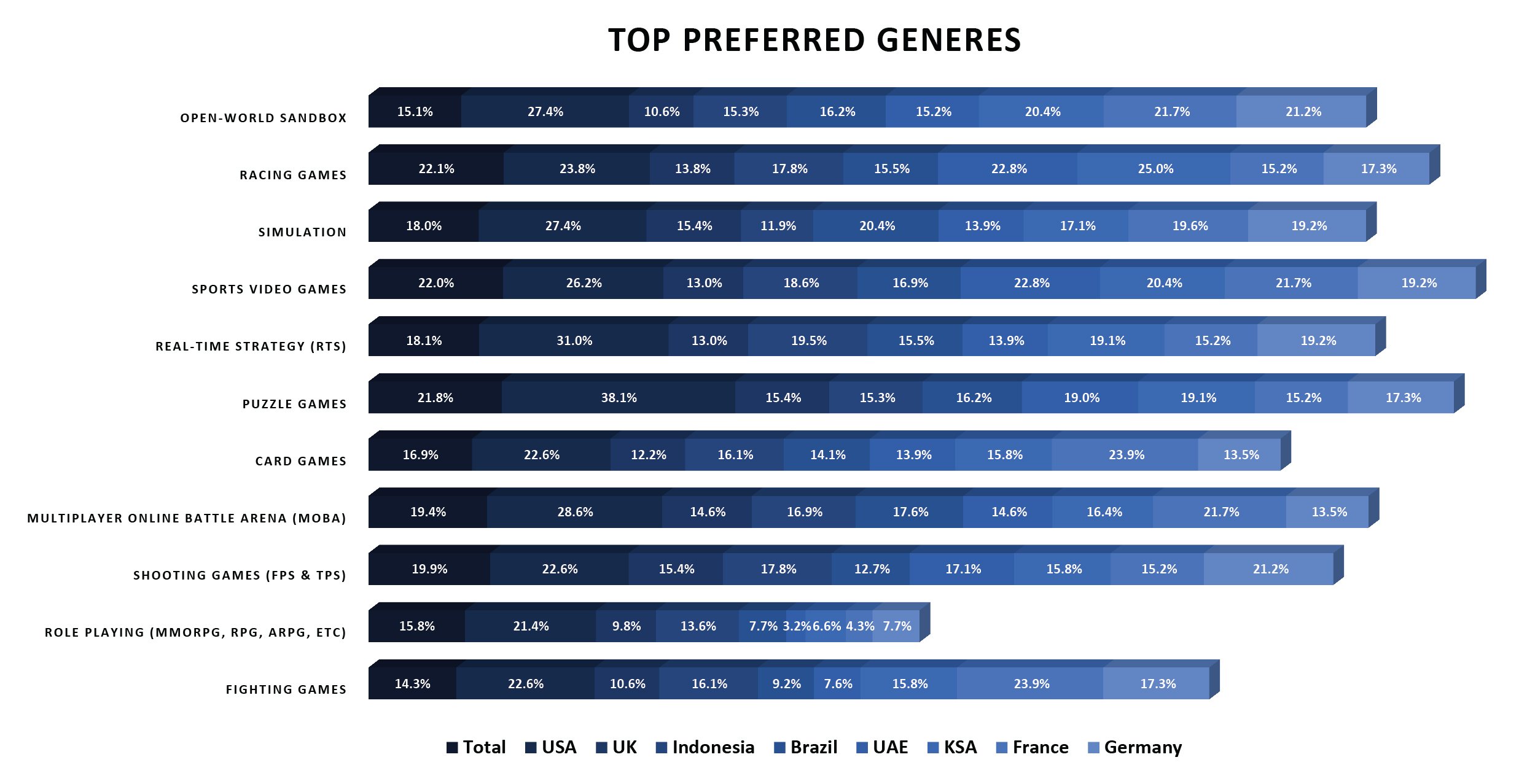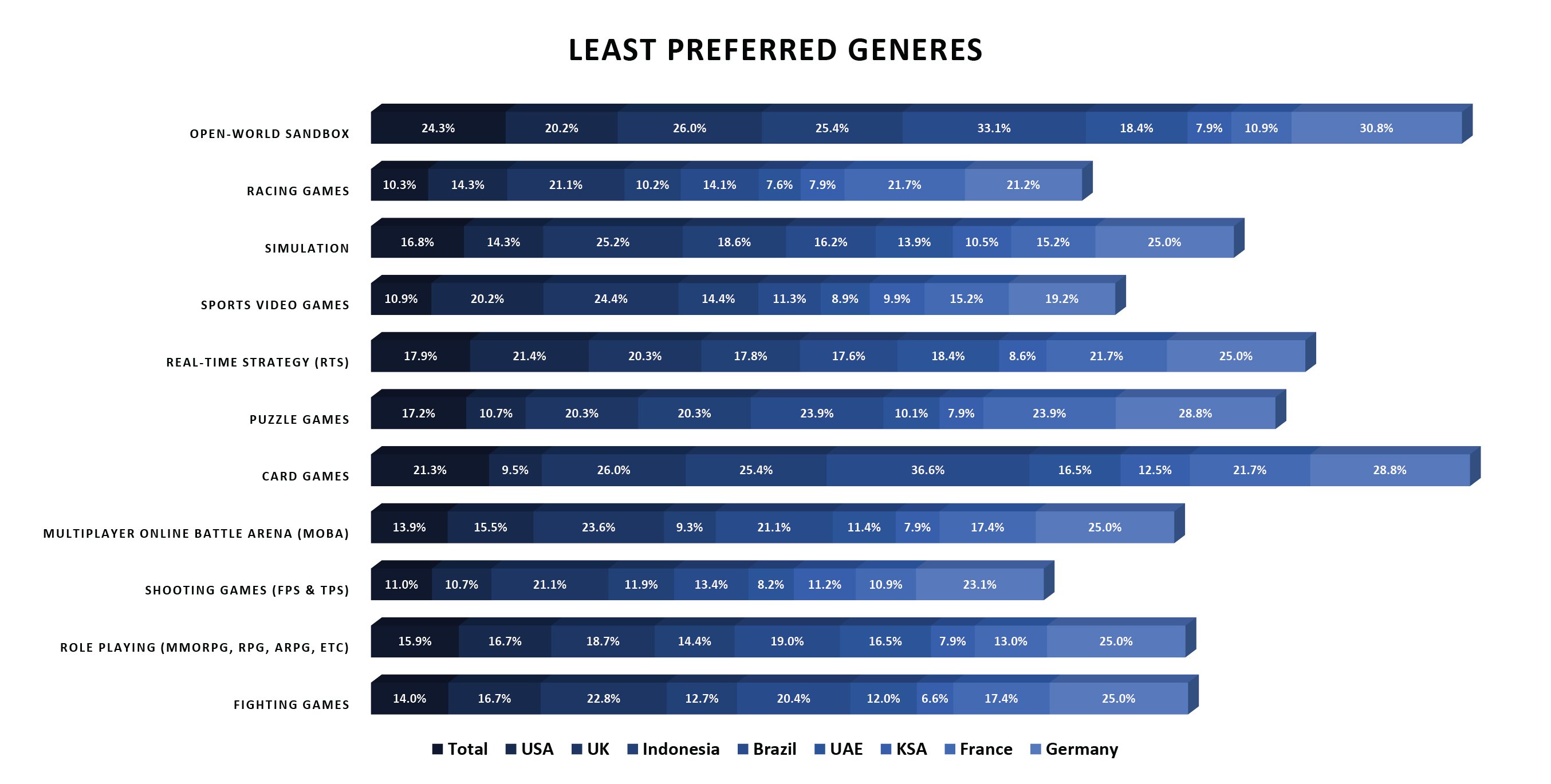 Watching esports- when and how much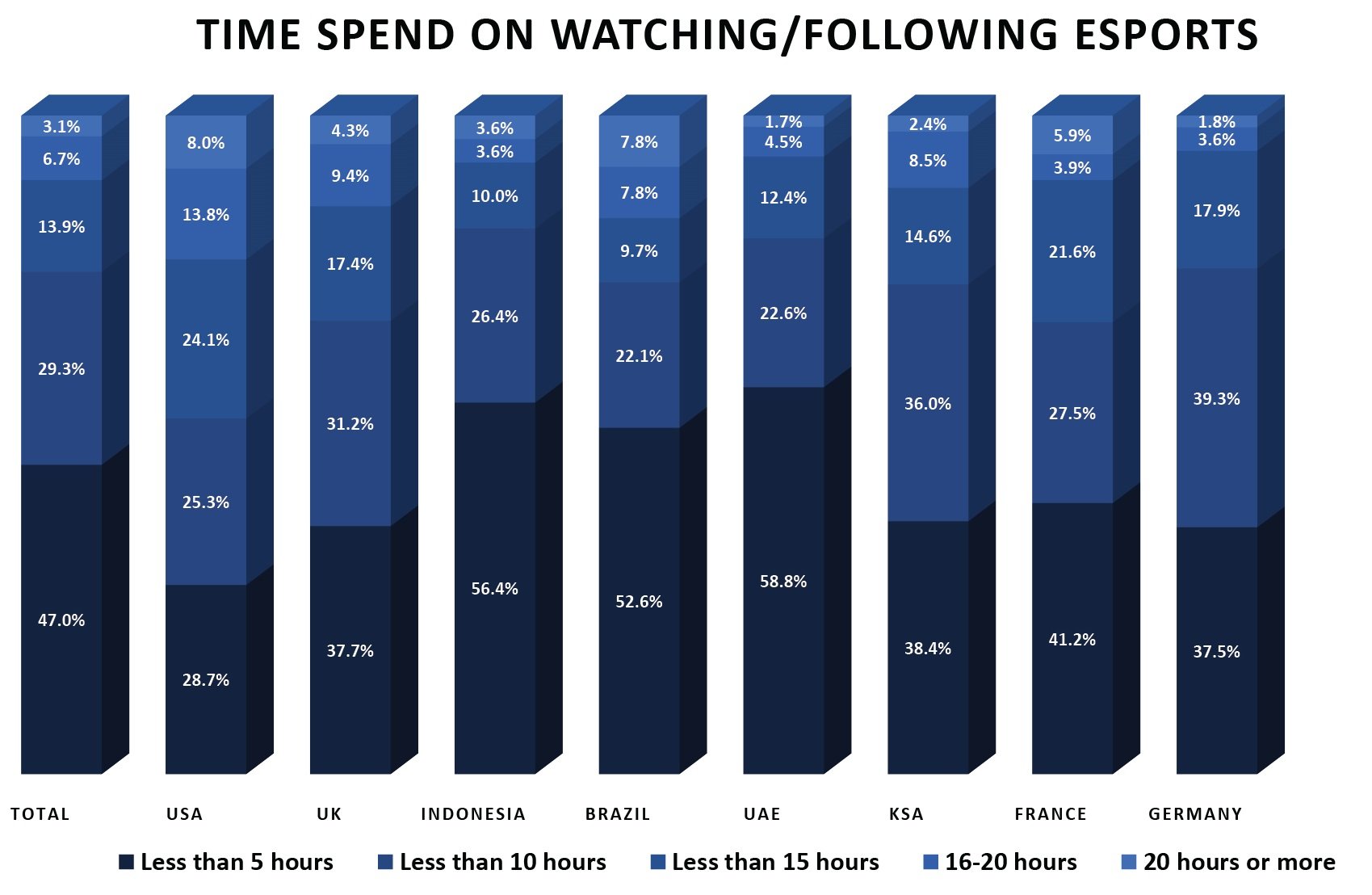 A majority of esports followers dedicate less than 10 hours watching games. However, the pattern of preferred time of day or week to watch esports indicates a different story.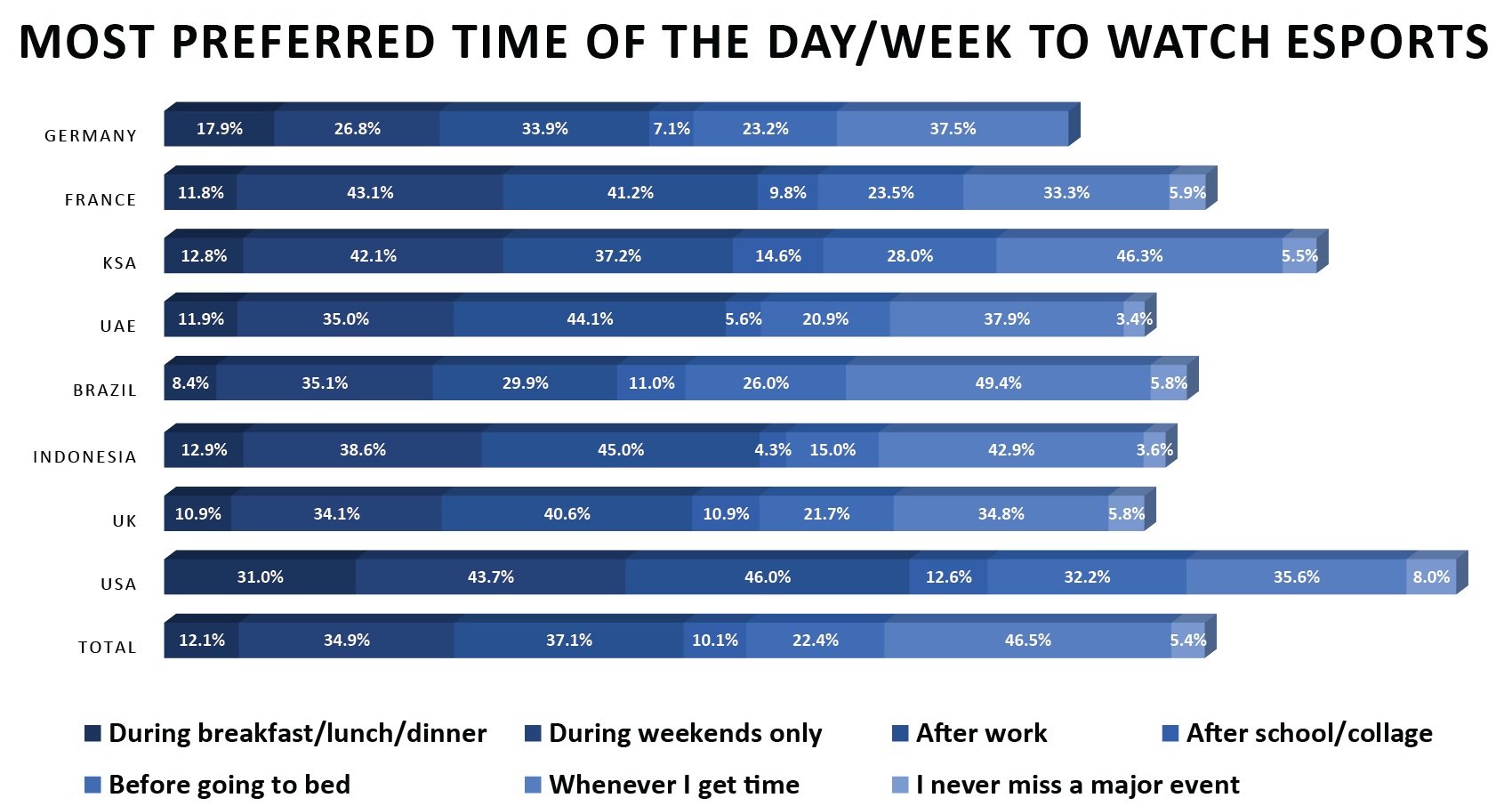 A majority of respondents do not have a fixed time in the day to consume esports. They watch their favourite game whenever they make time for it. After work and weekends are the next preferred time to watch/follow esports.
eSports enthusiasts prefer YouTube over any other gaming platform
Our study indicates that YouTube leads when it comes to platform preference to consume esports. Peru, being an exception, shows an inclination toward Facebook gaming.
eSports gaming highly relies on the connection between the players and teams to their viewers. These mainstream platforms flourish these connections and sometimes even allow the viewers to connect to gamers personally.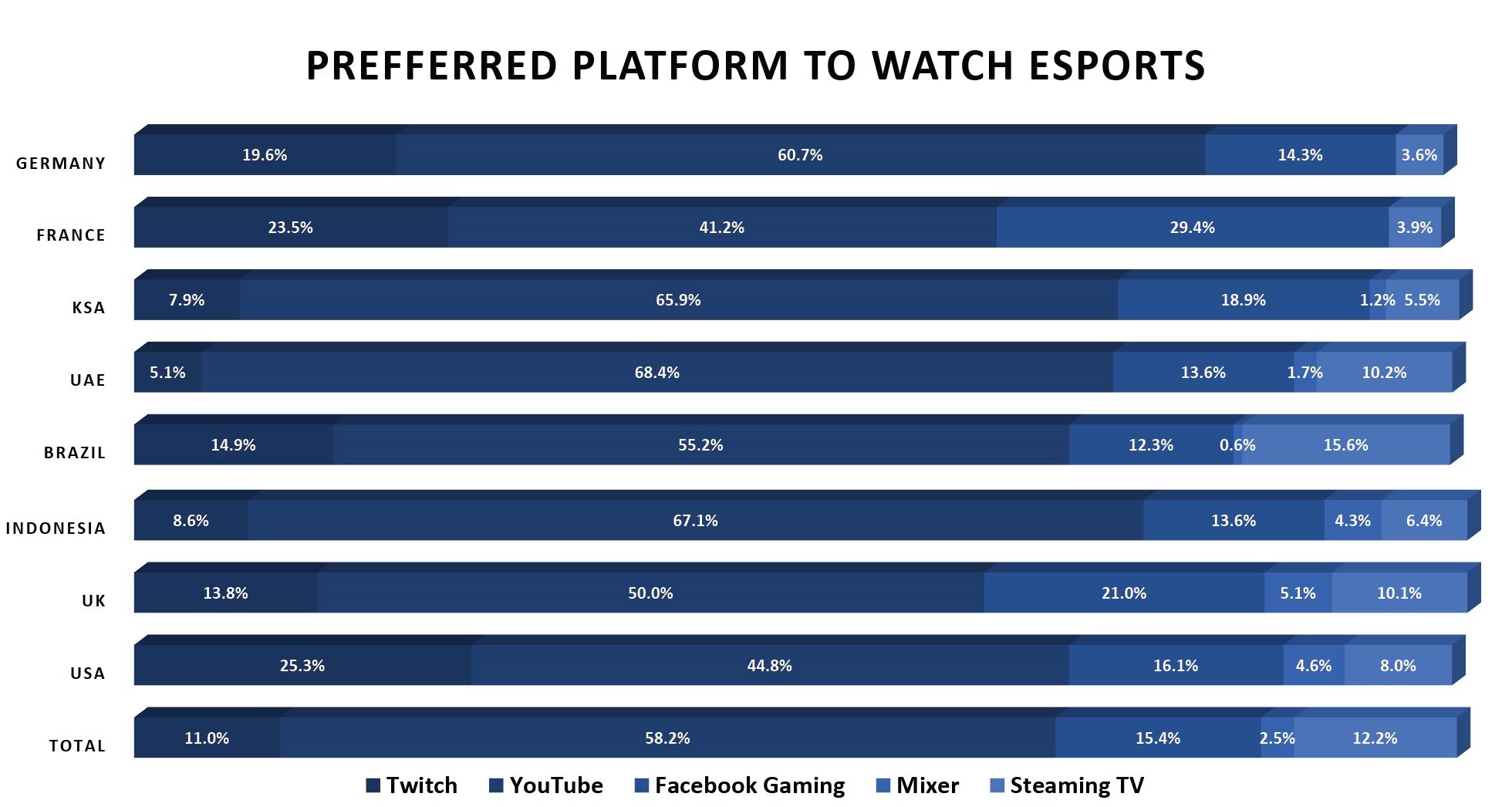 Traditional Sports vs. eSports
As esports is gaining popularity rapidly across the globe, the natural question that arises is how it fairs against traditional sports. Our study shows that esports audiences in all our target markets enjoy esports and traditional sports equally, which can be considered a huge win for the esports industry. This further bolsters with the International Olympic Committee recognizing eSports as a sport and making it a medal event at the 2022 Asian Games, which will further boost its acceptance and popularity.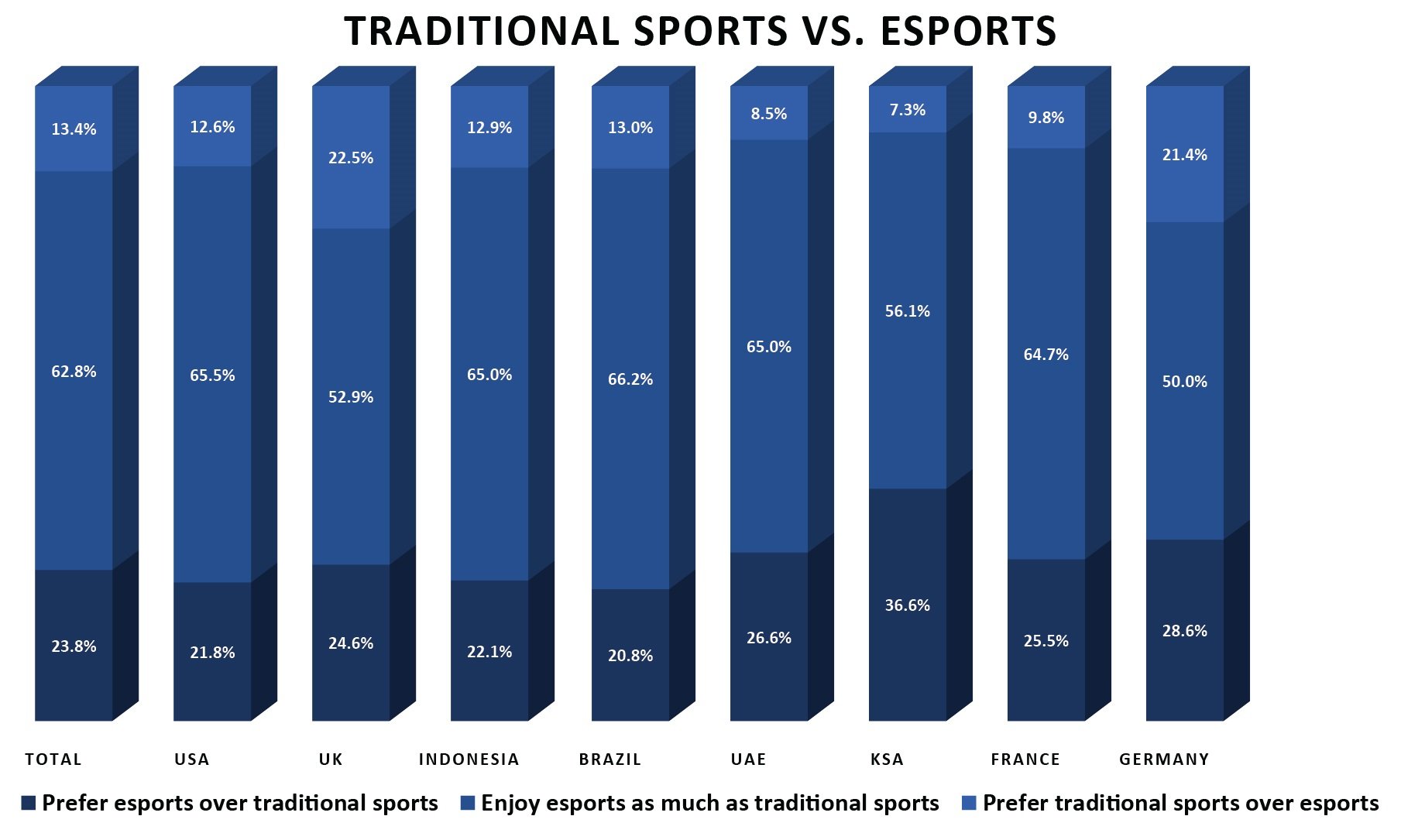 Conclusion
The popularity of esports continues to grow in developed markets and has paced up in the last couple of years. Social media has played a key role in triggering interest among people in online gaming whereas the current pandemic situation has significantly popularised the gaming culture. Watching eSports is now a way of mixing entertainment and leisure. In this sense, the growth of esports offers a new, effective channel for consumer engagement and marketing for brands in the developing markets, one which can't be ignored anymore now.
You can read our report on esports viewership in developing markets here.
About the study:
The online study was conducted in the months of April-May 2021 among an audience of n=2000 in the age bracket of 16-45 years. The audience consisted of 52% males and 47% females. Among these audiences, 69% were working professionals and 30% were students or students who were yet to start working.
---
For more similar insights from the consumer and B2B landscapes, connect with Borderless Access. We'll look forward to discuss how various digital research solutions BA Insightz, BA Health and Panel Solutions can help your business operations and market research requirements.