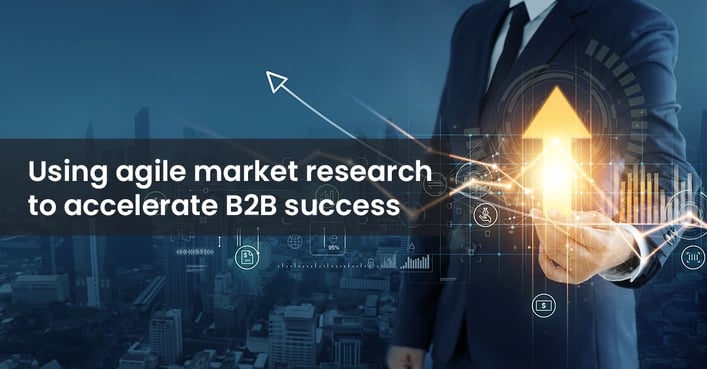 Much has been said about agile market research being a quick fix for B2B organizations that consume market research. While there is some amount of awareness about 'Agile Market Research' and 'B2B research' as independent concepts; very few service providers deliver a great combination of the two concepts.
Unlike in B2C businesses, B2B product/ service and process issues are difficult to correct immediately. Customer feedback often comes towards the end of the product/ service development process. Latent opportunities that might exist during the development process, are challenging to uncover. Instead, with an agile mindset, B2B businesses can pivot initial product/ service ideas during early stages of product/ service development itself.
Agile market research is founded on the principle of making information pliable to iterative change. When iterative and conducted continuously, agile market research can help solve business challenges in real-time. It allows B2B businesses to identify improvements any stage of the product/ service development process, without interrupting current business cycles.
How exactly can B2B businesses derive value from agile research?
B2B businesses follow their own rhythm, which is quite unlike that of B2C businesses. A B2B buyer's journey is a series of non-sequential tasks comprising problem identification, exploring solutions, describing spec requirements to brief suppliers on, selecting from among suppliers, verifying supplier claims and finally, purchasing the product/ service. B2B marketers have to know how, why and when in this journey; their brand can assist and enable buyers. For which, they need to be aware of customer personas and needs; so as to differentiate and offer relevant messaging to win a new buyer: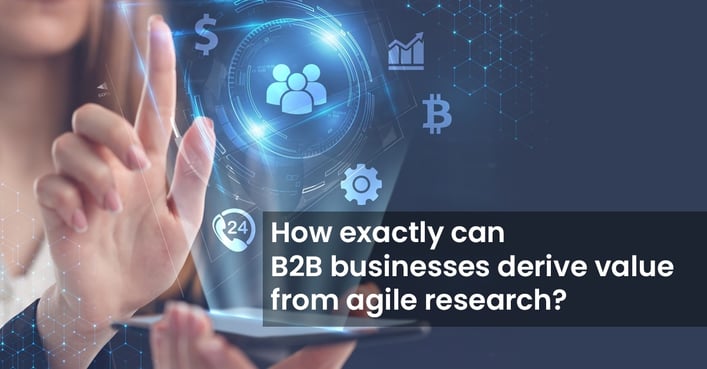 Building customer personas
In early stages of their purchase journey, buyers are trying to learn which B2B brands are likely to fulfil their requirement. Like most people, B2B buyers also turn to digital, using search engines to explore solutions. Keyword research run on Google searches helps B2B marketers understand pain points being expressed, information gaps being searched for, brands being explored.
Capturing competition insights
Like all people, B2B customers also discuss B2B products/ services/ brands actively on digital platforms. Real-time data is now available, in the form of reviews and social network posts. This offers B2B marketers a wealth of insights, for their own brand as well as for competition.
Understanding customer needs
Adopting a multi-method approach, B2B marketers can uncover pain points and challenges that customers express. This could be achieved using focussed online B2B panels among professionals, surveys and review sites.
Evaluating product/ service strengths and weaknesses, to inform Marketing
Keeping an eye on customer feedback about own vs competition product/ service can help B2B brands finetune their communication. For instance, let's say customers are expressing issues with Brand B's software interface, and appreciating Brand A's software interface. Such data can help Brand A identify unique levers to push in future communication with prospective buyers.
What methodologies make B2B research, 'agile'?
First things first… it is important to understand and accept that agile B2B market research is not a pathbreaking, new-to-the-world "super-pill" that delivers instant results. Instead, Agility is a layer added onto the classic B2B research process. A typical B2B research process includes respondent identification, data collection, data organization, data analysis and insight-generation. B2B businesses can leverage various methods to infuse agility at each step of this typical research process. When designing agile research, B2B organizations need to look for software-supported market research solutions that help generate high-impact insights within a short time: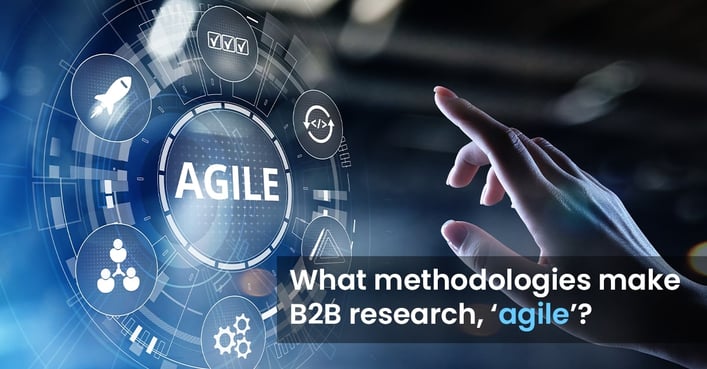 Online B2B audience panels, where high-quality empanelled subject-matter experts respond quickly; and marginal costs of one more (quick) test are low.

Social Listening, to track ongoing customer issues and implement course-corrections in close to real-time.

Plug-and-play SaaS tools requiring minimum set-up effort, tool integrations etc.

Real-time reporting, using quick-to-setup, interactive dashboards and alerts.
So, how should B2B businesses go about evaluating research partners for agile research?
Certain signals are clear indicators, when it comes to identifying the 'right' B2B agile research partner: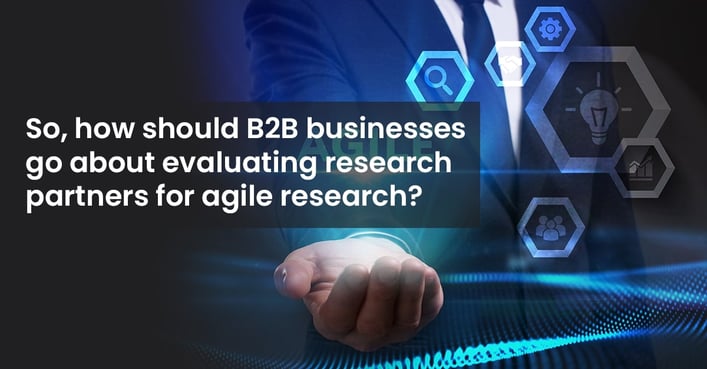 Does the provider offer focused panel profiles?
Look for B2B research providers that have established panels of customer-profiles similar to your customer-profile. Whichever sectors your customer-base belongs to – Healthcare/ Financial services/ Automotive etc., it is important that your research partner has a baseline understanding of the sector's business model. Exact matching of partner expertise with customer-base is not a deal-breaker, but unfamiliarity certainly is. Only when the partner has a basic understanding of how your customer's business model operates, can they infuse agility into your B2B research requirements.
Does the provider offer easy access to data collected?
When evaluating a partner, keep an eye on how agile their deployment of insights is. If the data collection and analysis is agile, but insights are cumbersome to access; it will slowdown your consumption of the B2B research solution.
Does the provider track data quality, identify recruitment/ data collection hiccups early on?
Many research partners claim rigorous audits of respondent and data quality. However, when implementing agile research, this becomes even more crucial to deliver. Partners offering data quality check engines with machine learning capabilities are able to reliably detect incomplete responses or data gaps.
Does the provider walk the (agile) talk?
Agility is a mindset, not a magic pill. Agile B2B research, by its very nature, heavily depends on two mechanical components – iteration and repetition. When evaluating a partner, check how well they entrench agility into managing various aspects of their own business.
Does the provider offer a DiY-only or a Service-supported engagement?
DiY offerings are cost-effective, but demand high involvement by users. Oftentimes, it is better to opt for a hybrid engagement, where the B2B business is supported by the research partner, for key aspects of the research process eg. study design & implementation, data acquisition and monitoring, data analysis & archiving.
And lastly… does the provider create, manage, leverage credible B2B communities?
Surveys, polls, online focus groups, idea boards, discussion forums, topic boards, dashboards and panel apps are basic tools expected of a B2B research partner. However, what infuses agility in their way of working is the effort to continuously update the data in all stages of the research process. For instance, Borderless Access' Panel Solutions offer continuous, automated profiling, stringent quality measures and dynamic community engagement and incentive management.
The B2B purchase cycle is notoriously long and multi-dimensional, with many factors at play when it comes to brand choice. With agile B2B research in play, marketers can keep an eye on their target audiences, track their pain-points in almost real-time. Doing so, helps B2B marketers devise better-targeted messages, gain a mindshare with the audience, accelerate brand adoption. Finding a research partner who is agile in mindset, tools and implementation is a critical first step to shaping a B2B business' success.